This post may contain affiliate links. We may earn money or products from the companies mentioned in this post.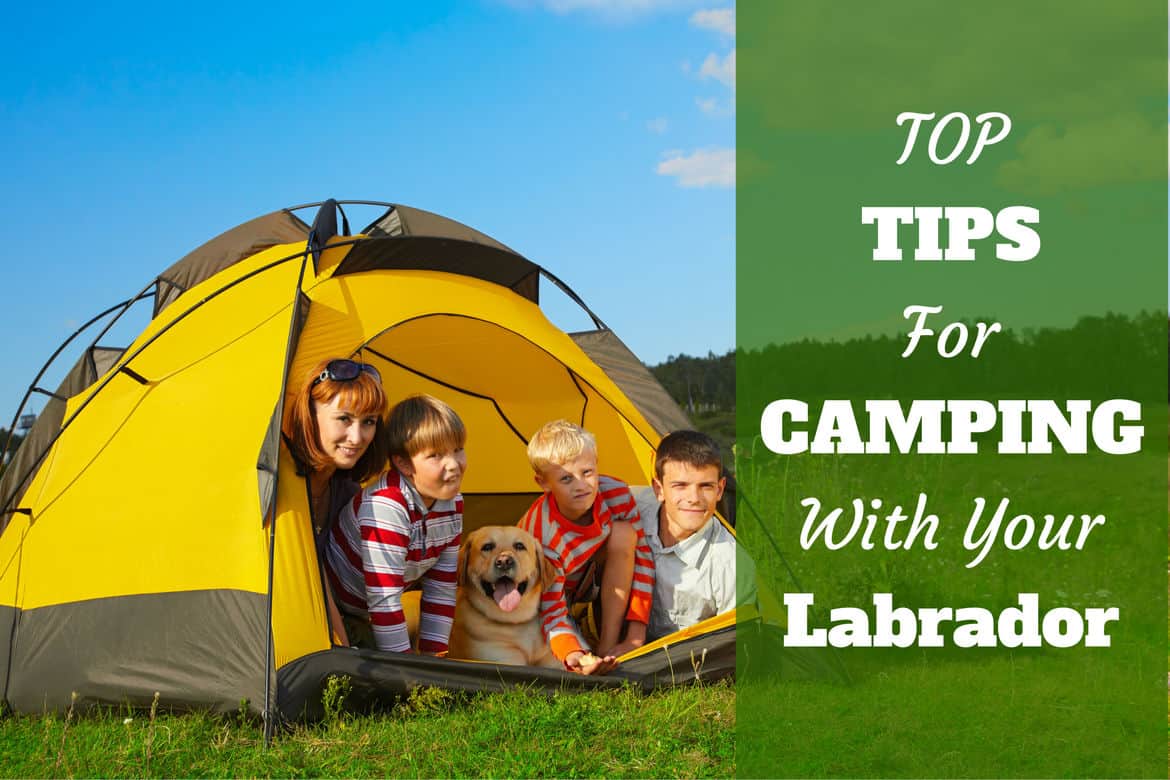 Sunsets. Mountains. Lakes. Trails. There's nothing like a few nights under the stars to put you in touch with your wild side, and there's no better companion than a Labrador for camping adventures big and small.
Labs are fun-loving, energetic, and up for anything. They are at home in and on the water, love to hike, and are equally happy relaxing next to a campfire.
And the best part? Your Labrador will never complain about the bugs, the rain, or sleeping on the hard ground. It's all part of the adventure.
Are you ready embrace the outdoors with your best friend? Here's everything you need to know about camping with your Labrador.
The Importance of Training
If you want to develop a relationship with your Labrador that enables you to delve into adventures big and small, training should be your very first priority.
With a well-trained dog by your side, you will find it easy and fun to travel, visit friends, hike, canoe, or just relax at your campground.
Your dog will respect your boundaries, stay out of trouble, and remain safe, leaving you free to thoroughly enjoy yourself.
Your dog doesn't need to learn fancy tricks, but you should absolutely teach him these critical skills:
Come – When learned inside out, the come command will absolutely keep your dog out of trouble and away from harm. Practice come at home, on a long leash, or within a fenced area until your dog will come reliably every time you call. Do not let your dog off the leash unless he is under your voice command at all times. When camping, the come command will keep your dog safe from wild animals, and keep him from mixing with unfriendly dogs, unguarded camp delicacies, and annoying neighbors.
Sit and Down– Useful for people-greetings, or when you want your dog to settle. When you give the command, your dog should sit or lie down until you release him.
Free – The free command releases your dog from whatever command you just gave him. Some people use "break" in the same way. You can choose any release word, just be sure to use it consistently.
Drop it and Leave it – These commands will keep your camp food safe from your Labrador's voracious appetite and your dog safe from all kinds of undesirable scavenging opportunities.
Toileting on Command – Once your dog knows to reliably pee and poop on command, you'll wonder why you didn't teach him sooner. This skill is useful in so many situations, and when camping, it's lovely because you get to pick the spot, and you can be sure your campsite won't become your dog's toilet. Pick a command that you don't mind using in public like "get busy." (For more on teaching this handy skill, check out these quick and dirty tips for teaching your dog to pee and poop on command.)
Before You Leave Home
Camping with your favorite pooch requires a little extra planning on your part, but we all know it's worth it. Before you head out on your grand adventure, be sure you and your pup are prepared.
Apply flea and tick medication. Spot-on treatments, like 'Frontline' or 'Advantix' provide your dog with long-term prevention against flea and tick bites. Each application is effective for a month and will kill eggs, larvae, and adults. If you don't want to use a spot-on treatment, consider packing pest-repellent wipes.
Make sure your dog is up-to-date on vaccinations. Many campgrounds and parks require proof of vaccinations, specifically rabies, and distemper. You should also medicate against Heartworm, which is transmitted by mosquitoes.
Find out the dog rules at your destination. Most campgrounds allow dogs, but not all of them. There may be rules that prohibit dogs from certain areas, trails, or beaches, and there may also be rules about how long your dog's leash can be. Knowledge is power and will help you plan ahead.
Provide your dog with proper ID. Make sure your dog has a secure collar with an ID tag that contains all of your pertinent information on it, including your mobile phone number.
---
---
Camping Gear for Your Labrador
Your dog doesn't need much gear to have a fabulous camping trip, but you'll have to pack a few necessities to make the trip successful, and some specialty gear if you plan on hiking or backpacking.
Basic Gear Suitable for Most Camping Trips
6-foot leash for walking
10 to 30-foot leash for exploring and for tying-out
A stake for tying-out your dog in your campsite
Poop bags for clean-up
Enough dog food for the length of your trip
Treats for training and rewards
A treat pouch
Toys, bones, etc. to keep your dog busy around the campfire
Your dog's bed
Gear for Hiking and Backpacking
Once your dog has mastered a few car-camping trips, you might want to try backpacking. Hiking with your Labrador will allow you to get away from campground crowds and really explore the outdoors.
Packing light is the key to an enjoyable backpacking trip, for both you and your dog. Here's what you'll want to bring for your favorite hiking companion.
A backpack. Dog food is heavy, and if your dog is in good shape, he should certainly carry his own meals. The Kurgo Baxter Dog Backpack is sturdy enough to hold your dog's food and gear with minimal rubbing. It's not waterproof, so be sure to pack your dog's food in plastic bags first.
Collapsible food and water bowls. The Outward Hound Port-A-Bowl can be stashed in your dog's pack and weighs next to nothing, and it's rugged, washable, and waterproof.
Water bottles. This is especially important if you're not hiking near a natural water source. Pack enough water to keep you and your dog hydrated.
Dog booties. Most dogs despise wearing foot protection, but if you are hiking over rough surfaces, through snow or ice, or on really hot sand, they make a world of difference. Have your dog practice wearing them around town before he tries hiking in them. The Ruffwear Grip Trex Boots stay put, even on long hikes, and they're also great for protecting your dog's feet from hot pavement, broken glass, and winter salt.
Packable dog bed. While not strictly necessary, a dog bed is nice for helping your dog to settle in, and it is a real blessing in cold weather. At 2.2 pounds, the ChuckIt! Travel Dog Bed comes with its own nylon stuff sack and is machine washable.
Your Dog's Camping First Aid Kit
One of the best parts about camping with dogs is that they are rugged, resilient, and up for anything.
In order to keep your dog safe and set your mind at ease, it's important to compile a canine first-aid kit to prepare for small emergencies.
For more serious injuries, a mobile phone with the number of the nearest animal hospital will be your best protection.
Your dog's first aid kit should include:
antiseptic wipes for cleaning wounds
butterfly bandages
waterproof tape or VetRap
gauze pads
a veterinarian prescribed painkiller — Rimadyl is good for mild aches and pains. Tramadol can be used for more serious problems, but it will make your dog drowsy.
tweezers for pulling ticks
disposable gloves
Benadryl for bites, stings, or allergic reactions
activated charcoal to counteract poisons or toxins
Campground Etiquette
People who love camping and the outdoors are often friendly towards dogs, but not always. In order to keep the peace and be an ambassador for well-behaved dogs everywhere, follow these camping etiquette rules.
Clean up your dog's poop. Your neighbors don't want to smell it and they definitely don't want to step in it.
Keep your dog quiet. If your dog is the type that barks at every squirrel, person, or another dog, be sure to ask for a quiet campsite away from the neighbors.
Do not leave your dog unattended at your campsite.
Minimize social interactions. Even friendly dogs do not have to meet every person and dog they see. If your neighbors are dog-lovers, they will definitely let you know!
Conclusion
Pleasing your dog isn't hard, but if you want to see him dance with excitement, put on your hiking boots and load up the car. Adventure awaits, my friends, and nobody does adventures like a loyal Labrador.
Whether you're relaxing next to a dancing stream, hiking mountain peaks, or paddling a quiet lake, your excursions will only get better if you share them with someone special.
So put the daily grind on hold for a few days skip town with Labrador by your side.
Please be aware this page contains affiliate links and Labrador Training HQ receives a small commission if you make any purchases through any such links. This has absolutely no effect on the eventual price that you pay and we are very grateful for your support.
Top Picks For Our Dogs
For a list of all the supplies we get for our new service dog puppies check out our New Puppy Checklist on the PuppyInTraining.com blog.