This post may contain affiliate links. We may earn money or products from the companies mentioned in this post.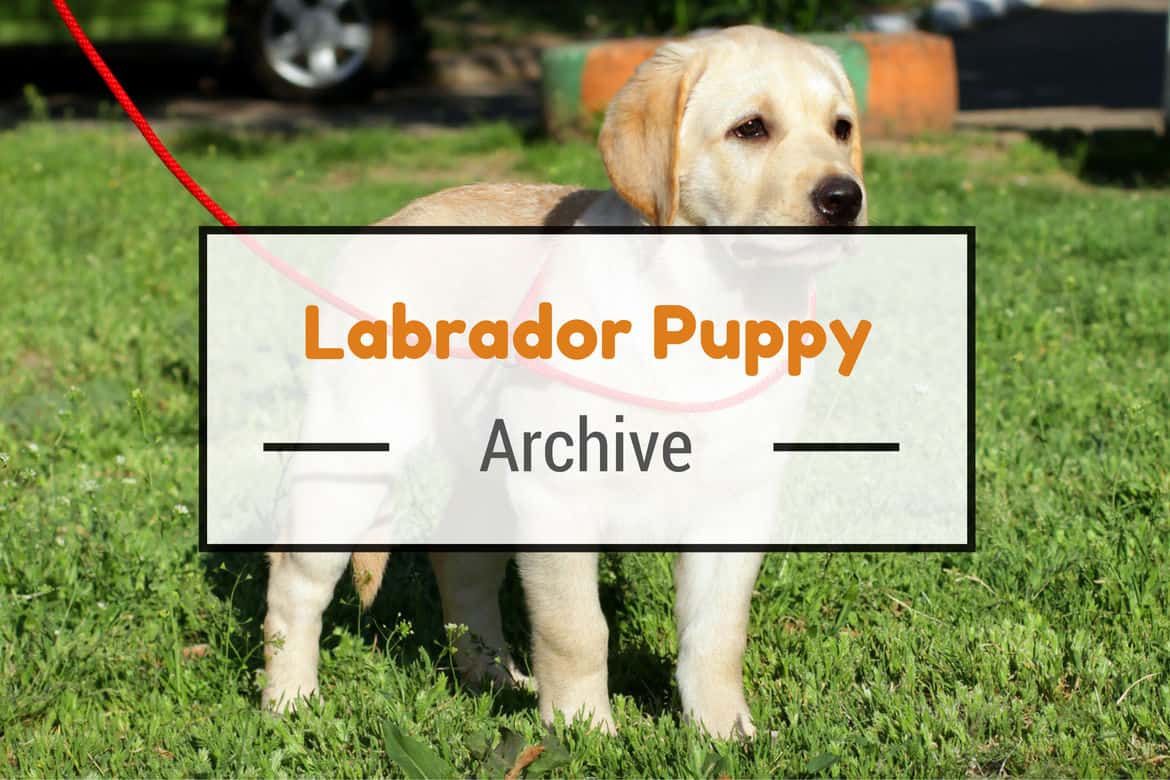 Listed here is the collection of articles at Labrador Training HQ on the subject of Labrador puppies.
More specifically you'll find lots of information on getting a Labrador puppy, preparing your home for its arrival, Labrador puppy care, socialization and basic Labrador puppy training.
In order to give your Labrador the very best start in life, while making the experience as stress free as possible for yourself, I strongly recommend you read as many of these articles as you can.
Thinking Of Getting A Labrador Puppy?
Bringing a Labrador into your life is a very big decision. A decision you should only make with the complete knowledge of what you're getting yourself into and the commitments you need to make.
The following few articles discuss whether a lab is right for you, whether you're right for a lab, what you can expect and the requirements of you as a Labrador owner, which type of lab is most suited to you and how and where you can get one:
Before Bringing Your Puppy Home
So you're fully committed to becoming a Labrador owner? Excellent news, welcome to the club!
But before you bring a Labrador home, there's a few things you need to know and do in preparation for the new arrival in your life:
Be prepared! It will make both yours and your puppy's life much easier.
Labrador Puppy Training
There used to be a lot of disagreement on the age at which you should start to train a Labrador puppy, how successful early training is and the long-term effects on the dog.
But in more recent years, the majority of professionals have come to agree on these matters and you can read their common wisdom by clicking here:
Further puppy training specific articles can be found here:
House Training Your Puppy
Now of course, one of the most important things you'll want to do with your puppy is to start the house training process as soon as possible!
For a complete and detailed guide on everything house training, as well as an article that gets straight to the point, please see the following two articles:
Crate Training Your Puppy
Because the use of a crate is so extremely helpful during house training, and because crate training brings so many benefits to the life of a dog and their owner, I honestly believe that every person should read up on the subject to give themselves a chance of making a well-informed and educated decision on whether they want to use a crate.
With that in mind I've written a detailed and complete guide containing everything you need to know on the subject, as well as a 20-step plan to crate training your puppy. You can find both articles by clicking here:
Familiarizing Your Puppy To Their Name, Leash and Collar
Next, being able to reliably get your puppy's attention and being able to have some control of them on leash are two very essential skills you will need every day of their lives.
So to teach them their name and get them used to wearing a leash and collar, please see the following two articles:
Caring For Labrador Puppies
Caring for your Labrador is a very big subject in and of itself, and we have a collection of articles dedicated to that in our section on Labrador health and care.
The next few articles serve only as an introduction to caring for your Labrador during the puppy stage of its life.
Socializing Your Labrador Puppy
Socialization is quite simply the act of introducing your puppy to as many different animals, people, places, sights and sounds as possible, in a safe and fun way that results in positive experiences for your lab.
You should start this process as soon as you get your puppy home, continue quite intensively during the first few weeks of your puppy's life and then continue, though at a somewhat reduced pace, throughout the rest of your Labradors life.
Do you know why this is so important? Or how and when you should go about this? The next few articles discuss this and provide a sample routine that you can follow:
Not Much Here On Care And Training?
Caring for and training a Labrador puppy requires a particular set of skills and knowledge that then leads into training and care for the more mature Lab.
So I separated out just those few articles you can see above and moved them into this Labrador puppies section.
For more detailed knowledge on the ongoing care and training of your Labrador, please see the Labrador training and Labrador health and care sections of the site.
And for any 'problem behaviors' that your Labrador may have developed, please see our section on Labrador behavior.
Something Missing You'd Like To See?
If you have any suggestions for articles focused on the topic of Labrador puppies, please don't hesitate to make a request by contacting me here.
We will always do our best to provide the information if it's useful and of interest to the wider community.
And don't forget to check out our page full of fantastic products and supplies for Labradors!
VIDEO: Finish On A Light Note! A Labrador Puppies First Time Outside
If you've read this far, well done! I think you've earned the right to relax for a minute or two.
Whilst searching for a video to add on the subject of Labrador puppies, I came across this video from animal planet titled 'Too cute!' So to add a little lightheartedness to things, I thought I'd include it here. I hope you enjoy it!
External Resources On Labrador Puppies
A fun, animated video with a serious message from the RSPCA on choosing a puppy, what it entails, what to expect, where to get one etc. Recommended watching. www.getpuppysmart.com.
For a good overall resource on puppy training, not specific to Labradors, but almost all of it still applies: The Pup Smart category at www.perfectpaws.com.
For information on health and care of your Labrador puppy, you'll be hard pushed to find a greater resource than at www.petmd.com.
Top Picks For Our Dogs
For a list of all the supplies we get for our new service dog puppies check out our New Puppy Checklist on the PuppyInTraining.com blog.