This post may contain affiliate links. We may earn money or products from the companies mentioned in this post.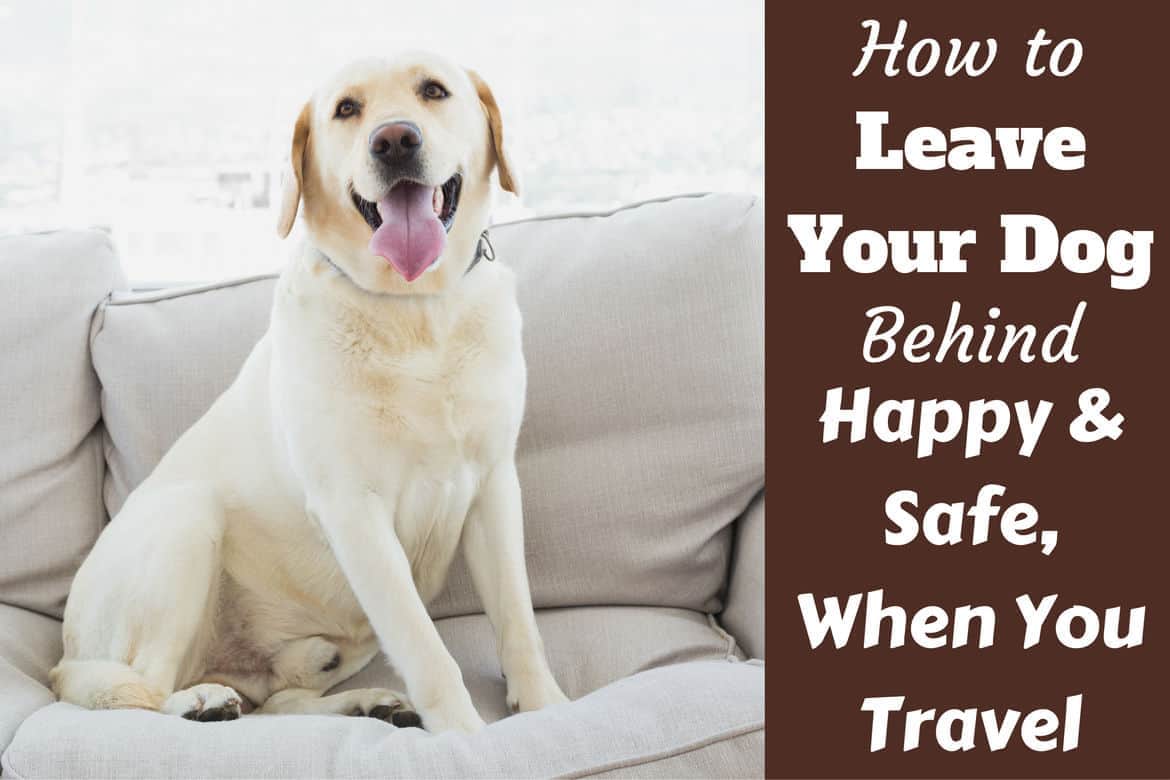 Your dog is a member of your family, and one of the hardest decisions you will have to make is how to leave them behind when you travel.
You want them to be safe and comfortable without you, which is why it's a smart idea to plan for such travels well in advance.
Whether you're headed to the beach for a weekend, or are planning a month-long holiday, this article will help you ensure that your dog is well taken care of while you're out of town.
Why Not Bring Your Dog with You?
Vacationing with your dog has plenty of advantages — nobody will care for your dog as well as you, you'll save money on boarding fees, and your dog will be able to explore the world by your side.
It's the perfect situation, right? Not always.
Some dogs just don't travel well. They are anxious in new situations, don't get along with other dogs, or aren't able to adjust to your vacation schedule.
Dogs aren't allowed in many hotels, most restaurants, and should never be left alone in the car.
Your dog will also take up a lot of your time and energy as you try to accommodate their needs while traveling.
This isn't a big deal if you're going on a camping trip or a road trip, but many holidays and vacations just don't work well with the family dog in tow.
What Type of Care is Best for Your Dog?
Of course you want to make sure your dog receives the best care possible while you're away, and there are several options available to you, depending on where you live.
The important thing is to find the situation that will work best for your dog — one that closely resembles their home environment.
A nervous dog who is the only household pet will probably not feel secure in a highly social environment with lots of other dogs.
On the other hand, your dog's happiness should not be your first priority.
When you're weighing your options, the most important considerations are keeping your dog safe and well cared for. Happiness, while important, isn't critical.
Let's discuss your boarding options and the pros and cons of each one:
Board Your Dog with Your Local Veterinarian
Many veterinarians offer boarding services for cats and dogs.
This is a great option if your dog needs regular medical attention or careful monitoring. Otherwise, there is no reason that your healthy dog should be kenneled with animals that are sick, injured, or in distress.
I know you love your dog's veterinarian, but you can find a better option for boarding your pup.
Leave Your Dog Home with a Dog Sitter
If there is someone that you trust to stay in your home, this is a great choice for your dogs (and cats too).
Your dog's routine will change very little, and they will likely receive top notch care. Having someone in your home while you're away will also minimize security risks.
Friends and family members make great house and pet sitters, but you can also hire a professional.
In the USA, you can hire a certified pet sitter from the National Association of Professional Pet Sitters, whose members have a reputation for ethical behavior and professionalism.
The downside to professional pet sitters? They're relatively expensive.
Bring Your Dog to a Sitter's Home
Another great option is bringing your dog to a pet sitter, for care in their home.
This allows your dog to experience the comfort of routine in a home environment, and this option is also less expensive than paying someone to stay in your home.
Once your dog establishes a relationship with your trusted sitter, they may actually look forward to their own "vacation" away from home.
Leaving your dog with a friend, family member, or professional pet-sitter is a great choice for well-behaved, well-socialized dogs.
If your dog has behavioral issues or doesn't get along with dogs, cats, people, etc., this might not be the best option.
DogVacay is a website that helps match dog owners with sitters all over the United States.
Board Your Dog at a Kennel
Kennels were once the only option available to folks who wanted to travel without their pets.
Are you picturing a row of tiny cages, all full of miserable, barking dogs? While this scenario hasn't entirely disappeared, the modern dog kennel has been totally re-branded.
Now you can bring your dog to a clean, spacious kennel in just about every good-sized town. You can also board your dog at a rustic retreat, doggy spa, or upscale resort if you live close to a metropolitan area.
Kennel offerings are available for every type of dog at every price point.
Standard kennels will still make use of individual cages or rooms for your dog, but well-socialized dogs will normally be allowed out for playtime, and most kennels provide plenty of exercise for the pups who stay with them.
Because every kennel is unique, it's important to do your research. References and reviews from people you trust will help you decide which kennel is right for your dog.
Here are a few tips from the Humane Society of the United States for choosing a boarding kennel for your dog. 
Kennels are often the cheapest option for boarding your dog, and the price drops even further when you board more than one. Many kennels are also a good solution for dogs who are untrained, poorly socialized, or aggressive.
---
You might also be interested in:
---
Preparing Your Dog to Be Left Behind
Are those puppy-dog eyes making you feel guilty as you pack your suitcases? I can totally relate, but with a little advanced planning you can make your trip easy for both of you.
Here are some tips for helping your dog prepare:
Leaving Your Dog When You Travel: Puppies
If leaving your dog behind when you travel sounds difficult, it's even harder to think about leaving a new puppy.
There is a silver lining though — your puppy is learning how to integrate into your family life, and if traveling without your dog is normal for you, it will also become normal for your pup.
Acclimating your puppy to whatever boarding option you decide on is much easier than acclimating a full-grown dog.
Here are some tips for leaving your puppy when you travel:
Work on training and socialization from day one. No matter where your dog ends up when you travel, they will be offered more privileges, exercise, and opportunities if they are trained and socialized. Your dog sitter will give your dog longer walks if they don't pull; your kennel will allow your pup frequent play times with other dogs if they are well mannered; and your helpful friend or family member will be more likely to bring your dog to the park if they are easy to manage. You can find lots of information about socialization and training on this site, but if you're just starting out, read these: How to Socialize a Puppy and Raise a Happy, Confident Dog and Why Training Your Labrador is So Important .
Crate train your puppy. Crate training ensures that your dog will stay out of trouble when your sitter can't watch them. A crate is not a prison – it is a place where your dog can go to feel comfortable, safe, and secure. A crate is also a very useful tool for helping your dog relax when you're away from home, and using it now will make it easier for your dog and your sitters later on. We have many crate training resources to help you get started.
Don't board your puppy until they are fully vaccinated. Animal hospitals and kennels are magnets for disease and illness, and most won't allow your dog to visit unless they are fully vaccinated. If your dog is staying with a pet sitter, this is less of an issue. Here are the recommendations for your puppies first vaccinations.
Tips for Leaving Your Dog While on Vacation
Sure, you're going to miss your best friend while you travel, but you also want to be able to relax and enjoy your vacation.
Here are a few suggestions to make leaving your dog just a little bit easier.
Write down your dog's schedule for the sitter. Kennels will likely stick to their own schedules, but a sitter can be more flexible. It will be helpful for them to know when your dog wakes in the morning, takes bathroom breaks, eats meals, and goes for walks. This way they can stick as close to your dog's normal routine as possible.
There's no need for long goodbyes. Get your vacation off to a good start by scratching your dog behind the ears and heading out to enjoy yourself. If you leave with confidence, you will set the tone for a good vacation – for you and your dog.
Don't worry about your dog while you're away. Dogs don't have the same concept of time as humans. Whether you're gone for an hour or a week, your pup will greet you enthusiastically when you return. To them, it's not so much that you're leaving — it's that you're coming back.
A Packing List for Your Dog
Whether you're boarding your dog at a kennel, a friend's, or a pet sitter's, you'll need to pack an overnight bag for your pup.
If your dog is staying home with a sitter, you don't have to pack at all.
Pertinent phone numbers – your cell number, a close-by emergency contact, and the number of your dog's veterinarian.
Food and water bowls
A 6-foot leash for in-town walking and a longer leash for exercise sessions
A record of your dog's vaccinations
Your dog's bed
Your dog's favorite toys and bones
Treat pouch for training (if you use one)
Dog food and treats
Brush and nail clippers for grooming
Poop bags for easy clean-up
Medications and instructions to go with them
Final Thoughts on Leaving Your Dog Behind When You Travel
When it comes down to it, dogs are probably more adaptable than we think, and many will enjoy the change of pace that is inevitable when their family members leave them for a well-deserved holiday.
Whether your dog is spending the week at home or a modern dog boutique, a bit of research and advance planning will ensure that they're safe and well cared for while you're away.
As an added bonus, you can look forward to lots of tail wagging when you return.
Top Picks For Our Dogs
For a list of all the supplies we get for our new service dog puppies check out our New Puppy Checklist on the PuppyInTraining.com blog.