This post may contain affiliate links. We may earn money or products from the companies mentioned in this post.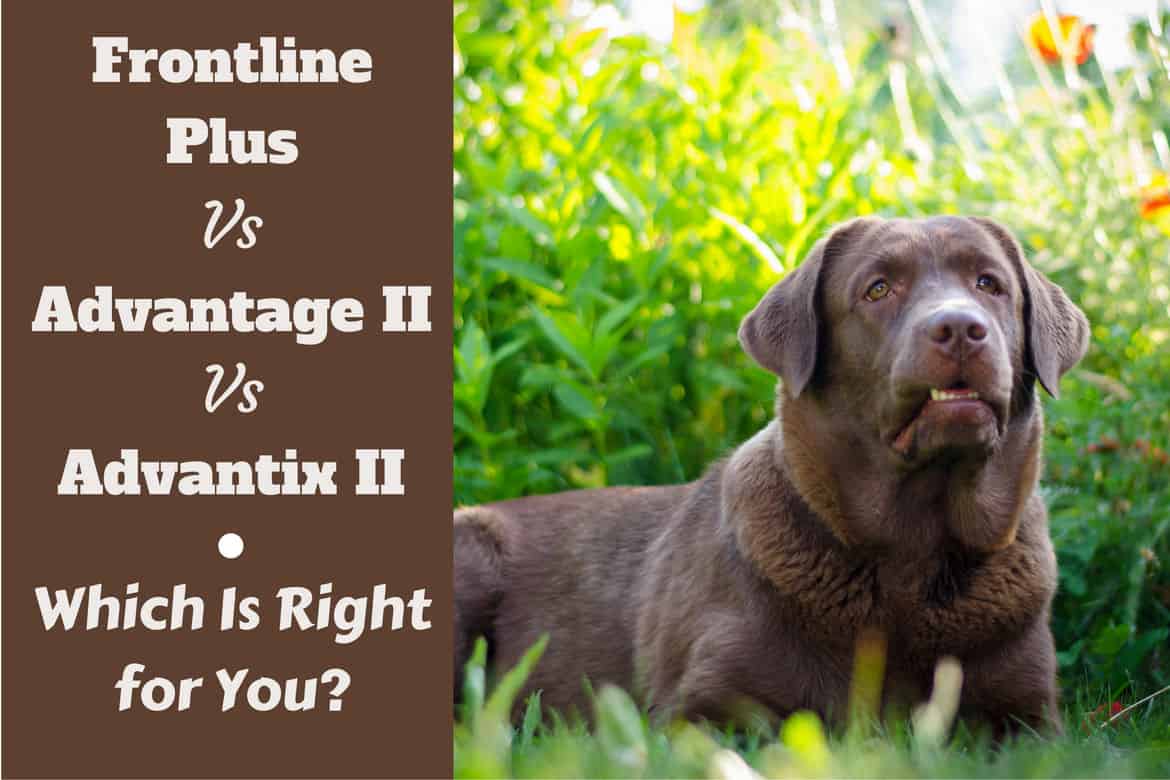 Photo Credit: © Depositphotos.com / Gulyaev
With so many brands and choices of topical flea and tick medicines for dogs on the market, deciding on the most suitable and best flea treatment for your dog is no easy task.
Therefore, to help you I have put together this guide, to aid you in making the right choice during this all important decision.
Frontline, Advantage and Advantix are the three most popular flea and tick medicines for dogs available on the market today – and for very good reason. They are, quite simply, the best.
But that still leaves us having to decide between Frontline vs Advantage vs Advantix, so which of these three are most suited to and best for you and your dog's needs?
In this article we give a detailed comparison of the three, covering how each works, what parasites they are effective against, how to use each product and any safety concerns and side effects.
We conclude with which you should choose depending on your individual circumstances.
OK, that's enough introductory chit-chat, let's get on with the review.
Quick Comparison Table
Here's a top level comparison of the three different treatments, giving the most important details of the parasites they are effective against and a few other important tidbits.
Bayer Advantage II

Merial Frontline Plus

Bayer K9 Advantix II

Kills Fleas?

Repels Fleas?

Kills Flea Eggs & Larvae?

Kills Ticks?

Repels Ticks?

Kills Mosquitoes?

Kills Lice & Biting Flies

Lice Only

Lice Only

Time to Work?

12hrs

12hrs

12hrs

Active Ingredients

Pyriproxyfen & Imidacloprid

Methoprene & Fipronil

Pyriproxyfen, Imidacloprid

& Permethrin

Waterproof?

Reapply?

30 days

30 days

30 Days

Price

$

$$

$$

Editor's rating
Frontline Plus vs Advantix II vs Advantage II – What's the Difference?
First of all, it's helpful for you to know that both Advantage and Advantix are made by the same company, Bayer.
So let's concentrate on the difference between Advantage and Advantix first.
Advantage & Advantix are Both Made by Bayer
Advantage II and K9 Advantix II are made by the same company, Bayer.
They also have very similar names. So similar, in fact, that one could almost be forgiven for confusing the two.
However, if you have cats in your home, you'd better not get the two confused!
Advantix is Toxic to Cats
Both ranges contain the insecticide Imidacloprid which can be safely metabolised by both cats and dogs.
However, Advantix containsPermethrinwhich is highly toxic to cats. Dogs can metabolise and make safe this insecticide, whereas cats cannot and it can quite quickly poison their body. So:
Advantage II

– Is a range of treatments with formulations for both dogs and cats.

Advantix II

-Is a range of treatments formulated for use with dogs with only!
If you have a cat in your home, it might be best to avoid using Advantix unless you can absolutely assure yourself you will keep the substance away from them, including 24hrs separation after treatment of your dog.
For information on Permethrin toxicity, please see the following discussion.
So Why Use Advantix II at All?
Because out of the 3, it is the most powerful and effective. It actually repels fleas, ticks, mosquitoes and more, so your dog is rarely ever bitten nor carries any of these parasites.
For Advantage II and Frontline Plus to be effective, the parasite has to actually make it onto your dog, there has to be physical contact (and likely biting) before the medicine works.
Never being bitten by these parasites is a layer of protection against heartworm, lyme disease, West Nile Virus and more, so if you do not have a cat, it's a good choice to go for.
NOTE:None of these are a treatment for heart-worm, it's just if mosquitoes are repelled, there is less chance of contracting it. Not 'no' chance…just less chance. And then treatment would still be needed.
Frontline vs Advantage
Both of these products are a topical treatment, that you apply to your dogs skin once per month.
Differences in ingredients aside – that I will discuss in the next section – the main difference is in the parasites they are effective against and how.
Advantage II kills fleas, but it does not kill ticks.
Frontline Plus kills both fleas and ticks, and kills and repels Mosquitos.
Some say Advantage isn't as 'chemically harsh' as Frontline, is often said to cause less adverse reactions and side effects and so is best for more sensitive dogs.
The downside though is in very heavy infestations, where Advantage II has often been seen to be less effective than Frontline Plus. For light to medium infestations (which is most cases to be fair), both are effective.
For a very heavy flea presence, Frontline is the best choice out of the two.
Protection against ticks and mosquitoes should also factor into your decision and if they are known to be a problem in your area, then Frontline is a better choice because Advantage II is ineffective against both.
Advantage vs Advantix
Again, both are topical flea treatments that must be applied directly to your dogs skin on a monthly cycle.
They are both effective against fleas, but that's really where the similarities with effectiveness ends.
K9 Advantix II has the added benefit of killing and repelling ticks and mosquitoes, whereas Advantage has no effect on these parasites at all.
Actively 'Repelling' ticks and mosquitoes is a massive benefit in areas where things such as Lymes disease, heartworm and tapeworms are prevalent.
If a tick or mosquito never bites a dog, they cannot pass on these blood borne diseases. It's a fantastic first level of defense.
Frontline vs Advantix
As previously stated, they are both topical medicines that must be applied to your dogs skin once every month.
Frontline Plus and Advantix II kill fleas, ticks and mosquitoes. They also both repel mosquitoes, giving a first layer of defense against mosquito borne diseases.
However, only Advantix repels fleas and ticks, whereas Frontline does not.
So Frontline fights on the one front of killing parasites already on the dog, Advantix does this too but can also prevent parasites from ever getting onto your dog in the first place.
Therefore, Advantix has the edge here. When fleas, ticks and mosquitoes are repelled from your dog, they never get the chance to actually bite, irritate and possibly pass on infections.
How Effective is Each Treatment on Different Parasites?
The top three medicines being discussed act on different parasites in different ways, and this will obviously be a massive factor in your decision making.
So let's see what each one can achieve.
How Effective are They for Fleas?
Based on manufacturer claims and my research, all three are highly effective at killing fleas, though certainly not all equal.
All 3 claim to kill all fleas within 12 hours​.
K9 Advantix II and Advantage II also claim to kill re-infesting fleas within 2 hours.
K9 Advantix II is the only that actually repels fleas as well as kills them.
This is a big benefit so your dog gets less bitten, less irritated and will have a lower chance of any further parasite related complications.
However, If you feel speed is of the essence when it comes to a flea medication and the time it takes to start working, then you should lean toward Frontline Plus.
How Effective are They for Ticks?
The most important thing of note here is – Advantage II does not kill ticks! So if it's flea and tick treatment you're after, you must choose Frontline Plus or Advantix II.
When it comes to repelling ticks, Advantix II is the only treatment of the three to do so.
However, it is toxic to cats and this should be factored into your decision making.
How Effective are They for Mosquitoes
Advantage has no effect whatsoever on Mosquitoes. It is a flea treatment alone.
Both Frontline Plus and Advantix II are effective at killing and repelling Mosquitoes.
Any Effect on Other Parasites?
Advantage II can control lice.
Frontline Plus can control lice and is also reported to help with mange.
Advantix II has the edge in this category by repelling lice and a good number of other biting flies as well.
Therefore, Advantix II is the more potent and complete treatment, fighting against the highest number of parasites.
How to Apply These treatments to Your Dog
All three are topical treatments, meaning application is directly onto the body surface, on to the skin. They are not for internal use and must not be ingested in any way.
With your treatment of choice – Please read the instructions that come with it very carefully. I cannot stress this enough.
There's nothing to say the instructions won't change between the time I write this and the time you use the treatment. So always read and follow the instructions that come with it.
However, the general steps to apply these treatments are:
Remove your dogs collar to make things easier for yourself.
Remove all packaging, taking great care not to cut the tube in the process, and open the tube ready for application while holding it upright so as not to spill any.
With your dog standing still, part the hair on their back right up near their neck, just between the shoulder blades so you can see their skin.

Frontline Plus

only:

Apply the whole tube to this area of the neck directly onto the skin.

Advantage II or Advantix II

: Apply the whole tube to this spot for small to medium dogs. For large and extra large dogs, apply the treatment to 3 or 4 different spots along the length of the back, from the shoulder blades to the base of the tail. This is to prevent too much in one spot that may run off down your dogs sides.
Discard the empty packaging safely so no other human or animal will come into contact with it. Wash your hands, the job is done, repeat in 30 days time.
It really couldn't be easier, however if you have a dog that just refuses to stand still, enlist a helper to hold them steady while you apply the treatment.
Safety – Risks and Possible Side Effects of Use
The first and most important safety aspect of the three treatments being discussed is:
DO NOT use Advantix II on cats – It is highly toxic to them
This is because cats are unable to metabolize permethrin and it poisons them, it can even lead to death.
So if you wish to use K9 Advantix II and there are cats in your home, you need to keep your dog and cat completely separated for at least 24 hours.
You might want to opt for Frontline or Advantage instead because accidents happen – so why take the risk?
On Dogs, All Three Have Excellent Safety Records
All three products have been extensively tested, as well as used by countless hundreds of thousands of pet owners and have been found to be extremely safe.
Some adverse reactions have been seen in dogs who have an allergy to the oils that are present to hold the active ingredients, but it's a very small number and results in a mild skin irritation that quickly disappears.
If it seems to get worse, or even doesn't look to be getting better after a few days, you must go to see your vet.
Most Adverse Reactions Are Due to Incorrect Dosage
It has been reported that some dogs suffer a loss of appetite, restlessness, becoming nervous and other forms of strange behavior as side-effects.
Mostly this is seen as a result of an incorrect dosage being applied.
In all three ranges, there are different sized doses that are meant for dogs of different sizes – for small, medium, large and extra large dogs.
Applying too little makes it in effective, applying too much – for example using a large dog dose on a small dog – can result in the adverse reactions described.
Make sure to read the instructions carefully, follow them to the letter and you will be fine.
Some Dogs May React Badly to Any Flea Treatment
With any and all flea treatments, as well as any medicine, there are some dogs who will have a bad reaction.
It's the same as with us humans. Have you ever read the warnings and side-effects that can occur with Aspirin or paracetamol?
Anyway, before applying any flea treatment, read the possible side-effects so you know what symptoms to look out for just in case your dog reacts badly.
If you spot any symptoms and side-effects, follow the instructions – which will usually mean just keeping an eye while they recover on their own, but may mean a visit to the vet.
Which Scores Better on Price?
The prices tend to vary quite wildly, with each being available in 3 month, 6 month and 1 year bundles, with prices dropping per treatment with the more you buy.
But on a relative scale, for the same number of doses Frontline Plus and Advantix II are pretty much the same price with just a dollar or two between them.
Advantage II is a few dollars cheaper on average for the same number of doses. But then it's a less complete and all around parasite control treatment, with fewer and cheaper active ingredients.
So on price alone, if you are only trying to combat fleas and price is a factor, go for Advantage II.
If you are tackling more than just fleas, then on price alone there isn't much between Frontline and Advantix, so decide based on the other information in this guide.
For the very best prices on all these medications though, you can't do better than to buy from Chewy. There are always deals on these products, offering anything up to 40% off sometimes.
Just be sure when comparing prices you compare products for the same size dog, and with the same number of doses in each packet.
It stands to reason that 6 doses for an extra large dog will cost more than 3 doses for a medium dog.
So in Our Opinion, Which is Best and Which Should You Choose?
K9 Advantix II is without doubt the more complete and potent treatment of the three, dealing with more parasites in more ways than the other two.
However, that doesn't necessarily mean Advantix is the best product for you, your dog and your particular individual situation.
Following is a summary of factors I would use when trying to decide which to opt for:
If the area you live in has lots of mosquitoes and other flying biting insects – Choose Advantix II.
If you and your dog spend a lot of time outdoors in countryside – Choose Advantix II. They will be exposed to more parasites, carrying more potential diseases than a city dog so will benefit from the extra protection.
If you have a cat and your dog spends lots of time outdoors – Choose Advantix II, but make sure to keep the treatment and your dog well away from your cat. 24hrs separation after dosing your dog.
If you have a cat and yours in an indoor or city dog – Choose Frontline Plus. The added protection of Advantix II isn't really necessary for an indoor or city dog and not having it in the house is safer for your cat.
Only if mosquitoes and other flying parasites aren't an issue, your dog spends little time outside and price is an issue should you choose Advantage II.
I See They are 'Plus' and 'Version II', are There Standard Versions?
There is a standard 'Frontline', as well as a Bayer Advantage and a K9 Advantix, the difference being that the 'Plus' and 'mark II' versions are newer and more effective
The main difference between Advantix and Advantix II is the addition of IGR, Insect Growth Regulator, that not only attacks live adult parasites, but also their eggs and larvae.
To be honest, I don't see the point in further discussing the older versions in this article (call me lazy!)
If you have the very real problem of parasites on your dog and perhaps in your home, why would you opt for an inferior, older product that have more powerful, up to date and more highly effective versions available?
So I'll leave that discussion here.
Conclusion
In the comparison chart at the beginning we highlighted the differences between these three market leading flea treatments.
We then discussed in detail the pros, cons and factors that should go into choosing one over another if you are undecided.
In our opinion, choose Advantage II only if you're looking to fight fleas, living in an area where ticks and biting flies are not an issue.
For everyone else, we recommend Advantix II…unless your dog rarely goes out in the wild, or if you have a house with cats and would find it hard to keep a treated dog and your cat apart for 24 hours.
Which treatment is right for you depends on your individual circumstances, we just hope this guide has cleared up any confusion and helps you to make the right decision.
You can also visit Petbucket.com for a wide range of flea treatment for dogs.
Product image credits: © Chewy.com
Please be aware this page contains affiliate links and Labrador Training HQ receives a small commission if you make a purchase through such links. This has absolutely no effect on the final price you pay and we are very grateful for your support.
Disclaimer
All content on this site is provided for informational and entertainment purposes only. It is not intended to be nor can it be considered actionable professional advice. It must not be used as an alternative for seeking professional advice from a veterinarian or other certified professional.
LabradorTrainingHQ.com assumes no responsibility or liability for the use or misuse of what's written on this site. Please consult a professional before taking any course of action with any medical, health, well-being or behavioral issue.
Top Picks For Our Dogs
For a list of all the supplies we get for our new service dog puppies check out our New Puppy Checklist on the PuppyInTraining.com blog.