This post may contain affiliate links. We may earn money or products from the companies mentioned in this post.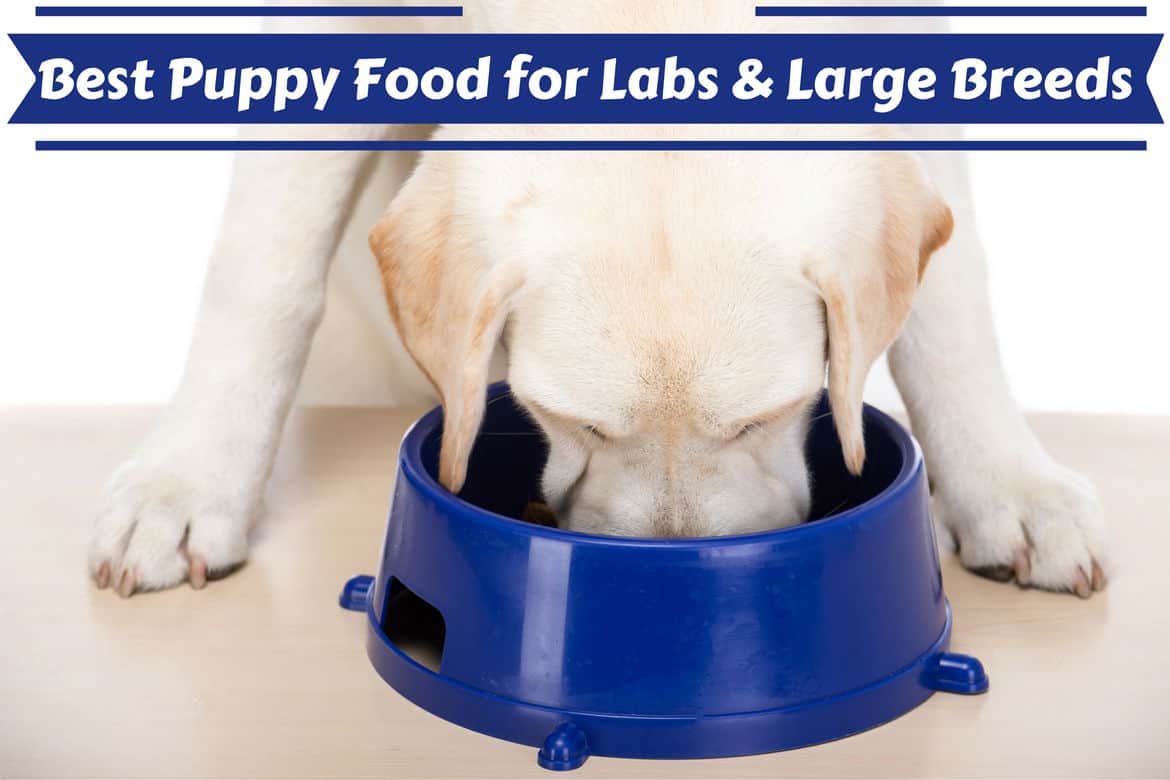 At a Glance: Our Choices for the Best Puppy Food for Labs
Note: The links above take you to more information, current prices, and customer reviews on Chewy.
As a dog lover, you want to give your pooch the best of everything and that includes the best food. But with so many brands on the market today, it's hard to determine which ones outshine the rest.
SPOILER ALERT: Our favorite puppy food for Labs and large breeds is Wellness Core Grain Free Puppy Food.
There are many factors you must keep in mind when choosing puppy food for your Lab, the most important of which we're going to discuss in this article.
We'll also provide a review of five popular brands to aid you with your decision, 4 that we recommend as the best puppy food for labs, and one very popular brand you may be surprised to hear is probably best avoided.
QUICK OVERVIEW: THE BEST PUPPY FOOD FOR LABS AND LARGE BREEDS
Why Choose Specific Food For Labrador Puppies Or Large Breeds?
It should be obvious that a Chihuahua and your Lab have very different nutrition and health requirements due to the huge difference in the eventual size and structure of their adult bodies. This is why you find 'breed specific' foods available.
Large breeds grow faster and have far more growth to go through than smaller breeds, with a Labrador going from under a pound at birth to perhaps 75 pounds as an adult.
This means their bones and joints change quickly and dramatically as they grow from a puppy to adult, increasing in over 75 times their initial weight. This is one reason large breed puppies are more sensitive to nutritional imbalances, perhaps the most important of which is avoiding an excess of calcium.
Too much calcium in a Labrador puppy's diet increases the risk of musculo-skeletal deformities, particularly hip and elbow dysplasia, because their bones grow so quickly and with excess calcium are prone to forming incorrectly.
However, lacking calcium can also result in problems, so Labrador puppy food contains a safe amount for a puppy to grow correctly without having unsafe excess amounts.
But not only this, excess calories can result in a puppy becoming overweight and in a growing puppy, excess weight puts undue stress on their growing, forming bones. To combat this, Labrador specific puppy food is somewhat restricted in calories and fats compared to smaller breed puppy food.
Why are There Different Puppy and Adult Dog Foods?
Whether your dog needs puppy food or not varies by breed and age since not every dog matures the same.
As previously discussed, smaller breeds typically peak earlier than larger dogs do. A lab tends to reach adult size between the age of 12 to 18 months. At this point, you should switch from puppy food to adult food, even though your pooch might continue to fill out until the age of two years.
The extra calories, vitamins and minerals in puppy chow may cause more growth than you want, meaning it can easily lead to your furry friend becoming overweight or even obese if you feed it to them into adulthood. Not to mention, continuing to use puppy food in adult labs may lead to musculo-skeletal disorders.
But the flip side of this is adult food is less nutrient dense, has a different mix and quantity of nutrients and if fed to a puppy could lead to malnourishment and sub-optimal growth.
You might also be interested in:
An additional reason for there being specific food for puppies is the pieces are smaller which not only prevents them from choking, it also makes the food easier to digest. The pieces are richer, denser and the ideal size for smaller mouths.
So puppies thrive best on puppy food, adult dogs on adult dog food and it's strongly recommended to buy food aimed at the life stage of your dog.
If you have any questions or doubts as to when you should switch from puppy to adult dog food, it's best to consult a veterinarian.
Don't Sacrifice Quality To Save A Few Bucks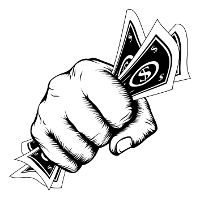 It might be tempting to save a few bucks by purchasing food with a slightly lower price tag. After all, we're all feeling the pinch in our wallets these days.
However, to show the love you really feel for your Lab, you mustn't (potentially) sacrifice their health just to save a few dollars.
The cheaper dog foods don't have the high-quality ingredients that the medium and high-priced brands do. These ingredients are where your pup gets the nutrients they need to grow and live, nutrients that are sadly lacking in the cheaper dog foods.
You've probably heard the saying, "You are what you eat." So if man's best friend is eating low-quality food, you're basically saying they're not worth the extra money to feed them properly. With foods that are a bit more expensive, your pooch can eat a more well-balanced meal and enjoy it. Isn't your pup's health and happiness worth more than a few bucks?
Not only this but 'what goes in, must come out.' Cheap foods have low quality fillers meaning your puppy will need bigger portions to get the same nutrients. They eat more, they poop more, and this means house training becomes much harder for you. What you feed your puppy is a major factor in the success of your house training process.
Why We Recommend Feeding Your Labrador Puppy Kibble
In addition to the different brands and choosing between puppy and dog food, there's also the question as to whether your dog should eat wet food or dry kibble? Here at LTHQ, we're strong advocates for feeding kibble as opposed to wet food in a can.
Firstly, dry food tends to be more complete and balanced with the correct amount of vital nutrients in it. The ingredients tend to be of better quality as long as you pick the right brand. Plus, dry food helps to keep teeth strong due to being a solid food, and the slightly abrasive nature of the solid food has a natural teeth cleaning effect.
Kibble will also benefit you as the owner since it's much easier to store and serve than wet food and you can put it in a bucket with a lid and not have to worry about it taking up a ton of space.
It also lasts far longer than cans as you need to feed less of it. And truthfully, one of the biggest benefits to an owner is it's more cost efficient than canned food, too.
Recommended Best Puppy Food For Labs And Large Breeds
In this next section we give you 4 of the best foods on the market made from high quality ingredients but still available at a reasonable price.
These foods will provide your puppy with all the nutrients they need in just the right mix and quantities, not just so they survive, but so they can truly thrive.
This particular food has a high quality protein content of 38%, with the first three ingredients being deboned chicken, chicken meal and turkey meal.
Deboned chicken is high quality chicken protein, whereas the chicken and turkey meal is a concentrate.
It contains approximately 300 percent more protein than standard chicken meat weight-for-weight because once cooked, chicken loses up to 80% of it's water content whereas the meal doesn't.
It is nutrient rich with vitamin D, vitamin B12, vitamin E, vitamin C and vitamin A as well as containing minerals like zinc, iron and calcium.
It's loaded with vegetables such as potatoes, spinach, carrots and broccoli. It even has some fruit content like apples and blueberries.
The Lactobacillus acidophilus, green tea extract and rosemary extract are all known to help prevent infections.
This is a very high-quality food your puppy will truly thrive on and is our top recommendation as the best puppy food for labs.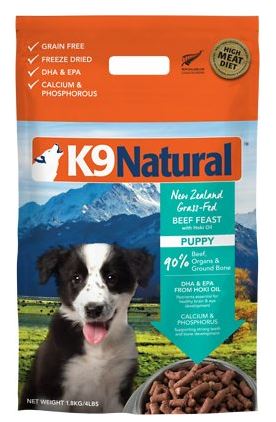 I like to describe K9 as a 'super premium' brand… and it comes with a price tag to match! If it wasn't for the cost, it would be number one on our list, but we think taking price into account that Wellness just beats it on value.
However, if price is no object, K9 is certainly one of the best foods available!
K9 Natural Grain-Free Puppy Freeze-Dried Dog Food gives your puppy all the benefits of raw food, aiming for optimum levels of growth and development — not too fast nor stunted — and for lean muscle mass and peak conditioning.
Its main ingredient is grass-fed New Zealand beef. And this is rounded out by whole food ingredients like flaxseed, kelp, New Zealand mussel, fruits and veggies, and hoki oil which provides DHA for EPA for healthy brain and eye development.
It's also grain free, something that a lot of owners look for when deciding on a food for their pups.
​We strongly recommend this brand, it has 5 star reviews all over the web and extremely good feedback from very happy customers. It gets a big thumbs up from us.
Taste of the Wild is high in protein. The first ingredient is bison and is a high quality meat product.
The next ingredient is lamb meal, which has a large amount of protein in it being a meat concentrate, 300 percent more than fresh lamb meat.
The third highest ingredient is sweet potatoes, which are an excellent source of complex carbs. They contain fiber and beta carotene. In fact, this food consists of approx. 40 percent carbohydrates. This provides your puppy with a source of energy ideal for his busy puppy lifestyle.
This food also contains salmon oil, which is known to contain a great deal of the two omega-3 fatty acids, EPA and DHA, and the inclusion of chicory root provides inulin, a prebiotic that promotes health bacteria in your puppy's digestive system, promoting health and good digestive health.
Overall, this food is highly recommended and your puppy should thrive on it.
Eukanuba take their food production seriously having scientifically developed different foods to suit different breeds and stages in life – There's no 'one-size-fits-all', there are specifics.
They also allow regular independent inspections of their manufacturing process and source ingredients the US, EU and NZ. So quality control is well taken care of.
The large breed puppy formula contains a scientifically formulated balance of proteins, fats, phosphorous and calcium in just the right amounts and proportions to promote a healthy rate of bone and muscle development, highly important for large breed puppies where excessive nutrients can be just as harmful as malnutrition.
The food also contains glucosamine and chondroitin for the health of connective soft tissues which is reassuring for large breeds, and especially Labradors, who can suffer from many joint problems in life.
It also contains omega oils for healthy brain development, as well as other fatty acids known to promote healthy skin and coat.
It's a highly popular brand and the reviews from current users are glowing, both on Amazon and on popular forums. So Eukanuba large breed puppy food comes recommended.
Hills Science Diet is known for containing high-quality ingredients, though it must be said they aren't as quality as our first three recommendations.
However, this particular dry food is complete and balanced, providing 100 percent of all your pup's essential nutrients in just the right mix and quantities.
It will boost your dog's immune system and ensure healthy bone development because of the correct levels of calcium in it.
The fiber in it will help with digestion while it has antioxidants that are known to help keep your dog healthy for many years to come.
Although not the best food we have listed here, for those who simply must be cost conscious, you can feed your puppy this, they will thrive and you can feel confident you've provided them with all the nutrients they need.
Royal Canin is a very well-known brand with lots of positive reviews from past and present dog owners on Amazon. Not famed for the highest quality ingredients, but never the less it's one of the healthier options for your pet.
It has an above average protein content than the minimum recommended for your dog, coming in at 31 percent protein at dry weight.
The protein it has comes mostly from chicken by-product meal which is considered somewhat low quality and consists of whatever is left after chickens are slaughtered. (However, it does NOT – as you might read elsewhere – consist of anything from feet to beaks.)
According to dogfoodadvisor.com, this food contains 31% protein, 13% fat and an estimated majority of this food being made up of carbohydrates at 45%.
After chicken by-product meal, the second ingredient in this food is brewers rice. Brewers rice is again a by-product, this time from the brewing industry and it's only rated as 'modest' in terms of how important it is to your canine's health.
The fourth ingredient is corn gluten meal which is a residue left over once most of the useful, starchy carbohydrates have been washed out of it.
In it's defense, despite seemingly low quality ingredients, Royal Canin puppy does have a high protein content, contains fish oils to provide omega oils, and prebitotics for digestive health, plus a whole assortment of natural additives, extracts and essential trace elements.
With such popularity, high ratings and reviews with so many people saying their dogs thrive on this, there must be some truth to it. So we're happy to say it's worthy of trialling, though personally we would go for one of the more premium brands above.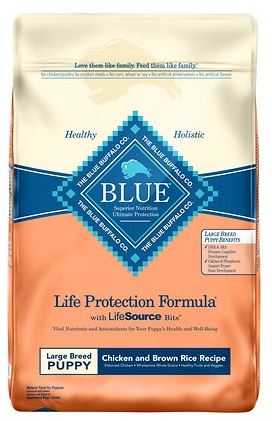 First off, Blue Buffalo Large Breed Puppy Dry Food gives pups a significant amount of protein, with the first two ingredients being deboned chicken and chicken meal.
The third to 5th ingredients are wholesome whole grains that provide high energy from complex carbohydrates that are easy to digest.
These are far better than corn and most other sources of carbs found in cheaper foods that are hard for a puppy to get any nutrition from.
Out of everything in this product, 40 percent of it is protein, which is higher than average. About 14 percent of it is fat, and of the remainder, 38 percent is carbs.
The flax-seed in this product is rich in omega-3 and 6 fatty acids and fiber, both of which are important to your pup's health including his digestion. And the omega oils may help reduce risk of developing arthritis.
Conclusion
A growing puppy has very specific dietary needs that must be met if they're going to thrive, needs that are different to an adult dog and that cannot be met by feeding them the same food as adult dogs.
Not only this, but Labradors are a large breed and are more sensitive to nutritional imbalances than smaller breeds. You really do need to get their diet right to do the best for them.
Luckily, many brands of food specifically aimed at large breeds and Labradors have been created that provide everything they need in just the right amounts, that are easy for an owner to feed by simply following instructions on the packet.
I know there is a lot of conflicting advice out there when it comes to dog food and it can be a nightmare to wade through if trying to find the best puppy food for Labs. So hopefully this article has been of some use to you.
Note: This article discusses the best Labrador PUPPY food. Please click here to see our recommended food for ADULT Labradors.
Save To Pinterest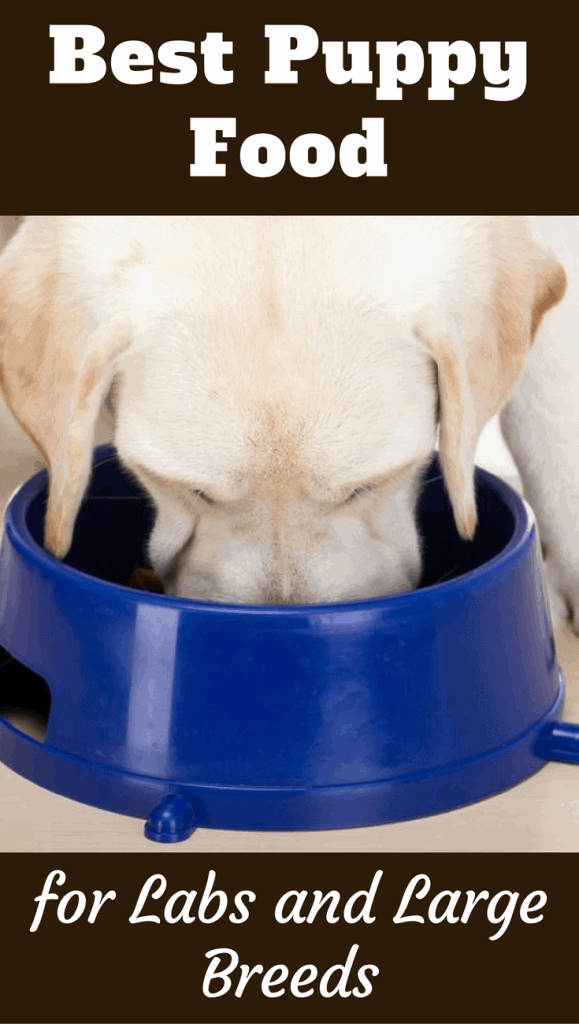 Product image credits: © Chewy.com
Sources:
Special thanks goes to DogFoodAdvisor.com from whom we sourced the information on ingredients and percentages for proteins, fats and carbs. A very good resource that does good work for dog food quality awareness. Check them out!
Please be aware this page contains affiliate links and Labrador Training HQ receives a small commission if you make a purchase through any such links. This has no effect on the eventual price you pay and we are very grateful for your support.
Disclaimer
All content on this site is provided for informational and entertainment purposes only. It is not intended to be nor can it be considered actionable professional advice. It must not be used as an alternative for seeking professional advice from a veterinarian or other certified professional.
LabradorTrainingHQ.com assumes no responsibility or liability for the use or misuse of what's written on this site. Please consult a professional before taking any course of action with any medical, health or behavioral related issue.
Top Picks For Our Dogs
For a list of all the supplies we get for our new service dog puppies check out our New Puppy Checklist on the PuppyInTraining.com blog.