This post may contain affiliate links. We may earn money or products from the companies mentioned in this post.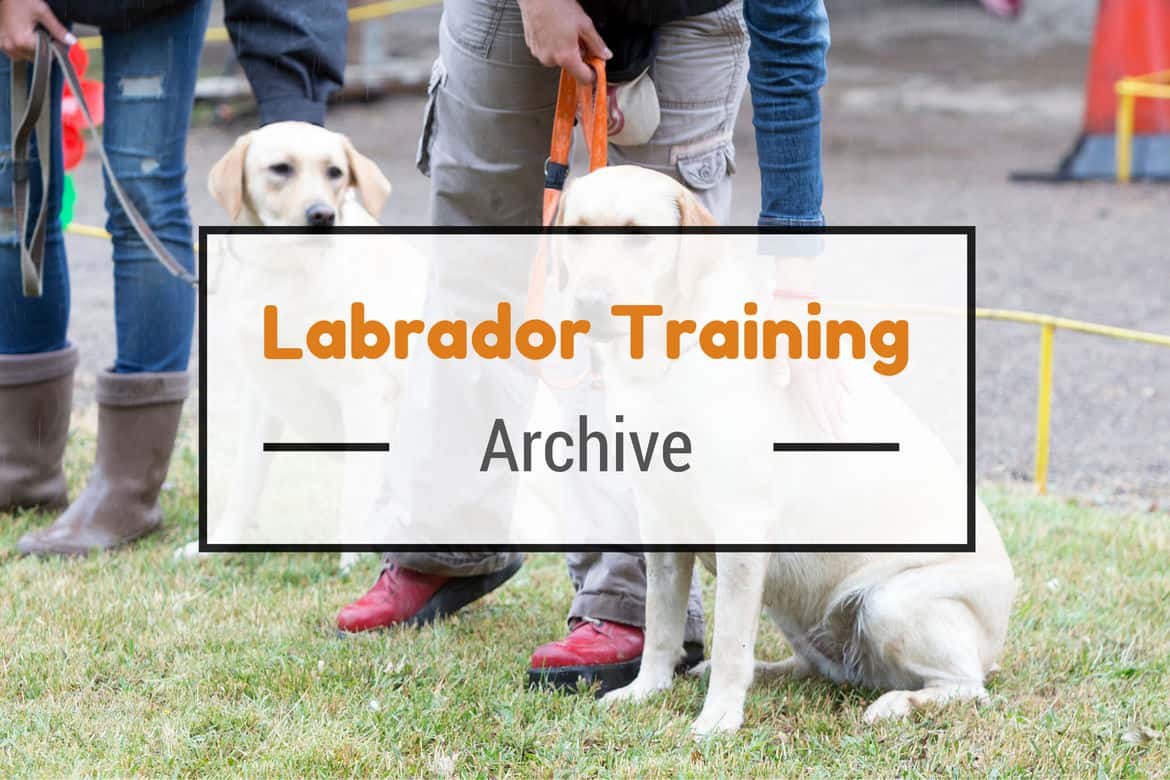 Below is the collection of articles from Labrador Training HQ on the subject of Labrador Training.
Your Labrador wasn't born with the knowledge of what you want him to do, or don't want him to do.
Your Lab wasn't born knowing the rules to living in a human world.
Your Lab just doesn't know what you expect…And it's up to you to teach them!
Essentially your Labrador can only become what you train them to be, so training must be seen as a part of your every day lives together and the process through which you guide your dog to live a happy, safe and fulfilling life.
But you can't train your Lab successfully unless you know and use effective Labrador training techniques.
What follows will teach you the strategies and processes of training a Labrador Retriever to become a well-mannered, obedient, respectful and above all, lovable and happy dog.
Note: For advice on training for or solving behavior problems, please see the Labrador behavior category for many detailed articles on the subject.
Labrador Training – Essential Theory
In this section, we take a look at what training is, the ways you need to prepare yourself for it, different training methods we should choose and why, and details of fundamental theory.
Labrador Training Equipment
In order to train your Labrador effectively, you'll need the right tools for the job.
The next few articles discuss the various tools and equipment available and how and when you should use them…if at all…as I do not recommend them all.
QUICK RECOMMENDATION: We clicker train our puppies. If you need a clicker our one recommendation is to get one with a wrist strap like the EcoCity Clicker.
Labrador Puppy Training
You should begin short and gentle training sessions as soon as you get your Labrador puppy home.
A puppy isn't just able to learn, they learn at a very fast pace so you should take advantage of this short window of opportunity, especially because you can prevent many bad habits or behaviors from ever developing.
QUICK RECOMMENDATION: One of our favorite puppy toys is the Calmeroos Puppy Toy with Heartbeat and Heat packs. It's helped our puppies on their first few nights to adjust to their crate and new home.
Crate Training
Crate training is the process by which you teach your dog to see their crate as their own special place.
A place where they can go to get away from things, to relax and where they feel safe and secure. Accomplish this and the crate becomes a huge benefit to both you and your dog.
Many people view crating a dog as cruel and it certainly can be if done incorrectly.
But after effective crate training, the crate becomes a place they love, an incredibly useful tool for you to use for the management of your dog and a place they can use to get away from things when they wish.
The following articles are a complete guide to crate training, covering the why, the what and the how.
Start with the introduction and work your way through to learn everything you need to know about the wonderful benefits of using a crate and how to crate train your dog:
QUICK RECOMMENDATION: We love our Midwest Life Stages Crate. We bought one for Linus 14+ years ago and use the exact same crate today.
House Training
If you're going to have a Labrador live in your home, there's little need for me to describe just how important it is to train them to eliminate outside, or a very specific designated bathroom spot inside.
You simply can't have them urinating or defecating anywhere they please.
This form of training is usually known as 'house training' or sometimes 'potty training'. The following articles form a complete and detailed guide that will help you train whatever toilet habits you've chosen for your dog:
QUICK TIP: Our #1 house training tip is to keep a constant eye on your puppy when indoors, watch for pre-potty signs, and get him outside before he has an accident. If he does have an accident in the house use an enzymatic cleaner like Rocco & Roxie Stain and Odor Remover to remove any trace of the potty accident.
Basic Labrador Obedience Training
The training and commands discussed in the next few articles are possibly the most important on the site when it comes to keeping your Labrador safe and well-behaved.
QUICK RECOMMENDATION: Stetson's favorite training treats were the Wellness Soft Puppy Bites. They're a little large individually, but easy to break up into smaller sizes for training your Lab.
Training Your Labrador To Walk On A Leash
Walking on a leash isn't a natural thing for a dog to do. Most dogs move much faster than us and love to wander and explore.
This naturally leads to a lot of racing ahead, pulling and lagging behind and this is a complete nightmare for you!
Training your Labrador to walk nicely on a leash isn't the easiest thing to do but it's one of the most beneficial, making walks so much easier and far more enjoyable.
The following articles give guidance on how you can achieve this:
QUICK RECOMMENDATION: If you're dog likes to pull on walks and you're looking for a good no-pull harness then check out the PetSafe Easy Walk Harness.
Ian Dunbar: Dog-Friendly Dog Training
This is a video of respected trainer and animal behavior specialist Dr Ian Dunbar speaking at a conference in 2007.
Ian discusses how we should learn to see the world from our dogs perspective and in doing so, how we can better earn their love and trust.
Armed with this love and trust, we will form a better relationship and as a result, effective training becomes just that much more effective and enjoyable for both you and your dog.
Not Able To Find What You're Looking For?
If there's an aspect of Labrador Training not covered above that you'd like to see, please make a request by contacting us here.
But please, first make sure to use the search facility in the footer of this website and browse our other sections as the subject may have already been covered: Labrador health and care, Labrador behavior, Labrador puppies, infobites and Labrador breed information.
External Resources On Labrador Training
Although referring to all breeds in general and not purely Labradors, for those of you that love to watch and not read, the series of dog training videos on www.dogstrust.org.uk are well worth a look.
Again, not Labrador specific, but the 'Perfect Paws' website has a good collection of articles on puppy training that I think offer up a lot of value.
If you like reading books then check out one of our favorite Lab books: The Complete Labrador Handbook.
Top Picks For Our Dogs
For a list of all the supplies we get for our new service dog puppies check out our New Puppy Checklist on the PuppyInTraining.com blog.