This post may contain affiliate links. We may earn money or products from the companies mentioned in this post.
© manushot / Adobe Stock
Your pup seems memorized by the water jetting from the hose, and keeps jumping at it playfully. Dogs seem to be drawn to running water, and for good reason!
Moving water creates a more hostile environment for harmful bacteria, resulting in healthier drinking water. After all, wouldn't you rather drink from a babbling brook over a stagnant pond?
Because flowing water is often healthier water, pet fountains are becoming more popular as owners see the benefits that running water can create in their pet's drinking habits and overall well-being.
At a Glance: Our Choice of 6 Best Pet Fountains
Pet Fountain Benefits
Why buy a pet fountain? After all, your dog may have an affinity for toilet water. Do they really care about taste or water movement?
The main reason you will want to consider switching from still to moving water is for your pet's health.
Pets Drink More Moving Water
Dogs are naturally drawn to drink more from moving water. Just like us, when dogs stay properly hydrated they improve their overall health.
Their kidneys are able to flush out toxins better, they reduce their chance of dehydration and their bodies just function more efficiently.
Many pet fountains also have charcoal and foam filters to make the water taste cleaner and keep dirt out. The water movement also provides aeration, which creates a fresher taste.
Moving Water is Healthier
We all know that running water makes it much harder for bacteria and algae to grow.
Since bacteria in the water can create health issues for your dog, it just makes sense to have a system that creates water movement so your Lab isn't exposed to things that can make them sick.
Also, stagnant water is a perfect breeding ground for mosquitoes. These insects are responsible for spreading heartworm and other diseases. Moving water ensures you aren't attracting these pests into your yard.
What To Look For in a Pet Fountain
Not every pet fountain is created equal! Here are a few things to consider before purchasing one.
Decide On the Material
Pet fountains come in plastic, porcelain ceramic or stainless steel. While ceramic and stainless steel are the higher-end options, plastic is still a safe alternative for those on a budget as long as the plastic is BPA free.
Choose Filtration
Most pet fountains will have carbon filters that remove debris and keep the water cleaner for your pup. Many will also have an additional foam filter surrounding the submersible pump to further remove dirt.
You want to read the manufacturer's instructions carefully to replace and clean these filters in a timely manner, so they continue to do their job.
Determine Water Flow
Some models give you the ability to adjust the speed of the water flow based on your pup's preference. You can also pick from just one spout or multiple water outlets for full fountain effects.
Research How To Clean
You don't want to drink out of a dirty glass and neither does your pet. Dogs prefer clean bowls to filthy ones.
Most pet fountains are dishwasher safe for the top rack, but you want to make sure that disassembling and cleaning it won't be a difficult task.
Please remember that you should not attempt to wash the water pump in the dishwasher. When a fountain is labeled dishwasher safe, this only refers to the bowl and reservoir components, not the pump or electric parts.
You will need to hand wash the water pump separately. Many models have cleaning kits included or available.
Find the Right Size and Location
We all know that a Labrador needs more water than a Yorkie. We also recognize that it can be a pain to constantly fill up the water bowl, so it pays to have large reservoirs to store additional water for large dogs.
With a pump, keeping the water at a certain level is even more important. If the water gets too low, the pump will be unable to circulate and may burn out quickly.
Most pet fountains will have a line showing where the water level needs to stay to avoid damaging the pump.
Make sure you get one that can hold plenty of water so it is easy to maintain the right water height without spending all day refilling the unit.
Also, remember that most pet filters work from a water pump run from an electrical outlet. You will need to have a place to plug in for them to work property.
Our Top Six Best Pet Fountain Picks
There are a lot of choices out there. After examining the reviews and options available, here are six of the best pet fountains we would choose for our own dogs.
The PetSafe Drinkwell Platinum Pet Fountain is a great choice for those looking for a solid indoor model with a clean single-stream flow at a decent price.
Pros:
BPA–free plastic components are top-rack dishwasher safe
Carbon and foam dual filtration
Steady stream of water promoting fresh taste, movement and aeration
Holds 1.3 gallons (168 ounces) of water in reservoir
Suitable for cats
Cons:
Pump cleaning kit sold separately and not included in initial purchase
Indoor use only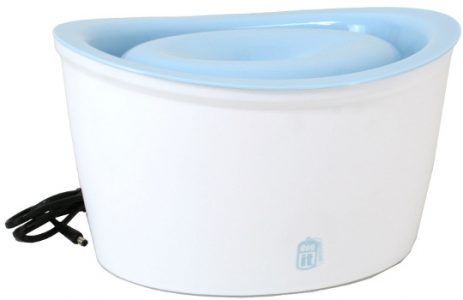 This fountain also has an elevated design so your dog drinks from a higher, more comfortable position. This is a great option for Labradors and other large or senior breeds.
The Pioneer Pet Stainless Steel Drinking Fountain is a great choice for pups and pet parents who like a little bit of style in their water fountain. The stainless-steel material keeps bacteria growth in check and its water filters naturally improve the water's taste.
It holds a bit less water than our previous choices, but it comes in a 90-ounce model which is not at all puny.
Pros:
Stainless-steel material lasts longer than plastic and is top-rack dishwasher safe
Carbon and foam dual filtration
Suitable for cats
Cons:
Holds 90 ounces of water in reservoir, which is less than other models
Indoor use only
More expensive than other models, but does include the cleaning kit for free
As the name suggests, the Drinkwell Outdoor Dog Fountain is a great option for both indoor and outdoor use. It has the biggest reservoir on our list, with two containers holding 3.5 gallons of water in total.
While it is made from BPA-free plastic, it is also UV-resistant to prevent fading if left outdoors. It has one stream, but a deep bowl to prevent splashing.
This one-spout fountain is a great option if you want the versatility to set up your drinking station in either your home or an outdoor covered porch.
Pros:
BPA-free, UV-resistant plastic components are top-rack dishwasher safe
Carbon and foam dual filtration
Steady stream of water promoting fresh taste, movement and aeration
Huge water reservoir holding 3.5 gallons (488 ounces) of water
Indoor or outdoor use
Deeper bowl prevents splashing
Suitable for cats
Cons:
More expensive than other models
No cleaning kit included for pump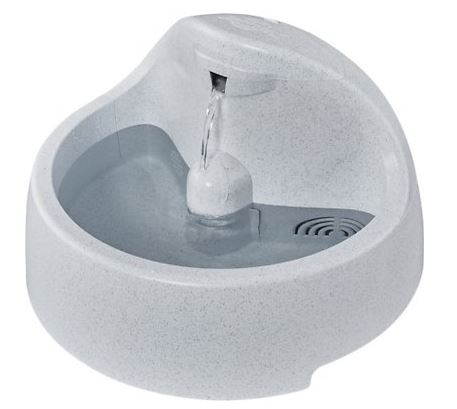 One of the downsides to using a pump to move water is that if the water level falls too low, you will burn out your motor.
The Drinkwell Everflow Water Fountain fixes this issue when used outdoors. By connecting right to your hose, it automatically refills its 1.50-gallon reservoir so you don't have to do a thing.
While you can certainly use this fountain indoors with plenty of water storage, the capacity for unlimited water from your hose means you never have to refill it as long as the hose is supplying water to the unit.
This makes it ideal for an outdoor water station.
Pros:
BPA-free, UV-resistant plastic components are top-rack dishwasher safe
Carbon and foam dual filtration
Steady stream of water promoting fresh taste, movement and aeration
Holds 1.5 gallons (192 ounces) of water in reservoir
Can attach to hose, so no need to refill
Indoor or outdoor use
Suitable for cats
Cons:
Some reviews claim the pump is louder than others available
Pump cleaning kit sold separately and not included in initial purchase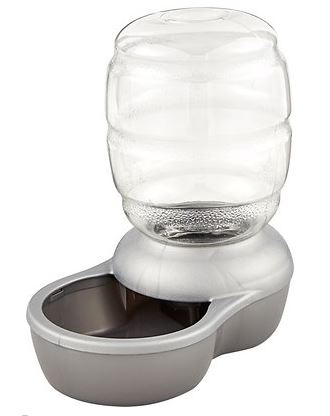 For those on a budget or unable to connect a pet fountain to an electrical outlet, the Petmate Replenish Pet Waterer with Microban is a great choice.
This unit works on the simple premise of gravity moving water from a reservoir bottle that is screwed into the bowl, which then slowly releases more water as the dog drinks the levels down.
This isn't technically a fountain, as there is no pump to move water into any kind of constant stream. However, you do have the option of a filter to clean the water as gravity moves it from the 2.5-gallon reservoir to the bowl.
Please note, unlike our other recommendations, this product is NOT dishwasher safe. You will need to hand wash all plastic components
Pros:
Carbon filtration pad with Microban antimicrobial surface that discourages bacteria growth
No need for electricity for unit to work
More budget friendly than most pet fountains
Holds 2.5 gallons (320 ounces) of water in reservoir
Indoor or outdoor use
Suitable for cats
Cons:
Less filtration: only one carbon filter pad that water passes through once as pet drinks
Not dishwasher safe
No constant water flow through a pump and filter
Plastic is not advertised as BPA free
You might also be interested in:
Conclusion
Pet fountains are a great way to ensure your pet is drinking the cleanest, best-tasting water to keep them healthy and happy.
While you do need to replace the filters, use a little electricity to keep most of these units running, and keep the water level above the submersible pump, your pet's improved quality of life is well worth it.
Preventing kidney issues, bacteria growth and dehydration are always a top priority. These little fountains will keep clean and cool water moving, enticing your dog to enjoy a better drinking experience and healthier life!
Product image credits: © Chewy.com
Please be aware this page contains affiliate links and LabradorTrainingHQ receives a small commission if you make any purchases through any such links. This has absolutely no effect on the eventual price that you pay and we are very grateful for your support.
Top Picks For Our Dogs
For a list of all the supplies we get for our new service dog puppies check out our New Puppy Checklist on the PuppyInTraining.com blog.