This post may contain affiliate links. We may earn money or products from the companies mentioned in this post.
While we love our pets, that doesn't mean that we want our home to smell like a farm. Dogs naturally have a pretty strong smell, which has a way of transferring to every corner of your home.
But this is not a problem that you need to live with. There are a wide variety of effective pet odor eliminators available that can leave your home smelling fresh, without using chemicals that can pose a danger to you or your pet.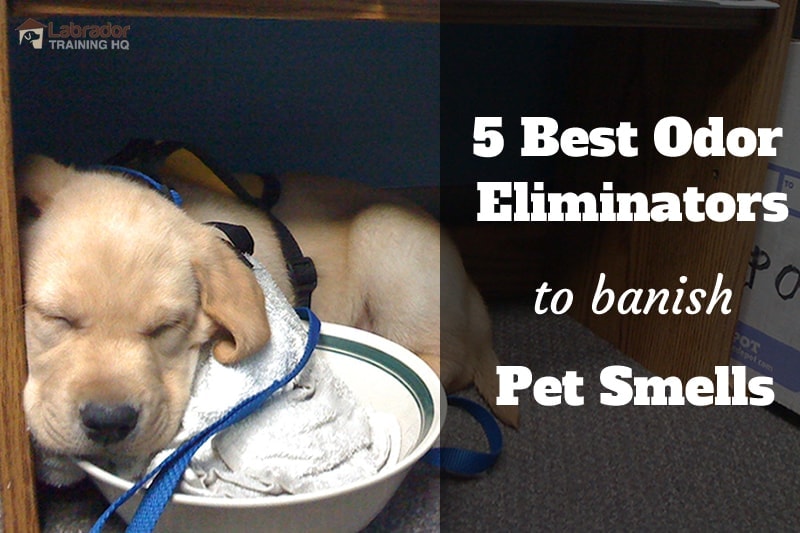 ​Our list of 5 best odor eliminators to banish pet smells.
​I have researched and tested scores of pet odor eliminators, and come up with a top 5 list of products based on (1) how effective they are at removing odors, (2) how safe they are for you, your pets and the environment, and (3) how affordable they are for regular use. My best overall pet odor eliminator was the Pet Odor Exterminator Deodorizing Candle because it is both inexpensive and effective.
I have also put together a comprehensive buying guide, as well as user tips. This article should give you everything you need to both find the right product and use it to best effect.
Comparison Of Top 5
​Product Name
​Size
​Key Fetures
​Rating

​13-oz jar

Candle deodorizer
Enzymatic-based
Scented

32-ozC​

Vacuum powder
Baking soda-based
Unscented

​7-oz or 17.6-oz

Air purifier
Charcoal based
Unscented

​24-oz

Spray
Enzymatic-based
Scented

​8-oz
Top 5 Pet Odor Eliminators
​
1. Pet Odor Exterminator Deodorizing Candle – Best Overall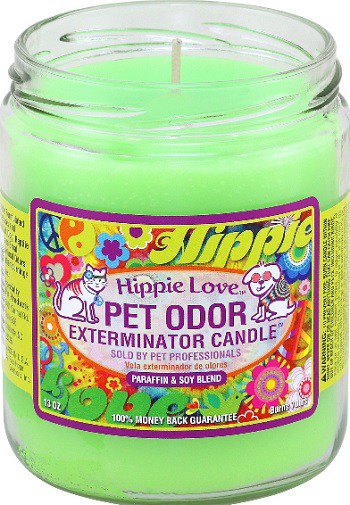 ​When it comes to eliminating that lingering dog odor, you want something effective and affordable that does not involve spraying every inch of your home. This is where the Pet Odor Exterminator Deodorizing Candle comes into play.
This long burning candle lasts for around 70 hours and is an effective and safe way to banish that lingering dog smell from your home. I have even seen it used effectively in veterinary offices, where they are dealing with an entirely different level of animal odor.
Made from a paraffin and soy blend, the burning candle releases natural enzymes that break down airborne animal odors at a molecular level. The candle also gives off a relatively light and pleasant scent, and there are more than 50 different scents available, including Lavender & Chamomile, Hippie Love, Creamy Vanilla, and Orange Lemon Splash.
The Pet Odor Exterminator Deodorising Candle, while it might not be the most attractive on the market, under testing certainly seems to be the most effective. While this candle is probably priced mid-range when it comes to this type of product, it can be an expensive way to manage your home if you need to be burning them daily.
Pros
​Effectively breaks down odors on a molecular level
​Uses no harsh or harmful chemicals
​Highly effective
​Cons
​Customers generally don't seem to like the packaging
When it comes to dispelling that lingering dog scent, rather than dealing with specific issues, these candles offer an effective and safe way to neutralize nasty odors and introduce a soft, pleasant smell into your home.
2. Arm & Hammer Pet Fresh Carpet & Room Odor Eliminator
Rooms with carpet are the worst for picking up dog scents, as they can get caught up in the carpet fibers and just thrive.
Baking soda is well-known for its ability to break down bad smells, so that is the primary ingredient of this powder. It is then enhanced with an Oxygenated bleach. This is made from sodium percarbonate, which attacks mold, mildew, and other contaminants in a way that is safe and natural. While it is color-safe for most surfaces, you should test it on a small patch of your carpet that is not visible to ensure that it does not affect the color.
This product is easy to use. Simply sprinkle over your carpet, leave for 15 minutes, and then vacuum. You should find yourself taking the smell away with the powder. For particularly bad smells, you can leave the formula up to 30 minutes. It is also possible to sprinkle on dog beds, and then vacuum away.
This formula is highly effective, but not as versatile as some of the other products on this list, as it is specifically designed for carpets and similar fabrics.
Pros
​Made from safe and natural products
​Quick and easy to use
​Highly affordable and effective
​Cons
​​Specifically for carpets, not as versatile as some products
​May discolor some surfaces
When it comes to removing dog smell from carpeted rooms, this vacuum powder from Arm & Hammer is highly effective, easy to use, and highly affordable.
3. Moso Natural Air Purifying Bag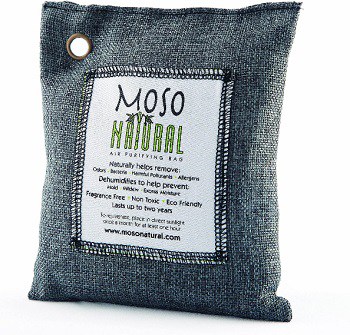 This is another product for dispelling that general dog smell that has a tendency to take root in your home in a highly affordable, safe, and environmentally friendly way.
The product uses bamboo charcoal as a natural odor absorber capable of removing odors, allergens, and harmful pollutants from the air in a way that is 100% non-toxic. It can also remove excess moisture from the air, preventing mold and mildew.
The charcoal comes in a raw linen bag and can be used continuously for about two years. The bag simply needs to be refreshed on a monthly basis by placing it in the sun for a few hours to rejuvenate the charcoal. However, some users reported needing to refresh their bags on a weekly basis, as it did such a good job of absorbing odors that the bag itself started to smell.
The fact that the product can be refreshed makes it one of the most affordable products on the market for managing home odors. This is a great choice if you aren't a fan of scents, as it does not release any scent into the air.
While this product is great when it comes to dealing with that underlying, lingering smell of dog, it is not strong enough to deal with the very strong smells that come from an indoor accident. When your dog accidentally pees somewhere in the home, that odor will need to be dealt with separately as part of clean up.
Pros​
​100% natural and environmentally friendly
​Does not rely on scents
​Highly affordable
​Cons
​Not effective against particularly strong smells
Needs to be refreshed regularly
When it comes to dealing with the underlying dog smell in an affordable and environmentally friendly way, then the Moso bag is an excellent choice, combined with spot cleaning to deal with the odor and bacteria for specific "accidents".
4. Nature's Miracle Fresh Linen 3 in 1 Odor ​​​​​Destroyer
This versatile odor destroying spray from Nature's miracle is effective and versatile. It can be sprayed into the air and onto carpets, furniture, or hard surfaces to eliminate odors quickly. It can also be used as a pre-treatment for fabrics before washing.
Based on a bio-enzymatic formula, it doesn't just mask bad smells, but breaks them down on a molecular level, ensuring that they disappear completely. The enzymatic-based formula means that it does not need any nasty chemicals; however, you should still be wary of letting your dog accidentally ingest the formula. It won't hurt their skin, but it can upset them when ingested.
The formula can be used to remove that general dog smell or deal with specific problem areas that may result from an accident. In these cases, you need to soak the area with the spray, in the case of carpet, down to the pad, and then leave to air dry. This should completely eliminate odors, but the spray can take up to two weeks to dry completely and you will need to keep your dog off the area for the duration.
As well as being one of the most effective sprays on the market, it is also highly affordable, especially when compared with similar products which, frankly, don't work as well.
Pros
​No nasty chemicals
​Versatile and works on a variety of surfaces
​Can also be used to deal directly with "accident" zones
​Highly effective and affordable
​Cons
​Can be dangerous to dogs when ingested
This is a great odor eliminator if you are looking for something effective and versatile that you can use on any surface.
5. Fresh Wave Odor Removing Spray

Fresh wave offers a spot treatment that allows you to deal directly with problem areas, such as where your dog sleeps, to eliminate odors at their source. This does mean that you need to have a good idea of where smells are emanating from. If you treat secondary areas and miss the source, the smell will continue to return.
This spray is made from six all-natural ingredients: water, lime, pine needles, aniseed, clove, and cedarwood. Together these natural odors neutralize odors by breaking down the chemical bonds between odor molecules and make new compounds. This is all done without the need for anything toxic, and without leaving behind any kind of artificial scents. This makes it safe for you, your pet, and the environment.
The formula is designed to be sprayed into the air or directly onto water-resistant fabrics. In general, it is not a good idea to spray onto your pet or onto floors as it can cause water spotting.
While the odor destroying properties of this spray may not be as effective as those of some chemical sprays, the all-natural formula can give you peace of mind in terms of the health and safety of everyone living in the house.
​Pros
​100% natural
​Does not rely on artificial fragrances
​Cons
​Can cause water spotting on some surfaces
​You need to select relevant areas
This all-natural spray is a great way to eliminate smells coming from problem areas directly and rapidly in a way that is safe for your family and safe for the environment.
Pet Odor Eliminator Buying Guide
All pets bring unwanted smells into the home. Some will bring dirt in on their paws or have accidents that leave behind the distinctive scent of urine. But even the best trained dogs can leave your home with a strong, and often unpleasant, smell.
Dogs naturally secrete oils that protect their skin and fur, and these can transfer to your home. Also, just like humans, dogs also sweat, and this can smell pretty bad. While sweat is unlikely to drip off your dog, like it does you, it does secrete through their paws and fur, and again can easily transfer to your home.
Finally, dogs' scent glands give off a yeasty smell that is part of how they communicate with other dogs. This is just one more scent that can linger around your home and can leave it smelling, well, like dog. And this is just healthy dogs. If your dog is suffering from any kind of infection or bacteria, this can just make the situation worse.
This means that just cleaning up after "accidents" might not be enough to keep your home smelling clean. Just having a dog around is enough to release that smell into the air. While many of us dog owners have become accustomed to the smell, I'm sure we have all had friends come over and comment on the distinctive smell of our homes. General deodorizers help keep these smells at bay.
Key Features
When considering what pet odor eliminator to use in your home, there are a number of key features to consider.
Effectiveness
When it comes to dealing with the smell of dog, home deodorizers need to do more than just put another scent on top of your dog's. A good home deodorizer needs to break down scents on a molecular level, eliminating them and not just covering them. There are some natural ingredients that will do this, such as baking soda and lemon juice. Even more effective are enzymatic-based deodorizers, that break-down organic odor causing bacteria.
Application
There is a difference between dealing with one-off "accidents" and managing that lingering odor that sticks around your home. The latter naturally need to be used on a regular basis as your dog continues to occupy, and secrete their odor into your home.
Therefore, you do not want to be using effective but expensive and time consuming products such as shampoos on your carpets on a monthly basis. When it comes to dealing with these background odors, you want something that you can leave out and forget, such as an odor consuming gel or a candle, or something that is easy to apply, such as a spray.
Ingredients
When you introduce a deodorizer to your home, it becomes part of the air you breathe, and it can also sit on fabrics and other surfaces and easily transfer to your skin and that of your pet. As such, you want something that is non-toxic and does not pose a danger to any of the inhabitants of your home when it is inhaled or comes into contact with the skin or ingested. The best way to ensure against this is to go for products made from natural ingredients and which have been tested and shown to be safe for both animals and humans.
Environmentally Friendly
Again, if you are releasing a deodorizer into the air on a regular basis, you are not only introducing it into your environment, but the environment in general. Therefore, you do not want to be using harsh products that can introduce dangerous and unwanted elements into the local environment. Again, going for a product that is all-natural will help ensure against this.
Scent
Most deodorizers are also scented, breaking down bad odors, and introducing new, pleasant scents into the home. Your scent preference, and how strong you like it, depends entirely on you, and it can take a bit of trial and error to find something that you like. But remember, that it is not only you, but also your pooch, that will need to live with this scent.
In general, dogs don't like strong artificial perfumes, so try to go for something subtle, especially since you will be using it in "their space". If your dog doesn't seem to appreciate any scent you choose, it is best to look for something unscented.
Price
Again, general home deodorizers are something that you will need to use regularly, and therefore, also something that you need to buy regularly. This means that cost can be a major consideration.
Managing Pet Odors In The Home
Using a pet odor eliminator will help kill the odors that your dog inevitably introduces into your space and make their way into the air and spread around your home. You need to use your odor eliminator at the heart of the problem, spraying the areas that your dog uses the most, and placing candles and other odor eliminators at the center of the area from which odors are emanating, such as where your dog sleeps and eats. But these will be more effective if you do a few other things to help minimize the ability of odors to spread.
Groom Your Dog Regularly
As most lingering dog smells transfer from your dog's skin and coat to the rest of your home, keeping their coat clean and healthy is one of the most effective ways to minimize the spread of this smell. Bathe and groom your dog as regularly as is recommended for their breed. Check out our Labrador grooming tips.
Use A Dehumidifier
Humid air seems to take up and hold onto odors more than dry, fresh air, so if you live in an area with a lot of moisture, a dehumidifier might make a big difference to the strength of dog smell in your home.
Get Odor Killing Plants
Plants have the ability to remove toxins from the air, including some of the organic particles that your dog released into your home, and give off a smell. Place plants that are safe for your pets and good detoxifiers around your home, such as Bamboo Palm, Chinese Evergreen, Aloe Vera, and Peace Lily.
Wash Your Dog's Things Regularly
It is likely that the things your dog uses the most, such as their bed, are holding onto and spreading the most odors. Washing these things regularly can be an effective way of minimizing their impact on your home. For this reason, when buying things like dog beds it is always a good idea to get something that is easy to clean, such as removable and machine-washable covers.
Also, don't forget to wash your dog's collar. It is surprising just how bad these can smell!
Clean Floors Regularly
Floors are again one of the worst culprits when it comes to retaining and spreading that dog smell, especially carpets. That dog smell often gets picked up by carpet fibers. Carpets are also more likely to hold onto dog hairs, which can be another source of smell.
Clean your floors regularly (more than once a week), and if you have carpet, use a vacuum cleaner designed for pet hair.
The Verdict
No matter how clean and well-trained your dog is, they can't help but release their smell into your home. They have a natural smell that they excrete through skin oils, which easily transfer to carpets, furniture, and other items, and then penetrate the air in your home. Combine this with the smell of their food, the smell of their gas, and the occasional accident, and your home can very quickly start to smell like a farm.
You can manage these odors in the home by using odor eliminators that interact with the molecules that are carrying the odors and eliminate them. They generally also leave behind their own light, pleasant scent to keep your home smelling good. These should also be affordable and easy to use, as having a dog means dealing with these issues on a daily basis.
Probably the best product on the market at the moment is the Pet Odor Exterminator Deodorizing Candle, which releases enzymes into the air to kill odors and gives off its own pleasant scent. The candles burn for up to 70 hours and have been shown to be effective even in high-odor zones, such as veterinary offices.
For carpeted homes, you should never be without the Arm & Hammer Carpet Odor Eliminator, which combined with vacuuming, is a highly effective way to keep dog smells out of carpets. If you are looking for something that is highly affordable and also low impact on the environment, then try the Muso Natural Air Purifying Bag, which uses charcoal to neutralize odors naturally. Each bag can be used for up to 2 years before it needs to be replaced.
If you are interested in a spray that offers a quick and easy way to deal with odors as you notice them, then the deodorizing spray from Nature's Miracle is probably the most effective on the market, using enzymes to break down odor particles. If a product that is natural and safe for the environment is a priority for you, then consider switching to the Fresh Wave Odor Removing Spray, which uses all-natural ingredients to similar effect.
Whatever product you choose, remember that having a dog in your home means dealing with odors. No matter how good a deodorizer you use, you cannot expect it to completely eliminate dog smells if you do nothing to try and control smells at the source. This means bathing and grooming your dog regularly, and also washing their things, especially their bedding and collar, to stop them from taking hold in your home.
​Save this to Pinterest
​Here's our list of best pet odor eliminators
Top Picks For Our Dogs
For a list of all the supplies we get for our new service dog puppies check out our New Puppy Checklist on the PuppyInTraining.com blog.