This post may contain affiliate links. We may earn money or products from the companies mentioned in this post.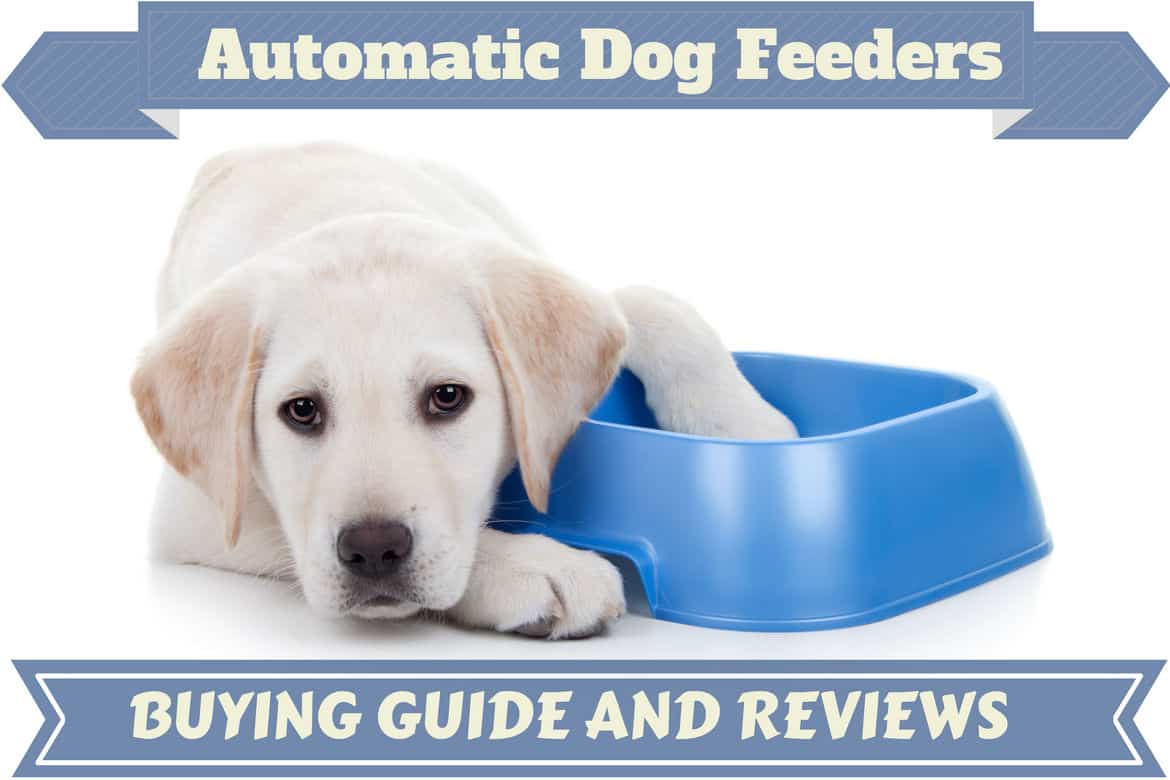 Photo Credit: © Depositphotos.com / Steph_Zieber​
Technology and automation is creeping further and further into almost every aspect of our lives and the pet industry is no different.
From GPS location collars, to health and care tracking mobile phone apps, heated dog beds to digital pet ID tags, the world of dog ownership and technology has well and truly collided.
One of the most useful recent advances in technology aimed at our pets is the electronic, programmable automatic dog feeder.
These devices aren't intended to completely replace your care and attention when it comes to your pooch's diet. They are to lend a helpful hand to ensure your dog's needs are catered for if you find yourself out of the home for a full day, or prefer a more 'hands off' approach to rigid, regular feed times.
OUR TOP PICK: If you're in a hurry check out our top pick: Petsafe Healthy Pet Simply Feed
At a Glance: Our Choices for Best Automatic Dog Feeder
Automatic pet feeders are stylish, modern looking pieces of equipment that do not look out of place in the home and are available in a wide variety of colors and styles, with many convenient features for portion control and timing.
Read on for a discussion of the best automatic dog feeder models on the market, why you might consider purchasing one, when they are useful and the features to aim for and a few to avoid.
Note: Some of the links above take you to more information, current prices and customer reviews on Chewy.
Our Picks of the Best Automatic Pet Feeder Models on the Market Today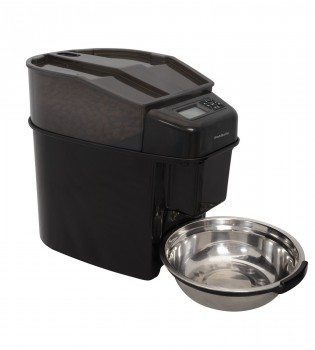 Pros:
Possesses a 'slow feed mode' whereby meals are dispensed over 15 minutes. This prevents your dog from eating too fast and helps to avoid conditions like bloating or vomiting.
It also has an 'immediate feed mode' whereby the next set meal is dispensed immediately.
Works on dry or semi-moist food.
Customizable portion sizes from 1/8 cup to 4 cups
Both the hopper and the bowl are dishwasher safe.
It's a solid, heavy-duty design with no risk of dog paws clawing their way up into the hopper to try and extract extra food.
Runs on AC or batteries.
Cons:
The premise of the SmartFeeder is that it's controlled online via the cloud. This means that you lose control over it as soon as you lose a good WiFi connection.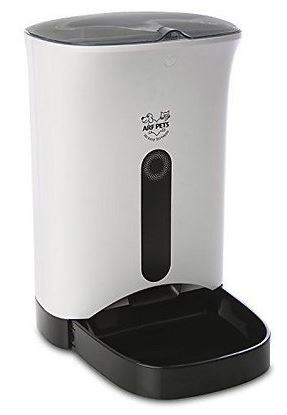 Pros:
Able to dispense a huge variety of portion sizes, from one teaspoon all the way up to 10 24 ml portions.
It can store up to 1.14 gal of food and is rendered ant-proof by the water tray at the base.
It's the only automatic feeder on the market that can be operated by both DC and battery power ensuring you never need worry about power failure.
It runs very quietly so your dog won't be frightened by any loud noises.
Very easy to clean – the bowl is detachable and dishwasher safe.
It comes with a 1 year manufacturer's limited warranty for any mechanical issues you may have.
Cons:
The components of the feeder aren't as sturdy as those in the rest of our selections. In particular, the motor can get stuck on pieces of kibble! A rare occurrence and a negligible risk with many reviewers more than happy with this feeder. But something we should highlight!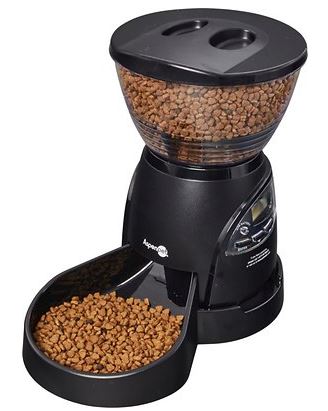 Pros:
You can control portion sizes.
The hopper is translucent so it's easy to check food levels.
It's jam-proof with sensors installed to prevent any overloading.
It can't be tipped over by curious dogs searching for extra food: there is a pet-proof lock and a heavy bottom base.
It's easy to clean as the hopper and bowl easy detach and disassemble.
There is a low battery indicator telling you when it's time to recharge.
Cons:
Only one to four meals can be scheduled per day (though to be fair no dog should be eating more than 4 times per day, usually not more than 2!).
The variety of portion sizes allowed is minimal, stretching just from ½ a cup to 2 ½ cups.
Changing the feeder's batteries has been reported to lose the programmed feeding schedules, meaning you may have to regularly reprogram.
Pros:
The USP of the Petsafe SmartFeeder is that feeding – both schedules and portion sizes – can be controlled and scheduled remotely using your smartphone giving you greater control and flexibility over your dog's feeding habits wherever you happen to be in the world.
It also provides a unique nutritional plan for your dog according to their individual needs and specifications to determine the perfect portion size and food type for them.
It will notify you with information about their feeding, food level and its own battery life and can even order and have delivered your dog's chosen food when levels are low.
Up to 12 meals can be scheduled every day.
Portion sizes are adjustable from 1/8 of a cup all the way up to 4 cups and meals are served using a conveyor belt facility to ensure accuracy and portion control.
The bowl from which your dog eats is made of stainless steel and is dishwasher-safe. The hopper is made from BPA-free plastic ensuring safety and non-toxicity.
Cons:
The premise of the SmartFeeder is that it's controlled online. This means that you lose control over it as soon as you lose a good WiFi or 3G/4G connection.
There is no food level monitor to show you how much food is left in the hopper or when the food has run out. You will have to actively open the top lid and keep an eye on the level to check it. But you can see the level through the plastic hopper quite simply just by looking, so this isn't really much of a problem.
What is an Automatic Dog Feeder?
Automatic dog feeders are exactly what they sound like – pet food dispensers that disburse food automatically either via electronic pre-programming or by gravity.
They're typically comprised of two parts: a glass or plastic air tight hopper that contains the food before it is released, and a plastic, ceramic or stainless steel bowl that the food is dispensed into and that your dog eats out of.
Why Use an Automatic Dog Feeder? When are They Useful?
Automatic dog feeders will be an incredibly useful addition to anyone unable to commit to regular dog feedings – that could be the elderly or disabled, or even just people who work away from home, those on a shift basis or those taking a short break away from their home without their dog.
They're also a great tool for owners looking to control their dog's weight and the amount their dog eats. Electronic dog feeders will allow you to pre-program portion sizes and scheduled feedings so your dog will reap the health benefits of eating small, yet regular meals.
As such, they are useful in managing conditions like diabetes.
What Types of Automatic Dog Feeder Exist?
There are two main types of automatic pet feeder, with many variations on the same two basic themes:
Gravity Pet Feeders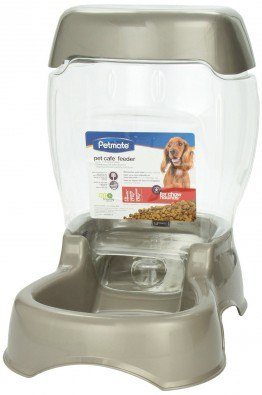 Gravity feeders are the least sophisticated type of automatic dog feeder whereby every time your dog eats, food will naturally fall down from the hopper into the bowl, replenishing what has been eaten.
As soon as the bowl is full, the dispenser will not be able to release any more food as the food will be backed up into the hopper, preventing further flow.
Advantages of Gravity Pet Feeders:
There's no fiddly programming necessary with a gravity feeder so you can be sure the mechanism will never fail and your dog will never miss a meal.
Disadvantages of Gravity Pet Feeders:
Of course, the flipside to this is that your dog will have unrestricted access to his food which could easily lead to overeating and its related health conditions, such as obesity.
Electronic Pet Feeders
Electronic feeders are the most popular type of automatic feeder as they allow you total control over exactly how much your dog eats and when they can eat it.
You need to pre-program them with feeding times and measured portion sizes, then food is automatically dispensed accordingly, at the exact times and quantities you programmed.
Advantages of Electronic Pet Feeders:
The major benefit to electronic feeders is the amount of control you have over your dog's feeding, regardless of wherever you happen to be present at feeding time – it's perfect for weight control or the handling of conditions like hypoglycaemia, pancreatitis and diabetes as you can ensure your dog enjoys small and regular meals.
Eating such regular balanced and controlled portion sizes ensures that your dog won't gorge on their food – which could lead to bloating and obesity – and promotes easy digestion, according to Petful.
It's easy to overestimate portion sizes with owners just going by sight alone but an electronic dog feeder ensures portions are correct every time.
Disadvantages of Electronic Pet Feeders:
It's always worth doing your research when it comes to electronic feeders and investing in a quality product. Low quality products can result in programming errors resulting in your dog missing a meal, being overfed or being underfed.
So make sure you only invest in a reliable, good quality feeder, such as those reviewed further on in this page.
​Benefits of Using an Automatic Dog Feeder – A Summary
Let's quickly summarise the main benefits to using an automatic dog feeder, so you can see at a glance if it's something you could benefit from:
Automatic dog feeders ensure your dog gets fed regardless of your own location or circumstances. They never have to miss a meal!
Electronic dog feeders offer added benefits like portion control and scheduled feeding. This makes it easy to manage your dog's weight and any related medical conditions.
Self-contained measurement and eating bowl so there's less washing up and cleaning for you (no measuring cups to wash and so on.)
Eliminates the need to ask friends or family for favors, to come feed your dog if you are out for long hours one day.
Downsides to Using an Automatic Dog Feeder – Are There Any?
One criticism of automatic pet feeders is they take away the benefits and training opportunities offered by a 'normal' mealtime routine whereby the owner and dog spend quality time together and training routines are enforced.
With an automatic feeder, of course there is no requirement for your dog to sit before they eat, for instance.
You can counteract this by spending alternative time together to bond and reinforce their training. And you still have ownership of and are provider of many other things your dog needs, such as toys, exercise, love and praise and so on.
We've already discussed the downsides to gravity feeders where they allow your dog unrestricted access to their food – a problem unless your dog is very self-restrained with their eating habits (a rare quality!).
Taking this point into consideration, we recommend electronic, measured portions, automatic dog feeders only and NOT gravity based ones.
What to Look for in the Best Automatic Dog Feeders
The ability to schedule multiple meals every day.
Adjustable portion sizes so you can best fit your dog's needs and habits.
Different speed feeding modes so you can control how fast your dog eats.
Easy programming.
A hopper and bowl structure that is safe and easy to clean.
A solid design that won't be tipped over by heavy paws.
Without further ado, let's take a look at – in our opinion – the best electronic automatic feeders available on the market today:
You might also be interested in:
Conclusion
While all the above models have a number of great features, the clear winner for us is definitely the Petsafe Healthy Pet Simple Feed.
Although it may not have the glitzy extra features of a built-in voice recorder or iOS remote control, it's reliable and sports all of the basic requirements and more of automatic feeders, which some of the other models are lacking.
Most importantly, up to 12 meals can be scheduled a day and a wide variety of portion sizes can be programmed, meaning your dog's needs and habits can easily be catered to. The speed-feeding settings allow you not only to control how much your dog eats, but also how fast they eat, very important if your dog wolfs down dinner and is at risk of bloating.
Finally, Petsafe's design is sturdy and its components easy to clean. So for us, this is the best automatic dog feeder in our opinion.
Unless stated, product image credits: © Chewy.com
Please be aware this page contains affiliate links and Labrador Training HQ receives a small commission if you make a purchase through any such links. This has no effect on the eventual price you pay and we are very grateful for your support.
Top Picks For Our Dogs
For a list of all the supplies we get for our new service dog puppies check out our New Puppy Checklist on the PuppyInTraining.com blog.