You might be wondering what's the best dog food for labs? The truth is, there isn't a single best food. Every dog is different, so you have to tailor the food you feed to your dog's specific needs.
That said, not all dog foods are created equal, so you should be aiming to feed your pooch a good quality food, containing wholesome ingredients. This can be where it gets confusing. Which foods are high quality and which contain ingredients you wouldn't feed to your worst enemy?
With a huge range of foods on the market, we can't talk you through every last one, but we can give you the information you need to select a quality food for your Lab.
At a Glance: Our Choices for Best Dog Food for Adult Labs
Once again, we'd like to stress that there isn't one best dog food, but there is a big difference between high-quality and low-quality dog food. If you're not sure where to start, here are some brands we recommend.
Recommended by Us: Best Dog Food for (Hunting) Labs
It has an above-average amount of protein, making it ideal for Labradors.
It's also notable for its excellent protein-to-fat ratio and lower levels of carbohydrates.
It's also grain-free, which makes it easier on the stomach for a lot of dogs.
It has high protein-levels, low carbs, and contains no soy, corn, wheat or grains, ingredients considered of little to no nutritional value and an allergen to some dogs.
The main protein comes from deboned salmon, while sweet potatoes and white potatoes provide complex carbohydrates essential for energy.
Anti-oxidants and vitamins come from blueberries, cranberries and carrots.
Roasted bison and venison are the basis for this dry dog food.
Again, it's a grain-free formula, which is often easier for dogs to digest.
In addition to the meat, it contains fruits and vegetables including peas, sweet potatoes, tomatoes, blueberries and raspberries.
This quality-dog food comes in three varieties, using different meats.
As well as the meat, each contains egg, which is a highly digestible and bio-available source of protein.
This food is specially formulated to avoid allergic reactions in dogs, so if your pup has any food allergies, intolerances, or even just a sensitive stomach, this is a great choice.
If you're looking for a quality food that costs a bit less than some of the premium brands, Diamond Naturals might be the choice for you. If you're looking for a quality food that costs a bit less than some of the premium brands, Diamond Naturals might be the choice for you.
Although it's not grain-free, its main source of carbohydrates comes from rice, which tends to be more easily digested than wheat or corn.
It contains some top-notch ingredients, such as flax and chia seeds (for omega-3) and inulin, which acts as a probiotic.
Why No Wet Food?
You might have noticed all of our recommended foods are dry kibbles, rather than wet foods. This was a deliberate choice.
Dry food has a variety of superior benefits over wet food: it's far less messy, it's easier to portion out to make sure you're feeding the right amount, it helps clean your dog's teeth, and it offers much better value for money.
That said, if you feel like an all-dry diet isn't right for your dog, you could try feeding a mixture of wet and dry foods. Just make sure you're careful not to overfeed your Lab.
Every Dog is Different
What makes choosing the right food more difficult is each dog is an individual, so won't necessarily respond to a food in the same way.
Some dogs may have an allergy or intolerance to a certain ingredient, or simply may not thrive on a particular food. Even if a brand of food is recommended by 1,000 Lab owners, it could give your dog an upset stomach or he might turn up his nose at it entirely.
You do have to be prepared for a degree of trial and error when finding a food that suits your four-legged friend.

The best type of food to feed your dog will also vary depending on his age and activity level. Puppies should be fed puppy food, as it's designed to aid growth. Likewise, older dogs usually do better on a food designed for senior canines.
If your dog is particularly active, he may thrive on a high-protein diet. You should be able to find a variety of foods formulated to suit active or working dogs at any good pet supply store.
Types of Dog Food
See here the list of different types of dog food in choosing the best fit for you dog.
1. Dry Foods (Kibble)
These are mostly packed in bags. This is the most widely used type of dog food because it is economical, easy to administer and it can lasts longer compared to other types. It has low moisture content like shaped pellets (kibble), biscuits (mixers), and flaked cereals. Dry foods still have meat contents in it.
2. Canned Foods (Wet Foods)
This type of food has high moisture content. You can easily find this on supermarket but this is considered to be expensive. To prepare this food, it should be cooked on high temperature to sterile them.
3. Semi-moist Dog Food
Semi-moist dog food is typically considered as dog food treat. This type of dog food are least nutritional and should not be considered as diet food for your puppy. This may come in shaped like burgers, pork chops, or other meaty foods.
4. Raw Foods
Raw food may be raw meat with some bones and never cooked or commercially produced raw products like frozen or freeze-dried formats. This is also considered as expensive type of dog food.
5. Homemade Foods
Dog owners have complete control on the food intake and diet of their dogs. When prepared right, this type of food is nutritional but time consuming and expensive.
Feeding Your New Lab
If you're bringing a new Labrador into your family, you shouldn't introduce him to his new food right away. Moving to a new home is stressful enough as it is, so adding a new diet into that equation could be bad news for everyone involved.
Ask the breeder (or animal shelter, if you're rescuing a Lab) what brand of food your new pup has been eating and stick to it for at least a couple of weeks, even if it wouldn't usually be your first choice. Once your new furry best friend has settled into his home, you can gradually switch over to your chosen food.
The Best Dog Food for Lab Puppies
Puppies have very specific nutritional requirements warranting special food that's different to what an adult Lab should eat.
The rest of this article concentrates on food for adult Labradors. If you're looking for recommendations on Labrador puppy food, please check out the following article: The Best Puppy Food For Labs And Large Breeds
How to Find the Best Labrador Dog Food
Beginning the search for the right dog food for your Lab (Labrador) can be overwhelming. The trick is not to over think it, as there are plenty of excellent quality foods out there, and there isn't a single correct or incorrect choice.
Here are a few things to consider when on the hunt for a food that suits your pooch.
Should You Go for a Big-Name Brand?
Many dog owners select a food from a well-known brand, such as Purina or Iams, but just because you recognize the name, it doesn't mean the product is good. We're not saying that every big-name food is necessarily worse, either, but it's important to look at the ingredients and not the brand.
Did you know that Nestle own Purina and Proctor and Gamble own IAms? Most big-name dog foods are owned by large multinational corporations. Sadly, these kinds of companies are often more concerned with profit than with the quality of product they're putting out.
Do You Know How to Read the Label?
You might think reading the label on a bag of dog food is as easy as pie, but there's more to it than meets the eye. Sure, you may be able to read the words, but do you know what the ingredients actually are?
For instance, you might see ingredients such as "digest of beef" or "powdered cellulose." We certainly wouldn't know what those ingredients were if we hadn't done our research. We'd recommend looking at this handy list from Woodhaven Labs that sheds light on some of the most common ingredients you might find in dog food.
Generally speaking, higher quality labrador dog foods should contain less ingredients. If there are a lot of unrecognizable ingredients on the label, they're most likely low-quality fillers.
Do Labradors Have Specific Nutritional Needs?
Despite what some people will try to tell you, the nutritional needs of all dog breeds are more or less the same.
Of course, bigger dogs need more food, but your Lab will need roughly the same percentage of protein, fat, and carbohydrates in his diet as a Chihuahua or a Great Dane.
And all dogs need food with a decent amount of protein, from good quality sources, such as chicken, fish or lamb.
That said, Labradors are a high-energy breed, so if your dog is getting a proper amount of energy, he might benefit from a food that's particularly rich in protein.
The trouble with Labradors is there's a fine line between feeding them well and over-feeding them.
We see a lot of overweight Labradors, because some owners haven't quite got the food-exercise balance right. It's important to monitor your Lab's weight, even if just by look and feel, and adjust accordingly. If your pup seems to be putting on weight, you need to either reduce his portion sizes or make sure he gets more exercise.
Does Your Dog Have a Sensitive Stomach?
If your canine companion has historically had a sensitive stomach, we'd recommend looking for an allergy-friendly food. Hypoallergenic dog foods will be free from common allergens, such as gluten and soy, and may be easier on your pup's tummy.
Once you've found a food that suits your Lab, we recommend that you stick to it. Signs that your dog is thriving on a particular food include having a glossy coat, well-formed stools, plenty of energy, and a healthy weight.
You might also be interested in:
Supplements
Lab owners often wonder if their dog needs any supplements, and the answer is – generally – no.
If you feed your dog a high-quality food it should contain everything he needs to stay healthy. In fact, these foods are carefully balanced for optimum nutrition, so adding supplements to them could throw off the balance and actually do more harm than good.
There can be exceptions to this rule, but only in unusual cases. Some dogs may have medical conditions which give them special dietary needs. However, in these types of cases, any supplements would be prescribed or recommended by a vet.
Conclusion
You can read as much as you like about what foods to feed your dog, or what the best choices are, but when all's said and done, you have to do what feels right for you and your furry friend.
If your dog is healthy and thriving on a particular food, stick with it, as it's obviously doing something right.
And, remember not to feel bad if you hear or read someone saying something negative about the food you choose to feed your dog. You can never please everyone! Besides, in this case, the most important person to please is your dog!
Product image credits: © Chewy.com
Sources:
Please be aware this page contains affiliate links and LabradorTrainingHQ receives a small commission if you make any purchases through any such links. This has absolutely no effect on the eventual price that you pay and we are very grateful for your support.
Disclaimer
All content on this site is provided for informational and entertainment purposes only. It is not intended to be nor can it be considered actionable professional advice. It must not be used as an alternative for seeking professional advice from a veterinarian or other certified professional.
LabradorTrainingHQ.com assumes no responsibility or liability for the use or misuse of what's written on this site. Please consult a professional before taking any course of action with any medical, health or behavioral related issue.
This post may contain affiliate links. We may earn money or products from the companies mentioned in this post.
Top Picks For Our Dogs
For a list of all the supplies we get for our new service dog puppies check out our New Puppy Checklist on the PuppyInTraining.com blog.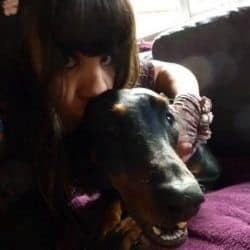 Latest posts by Lauren Corona
(see all)