This post may contain affiliate links. We may earn money or products from the companies mentioned in this post.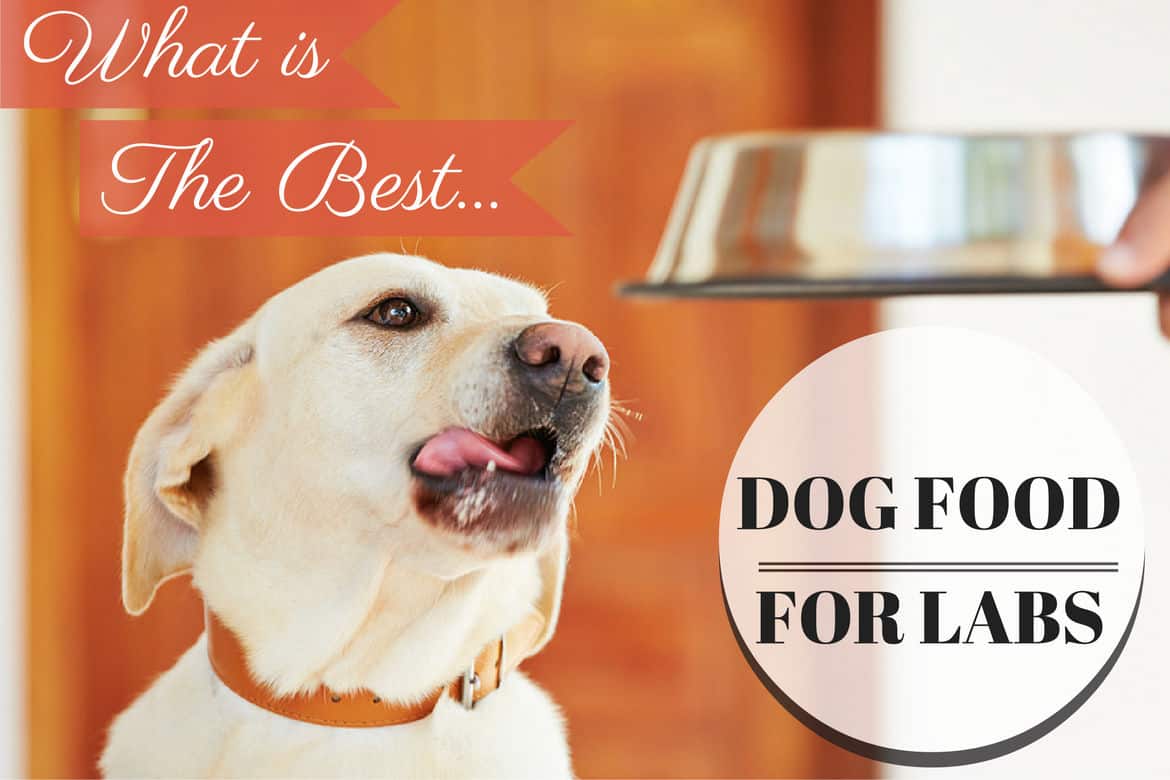 Photo Credit: © Depositphotos.com / chalabala
We're always being asked what the best dog food is for Labradors. This is a complex question as there is no single answer.
Every dog is a little bit different, and there are a variety of great dog food brands out there.
Nevertheless, there are a few general guidelines for Labrador nutrition and a lot of great foods out there to meet these needs.
In today's article, we've pulled together a list of five fantastic dog foods that are great for the majority of Labradors, and we've also put together a comprehensive food buying and feeding guide to help you make informed decisions about how best to feed your Lab.
They say you are what you eat, and this rule extends to dogs as well. If you feed your Labrador the right diet, you will quickly find that you have a happier and healthier pooch on your hands.
SPOILER ALERT: Our top pick is Wellness Core Natural Grain Free Dry Dog Food because it names meat as one of its first ingredients, plus it contains natural sources of vitamins and minerals.
At a Glance: Our Choices for Best Dog Food for Adult Labs
Note: The links above take you to more information, current prices and customer reviews on Chewy.
Once again, we'd like to stress that there isn't one best dog food, but there is a big difference between high-quality and low-quality dog food. If you're not sure where to start, here are some brands we recommend.
Recommended by Us: Best Dog Food for (Hunting) Labs
Best Overall Dog Food For Labs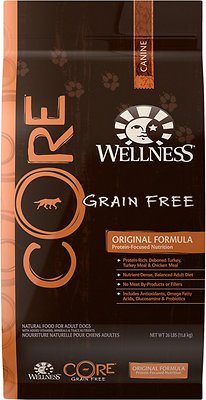 This dry food from Wellness Core has an above-average amount of protein making it ideal for Labs.
Unlike many dry foods, it has a named meat – deboned turkey – as its first ingredient, and then has its protein levels topped up with turkey and chicken meal. There is also added chicken liver and chicken fat, both of which are great sources of nutrients for active Labradors.
There are lots of fruits and vegetables added to the recipe as natural sources of vitamins and minerals including broccoli, carrots, apples, blueberries, and kale.
The recipe has also been topped up with glucosamine and chondroitin, which protect joints, so it is important for Labs, a dog breed prone to hip dysplasia.
The main drawback with this recipe is that it is high in calories, so you need to be careful how much you give your dog, but it is also expensive, another good reason to watch portion sizes.
Pros:
Named meat as first ingredients
High in protein
No grains
Added glucosamine and chondroitin
Natural sources of vitamins and minerals
Cons:
Expensive
High in calories
Overall, most Lab owners will probably agree that this recipe is worth the expense as it contains so much goodness for your dog.
UPDATE: We feed our dogs Wellness Core Grain Free Dog food. However, one thing that has come to light recently is the link between grain free dog foods and heart disease. We are keeping a close eye on these studies as we always want to feed our dogs the best foods.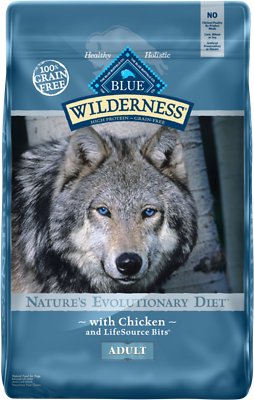 This is another high protein recipe, which also contains a lot of healthy fats, and is made by the experts at Blue Buffalo. Like all of their recipes, it is grain free to ensure it is highly digestible for your pooch.
It starts with a named meat, deboned chicken, as the first ingredient, and then has its protein levels boosted with chicken meal and fish meal, which is also a great source of Omega-3 fatty acids. There is also added chicken fat and dried egg product, though we aren't a huge fan of the latter as some dogs are allergic to eggs.
It has high protein-levels, low carbs, and contains no soy, corn, wheat, or grains; these are ingredients considered of little to no nutritional value and an allergen to some dogs, so it is ideal that this recipe contains none of this.
The kibble is laced with Blue Buffalo's patented LifeSource Bits, which are a special blend of antioxidants, vitamins, and minerals that pups need to thrive, though it is also packed with real fruits and veggies as natural sources of these important nutrients.
We also like that it contains L-Carnitine, which can boost your Labs metabolism and give them an energy boost. This can be great for older Labs that are starting to slow down a little.
This is another high calorie recipe that needs to be fed to your dog in moderation, but it's a bit lighter on the wallet than our top choice.
Pros:
Named meat as first ingredient
High in protein
Grain free
LifeSource Bits nutrient packs
Cons:
Contains eggs
High in calories
Overall, this is a top quality recipe from Blue Buffalo, and they've thought about everything that active dogs like Labradors need to thrive, even as they age.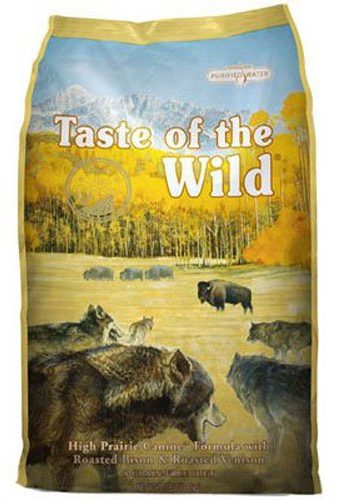 This recipe from Taste of the Wild is ideal if you want to mix up your dog's diet and give them some novel proteins. It contains buffalo as its first ingredient, and then it has its protein levels topped up with lamb meal, chicken meal, chicken fat roasted bison, roasted venison, and beef.
While this adds a lot of great variation to your dog's diet and results in a recipe high in protein and also full of healthy fats, it won't help if you are trying to avoid giving your dog chicken to avoid them picking up an allergy. We think one of the few things that could have made the recipe better would have been to skip the chicken.
This great recipe is a grain-free formula and contains lots of added vitamins and antioxidants to ensure your pup's health. A proprietary K9 strain probiotic blend to support digestive health is also included.
Despite how much goodness there is in this recipe, it is calorie efficient and relatively affordable, making it a great choice for both your dog and your wallet.
Pros:
Novel proteins
Named meat as the first ingredient
High in protein and healthy fats
K9 probiotic blend
Affordable
Cons:
Contains chicken
High in fat
Add some variation to your dog's diet with this affordable novel protein food from Taste of the Wild.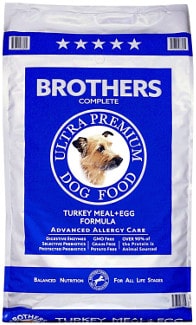 If your Labrador suffers from allergies, this allergy care recipe from Brothers Complete may be the answer you are looking for.
The recipe uses limited ingredients that are carefully sourced to ensure there are no nasties to set off your dog's allergies.
It starts with turkey meal, whole eggs, chicken fat, and chicken liver, which results in a high protein recipe that is also rich in healthy fats. We would have liked to see a named meat as the first ingredient, but the resulting recipe still works.
The recipe is topped up with low-glycemic carbs made from cassava roots, which means they are low allergen and represent a low risk for diabetes.
There are added digestive enzymes to help break down food and improve nutrient absorption. This also boosts immunity and reduces the risk of allergies.
While many Lab parents will find this a lifeline for pups struggling with allergies, the recipe is expensive.
Pros:
High in protein and healthy fats
Low-glycemic carbohydrates
Added digestive enzymes
Low allergen recipe
Cons:
Meal meat as first ingredient
Expensive
There are three varieties of this great food available for Labs that struggle with allergies.
If you are looking for a budget food that is still great for your Labrador, Diamond Naturals might be the choice for you.
Despite the very affordable price-tag, it still starts with a named meat, chicken, as its first ingredient and is topped up with chicken meal and chicken fat. The resulting recipe is high in protein, but nowhere near as high in protein (23%) as the other recipes on this list (above 30 percent). It does, however, mean the recipe is lower in calories.
The recipe is full of added vitamins and antioxidants from real fruits and vegetables, plus omega-3 and omega-6 fatty acids. The recipe contains guaranteed levels of glucosamine and chondroitin to protect the joints of both active and older Labs.
Pros:
Affordable
Named meat as first ingredient
Low in calories
Glucosamine and chondroitin
Cons:
Lower in protein than other recipes
Not grain-free
This is a budget-friendly recipe that offers great nutrition for your dog if you can't invest in a premium line.
Why No Wet Food?
You might have noticed all of our recommended foods are dry kibbles rather than wet foods. This was a deliberate choice.
It is much simpler to find a wet food that is good for your dog, as they are much more likely to be high in protein and contain named meats as their primary ingredients. These make a great addition to a dry food diet. When choosing a wet food, look out for:
A specified meat source as the first ingredient and the absence or limited use of meal meat. Animal by-products should never be present
Added sources of fat and organ meat; again, always from a named source
Grain-free or whole grains
No artificial colors, flavors, or preservatives
But wet food should form a limited portion of your dog's diet as it is very high in calories.
Wet food can complement dry food. Dry food also tends to contain nutrient packs full of the vitamins and minerals that dogs need to thrive.
Every Dog is Different
What makes choosing the right food more difficult is each dog is an individual, so won't necessarily respond to a food in the same way.
Some dogs may have an allergy or intolerance to a certain ingredient, or simply may not thrive on a particular food. Even if a brand of food is recommended by 1,000 Lab owners, it could give your dog an upset stomach or he might turn up his nose at it entirely.
You do have to be prepared for a degree of trial and error when finding a food that suits your four-legged friend.
The best type of food to feed your dog will also vary depending on his age and activity level. Puppies should be fed puppy food, as it's designed to aid growth. Likewise, older dogs usually do better on a food designed for senior canines.
If your dog is particularly active, he may thrive on a high-protein diet. You should be able to find a variety of foods formulated to suit active or working dogs at any good pet supply store.
Types of Dog Food
See here the list of different types of dog food in choosing the best fit for you dog.
1. Dry Dog Food (Kibble)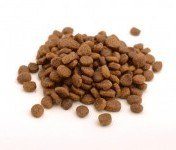 These are mostly packed in bags. This is the most widely used type of dog food because it is economical, easy to administer and it can lasts longer compared to other types. It has low moisture content like shaped pellets (kibble), biscuits (mixers), and flaked cereals. Dry foods still have meat contents in it.
2. Canned Dog Food (Wet Foods)
This type of food has high moisture content. You can easily find this on supermarket but this is considered to be expensive. To prepare this food, it should be cooked on high temperature to sterile them.
3. Semi-moist Dog Food
Semi-moist dog food is typically considered as dog food treat. This type of dog food are least nutritional and should not be considered as diet food for your puppy. This may come in shaped like burgers, pork chops, or other meaty foods.
4. Raw Dog Food
Raw food may be raw meat with some bones and never cooked or commercially produced raw products like frozen or freeze-dried formats. This is also considered as expensive type of dog food.
5. Homemade Dog Food
Dog owners have complete control on the food intake and diet of their dogs. When prepared right, this type of food is nutritional but time consuming and expensive.
6. Dehydrated Dog Food
Dehydrated dog foods are a great option for picky Labs (really are there picky labs?). We sometimes feed our dogs Honest Kitchen which is a human grade dog food.
7. Fresh Dog Food
Fresh dog food delivered to your door is all the rage recently. We dipped our toes in the water and subscribed to The Farmer's Dog fresh food. Raven loved her food. However, the one major drawback is this stuff is expensive. If you want to give it a try click this link for 50% off your first order of The Farmer's Dog.
Characteristics Of Good Dry Food For Dogs
While we have recommended some of the best dry dog food options for Labradors, if you are evaluating other options, here are the primary things to consider.
Quality Proteins
Protein is the core of a Labrador's diet. It's the most important component and should be the main basis of the entire formula. It is essential for repairing tissue and building muscle and also a healthy source of energy.
Look out for foods that use a named source of protein as the first ingredients and which have a high protein level. In dry foods, this means at least 20% but options that are greater than 30 percent are even better.
Fats
Fats are an essential role of energy for dogs, and active pups like Labs actually need quite a lot of it. If possible, these fats should come from a named source, such as chicken fat, and should compose around 15% of the nutritional value of the recipe.
Added Vitamins And Minerals
Dried foods will almost always be enhanced with a nutrient pack containing essential vitamins and minerals for your pup to thrive.
When it comes to dogs like Labradors, which are prone to joint issues, look out for nutrient packs that include glucosamine and/or chondroitin, both of which are essential to healthy joints in dogs. High levels of omega-3 fatty acids are also essential as they prevent inflammation and degenerative conditions.
Probiotics
While high protein recipes are great for your dog's heath, they aren't always easy on their digestive system. For this reason, you also want quite a bit of fiber in the recipe and also added probiotics to aid digestion.
Grain-Free Or Whole Grain
Dry dog food recipes generally need to contain quite a bit in terms of carbohydrates to make the kibble. While this has traditionally been in the form of grains, trends are now turning away from this as grains are thought to upset dogs' stomachs, much like they can with humans.
While the evidence for whether grains are actually bad for your dog is inconclusive, you can still do the best for your pup by choosing a recipe that is grain-free or one that uses whole-grains. If nothing else, this ensures that the carbohydrates in the recipe come from a high-quality source.
Nothing Artificial
Of course, in addition to all this, you should always avoid feeding your pup anything artificial, as it can introduce toxins into their system and is also likely to upset sensitive stomachs.
Feeding Your New Lab
If you're bringing a new Labrador into your family, you shouldn't introduce him to his new food right away. Moving to a new home is stressful enough as it is, so adding a new diet into that equation could be bad news for everyone involved.
Ask the breeder (or animal shelter, if you're rescuing a Lab) what brand of food your new pup has been eating and stick to it for at least a couple of weeks, even if it wouldn't usually be your first choice. Once your new furry best friend has settled into his home, you can gradually switch over to your chosen food.
The Best Dog Food for Lab Puppies And Seniors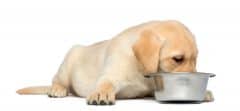 Both puppies and seniors have very specific nutritional requirements warranting special food that's different to what an adult Lab should eat.
If you're looking for recommendations on Labrador puppy food, please check out the following article: The Best Puppy Food For Labs And Large Breeds.If you are leaving with an older Lab, read the following article: Best Senior Dog Food.
Questions To Ask Yourself When Choosing A Dog Food For Your Labrador
Beginning the search for the right dog food for your Lab (Labrador) can be overwhelming. The trick is not to over think it, as there are plenty of excellent quality foods out there, and there isn't a single correct or incorrect choice.
Here are a few things to consider when on the hunt for a food that suits your pooch.
Should You Go for a Big-Name Brand?
Many dog owners select a food from a well-known brand, such as Purina or Iams, but just because you recognize the name, it doesn't mean the product is good. We're not saying that every big-name food is necessarily worse, either, but it's important to look at the ingredients and not the brand.
Did you know that Nestle own Purina and Proctor and Gamble own IAms? Most big-name dog foods are owned by large multinational corporations. Sadly, these kinds of companies are often more concerned with profit than with the quality of product they're putting out.
Do You Know How to Read the Label?
You might think reading the label on a bag of dog food is as easy as pie, but there's more to it than meets the eye. Sure, you may be able to read the words, but do you know what the ingredients actually are?
For instance, you might see ingredients such as "digest of beef" or "powdered cellulose." We certainly wouldn't know what those ingredients were if we hadn't done our research. We'd recommend looking at this handy list from Woodhaven Labs that sheds light on some of the most common ingredients you might find in dog food.
Generally speaking, higher quality labrador dog foods should contain less ingredients. If there are a lot of unrecognizable ingredients on the label, they're most likely low-quality fillers.
Do Labradors Have Specific Nutritional Needs?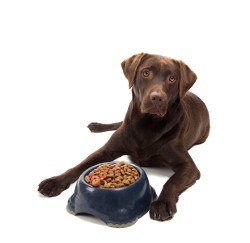 Despite what some people will try to tell you, the nutritional needs of all dog breeds are more or less the same.
Of course, bigger dogs need more food, but your Lab will need roughly the same percentage of protein, fat, and carbohydrates in his diet as a Chihuahua or a Great Dane.
And all dogs need food with a decent amount of protein, from good quality sources, such as chicken, fish or lamb.
That said, Labradors are a high-energy breed, so if your dog is getting a proper amount of energy, he might benefit from a food that's particularly rich in protein.
The trouble with Labradors is there's a fine line between feeding them well and over-feeding them.
We see a lot of overweight Labradors, because some owners haven't quite got the food-exercise balance right. It's important to monitor your Lab's weight, even if just by look and feel, and adjust accordingly. If your pup seems to be putting on weight, you need to either reduce his portion sizes or make sure he gets more exercise.
Does Your Dog Have a Sensitive Stomach?
If your canine companion has historically had a sensitive stomach, we'd recommend looking for an allergy-friendly food. Hypoallergenic dog foods will be free from common allergens, such as gluten and soy, and may be easier on your pup's tummy.
Once you've found a food that suits your Lab, we recommend that you stick to it. Signs that your dog is thriving on a particular food include having a glossy coat, well-formed stools, plenty of energy, and a healthy weight.
You might also be interested in:
Supplements
Lab owners often wonder if their dog needs any supplements, and the answer is – generally – no.
If you feed your dog a high-quality food it should contain everything he needs to stay healthy. In fact, these foods are carefully balanced for optimum nutrition, so adding supplements to them could throw off the balance and actually do more harm than good.
There can be exceptions to this rule, but only in unusual cases. Some dogs may have medical conditions which give them special dietary needs. However, in these types of cases, any supplements would be prescribed or recommended by a vet.
FAQs About Labrador Food
What Is The Best Dog Food Recommended By Vets?
Vets will recommend an array of different dog foods, and what they recommend to you will depend on the breed, age, and specific health concerns of your dog. Your vet may also have a partnership deal with certain pet food providers, and so, will be more likely to recommend that brand if it is appropriate for your dog than similar brands on the market.
When you see a food advertised as vet recommended, this simply means the majority of vets surveyed about the food agreed it was of a good quality. So, while this can reassure you that the food does not contain any nasties, it does not necessarily mean it is better than any other food on the market.
Which Dog Food Is Best For Labradors?
While there is no specific food that is best for Labradors, they thrive on a diet that is high in quality animal-based proteins and fats. Look out for dog foods with a named meat as the first ingredient and with high levels of protein in their nutritional makeup.
What Do Labradors Like Eating?
Everything? Whatever you are eating? That is probably pretty accurate, though every Lab will have their own preferences and taste buds. But Labradors are natural retrievers, so they do enjoy seeking out their food if that is a possibility. They may also enjoy the taste of game meat.
What Shouldn't Labradors Eat?
Labradors have the same food intolerances as all dogs, which is why it is a good idea not to feed them human food. Many of the ingredients common in human foods, such as garlic, are toxic to dogs. They also shouldn't eat chocolate, ice-cream, or other treats.
You can find a full list of things your pup should not be eating here.
Why Do Labradors Love Food So Much?
The evidence is in; it is not just anecdotal that Labradors love their food more than other dogs and are more likely to beg for scraps off your plate.
A recent study showed that due to a change in their POMC gene, the hormones that let Labradors know when they are full do not work properly, so they are always hungry. This is why it is important to control what you give your Lab to eat, as they cannot do this themselves.
How Much Should I Feed My Labrador?
On average, a Labrador, as well as medium and large dogs, need around 30 calories per day per pound of their weight. This will vary further depending on their age and activity level, so it is a good idea to start here and then observe your dog and adjust up or down as needed.
Final Thoughts
Feeding your dog a healthy diet that is ideal for their metabolism and activity levels can make a huge difference to their health and quality of life.
As such, we recommend Wellness Core Natural Grain Free Dry Dog Food for three main reasons: naming meat as a main ingredient, the addition of glucosamine and chondroitin to protect your Lab's joints, and the fruits and veggies to add much-needed vitamins and minerals.
For Labradors, a healthy diet isn't difficult. It means feeding them food that is high in good-quality protein, rich in healthy fats, and which doesn't have any nasties added that might upset your dog's stomach.
You can then look for additions, such as glucosamine for healthy joints, but as long as you have the basic right, you shouldn't go too badly wrong.
What do you feed your Labrador and how does it work for you and your pup? Share your experiences in the comments below.
Sources:
Product image credits: © Chewy.com
Save to Pinterest:
DISCLAIMER
All content on this site is provided for informational and entertainment purposes only. It is not intended to be nor can it be considered actionable professional advice. It must not be used as an alternative for seeking professional advice from a veterinarian or other certified professional.
LabradorTrainingHQ.com assumes no responsibility or liability for the use or misuse of what's written on this site. Please consult a professional before taking any course of action with any medical, health or behavioral related issue.
Top Picks For Our Dogs
For a list of all the supplies we get for our new service dog puppies check out our New Puppy Checklist on the PuppyInTraining.com blog.