This post may contain affiliate links. We may earn money or products from the companies mentioned in this post.
Owning a dog who's a picky eater is a nightmare. It seems every food you offer your dog is never good enough, often resulting in you having to throw it away.
It doesn't matter how many times you offer your companion different food, they just won't bite.
Maybe you've even tried coaxing your dog with other methods, like using unhealthy treats or flavor enhancements, yet you've found none of them fix your dog's stubbornness.
Then there are other times when you think you've found the perfect food for your finicky pooch. Your dog seems to be enjoying it. They're happy. You're happy. You think the hunt is over and you can finally kick back and relax.
Then suddenly, like a button has been pressed, your dog decides their food is no longer appetizing. Your heart drops. You can't believe your dog would trick you like that. It's frustrating, discouraging, and downright annoying. Reluctantly, you drag your feet back to square one to begin the food search all over again.
Why Is My Dog A Picky Eater?
Some dogs just have the picky eater trait and there's not much you can do fix it. Just like some dogs are naturally more prone to barking or being energetic. However, there are some health problems dogs can face that can lead to fussy and picky eating. If you notice your dog has suddenly become uninterested or picky with their food, then it's a good idea to let your vet know.
Some reasons why your dog is reluctant to eat include:
Dental Issues – Poor dental health can cause your dog to lose interest or become fussy with their food. Tooth decay, gingivitis, and other nasty problems can arise when your dog's teeth are in bad condition. Issues like these are painful, especially when eating.
If you think your pooch has something amiss with his teeth, then book an appointment with your vet. Good-quality dry food, dental chews and treats, and regular teeth brushing can all help keep your dog's pearly whites sparkling.
Digestive Problems – Digestive issues can cause pickiness and reduced appetites in dogs. Stomach discomfort could be due to an intestinal blockage, food allergies or sensitivities, or even internal parasites. Reaching out to your vet is a good idea to rule out problems like these—they will be able to determine whether your dog is unwell or just plain picky.

Hormonal-Related Problems – In dogs who have not been neutered or spayed, hormonal issues can occur and make your dog fussy and picky. These typically fade in time. However, hyperthyroidism, a condition which affects the function of the thyroid gland, could also cause picky eating. If you suspect your dog has hyperthyroidism, you should visit your vet as soon as possible.

Anxiety and Depression – Dogs can lose their appetite or become fussy with food when they are anxious or depressed. Factors that can trigger anxiety and depression include a change in environment (such as moving to a new house), a new addition to your household, or the loss of an existing household member.
If your dog is completely healthy and has no apparent anxiety or medical conditions, then they are probably just fussy by nature.
Good Dog Food For Picky Eaters (Reviews!)
Owning a picky eater costs a small fortune. You probably feel like you've tried every dog food brand available. Here are five of the best dry and canned dog foods for picky and fussy eaters that you might not be familiar with. They could be the end of your pooch's picky eating!
1. Bill-Jac Picky No Mo​​​​re Small Breed Chicken Liver Recipe Dry Dog Food
If you own a small breed of dog who's fussy and stubborn with food, then the Bill-Jac small breed range for picky eaters is worth trying. As well as containing real farm-raised chicken (as the first ingredient!), it also contains chicken liver to help increase your dog's appetite.
There is a great balance of minerals and nutrients in this dry dog food, including omega-3 and omega-6 fatty acids. These keep your dog's skin and coat healthy.
Additionally, there are no fillers, gluten, soy, wheat, rendered fat, or protein concentrate in the ingredients. This dry dog food is a good choice to try for picky eaters, as it's both tasty and healthy.
However, some dogs may experience some flatulence with this dry dog food. This could be due to the high meat content (five pounds of chicken are used in a six-pound bag!). If your dog is extremely fussy or finicky, then it may take them a while before they warm to this food.
2. PetKind Trippet Original Formula Green Beef Tripe Grain-Free Canned Dog Food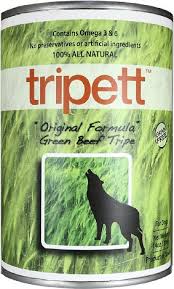 The green beef tripe formula by PetKind's Trippet range is a great healthy canned food for picky eaters. It can be used for both adult dogs and puppies, which is a plus! The canned food is completely gluten-free and contains almost 100% green beef tripe.
If you're wondering what green beef tripe is, it's the unbleached stomach lining of an animal that has been entirely grass-fed. Green beef tripe has a lot of fatty acids and digestive juices that help with digestion in dogs.
As well as being good for your dog's stomach, this canned food also improves your dog's dental and skin health. Trippet's green beef tripe formula is ideal for picky eaters and dogs with food sensitivities as it only contains four ingredients.
Beef tripe is a different protein and flavor for your pooch to try when they're tired of other meats, like chicken or turkey. You can use this canned food as a complete food or accompany with dry food or raw diets.
A couple of downsides with this canned dog food is its strong odor and use of guar gum. The smell of the food is quite pungent, which will be due to the green beef tripe. Guar gum is also listed in the ingredients and is used to thicken and fill out food. It has no nutritional value to your dog and is a controversial ingredient. If you'd rather your dog didn't consume guar gum, then this canned food might not be ideal.
3. Rachael Ray Nutrish Natural Chicken & Veggies Recipe Dry Dog Food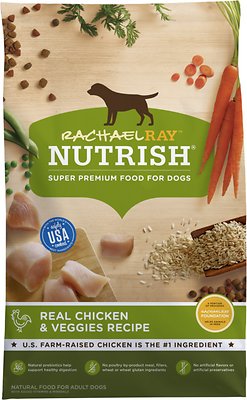 You might know Rachael Ray from her talk show, or her three series on the Food Network, but did you know she also has her own dog food range?
This dry dog food is good for fussy eaters, whilst also being healthy and tasty. Real farm-raised chicken is the first ingredient. Fiber from beet pulp and brown rice are also included, alongside peas and carrots. These are both good for your dog's digestion and nutrition.
Additionally, poultry fat has been added to ensure your dog gets omega fatty acids for a glowing coat! No poultry by-product meal, wheat, wheat gluten, artificial colors, or preservatives are in this dry dog food.
However, the size of the kibble pieces is quite large in this dry dog food, which means it could be unsuitable for small dogs. Additionally, some dogs might experience digestive issues when they first switch to this dry dog food. This could be due to the high amount of fiber.
4. Nutro Ultra Puppy Chunks in Gravy Canned Dog Food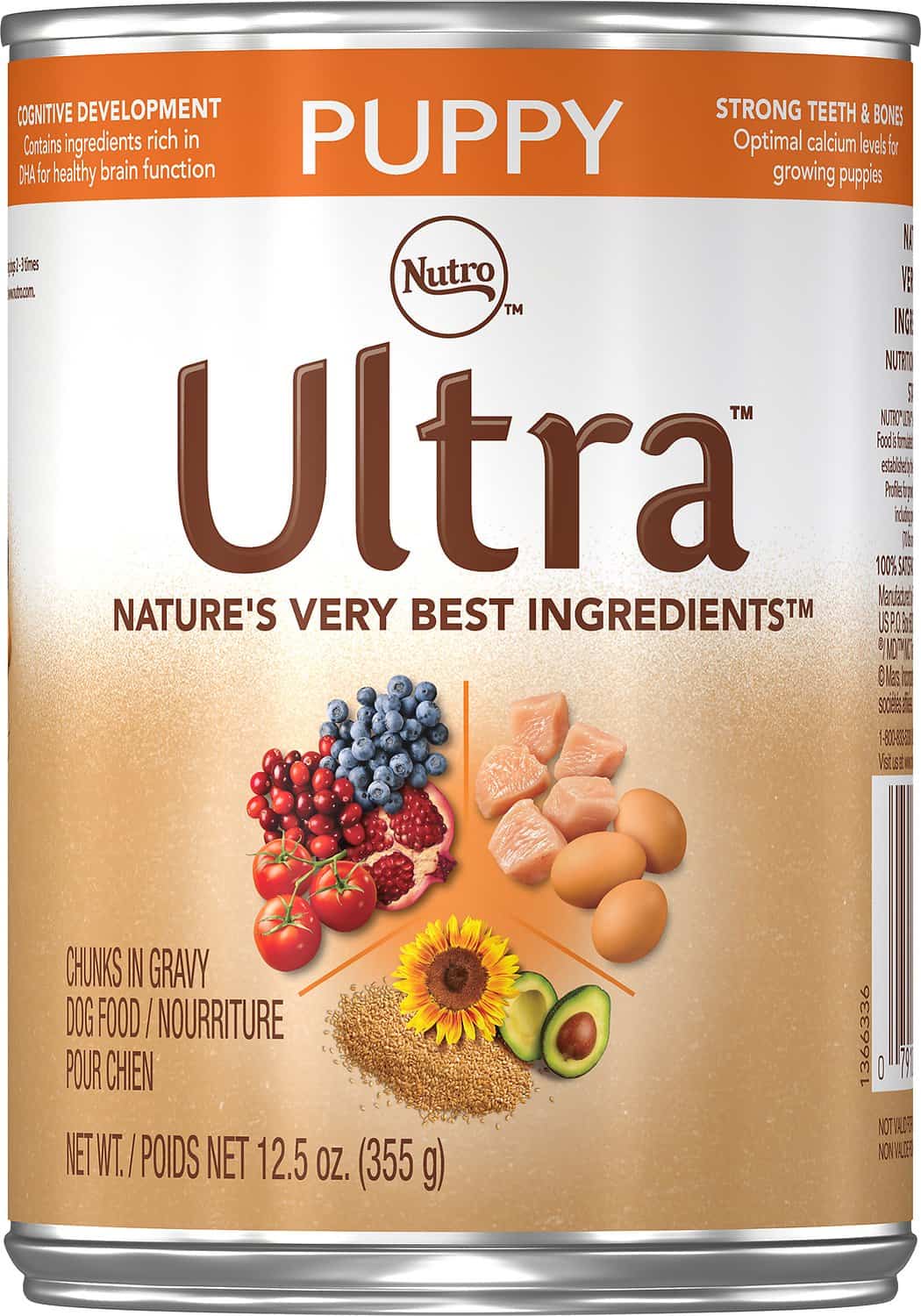 Nutro's chunks in gravy canned dog food is a natural and good quality diet for your fussy eater puppy, particularly large breeds. Farm-raised chicken, grass-fed lamb, and salmon are used to supply your puppy with amino acids for healthy muscles. There is a good balance of protein and fat in this canned food for puppies, which works well for the energetic pup!
The ingredients also contain whole grains to ensure your puppy's digestive system functions efficiently. Egg and salmon provide DHA to help your young pooch develop into a big dog. Additionally, this dry dog food is rich in calcium to strengthen your companion's bones and pearly whites. No artificial colors, flavors, or preservatives are used in this dry food for puppies.
A couple of negatives with this canned food for puppies is its hard consistency and inclusion of wheat. The texture of the food makes it difficult to get out of the can and mash up before serving to your pooch. Wheat gluten is also listed in the ingredients, so if you'd prefer a grain-free diet for your picky eater pup, then this canned food might not be for you.
5. Taste of the Wild High Prairie Grain-Free Dry Dog Food
Taste of the Wild's High Prairie range is an excellent healthy, tasty, and nutritious dry dog food. It's also a good pick for dogs who are picky eaters. The recipe is completely grain-free and contains real buffalo as the first ingredient.
Bison, roasted venison, peas, and sweet potatoes are also included. The former helps keep your pooch's muscles healthy, while the latter improves your dog's digestion. The K9 strain probiotic blend in the formula also aids with your pooch's digestion.
This dry dog food is packed full of vitamins, antioxidants, and minerals from fruits, vegetables, and omega-3 and omega-6 fatty acids to keep your dog's coat glossy. No fillers, grain, artificial flavors, colors, or preservatives are used, making it a high-quality, tasty, and good dry food for your companion.
Taste of the Wild is quite an expensive brand, which might be off-putting for some dog owners. However, the quality of this brand is great, which makes it a worthwhile investment for picky eaters and your dog's health.
Final Thoughts
When your dog is finicky with any food you give them, it's never fun. If you're at a loss about what to feed your fussy puppy, adult dog, or small breed pooch, then one of the foods above could be the diet they've been waiting for. Additionally, if you or your dog prefers dry food or canned food, this list has got something you can try.
These dog foods are healthy and tasty complete meals, making them the best picks for your fussy four-legged friend. Based on good reviews from websites like chewy.com, dog owners have found these dog food brands to be effective at keeping their picky eater happy and satisfied. You don't have to worry about nutrition with these dog foods as they meet your furry friend's dietary needs, ensuring they stay at peak performance.
Hopefully, one of these dry or canned foods will be the end to your pooch's picky eating, and you can finally stop your dog food search. Maybe now you and your pup can kick back and relax at last!
Top Picks For Our Dogs
For a list of all the supplies we get for our new service dog puppies check out our New Puppy Checklist on the PuppyInTraining.com blog.