This post may contain affiliate links. We may earn money or products from the companies mentioned in this post.
What do you mean my dog needs shoes? The first time someone suggested this to me, I was mystified! Why would my dog, with their hard resilient feet, need boots?
Well, after a little research it turns out, for much the same reason as we do. While feet are designed to walk on tough ground, that doesn't mean that they don't get hurt.
When it gets cold, the chill can be painful on bare feet, both human and canine. Sharp objects will cut my dog's feet almost as easily as they will cut my own.
I have since invested in a pair of dog boots for my pooch, and they do seem much happier in certain situations.
So, let me share with you what I have learned. In this article, I will share a list of seven great pairs of dog shoes that will do the job. I'll also discuss when dog shoes are a good idea, and how to select the best dog boots for your buddy.
Spoiler Alert! If you are looking for shoes for a little adventure in all weather, you can't do better than the Kurgo Step & Strobe or the My Busy Dog Boots, but they are both expensive.
If you are looking for something more affordable for the occasional outing, try the Ethical Pet Fashion boots line.
Quick Product Links For The Best Dog Boots
7 Best Dog Boots
1. Kurgo Step & Strobe Dog Boots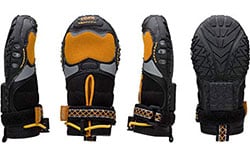 These dog boots from Kurgo are premium shoes with a hefty price-tag designed specifically for canine adventurers.
These are basically high-quality trainers for pups, durably constructed from breathable tight weave mesh for the upper and rubberized synthetic leather soles; they offer comfort and good grip. While they aren't specifically designed for snow, these boots are versatile enough to protect your dog's feet against snow, ice, salt, heat, and sharps.
These boots come in six different sizes, so it should be possible to find the right fit for almost every pup.
They have a funky sporty design, and also include a 360-degree reflective strip to ensure your dog's visibility in low light.
They also have LED lights in the soles for additional visibility. These are battery operated and 100 percent safe, but the batteries are not replaceable. Once they are done, they are done.
These shoes are pretty easy to use, as they just slide on over your dog's feet, and then they are secured with a bungee zip-cord for a snug fit.
Pros
Versatile
Durable
Easy to put on
Variety of sizes
Reflective visibility
Cons
Expensive
LED light batteries not replaceable
If you are looking for a single dog shoe for your little (or big) adventurer that is suitable for pretty much every situation, then this option from Kurgo has you covered.
2. My Busy Dog Water Resistant Reflective Anti-Slip Dog Boots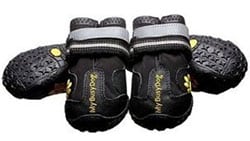 Another premium dog shoe, this option from My Busy Dog comes in two colors and eight sizes, and they are designed to be versatile for little adventurers that could face anything.
These shoes start with a durable anti-slip sole that will give your dog good grip in any situation. This is partnered with a water-resistant upper that is breathable but warm, making this shoe ideal for any season.
These shoes slip on easily and are then held snug with fuzzy fastener straps that work like velcro, but won't pinch your dog's hair. However, some dog owners have said that it was difficult to get the fastenings tight enough that the shoes did not swivel on their dog's feet. The shoes also feature reflective elements to ensure your dog is visible in low light.
Pros
Variety of sizes
Quality anti-slip rubber sole
Breathable and waterproof
Versatile
Easy to put on
Cons
Expensive
Can be difficult to adjust
If you want a versatile shoe that will protect your dog in all weather conditions, and also look like cute little boxing gloves, these boots from My Busy Dog are a great choice.
3. Bark Brite All Weather Reflective Neoprene Dog Boots
If comfort is your top priority and you want something that will mold to the shape of your dog's feet, consider these boots from Bark Brite.
These dog boots also claim to be all weather and appropriate for every season, thanks to their protective neoprene cradle sole and elasticated and lined synthetic upper that is both waterproof and breathable.
The uppers are flexible and designed to mold themselves to the shape for your dog's feet for maximum comfort. They can fit tight like lycra, or if your dog prefers a looser fit, size up. It should be noted that the uppers are quite long. This provides good cold weather protection, but can  also be a discomfort to some dogs.
Available in five different sizes, there is something for every dog. They are easy to slide on, and then secured with straps, which are also reflective to add visibility in low light.
Pros
Protective sole
Molds to your dog's foot for maximum comfort
Variety of sizes available
Easy to put on
Cons
Expensive
May be too long for some dogs
If your dog is on the picky side when it comes to comfort, these boots that mold to their feet should feel like wearing nothing at all.
4. Ultra Paws Rugged Dog Boots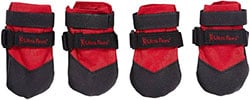 If your dog doesn't like getting dressed up, or likes to take their shoes off, these boots from Ultra Paws are a great option as they are easy to put on and tighten so that they will stay on.
The upper of this shoe is made from water resistant but breathable nylon, and this is coupled with a tough but flexible sole made from recycled tire material. This makes them tough, but a bit lighter weight than some of the more heavy duty shoes on this list.
These are some of the easiest boots to get on your dog's feet, as the side seems to expand to pass over your dog's foot, and then tighten to fit snugly around their ankles. The shoes are held in place with two fuzzy faster slides, which give the security of velcro without catching dog hair.
There is also foam lining underneath the closures to ensure that you can get the boots tight enough to stay in place without them being uncomfortably tight for your pup. This can be important as this model is only available in three sizes.
Pros
Easy to put on
Design to tighten enough to stay on without discomfort
Breathable and waterproof
Made from recycled materials
Cons
Expensive
Only available in three sizes
If you want your dog's boots to stay where they belong, on their feet, then try these easy-to-fasten shoes by Ultra Paws.
5. Ethical Pet Fashion Lookin' Good Extreme All Weather Boots
If you are looking for something affordable for the occasional outing into the snow, rather than heavy duty daily use, then these boots from Ethical Pet Fashion represent good value.
Available in seven different sizes, these shoes are designed for every dog. They are mostly designed for winter wear, with a nylon outer shell and polyester polar fleece lining for warmth. Your dog won't want to wear these to protect their feet on hot days. The suede leather, no-skid sole offers lightweight protection.
These boots are easy to put on with an elasticated ankle that should slide over your dog's foot. The shoes can then be secured to stay firmly in place with an adjustable fuzzy fastener. A word of warning, while these shoes are water resistant, they aren't waterproof, so too much time in the wet and their feet will start to feel damp.
Pros
Affordable
Fleece lining
Easy to put on and secure
Cons
Design for cold weather only
Not entirely waterproof
Not as good protection from sharps as other options
If you are looking for an affordable boot to protect your pooch on an occasional winter day out, these fleece lined shoes from Ethical Pet Fashion represent good value.
6. Healers Urban Walkers Dog Boots
If you are a Nike loyalist when it comes to your own shoes, you'll love these puppy boots for Healers designed by a former Nike shoe designer and tested by the National Guide Dogs for the Blind.
These shoes are designed for everyday use, a bit like a tennis shoe for dogs. They will provide protection from heat, cold, and sharps, but aren't specialist in any area. However, they do the job in all but the coldest places, but don't offer as much sharps protection as some owners would like.
The shoes are made from a lightweight, breathable fabric that dries quickly and is flexible enough not to inhibit your dog's movement. The boots slip on over the foot, and a wraparound fuzzy fastener secures the shoe around the ankle.
Rather than coming in sets of four, these boots come as a pair, as front feet and back feet are often different in size. While this is great, be aware that this doubles the price-tag!
Pros
Designer credentials
Allows for different sized front and back feet
Easy to put on and fasten
Lightweight, flexible and comfortable
Cons
Expensive
Limited sharps protection
For bonafide designer shoes for your dog that they can use pretty much every day in every situation, try these Healers Urban Walkers.
7. Frisco Dog All Weather Boots
If you are looking for an affordable option for all weather use, then this Frisco shoe may do the trick.
Designed with a suede leather sole and a breathable nylon upper, these shoes will protect from light snow, rain, salt, hot pavements, and rocky surfaces. They will stand up under all these conditions, but aren't really appropriate for extreme weather or the roughest terrain. The manufacturers recommend these shoes for short walks only or even indoor use.
The shoes have an elasticated ankle that easily slips on over their foot and is then secured with a fuzzy fastener. The shoes, which are available in four sizes, include a reflective strip to ensure your dog's visibility in low light conditions. Note that the boots are water resistant, but not waterproof.
Pros
Affordable
Easy to put on
Versatile
Cons
For occasional light use only
Water resistant, but not waterproof
If you are looking for something cheap and cheerful to serve an occasional need, these Frisco boots will do the job.
Dog Boot Buying Guide
Not all dogs will need dog boots. Many dogs will happily go around their entire lives without shoes, never sustaining an injury or suffering a major discomfort.
Whether your dogs needs boots or not depends on where they live, and what the two of you like to do together.
Your dog may need boots if:
You live in a cold area and your dog needs to trudge through snow, as the damp cold can be painful for their feet. Even if they aren't walking through the snow, sidewalks can still be icy cold and can be covered in ice melts, which can be dangerous to your dogs' feet.
You live in an area where the strong sun leaves the ground extremely hot and your dog may need to walk across baking hot pavement or sand.
You and your dog are adventurers and you are likely to walk through areas full of sharps, either natural or man-made.
Your dog is getting on a bit and has lost some of their natural balance and need a bit of extra help to grip the ground.
Your dog is particularly bad when it comes to trudging mud and dirt into the home. Leave their shoes, and their mess, at the door.
So, dog boots can be a necessary tool for keeping your dog comfortable and safe from harm, or an optional extra to enhance the lives of both you and your dog.
Once you have decided to get your dog a pair of boots, there are a few things to consider when it comes to finding the right pair for them:
Size
Many of us know from childhood how tough it is to walk around in shoes that are the wrong size. Too large and you feel like a clown as you trip over your own feet. Too small, and after a few hours, the pinching has you feeling sore and irritable.
Your dog experiences the same things, so make sure you get the size right! Manufacturers will always give you guidelines on how to measure your dog's feet in order to get the right fit. This often involves tracing your dog's foot on a piece of paper, so prepare for a fun experience!
Comfort
Size is only one factor when it comes to ensuring that a pair of shoes is comfortable.
Unfortunately, dogs can't tell us directly if a boot is pinching or is uncomfortable, so you need to observe your dog while they are using the boots for any sign of discomfort.
Also pay attention to reviews, especially from dog owners with similar breeds to your pal.
Putting On
Again, many of us may have forgotten how hard it was to get our shoes on and off as children, and we had opposable thumbs!
If you have ever tried to help a child get their shoes on and off, you also know how hard it to to maneuver this type of thing around someone else's foot. Expect the same with your dog.
For this reason, you need shoes that are going to be relatively easy to put on and take off your dog. Easy slip-on shoes is usually the best approach.
Fastening
Dog boots will need something to help them stay on, so that they don't accidentally fall off while your dog is playing, and they don't decide to take them off. Fastenings come in a huge variety; think velcro, snaps, buckles.
What is best depends on personal preference. Velcro is usually the easiest to manage, but some dogs can't stand that distinctive ripping sound, and long-haired dogs might find their hair getting caught up in the velcro.
Water Resistant
We all know that there is nothing worse than walking around with soggy socks and feet. Your dog will feel the same.
If their shoes take on water, they will trap your dog's feet in a moist environment, which will leave them feeling more than a little uncomfortable.
Standard waterproofing is usually enough if they are playing in wet grass. If they are trudging through snow or across water, they will likely need something a little more sophisticated (from which we can also generally read expensive).
Breathability
While you want to protect your dog's feet from ground water, you don't want them to feel like they are wearing two plastic bags on their feet.
Dog's feet can become hot, uncomfortable, and even a little sweaty, just like your own. If they aren't tackling cold weather, something that is a little breathable will give them some extra comfort.
Durability
While you don't want to be spending a fortune on a pair of boots for your dog, you also don't want something that is going to fall apart and become unusable after a couple of uses.
The whole point of the boots is to protect your dog from extreme weather and sharps, so they are likely to come into contact with water, mud, rocks, and much else. They should be able to stand up under this kind of use.
Aesthetics
You are probably going to want your dogs boots to look attractive. You don't want to be seen in the street with a dog wearing boots that look like they belong to your grandmother.
All joking aside, the look of dog boots is a matter of taste. But watch out for features such as reflective elements for visibility when making your choice.
Price
Like many pet accessories, a good pair of dog boots can be surprisingly expensive. How much you are willing to pay for the boots depends on you and should also depend on how much use they will get.
If you just want something to help on the few days of the year that temperatures drop below zero where you are, you probably don't need to be paying for premium boots. If you and your dog are out on adventure trails every weekend, you are going to have to spend a little more.
So, these were the criteria that we had in mind when we came up with our list of the best dog boots. Which of these shoes is best for you depends on what kind of use they are going to get.
Are you looking for something to keep your dog's feet warm in the winter months? You should be looking at something with fleece lining and which is waterproof.
Is it the heat that your are protecting your dog from? Something lightweight and breathable will be more appropriate.
Are they for general adventuring out in the wild? You will want something with a protective soul and a good grip.
The Verdict
While not every dog will need a pair of dog boots, there are some occasions when they could benefit from the extra protection that they provide.
Dogs' feet get cold in the snow, just like human feet! They can also burn on hot pavement.
Walking through particularly rough terrain where sharps are a genuine risk can also be dangerous for your dog, and they would benefit from the extra protection offered by a pair of dog boots.
What kind of dog boots you need depends on what you and your dog are likely to do.
If you like hiking through the snow, they will need some heavy duty, warm boots for their feet. If snowy days are a rarity where you live, but you want to take your dog out to enjoy it, a cheaper boot may serve you well.
If you and your dog like to spend a lot of time in the great outdoors and live where weather conditions can get rough, then our top picks are either the Kurgo Step & Strobe or the My Busy Dog Boots.
Both are expensive but will provide great protection for your dog and last a long time.
If you are simply dealing with the occasional cold day in which your dog's paws could use a little extra warmth, then check out the Ethical Pet Fashion affordable boots line.
What about you guys?
Does your dog have dog boots? If so, which ones do you think are the best?
Tell us about your dog booties in the comment section below.
Stetson says he thinks the best dog boots are the red ones! :)
Save To Pinterest
Top Picks For Our Dogs
For a list of all the supplies we get for our new service dog puppies check out our New Puppy Checklist on the PuppyInTraining.com blog.