This post may contain affiliate links. We may earn money or products from the companies mentioned in this post.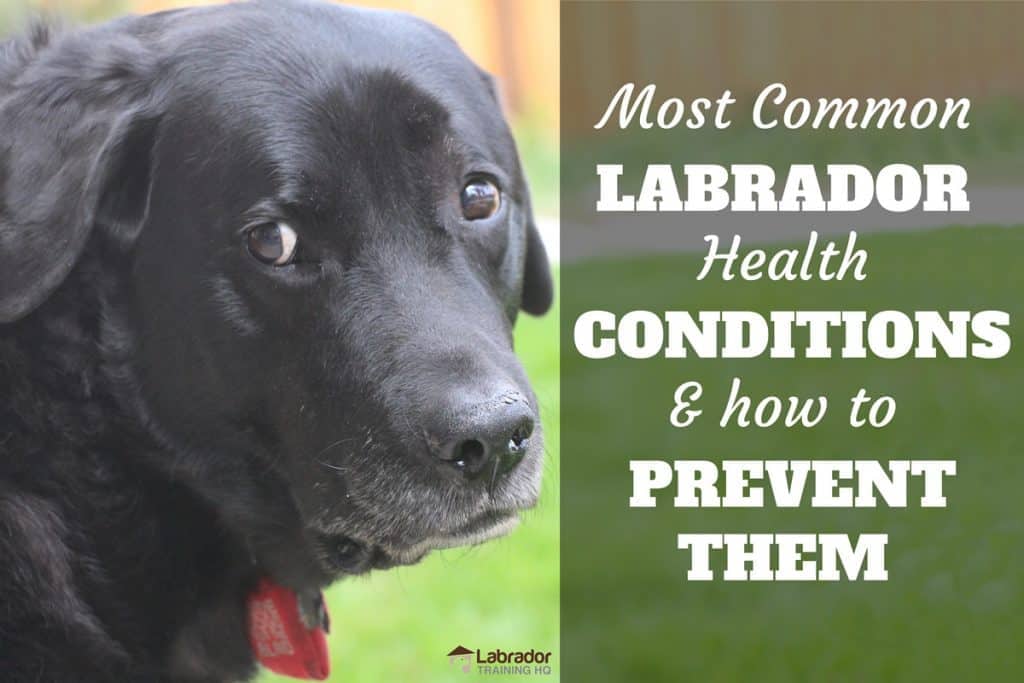 ​The Labrador is the most popular dog breed in the United States – and for good reason. These dogs are typically mild-tempered, sociable, easily trained, loyal and playful.
Labs also require relatively little care and attention when compared to more high-maintenance breeds. Still, some health conditions are more common among Labradors.
Here are some health problems your Lab may experience, along with a few ways to prevent them.
1. Joint Problems
Many Labs suffer from joint problems such as hip or elbow dysplasia.
These conditions affect the hip or elbow joints, prohibiting normal movement and causing pain and immobility.
While dysplasia isn't entirely preventable, its effects are lessened when your dog maintains a healthy weight, eats a high-quality food with plenty of vitamins and nutrients, and gets proper low-impact exercise (swimming is ideal).
There are also many supplements available specifically for joint problems in dogs, but their efficacy has yet to be thoroughly studied; therefore, it's best to consult a vet about any specific supplements you wish to try.
QUICK RECOMMENDATION: When our black Lab Stetson got older and started having joint problems our vet recommended a glucosamine supplement. We like and recommend: Nutramax Cosequin DS Plus MSM
Also check out our blog post listing the best glucosamine for dogs to help ease joint pain.
2. Bloat and Obesity
Obesity is a common problem for many dogs, including Labs.
Thankfully, it is fairly easy to prevent; simply monitor your dog's eating habits, and make sure he doesn't eat too much or too fast at meal times or snack in between.
You may need to portion your dog's food so overeating isn't an option for him.
For humans, "bloat" usually refers to excess water weight, which is usually a harmless condition. For Labs, however, "bloat" refers to a serious medical condition that can actually be fatal.
It refers to a distended abdomen due to a swollen or twisted stomach.
While the exact cause of bloat hasn't been found, experts agree that you should avoid letting your dog overeat or overhydrate to lessen his chances of developing the condition.
In addition, your dog should not exercise too soon after eating.
Stetson would eat an entire bag of food in no time flat if we let him. Make sure you control how much your feed your dog by feeding him the appropriate amount of food.
QUICK RECOMMENDATION: If your dog gulps down his food like Stetson then we recommend a slow feeder dog bowl. We've tried many slow feeders and our favorite is the Outward Hound Fun Feeder.
3. Ear Infections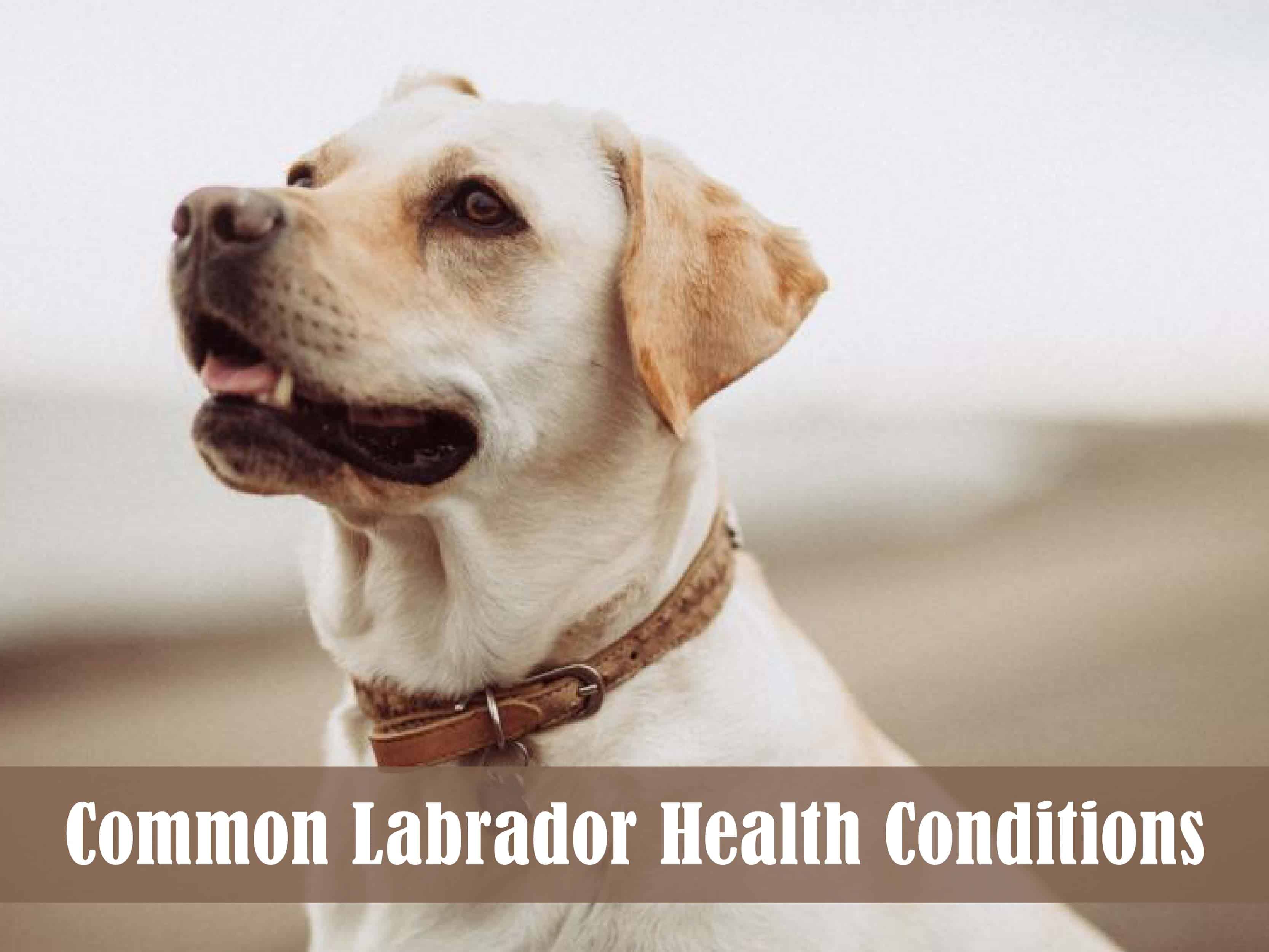 Labradors are known for their large, floppy ears, which give them a comical look that is rather endearing.
However, their large ears also provide a suitable breeding ground for bacteria, making Labs more susceptible to ear infections.
You can keep ear infections at bay by ensuring your dog's ears stay clean and dry (take care to dry them after baths or swimming), checking often for any signs of infection, and removing any excessive hair in the ears (a groomer can handle this for you).
If you believe your dog has developed an ear infection, please see a vet immediately for treatment.
QUICK RECOMMENDATION: Unfortunately, ear infections were common place with our guide dog puppy, Dublin. Our vet recommended we use Virbac Epi-Otic Advanced Ear Cleaner to flush his ears. Make sure you consult your vet so he/she can show you how to properly clean your dogs ears.
4. Heart Disease
Heart disease is a common problem in the canine community. While it's quite common for even the healthiest elderly dogs to develop heart disease, general wellness is considered the best prevention.
Make sure your dog stays up-to-date on all vaccinations, eats high-quality kibble, stays hydrated and gets regular exercise.
If your dog is diagnosed with heart disease, your vet may recommend a supplement like Vetmedin Chewable Tablets to protect against congestive heart failure.
Give your pet a recommended Vetmedin dosage to protect against heart disease and always strive to help him maintain a healthy weight.
Unfortunately for us our Labrador Mix, Linus was diagnosed with Congestive Heart Failure when he was 13 1/2 years old. Medication helped him for a short period his health declined rapidly.
While I'm not a veterinarian I think the best ways to prevent heart disease are similar to what a doctor would recommend for you, a human patient.
Healthy eating
Keep a healthy weight
Regular exercise
These are just a few things that I think are not only important for you, but for your dog as well.
Conclusion
While there is no way to ensure your Labrador never develops any of these health conditions, you can take preventive action to lessen your dog's risk.
By staying proactive about your pet's health, you give him the greatest chance for living a long, happy life.
What about you guys?
Does your Labrador have any of these common health conditions?
Or maybe even some uncommon ones.
Tell us your story in the comment section below.
Save to Pinterest
Top Picks For Our Dogs
For a list of all the supplies we get for our new service dog puppies check out our New Puppy Checklist on the PuppyInTraining.com blog.