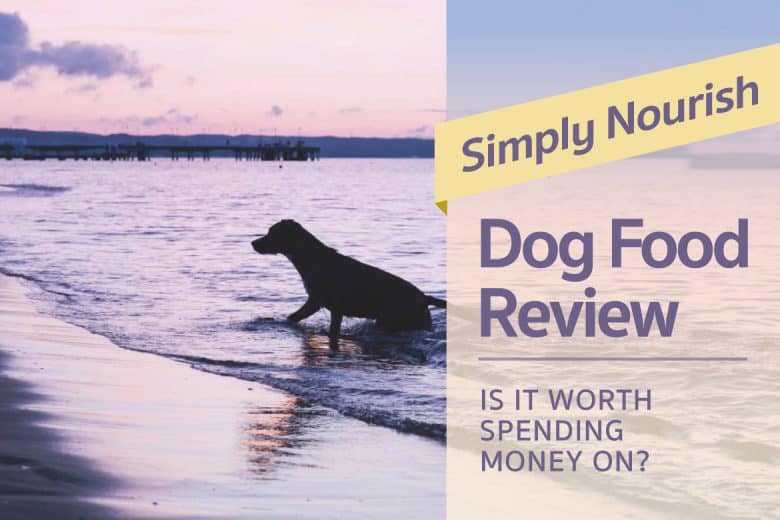 Discover Simply Nourish Dog Food -- you'll be waggin' your tail all the way to the pet store!
Introduction
Simply Nourish Dog Food is one of those brands that people make speculations on based on what they read on the Internet. But when it all boils down to the cold, hard facts, like its cat food equivalent, Simply Nourish Dog Food reviews prove that this is a loved dried dog food by dogs all over! You can only find Simply Nourish Dog Food at PetSmart, but online purchasing is available for those without a store close by. Some people might wonder where is Simply Nourish Dog Food made? You can find their manufacturing locations in 3 states across the United States (Utah, Washington, and Pennsylvania). Let's take a look at the Simply Nourish reviews by trusted owners and consumers all over to hear what they have to say about this dog food brand.
At a Glance: Our Choices for the Simply Nourish Dog Food:

We gave Simply Nourish Dog Food a 4 out of 5 stars rating.
Added essential vitamins and minerals for healthy immune systems and overall health
Real lamb meat to encourage strong heart health
Great for adult dogs of all sizes
Inclusion of Omega-3 and Omega-6 fatty acids for healthy skin and coats

Real deboned chicken used to help support a healthy heart
Added essential vitamins and minerals for healthy immune systems and a sensitive stomach, as
we as overall health
Wholesome ingredients such as vegetables included in the recipe for natural flavors
Inclusion of Omega-3 and Omega-6 fatty acids for healthy skin and coats

No fillers or artificial flavors, colors, or preservatives
One primary carbohydrate and one primary protein
Added vitamins and minerals
for unique dietary needs
Real deboned salmon to help support healthy heart and body

Natural formulas with added vitamins and minerals for puppies who have unique dietary needs
Inclusion of DHA to help support healthy brain and eye development
One primary protein and one primary carbohydrate
No artificial flavors, colors, or preservatives
Ideal for puppies
Review
Overall, this is a great quality dog food with natural flavors for your beloved furry friend. There are specific ingredients that are left out of the recipes intentionally to help those dogs who suffer from specific illness, which is amazing. Dogs and owners are very pleased with the ingredients that are used in the recipes for Simply Nourish dog food, and rightfully so! The ingredients are quite good and the humans love that the ingredients are healthy for their doggies!
Pros
Easy to Digest
Many customers reported that dogs that have had or are having stomach and digestive issues would suffer less upset stomachs (gas, vomit, diarrhea, etc.) with this quality pet food. This is great news and it means that the ingredients that are being included/excluded are the right ones for that particular formula.
Perfect for Sensitive Skin
Every customer who bought Simply Nourish Dog Food for their puppies said the puppies would normally have some kind of skin/coat issue. Customers reported seeing and feeling noticeable improvements on their skin/coat, which is a big deal to those who suffer day in and day out with skin issues.
Ideal Ingredients for Specific Medical Conditions
Customers were not only so happy that there was a grain-free recipe out there for Simply Nourish and they were even happier when they found out that some of the ingredients were left out, as well, because it meant that there was money for treatment/cure/etc.
Cons
Taste
Dogs that reportedly ate plenty of this pet food in the recent years suddenly wouldn't touch their food bowls, according to their owners. Simply Nourish Dog Food came out with a new formula and suddenly dogs started to disapprove.
Availability
Simply Nourish Dog Food is only available at PetSmart currently. This could cause an availability issue if the customer doesn't live close to a PetSmart. Although you can order online, some customers reported that when they tried to order online, the product was out of stock and not available for a few weeks.
Product Line
Ingredients Analysis
The first ingredient listed on the ingredients list is meat (chicken, lamb, etc.), which does seem like a good thing. However, once this meat is processed, the nutritional value decreases due to the loss of key nutrients. There is meat meal (chicken meal, lamb meal, etc.) listed as the second ingredient which does provide a great amount of protein for your pup.
One of the next ingredients is oatmeal (can be gluten-free depending on the type of oatmeal). This is a whole grain—a well-known allergen for most pups. Most of the recipes include other whole grains like brown rice which could cause skin sensitivity or digestive issues for your pup. Other ingredients include things like tomato pomace, chicken meal, sunflower oil, and Chicory root, as well as a number of supplements like folic acid and calcium carbonate.
Here's a really useful video on how to read your dog food label.
Recall History
There are no recalls for Simply Nourish Dog Food listed on the FDA website.
Conclusion
Reviews on Simply Nourish Dog Food prove that this is a good choice for your pup, no matter the stage of life. With natural ingredients like chicken, salmon, and lamb, your dog will surely enjoy this hearty meal every day. While there are some ingredients that may be less than ideal (whole grain and wheat), this is something to take into consideration but not use a reason to not try it out with your dog. While some dog foods do cause allergies to flare due to the inclusion of whole grains and wheat, it is important to note that each dog food is different and will affect your pup differently! Give Simply Nourish Dog Food a try—your pooch will thank you.
---
Other articles you might be interested in:​
This post may contain affiliate links. We may earn money or products from the companies mentioned in this post.
Top Picks For Our Dogs
For a list of all the supplies we get for our new service dog puppies check out our New Puppy Checklist on the PuppyInTraining.com blog.