This post may contain affiliate links. We may earn money or products from the companies mentioned in this post.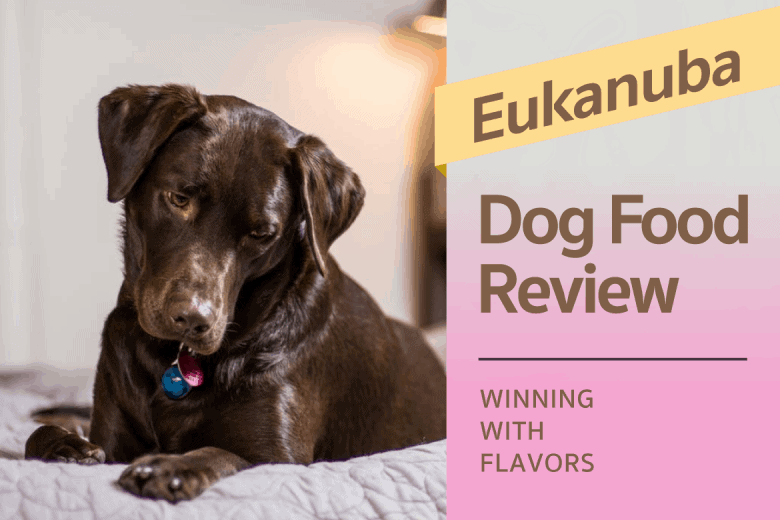 Looking for a comprehensive look at the Eukanuba Dog Food? Well, you've found it right here! Find out if Eukanuba is the dog food for your pup!
Introduction
Back in the 1940s, Jazz music was a huge hit. And according to Eukanuba's website, that's exactly where the owner and creator of Eukanuba got its name from when it was created in 1969. With such detailed attention to performance and ingredients, this Eukanuba Dog Food review probes into ingredients, reviews, and products for Eukanuba Dry Dog Food to find out whether or not this is the perfect food your beloved pet.
Our Rating
We give Eukanuba Dog Food 4.3 out of 5 stars.
At a Glance: Our Choices for the Eukanuba Dog Food
DOG FOOD

DETAILS

OUR RATING

Eukanuba Large Breed Adult Dry Dog Food

Proven to reduce tartar build-up on those pearly whites Includes glucosamine and chondroitin to help give our pup healthy joints
No artificial flavors or coloring
Great for digestion

Eukanuba Large Breed Puppy Dry Dog Food

Made with animal-based proteins
Specialized fiber system with prebiotics to promote healthy digestion
Infused with Omega-3 and Omega-6 for healthy skin and coats
Perfect for large breed dogs

Eukanuba Puppy Chicken Formula Dry Dog Food

Infused with DHA to help promote healthy brain development
Omega-3 and Omega-6 infused forhealthy skin and coats
Proven to help reduce tartar build-up in just under a month
Great for digestion

Eukanuba Small Breed Puppy Dry Dog Food

Real chicken is listed as the first ingredient with no fillers
Infused with DHA to help promote healthy brain development
Easy to digest with natural fiber and probiotics
Review
On Chewy.com, customer reviews rave about the quality of Eukanuba dry dog food from the great taste of quality ingredients. It is important to note that customers are truly happy with this product and their pups are highly satisfied with this great-tasting product. Many pet owners have stated their pups have been eating Eukanuba since they were teeny puppies and they wouldn't trade their food for anything. The ingredients list is another story, however. Overall, customers are happy with this food regardless of some of the ingredients used in the recipe. Check out this review from Chewy.com
Pros
Great Taste
Human customers have raved that their pups love the taste of Eukanuba dog food! Reviews on Eukanuba Dog Food on Chewy.com were nothing but positive in regards to the taste of the pet food—according to Fido, anyway. This is credited to the variety of flavors in the recipes such as meat and vegetables.
Beautiful Coat and Skin
Because of the inclusion of Omega-3 and Omega-6 fatty acids and a rich source of vitamins in the recipe formulas, every dog's coats and skin are beautiful and shiny. Some owners even stated that their pets are complimented on their coats frequently.
Cons
Ingredients
Unfortunately, even though dogs simply love the food, the ingredients in the formulas are not quite up-to-par as they should be. The inclusion of grains and chicken by-product meal is not exactly the top ingredients pet owners look for in their dog's food nowadays. Allergens such as corn, wheat, soy, and potatoes that are used in recipes can cause serious allergic reactions, such as itchy, dandruff, and coat problems for pups.
Product Line
Ingredients Analysis
When you look at the ingredients listed for Eukanuba, you will find that chicken is listed as the first ingredient in a great deal of the recipes. This might seem like a great thing, but chicken contains a great deal of water, which means that the protein level actually goes down a bit.
The next ingredient listed is corn meal. As stated previously, your dog is more inclined to having allergic reactions to corn, wheat, soy, and potatoes, so having cornmeal and ground whole grain as the second and third ingredient listed is not optimal. Also, the inclusion of by-product meals in most of the recipes is something to be noted as by-products are just the leftover pieces of the chicken after the meat is removed.
Overall, the ingredients are not something that makes Eukanuba a top choice for your furry friend, but they aren't terrible, either. There are dried vegetables and fruit along with fish oil and dried beet pulp that will help your dog with fiber intake!
Recall History
According to the FDA's website, there are no recalls listed for Eukanuba Dog Food recalls.
Conclusion/Wrap Up
The ingredients list does not really do much for Eukanuba's case as a strong contender for the top choice of dog food. However, customers are extremely happy with the brand, and pups love it, too! So, if dogs are healthy and happy, that's all that really matters! Every dog is different, and dietary needs shouldn't be evaluated differently for each dog. So if your dog is "loving it", then keep on filling that food bowl up!
Check out our Dog Food Guide here.
Top Picks For Our Dogs
For a list of all the supplies we get for our new service dog puppies check out our New Puppy Checklist on the PuppyInTraining.com blog.