This post may contain affiliate links. We may earn money or products from the companies mentioned in this post.
Dig into the top 5 best dog foods for weight loss on the market today — an in-depth look at what makes these top 5 dog foods the best for your pup's weight and health.
Introduction
It is common for dogs to have a bit of a weight issue. After all, they can have very sedentary lifestyles and weight gain can become a problem. As your dog gets older, their energy decreases. With that energy decrease, comes weight gain and some dogs cannot afford to carry around extra body weight on their small frames. Finding the best weight loss food with fewer calories is the best way for you to avoid the health problems that being overweight would bring on and ensure that your pup is living the best and healthiest life. Sometimes, a shift in the food your dog eats from higher calories to lower calories is all they need to get that body weight down and stay clear of potential health problems down the line.
We're going to dive deeper into what the top 5 best weight loss food for dogs are and how you can help your dog get to (and stay at) their ideal weight for optimal health. After all, an overweight dog not only looks bad, it is really bad for their health. With any of the following best weight loss dog foods, feeding your dog has never been easier.
At a Glance: Our Choices for Dog Food for Weight Control
Note: While our selections are all dry food, each one of them has a corresponding canned dog food line.
Product Reviews
If you're looking for a relatively inexpensive dog food that is low in fat and great for your pup's gastrointestinal needs, Royal Canin Veterinary Diet Gastrointestinal Low-Fat Dog Food is the weight management dog food for you. Because of the highly digestible, tasty, and balanced formula, this diet-friendly dog food is a pet parent's dream and makes feeding your dog a breeze.
For overweight dogs on a restricted fat intake diet to stop them putting on the pounds, this is the perfect dog food. It has whole grains and good protein from chicken meal. It has prebiotics and EPA & DHA, so your dog will have support for his digestive health, which is also important in weight management. With a low-fat concentrated formula, dogs with hyperlipidemia or pancreatitis will very much benefit from this particular formula.
Avoid this food if your pooch has hyperglycemia, since it does have grains, albeit whole grains, such as corn and rice (probably brown rice).
Check out what customers had to say about Royal Canin Dog Food here: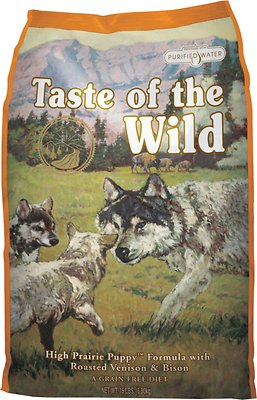 Pet parents all over know that Taste of the Wild is a great choice for your pup, no matter the stage of life. But this particular formula is made to help your dog have increased mobility, which in turns makes your pup for active and healthier, whether they are of a small or large breed.
This dog food would fit under the best weight management pet food. It's got real meat, minimal fat content, and no meat by-products or grains for fillers means your dog is getting the top ingredients to help them live a healthier life. Turkey and chicken are the main ingredients used to help give your dog the high protein content they need (and want).
With Wellness CORE Grain Free dog food, you will find meat as the top ingredients on the list. Deboned turkey, turkey meal, and chicken meal satisfy that wilderness taste your dog craves. With sweet potatoes and peas for good carbs, and real meat for high protein, and Omega-3 and Omega-6 fatty acids, your dog will have a balanced diet and an easy time digesting this food. It'll keep your active dog healthy and moving all day long.
Weight management will be easy with Wellness Core Natural Grain Free because your dog will be absorbing the proper nutrients and continuing to stay active and mobile throughout the day.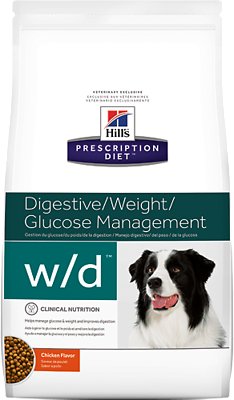 If you're looking for a dog food that will help Fido metabolize fat and maintain lean muscle, this is the perfect choice! Prescription Diet dog food is low in fat, high in L-carnitine (helps increase energy and metabolism), and high in fiber.
If your dog is overweight and is diabetic needs, he will thank you for giving him a food that will help them keep their glucose levels down to avoid from having to take any further action. This Hill's dog food also helps burn fat and create lean muscle, which is what every dog needs.
The canned dog food version of this is also truly excellent.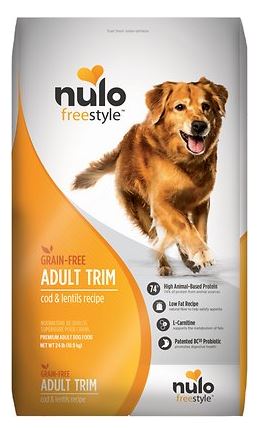 You may or may not have heard of Nulo Freestyle, but this cod and lentil dog food is grain free and high in fiber, with 74% of it made up of animal-based proteins.
It has L-Carnitine which will help your dog burn fat, and probiotics for good digestion. It will have all of their needs met with the inclusion of a bunch of wholesome fruits and veggies, and the exclusion of not-so-wholesome stuff such as artificial colors and flavors. The grain free, reduced fat formula will help normalize your dog's weight, and they will soon feel and look better! Nulo prides itself on providing a dog food that promotes a happier and healthier dog so you can spend more time playing and less time worrying about getting your dog to lose weight!
Conclusion
Whether you are looking for budget-friendly, low-fat, grain-free, or all 3 in your dog food choices, you can find them all right here! Get a comprehensive guide to the top 5 dog foods in the industry that are allowing dogs to lead healthier, happier, and longer lives without putting on the pounds! With so many choices in the market claiming to be the best food for weight loss and weight management, it is crucial to know the top brands to trust with your dog's weight and health. After all, you want your best furry friend to be around for a long time and these reduced fat weight control dog foods will help promote a longer life with them by your side.
Check out these delicious dog foods that will not only leave your dog wanting more but keep them healthy and happy for years to come. You have 5 great choices to choose from that are top-of-the-line to help your dog lose weight or maintain the healthy weight they already have. These are the best weight management dog foods on the market today — take advantage and get your pup looking and feeling like a new puppy again.
Top Picks For Our Dogs
For a list of all the supplies we get for our new service dog puppies check out our New Puppy Checklist on the PuppyInTraining.com blog.