This post may contain affiliate links. We may earn money or products from the companies mentioned in this post.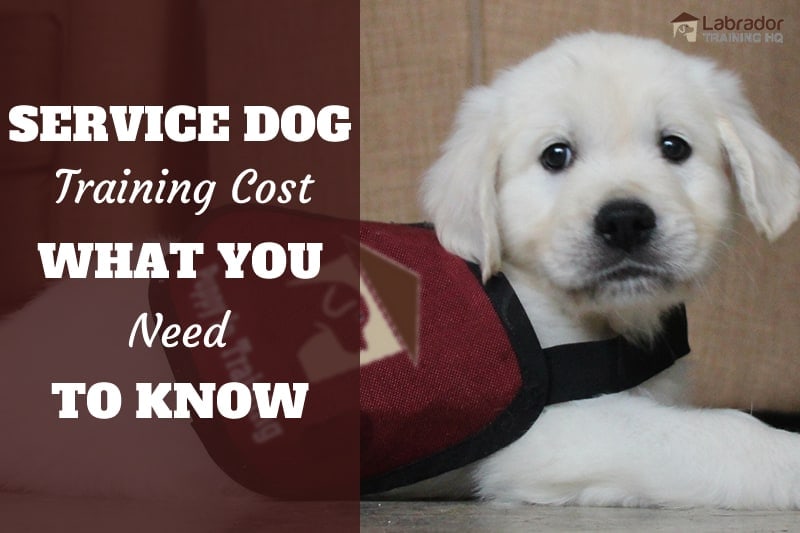 Service dogs perform complex tasks to help their handlers, but how long does it take to train these complex tasks and how much does service dog training cost?
Service dogs can help people with different disabilities and needs, so you may have wondered what sort of training they undergo.
It's helpful, but not required that all service dogs get professional training. The level and intensity of this training varies depending on the tasks they need to perform.
Depending on the circumstances of the handler, service dog training can cost a hefty sum.
In addition to this training, service dogs have additional costs, like specialized gear, extra vet bills, and basic essentials.
If you want to learn more about how much service dog training costs, how long it takes, and other essential information about service dogs, then read on!
What Is A Service Dog?
According to the Americans with Disabilities Act (ADA):
"…a service animal is defined as a dog that has been individually trained to do work or perform tasks for an individual with a disability. The task(s) performed by the dog must be directly related to the person's disability."

Service Animal and ADA FAQ
Types of service dogs include:
Hearing Dogs for the deaf or impaired hearing
Guide Dogs for the blind
Seizure Response Dogs
Mental Health Service Dogs
Guide dogs, for example, need to be hyper aware of their surroundings and identify dangers like cars and traffic.
They also need to be able to navigate obstacles meticulously to keep their handlers safe.
Seizure response dogs, on the other hand, are trained to alert their handler up to 50 minutes before they have a seizure. This then gives the handler time to find a safe place.
Service dogs do phenomenal work to keep their handlers safe and happy, but many are professionally trained before they get to this point.
So, how much does it cost to train a service dog?
Service dogs can be trained by their owners. This article makes the assumption that individuals will be seeking at least some professional help when training their service dog.
Service Dog Training Cost
The cost of service dog training is expensive and can total between $10,000 to $30,000 depending on what type of training the dog requires.
Non-profit organizations offer service dogs at no or little cost, but they do require an application process and the waiting lists can be long.
Dogs who require intensive training will be on the higher end of this cost, such as guide dogs and hearing dogs.
However, pooches who only require basic training, like for alerting, can be a lot cheaper to train. If you want to train your pet dog to become a service dog, then the cost of training them depends on their current level of obedience, what type of skills they need to be taught (e.g., guiding, alerting, etc.), and how quickly they learn.
Depending on where you live, the price of training sessions can vary. Typically, a one-hour session with a reputable dog trainer will cost between $150 and $250. But, how long does it take to train a service dog?
The length of time it usually takes to train a service dog is anywhere from 4 months to 2.5 years. For example, guide dogs often take between 20 months to 2.5 years before they are matched with a partner.
Applying for a service dog from a non-profit organization is a cheaper route, but you are not guaranteed a dog just by applying.
Your individual circumstances will determine whether your application gets approved or refused by the organization.
The dogs from these types of programs are specially bred to excel as service dogs.
The parents of these pooches were selected as breeders due to their desirable traits like intelligence, attentiveness, and calm temperament.
Qualities like these are vital in service dogs as they need to be focused, able to ignore distraction, and composed to do their job effectively.
The majority of service dogs begin their training as puppies. They are taught basic commands and social skills initially.
At around 18 months old, the dog undergoes the training it requires to become a service dog.
For example, if the dog is being trained to support the blind or visually impaired, then part of the canine's teaching will include navigating obstacles and intelligent disobedience.
Most service dogs cost a non-profit organization over $25,000 by the time they are fully-trained.
The Cost Of Owning A Service Dog
Owning any dog, regardless of whether they are a service dog, is costly. You need essentials like:
That's just to name some of the basic expenses of owning any dog.
Some of these necessities are one-off fees, but others are ongoing expenses.
In this section of the article, I'll be covering what you'd expect to pay regularly when owning a dog.
All dogs require high-quality food to keep them healthy, but as service dogs are typically more active than pet dogs, so they will require a diet that is a bit higher in protein to suit their energy needs.
Good-quality dog food can cost upwards of $50 per month. Depending on the size of your dog, the amount of food they need will vary, so this is something to keep in mind.
Toys are needed for enrichment and mental stimulation.
Most owners only spend around $25 to $50 on dog toys each year, but if your dog is an aggressive chewer, then you may need to replace toys frequently. This obviously drives up the price.
QUICK TIP: If you're dog is an aggressive chewer then check out our list of durable dog toys. These toys for heavy chewers may cost a little more, but will last longer and save you money in the long run.
Your dog also needs to be treated for fleas and worms on a regular basis. Flea treatments should be used every four to six weeks, whilst worming treatments should be used every three months.
Both flea and worming treatments cost around $30 per treatment.
For dogs with long-haired coats, frequent visits to a groomer may be necessary in order to prevent matted fur and tangles. A grooming appointment can cost between $30 to $90.
Even if your dog doesn't require a groomer, then you will still need to invest in pet-safe shampoo, conditioner, and toothpaste to keep their coat and teeth sparkling.
Regular check-ups at the vets are a good idea to keep an eye on your dog's health. The average cost for a routine veterinary check-up is between $45 and $55.
Even if your dog looks perfectly healthy, it's always best to get them examined frequently to make sure they don't have any hidden illnesses.
Having a bit of money saved up is recommended for unexpected vet trips or equipment replacements so you don't get hit with a huge bill when you least anticipate it.
Alternatively, you could get pet insurance to help you cover expenses if your dog ever requires veterinary care.
Insurance for dogs usually costs around $45 each month (this number can vary greatly depending on the current age and health of your dog).
On average, a dog will cost around $115 to $350 each month. However, service dogs are a bit pricier to keep.
Service dogs come with some additional costs as they require specialized gear, extra vet care, and regular trips to the groomers. Depending on what type of service the dog is trained for, the gear might not be too pricey.
Dogs who assist individuals with sight issues often need custom-made harnesses to help guide their handlers, which can be expensive.
To ensure the service dog is fit for work and is able to safely support their handler, extra trips to the vet are necessary. For example, service dogs for the blind need to have excellent vision and hearing to assist their handlers, which means they will require regular hearing and sight tests.
Additionally, service dogs need to be groomed more frequently than pet dogs as they will be working in the public.
This means the cost of grooming is a little more pricey, as service dogs require more upkeep to keep them looking (and smelling) their best.
Final Thoughts
How much service dog training costs is influenced by the type of tasks the dog needs to perform.
Anywhere between $10,000 and $30,000 is to be expected, but this estimate could be lower for service dogs who don't need to undergo intensive training.
The length of time it takes before the service dog is fully-trained also depends on this factor. Non-profit organizations offer service dogs at either no or a reduced cost, but there is an application process.
Furthermore, the waiting list for these programs can be a bit long, so they may not be ideal for individuals looking for a service dog a little sooner.
Regardless of whether you pay for a service dog yourself or are offered one via an organization, the cost of training is very high. When you take into consideration the amount of work that goes into training a service dog, however, it's definitely a cost you can justify!
How about you?
Do you have a service dog?
If so, can you share your service dog training costs?
Tell us your story in the comment section below
Save to Pinterest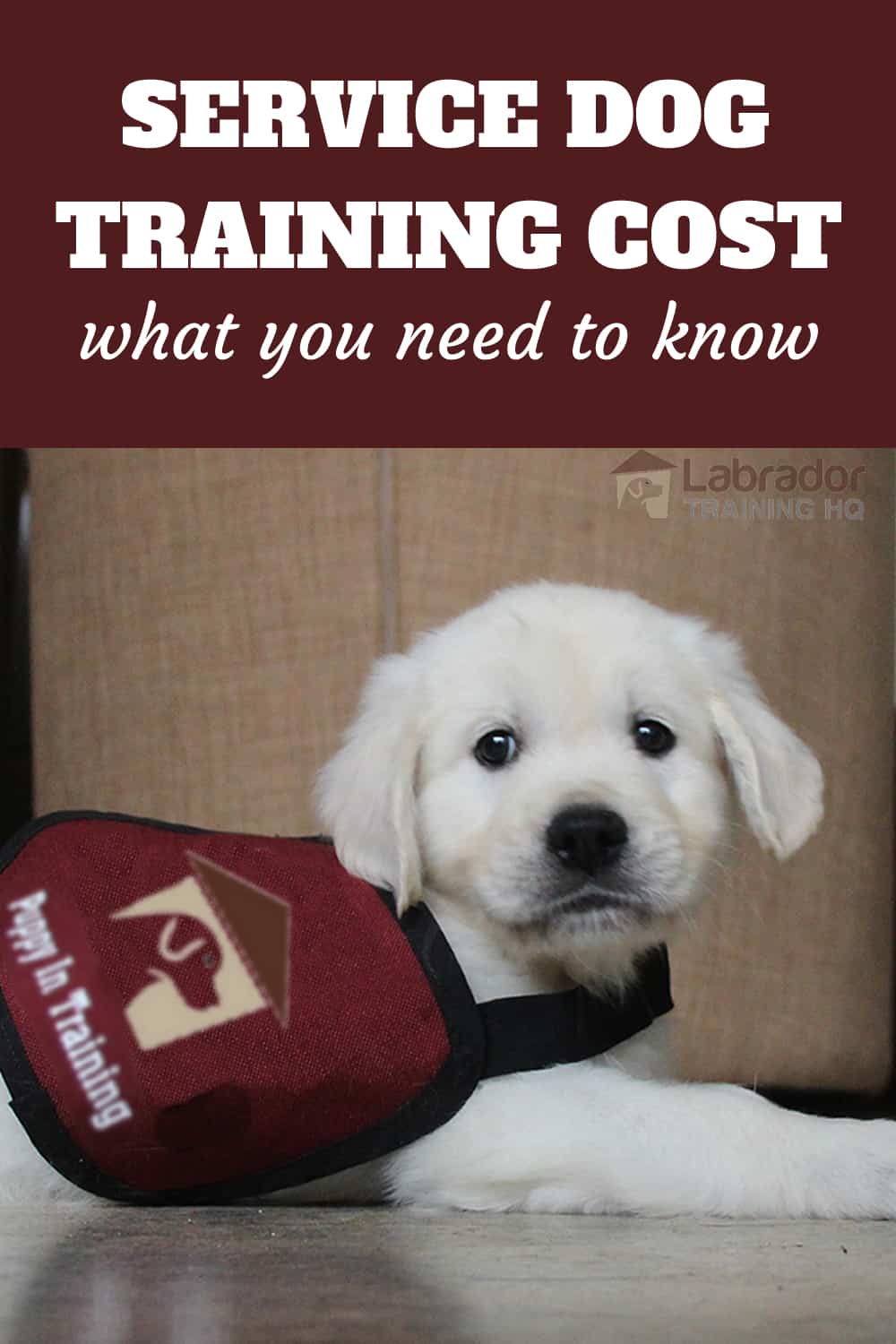 Top Picks For Our Dogs
For a list of all the supplies we get for our new service dog puppies check out our New Puppy Checklist on the PuppyInTraining.com blog.