This post may contain affiliate links. We may earn money or products from the companies mentioned in this post.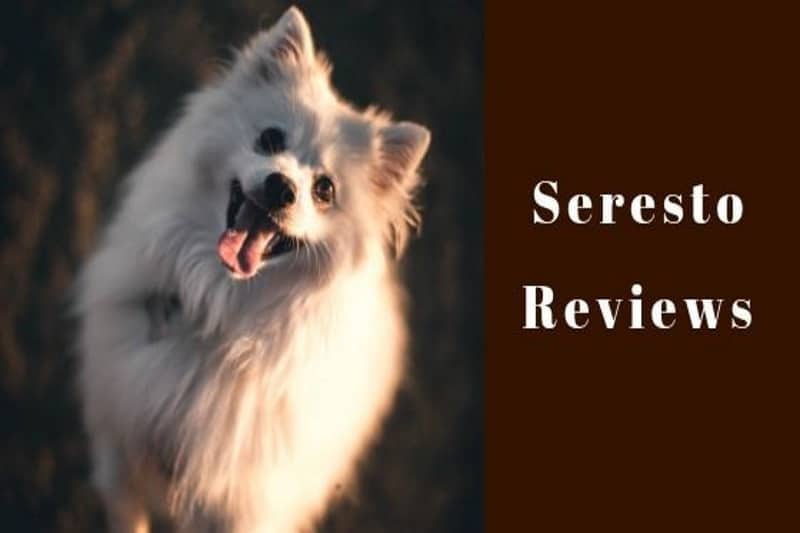 Fleas and ticks are a huge problem for pooches all over the world. Even the cleanest dogs are at risk of flea infestation. The risk greatly increases for outdoor dogs.
Controlling these blood-sucking parasites is not always easy. It gets even worse when you can't seem to find an effective flea and tick collar for your pup.
Some collars only control the parasites around the neck area, while others are made of ingredients that cause adverse side effects to your dogs.
Then there are those that do not work at all—a total waste of money. With so many collars on the market today, finding one that works for your doggies can be a bit tricky.
For this reason, I have compiled a comprehensive Seresto flea collar review. Read on to find out how they work, their side effects, and much more.
Rating The Seresto Flea Collar
While doing this research, I was quite impressed by the numerous positive reviews on the Seresto flea and tick dog collar.
It is the most recommended dog dog flea treatment and tick collar by veterinarians. Also, it is the most purchased dog flea and tick collar brand on the market today.
Those who have used it were especially pleased by its long-lasting flea and tick control. Many also loved how quick the results manifested.
After putting these and other factors (outlined below) into consideration, I think the Seresto Flea Collar deserves a rating of 4.2 out of five stars.
Active Ingredients In Seresto
This collar has two active ingredients which are:
1. Imidacloprid: kills adult fleas and larvae
2. Flumethrin: repels and kills ticks
How The Seresto Collar Works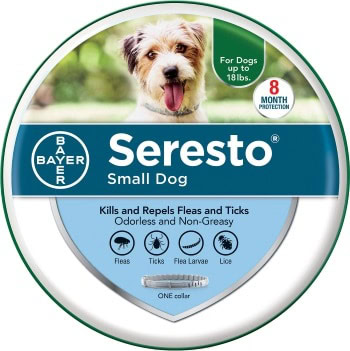 The Seresto collar is designed in such a way that when it is worn on a dog's neck, its active ingredients (Imidacloprid and Flumethrin) are gradually emitted onto your pet's coat.
These components are released in a continuous low concentration. They are then distributed all over your pet's body, from head to toe.
If a flea comes into contact with your pet's fur, Imidacloprid will destroy its nervous system. The parasite becomes paralyzed and confused, and it eventually dies.
The other ingredient, Flumethrin, is the insecticide used to repel ticks away from your dog. It also kills any ticks that may come in contact with your pet.
A unique feature of this super combination of ingredients is that they are able to kill fleas and ticks that are in the larvae stage as well.
Thus, the collar will eliminate ticks and fleas at all stages of the parasites' life cycle. This is extremely important in treating infestations, so you can be sure you've gotten rid of all the little intruders.
As a bonus, these collars will also treat any lice or sarcoptic mange found on your dog's skin.
How To Apply A Seresto Flea And Tick Dog Collar
There is no rocket science required to apply this collar to your pup. You only need one collar for each animal. Then, follow the simple steps outlined below.
Unpack the collar.
Straighten the collar and take away any plastic connectors that may still be present on the inside of the collar.
Place the collar around your dog's neck.
Carefully cut any excess length of the collar. You should leave about two centimeters after the second loop.
Finally, adjust the collar around the neck of your dog ensuring it is neither too tight nor too loose.
Always check and adjust the collar's fit from time to time as need be. This is extremely important for young puppies which are constantly growing.
The perfect snug fit is one that allows two fingers to comfortably fit in between the collar and the neck of your dog. Here is a video that demonstrates how to apply the Seresto dog flea collar.
Enter your text here…
How Do I Take The Seresto Collar Off My Dog?
Taking the collar off is as easy as putting it on. You will only need to press the sides of the collar's buckle while pulling from the opposite side or end—it's that easy.
Special Features Of Seresto Flea And Tick Collars
There are various features that make this collar stand out from other flea and tick collars. Here are a few.
It has reflector clips

. These help with night visibility, making sure your pet can be seen.

It is long lasting.

Its longevity beats every other flea and tick control method available.

It has a quick safety release mechanism.

 This helps the animal to easily free itself in case the collar gets trapped.

It is waterproof.

 There is no need to remove the collar when bathing your dogs. Also, your dog is still protected even after being rained on or if he has an occasional swim.
How Will I Know My Dog's Seresto Collar Is Working?
When you apply the Seresto collar for the first time, it may take up to 48 hours for you to notice results.
A sure sign that the collar is working is when you start noticing dead fleas on top of your pup's coat. You can clear them away by brushing your pet. But in case you still notice fleas on your pet's fur several days after application, your pup might have picked up new fleas. These should be eliminated within two hours.
It is important that you also treat the sources of ticks and fleas such as the carpet in your home and your yard. This will help prevent re-infestation.
Is Seresto Safe?
Yes, Seresto dog collars are safe for your pup. These collars are designed to have weight appropriate dosages. There is a collar with a mild dosage for dogs under eighteen pounds and a stronger dose formulated for dogs weighing over eighteen pounds.
The collar for small dogs will not be effective when used on large dogs. On the other hand, using the collar for large dogs will put your small dog at risk for an overdose.
Therefore, always ensure you order the right size for best results and, ultimately, safety. Also, note that different dogs will react differently to the Seresto collar. Most breeds are not affected by the use of this collar, but those with sensitive skin may experience a mild skin reaction. On rare occasions, some dogs experience severe side effects. If you are concerned for your dog's health when using a Seresto flea and tick collar, see your vet.
Make sure that you read the instructions and precautions that come with your collar package.
It is worth noting that the manufacturers warn that the collar will last only five months if your dog swims once every month.
Side Effects Of Using Seresto
According to the NPIC, all kinds of pesticides can cause health problems in your pet. This includes products such as shampoos, sprays, and even pills.
Here are the side effects associated with Seresto collars and other pesticide products:
Rash
Vomiting
Diarrhea
Trouble walking
Tremors and seizures
Excessive fatigue
Excessive drooling
Some animals may be more sensitive to certain pesticides than others. Thus, always consult with your vet if you notice any health changes in your pet.
Where To Buy Seresto Flea Dog Collars
The Seresto dog collar is available for sale in most online stores. You can check it out on Amazon, Chewy, or Petco.
Seresto Flea And Ticks Dog Collar Review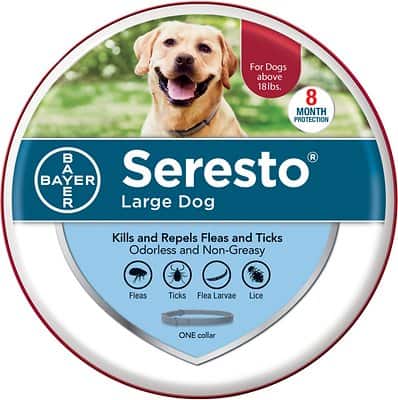 Seresto, a product from Bayer Animal Health, is the longest lasting flea and tick treatment and control collar there is on the market.
A majority of dog owners are a little skeptical about the price of this product. The truth is, the cost is much higher when compared to other monthly treatment options. But in the long run, Seresto flea collars are way cheaper. Remember, you are paying for continuous protection of your pups for a whopping eight months.
These collars are available in two sizes and can be used for both small and large breeds. Here are the advantages and disadvantages of using this collar:
Pros
Veterinarian approved
Saves time because you don't need to use the normal, messy monthly topical applications
Works quickly killing ticks and fleas within 48 hours after the first application and within two hours for re-infestations
Water resistant so bathing will not lower collar's effectiveness
Offers long-lasting, continuous protection against fleas and ticks for up to eight months
Kills fleas and ticks on contact
Effective for the control of lice and sarcoptic mange
Has a very mild odor
Non-greasy
Easy to put on
Can be worn together with other ID or restraining collars
Cons
Excessive exposure of the collar to water causes it to lose its effectiveness
Only offers protection when it is worn
Not very effective with breeds that have very thick coats
The sizes available are generalized for large and small dogs; mid-sized dogs are not considered
Some pups may be allergic to the ingredients
Seresto Product Line
Seresto is a long-lasting, water-resistant dog collar that works for up to eight months. It is not affected by sunlight or rain and is safe to use for dogs that are older than seven weeks.
The active ingredients, 4.5% Flumethrin and 10% Imidacloprid, are combined to provide maximum protection for your pets.
However, remember that the ideal collar for your pup is dependent on its weight. If your pooch weighs below eighteen pounds, use the fifteen-inch collar designed for small dogs. More details, reviews, and price information for this dog collar can be found on this site.
And, if your dog weighs over eighteen pounds, then use the 27.5-inch collar. It is adjustable to fit large dogs of all sizes. You can find this collar here.
Conclusion
From the above Seresto collar reviews, it is clear that these collars are among the best flea and tick control treatment plans available on the market today. They are long lasting, odorless, and can be used for dogs of all sizes. Additionally, the convenience of not having to treat your pets for up to eight months is worth every penny.
Buy yours today and get the ultimate value for your money!
Top Picks For Our Dogs
For a list of all the supplies we get for our new service dog puppies check out our New Puppy Checklist on the PuppyInTraining.com blog.