This post may contain affiliate links. We may earn money or products from the companies mentioned in this post.
At a Glance: Our Top 5 Choices for Best Dog Shampoo and Conditioner from the 10 Reviewed
Note: The links above take you to more information, current prices and customer reviews on Chewy.
Why is it that dogs love to roll around in dirt, mud, and often even more unpleasant things? And unlike cats, dogs don't know how to clean themselves. That is all left to you, plus the right dog shampoo and conditioner.
Whether you consider bathing your dog a chore or a special time to bond with your pooch, you need to choose the best shampoo and conditioner. No two dogs are the same. They have different coats, different skin, different sensitivities, and different environments.
Choose the right shampoo and conditioner and you have a healthy and happy dog whose coat looks, feels, and smells great.
Choose the wrong product and you can be inadvertently hurting your pup with your love and care as the product stings their eyes, irritates their skin, and leaves behind a scent that your dog hates!
For Your Information – the smells you like may not be the smells your dog likes. After my brother's dog takes a bath he loves to try and roll around in poop! Yep, not quite the smell you want emanating from your dog
Read on for our list of the 10 best shampoos for dogs and conditioners and guidance on which product is right for which kind of dog.
We have also put together a complete buying guide so you know exactly what you should be looking for in canine shampoo and conditioner.
We have also tried to answer all those burning questions such as exactly how often you should be giving your dog a bath and tips on how to get them to cooperate during bath time.
SPOILER ALERT – Our top pick dog shampoo is Earthbath All Natural Pet Shampoo. Not only does it not contain any nasties that might irritate your dog's skin and eyes, but it also contains soothing oatmeal to condition their skin and coat. It is affordable and doesn't leave behind a lingering perfume that many dogs don't like.
10 Best Dog Shampoos And Conditioners Reviewed
No one product suits all dogs, and the shampoo you choose must suit your dog's specific requirements and the job at hand.
To help make sure you find the right product, we've split the products we're looking at into 5 distinct groups:
All-natural, organic shampoos – to protect dogs against unnatural chemicals that can irritate their skin and cause reactions.
Heavy-duty shampoo – for dogs that really like to rough it and are covered in hard-to-remove dirt.
Hypoallergenic Shampoo – for dogs with sensitive skin and allergies.
Conditioners – to restore dog hair after washing and brushing.
Shampoo and conditioner combined – for when your dog's coat needs extra care but you want to get it all done in one go.
Best All-Natural, Organic Dog Shampoos
These shampoos contain only natural ingredients. They are suitable as a general-purpose shampoo for most dogs and breeds. Gentle yet highly effective.
1. Best Overall All-Natural Dog Shampoo
OUR PICK: Earthbath All Natural Shampoo

Earthbath are well known for their totally natural dog care products that are intelligently formulated to effectively clean dirty dogs.
Ingredients:
There's no irritating soap in this shampoo, which is good news for dogs with sensitive skin.
There's also no parabens, phosphates, synthetic dyes, perfumes, gluten DEA, enzymes or SLS/SLES.
Oatmeal and aloe vera combine with purified water to combat skin irritation and moisturize, while coconut-based cleansers, Vitamins A, B, D and E and food-grade vanilla and almond extracts create a truly luxurious, natural dog shampoo.
Pros:
It's made of natural ingredients, is guaranteed cruelty free and is made of biodegradable packaging. You won't be hurting your dog or the environment!
The oatmeal and aloe will combat and heal your dog's itchy parts while effectively re-moisturizing their skin and hair.
There's no soap so it's gentle and no-tears.
The vanilla and almond extracts make for a beautifully scented dog.
It lathers very easily.
Cons:
Seriously smelly or dirty dogs may need a heavier duty shampoo than this all-natural offering.
Why we recommend it:
With a great smell, all natural ingredients and a gentle formulation that will also heal sensitive skin, Earthbath is an obvious top choice.
2. Best Plant-Derived Dog Shampoo
OUR PICK: Burt's Bees Oatmeal Shampoo

Burt's Bees are another natural shampoo specialist and have various formulations and scents to choose from depending on your preferences and your dog's needs.
Ingredients:
Burt's Bees guarantees that all their ingredients are solely plant-derived.
This shampoo contains oatmeal, and honey to soothe dry skin and restore some much needed moisture.
There are no harsh chemicals included and it is guaranteed to be PEG-80 (Sorbitan Laurate) free.
Pros:
Totally natural and soothing ingredients ensure this shampoo is safe and gentle for use on your dog.
Oatmeal helps to heal your dog's dry skin and provide welcome itch relief.
The shampoo is concentrated so only a small amount is needed to create a rich lather.
Cons:
Some users found the scent quite strong so it may not be suitable for people and dogs with allergies or a particularly sensitive sense of smell.
Again, the natural ingredients and gentle formulation mean that very stinky dogs may still need a heavy duty cleaning.
Why we recommend it:
Wahl ensures your dog gets a thorough clean and smells fresh after a round with this shampoo while protecting your dog from any harsh chemicals and irritants.
Best Heavy Duty Dog Shampoos – For Very Stinky Moments
For times when your dog rolls in something particularly dirty or smelly like animal excrement or perhaps motor-oil, gentle shampoos just aren't going to make the grade.
So it's good advice to keep a heavy duty shampoo in reserve, not for general routine use, but for the inevitable, particularly grimy emergencies. You won't go wrong with either of the following two.
3. Best Heavy Duty Dog Shampoo
OUR PICK: Nature's Miracle Supreme Odor Control Shampoo & Conditioner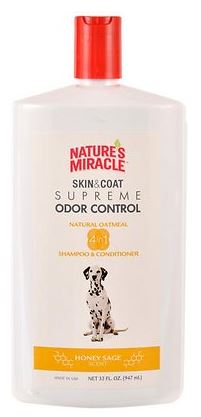 This shampoo is also all-natural and made of plant-derived ingredients, but is heavier hitting on serious odors with its natural deodorizing qualities and refreshing scent.
Ingredients:
This shampoo has a long ingredient list but is guaranteed to be made of 100% plant and mineral derived components.
Most importantly, it is free of sulfates, phthalates, PEG, DEA, Triclosan, Gluten, artificial colors, dyes and fragrances that can all cause irritation.
Pros:
It eliminates odors on contact, working like a detergent to gently lift away and dissolve dirt and debris from your dog's coat.
A totally plant-derived ingredients list ensures the product works gently on your dog's skin and is also hypoallergenic and non-toxic.
It's suitable for vegans.
The shampoo is easy to work into a rich lather.
It's biodegradable and made in the US.
Cons:
The lemon scent is very subtle – you may need to repeat the shampooing once or twice if you're after a truly refreshing scent.
Why we recommend it:
As an effective deodorizer but sporting an all plant-based ingredient list, it's hard to go wrong with this shampoo – it may be heavy duty in its effectiveness but not in its deployment of chemicals.
4. Best Deodorizing Dog Shampoo
OUR PICK: SynergyLabs Veterinary Formula Triple Strength Dirty Dog Shampoo

SynergyLabs produce a variety of popular dog shampoos, some with excellent deodorizing qualities, but this particular formulation stands out for its seriously heavy-duty action on dirty dogs.
Ingredients:
This shampoo isn't as packed to the nines with chemicals as its cleaning qualities may suggest.
Alongside de-ionized water, there's a variety of foaming agents, glycerine, DMDM hydantoin, tetrasodium EDTA and fragrances.
In order to protect your dog's skin and coat, it's also enriched with Vitamin E, aloe vera, shea butter and wheat protein.
Pros:
It possesses three times the number of active cleansers of its competitors, ensuring that dirty dogs are dealt with easily and effectively.
It boasts an exclusive 'Dirt Repel' formula.
It's scented with subtle and refreshing green apple and tea perfumes.
The Vitamin E, aloe vera, shea and wheat protein work to restore moisture to your dog's coat and skin while ensuring that none of the natural oils are stripped away.
It lathers easily and is concentrated, so a little goes a long way.
Cons:
Some owners of particularly smelly dogs have reported that the fresh, clean smell is not very long-lasting, sticking around for only a few days after bathing.
Why we recommend it:
It's effective on dirty dogs – particularly those who have rolled in something stinky – without being too harsh on their skin and coats.
Best Hypoallergenic Shampoos for Dogs With Sensitive Skin
Some dogs suffer with allergies and sensitive skin, Labradors being particularly prone it seems when compared to many other breeds.
For these poor souls, many standard shampoos can leave them feeling irritated and uncomfortable, with the inevitable scratching and biting that follows sometimes leading to broken skin and further complications.
The obvious answer is hypo-allergenic shampoo formulated specifically for dogs with allergies.
5. Best Hypoallergenic Dog Shampoo
OUR PICK: 4-Legger Certified Organic All Natural Dog Shampoo

This 4-Legger offering could have easily ended up in our favorite organic shampoo selection, but its amazing moisturizing qualities means that it's a firm favorite for dogs with sensitive skin.
Ingredients:
It's actually certified to organic food standards so you can be sure that there's nothing but the safest of natural ingredients in here.
As well as coconut, olive and jojoba oils, there's also aloe vera and essential oils like lemongrass and rosemary. There are no parabens, DEA, MEA, PEG, DMDM hydantoin, alcohol, sulfates or artificial fragrances and colors.
Pros:
It is specially formulated for sensitive skin with an abundance of natural moisturizers that heal the skin and coat without stripping natural oils. There's even anecdotal evidence that it works well on dermatitis conditions.
The lemongrass and rosemary essential oils are natural flea and tick deterrents.
It's made in the US, 100% vegan, not tested on animals and the packaging is recyclable.
It's hypoallergenic and gentle enough to be used on all skin types and age brackets.
Cons:
Some owners have noted that the consistency is significantly thinner than other shampoos – be careful when pouring it out of the bottle!
Why we recommend it:
As well as being hypoallergenic and specially formulated for sensitive skin, this 4-Legger shampoo smells great, helps to keep pesky fleas and ticks at bay and is totally natural and safe to use.
6. Best Moisturizing Shampoo
OUR PICK: Vet's Best Hypoallergenic Shampoo With Aloe Vera

Vet's Best have formulated a good value shampoo ideal for dogs with sensitive skin and allergies, which is 'no tears' and restores moisture to their coats.Ingredients:
The main ingredients are Allantoiin, Panthenol, Aloe Vera and Vitamin E.Pros:
It's hypoallergenic and designed to thoroughly cleanse and re-moisturize dry skin, soothe itching and re-energize brittle coats.
There's no soap, guaranteeing 'no tears' at bath time.
It won't affect any topical flea or tick treatments you may have applied.
Some owners reported a reduction in hair shedding after using this shampoo.
It's so smoothing that you won't even need to use a separate conditioner afterwards.
Cons:
It's quite difficult to work this shampoo into a lather due to its runnier texture.
As it's hypoallergenic, there's no scent to this shampoo. While some owners may like that there's a neutral smell, others may be disappointed.
Why we recommend it:
This is an excellent no-frills, great value, hypoallergenic shampoo that cleans your dog effectively while restoring moisture to their coat and skin. Plus, no tears means bath time doesn't have to be traumatic!
Do You Need to Use Conditioner on Your Dog?
After bathing your pooch, it's likely you now have more water on the floor and all over yourself than there ever was on your dog. So yes, we hear you – why would you want to spend even more time on the job of bathing?
Well, shampoo removes all the grime from your dogs skin and coat but a side effect of this is leaving each hair 'open', where oils can escape and unwanted contaminants might enter. This can leave hair dry and brittle.
Also, all the brushing, scrubbing, lathering and drying that a good clean requires results in broken and damaged hair – no matter how carefully you work.
Using a conditioner repairs damaged hairs, fills in cracks, restores elasticity, prevents oils from leaving the hair and seals it against contaminants entering.
At the end of the day, using a conditioner results in a stronger, healthier, shinier looking and all around better coat. Using a conditioner after bathing is certainly better than never doing so.
Best Dog Conditioners
Let's take a look at the two best conditioners that we are happy to recommend and why.
7. Best Conditioner for Dogs
OUR PICK: Isle of Dogs Everyday Jasmine and Vanilla Silky Coating Conditioner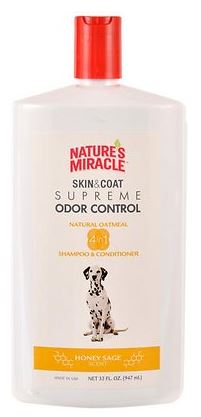 This Isle of Dogs Conditioner not only smells great but is also gentle enough to be used regularly. It promises to transform your dog's hair into silky, lustrous locks.
Ingredients:
This conditioner is notably more chemical heavy than many of the other products we've discussed, but it's undoubtedly a heavy hitter when it comes to smoothing out your dog's hair.
The full ingredients list includes PEG-40 castor oil, PEG-12 dimethicone, DMDM hydantoin, aloe barbadensis leaf juice and a number of strengthening proteins.
Pros:
It's very effective on tangled hair and restores moisture to the coat immediately. Some owners have described 'run-your-hands-through-it silkiness'.
The jasmine and vanilla fragrance is subtle and attractive.
The abundance of aloe leaf juice and proteins in the formulation help to manage and maintain a silky, strong coat in the long term.
It lathers well, rinses off really easily and doesn't leave a sticky residue.
Cons:
There are a lot of chemical ingredients so it won't be suitable for owners looking for a more natural conditioner.
Why we recommend it:
This great value Isle of Dogs conditioner will immediately put paid to any knots, tangles or matts in a dog's hair and leave them with a healthy and beautifully glossy mane.
8. Best All-Natural Dog Conditioner
OUR PICK: Earthbath All Natural Oatmeal and Aloe Conditioner

Perfect to use after a good wash with the Eartbath shampoo recommended above, this all natural moisturising conditioner goes a long way, recommended to dilute 1 part in 16 parts water for use.
Ingredients:
There's no artificial or synthetic ingredients in this all natural conditioner, the ingredients consisting of: Purified water, vegetable-derived conditioner, colloidal oatmeal, aloe vera and organic shea butter.
Pros:
The Stuff works on all hair types to condition, detangle and penetrate matting.
The inclusion of colloidal oatmeal and aloe vera moisturizes and soothes irritated, itchy and dry skin.
It doesn't wash off topical flea and tick treatments (saving money on re-application.)
It's concentrated and so a little goes a long way. Nice for the budget conscious.
Cons:
Try not to spill or spray any of the product into the dogs eyes as it can irritate – though this is true with the vast majority of products on the market.
Why we recommend it:
Eartbath has a solid reputation with the vast majority of users giving 4 or 5 stars and positive feedback.
It's all natural, in biodegradable packaging, so it's kind to your dog and friendly to the environment.
However, it's the results that most speaks volumes. This stuff simply works :-)
Best Dog Shampoo and Conditioner Combined
Although a separate shampoo and conditioner will give the best results, combining the two into one product can still give a great performance, leave your dog with a healthy, clean, shiny coat – But more importantly cut down on the total time it takes to bathe your dog.
We take a quick look at two of the best combined shampoo and conditioners next.
9. Best Shampoo and Conditioner Combined for Dogs
OUR PICK: Paws & Pals Oatmeal, Shea Butter & Aloe Vera Shampoo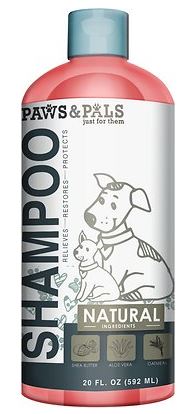 This Paws & Pals Oatmeal, Shea Butter & Aloe Vera Shampoo is one of the most popular on the market thanks to its natural formulation and sheer effectiveness at cleansing and conditioning your dog's skin and coat.
Ingredients:
Certified organic, there are only natural ingredients to be found in this shampoo and conditioner, such as aloe vera, jojoba and coconut oils, oatmeal, shea butter and rosemary. There are no parabens and only naturally derived foaming agents.
Pros:
The ingredients list is all-natural, high quality and organic, guaranteeing a gentle, non-toxic yet effective clean.
It's suitable for vegans, made in the USA and recyclable.
Dry and itchy skin will be soothed by the unique combination of aloe, shea butter, oatmeal and natural oils – prepare to see an instantly glossier coat too!
The added conditioner will detangle and smooth your dog's coat.
There's no soap in this product and it's guaranteed to be no-tears.
Works into a lather and rinses out with ease.
Cons:
It's relatively expensive in comparison to some of its competitors although you do get a lot of product for your money at 20 ounces.
The fragrance is very subtle.
Why we recommend it:
This product provides a complete bathing experience for your dog. With all natural ingredients too, you can be sure of a gentle and effective clean.
10. Best All-Natural Shampoo And Conditioner In One For Dogs
OUR PICK: Earthbath All Natural Mango Tango Shampoo and Conditioner

This one-stop shop shampoo and conditioner is from the renowned Earthbath who make great all natural pet products.
Ingredients:
The Mango-Tango is made up of purified water alongside a variety of plant-derived cleansers and conditioners.
It contains aloe vera, Vitamins A, B, D and E, as well as glycerine, natural preservatives and mango essence.
There's no SLS/SLES, DEA, phthalates, enzymes, parabens, artificial dyes or perfumes, soap or gluten, so it's kind to a dog's skin.
Pros:
It's totally natural so you can be sure of a gentle yet thorough clean and condition of your dog's skin and coat.
The added conditioner detangles, softens and promotes shine to your dog's hair with long-lasting effect.
The mango scent is really refreshing.
It won't affect any topical flea treatments.
It's vegan and the packaging is 100% biodegradable.
It lathers and rinses out easily.
Cons:
It isn't specialized to deal with any significant skin or hair problems so you may need to look elsewhere if your dog has issues in this area.
Why we recommend it:
Again, you can always feel confident with Earthbath products and that you are using all-natural ingredients and there is nothing in the formula that might be harmful to your dog. And it still works!
With this shampoo and conditioner combined, there is no faster way to care for your dog's skin and coat.
Buying Guide: Dog Shampoo And Conditioner
Before going into the detail of exactly what you should be looking for in a good shampoo and conditioner, let's address one of the most common questions when it comes to washing your dog's coat.
Why Use Dog Shampoo Products?
It might be tempting to simply use human shampoo and conditioner instead of specialized pet products to bathe your dog, but it really isn't a good idea.
Although the odd occasion may not do them much harm, frequent use of human products can be harmful to your dog and certainly won't do the condition of their skin and coat any favors.
There are 2 major reasons to avoid using human shampoo on your dog:
Skin pH levels: Human shampoo tends to be marginally acidic in order to best clean our skin, which has a pH somewhere between 5.2 and 6.2. Dogs, on the other hand, have an alkaline skin pH of up to 7.5 – using such acidic human shampoo on them could break down their skin mantle and make them vulnerable to bacteria and parasites.
Sensitive skin: Dogs are generally much more sensitive than humans as their skin only has between 3-5 layers, in comparison to humans with 10-15 layers. As such, our skin can take more of a battering from harsh products and chemicals while your dog will be more easily irritated. Such irritation leads to dryness, scratching and abrasions.
If you do have to bathe your dog with human products – perhaps in a particularly smelly emergency with no pet products at hand – try to opt for mild formulations used on babies and children.
As reported by Petful, Dr Debora Lichtenberg VMD states, "veterinary dermatologists recommend Johnson & Johnson Baby Shampoo frequently for sensitive dogs."
Choosing The Right Shampoo And Conditioner
Before looking at shampoos and conditioners themselves, you need to identify what exactly it is that your dog needs. This means asking what kind of coat they have, and what kind of additional care their skin and coat might need.
Do they have a short coat, long coat, a double coat? Is it dry or oily?
Dogs with short coats often just need a shampoo, while long hair and double coats benefit from conditioner to help with detangling and repair after brushing. But at the same time, if your dog has an oily coat, you will want to skip the conditioner as it will just exacerbate the problem.
How is their skin? Is it sensitive, prone to allergies, already red and sore due to other problems?
If your dog has sensitive skin, you are going to want to avoid products that may exacerbate the problem and maybe go for a hypoallergenic shampoo. You may also want to look for products with soothing ingredients for the skin, such as oatmeal or Aloe Vera.
You may then also want to look for products that might help with any ongoing issues your pup has. Do they shed a lot? Some shampoos can help with that. Do they often get fleas? You can get shampoos that also have repelling qualities. Do they have a particular problem with body odor? There are shampoos out there that specialize in deodorizing.
For an overview of Labrador grooming needs, check out our complete guide.
Once you determine what kind of shampoo you need, you can then look at the products themselves. There are a few key characteristics to look out for.
Characteristics Of Good Dog Shampoos And Conditioners
pH Level
The skin and hair of dogs have a neutral pH level, and so as not to cause damage to their coat, their shampoo and conditioner should also have a neutral pH. Look for shampoos that have a pH level near 7, which is neutral.
Fragrances
While you might like getting a little whiff of fragrance from your hair when it is freshly washed, most dogs don't like to be surrounded by a lingering fragrance that is not their own. For that reason, good dog shampoos should work to neutralize odors rather than simply mask smells with fragrances.
If you do decide to go for something scented, make sure the scent is light enough not to cause your dog major distress and is made from natural ingredients that will not irritate your dog's skin.
You will know if your dog is not a fan of the smell of their shampoo or conditioner if they like to rub against things a lot after bathing. This is them trying to rub off the unwelcome smell.
Natural Ingredients
Just as it is true for humans, harsh chemicals absorbed through the skin can harm dogs. Dangerous chemicals should be avoided by choosing products made from all-natural ingredients. Key ingredients to avoid include phthalates, formaldehyde, isothiazolinones, and nitrosamines.
Skin-Protecting Additives
Just as you can buy shampoos and skin cleansers that promise to hydrate your skin and keep it looking fresh, dog shampoos will often include skin-protecting additives such as oatmeal, Aloe Vera, or vitamin E that is designed to moisturize skin and keep coats shiny. This can add a lot of benefits for your dog, as long as the ingredients are all-natural and won't do your pooch any harm.
Medicated Shampoos
If your dog has specific skin conditions, there may be a shampoo out there specially formulated to help. Identifying these usually requires consultation with your vet. Look out for shampoos that can help with parasitic or fungal infections, skin allergies, or seborrhea.
Medicated shampoos are much more likely to include unnatural ingredients than standard shampoos, for good reason. They need these ingredients to do their job effectively. But there are a few ingredients to be wary of in particular, avoid anything that contains alcohol, as it can sting the skin and eyes.
If you are looking for a medicated shampoo for fleas, check out our list of the seven best dog flea shampoos.
Do You Really Need Conditioner For Your Dog?
Whether or not you really need to apply conditioner to your dog's coat depends on your dog.
When you shampoo your dog's head, it leaves the hair follicles open, which can leave the hair vulnerable and leave it more prone to breakages during brushing and grooming. The open hair follicles can also allow oils to escape and let contaminants enter the follicle, again, compromising their strength and integrity.
Conditioner seals the hair follicles, locking in oils and protecting the hair from breakages.
But whether your dog really needs conditioner depends on their coat. Dogs with a short coat that doesn't require brushing don't really require conditioner, though it won't hurt them. However, it is probably best to avoid conditioners for dogs with oily coats, as it can just make them even more oily and unpleasant to touch.
Dogs with long coats and double coats that require a lot of grooming benefit from the use of a conditioner.
When choosing a conditioner, you should look for similar characteristics to a shampoo:
Neutral pH balance
All-natural ingredients and no chemicals or additives
Fragrance-free or only lightly fragranced.
Bathing Your Dog
Bath time with your four-legged friend is not just about choosing the right product; it is also about using it correctly. This means washing your dog with the correct frequency and in just the right way.
How Often Should You Bathe a Dog?
How often you need to bathe your dog will vary from breed to breed and also depends on their individual lifestyle and habits.
Let's say they like to spend time outside, playing in the dirt; in this case, you would generally expect to bathe them around every four to six weeks or so. If your dog gets smelly in between full shampoo baths, opt for a simple plain water rinse in between.
Dogs that spend more time indoors and rarely get dirty will require less regular baths. Depending on how smelly they get, a bath somewhere between every 2 to 3 months would be about right.
Double-coated breeds, such as Labs, should really only be bathed every three months – or even less often – unless they get particularly smelly. Their oily double coats will dry out from too much shampooing, depleting the insulating, protective properties and waterproofing their coat has.
What Happens if You Bathe a Dog Too Often?
Just as with humans, shampooing too often has a tendency to dry out the skin and hair, leading to irritation, scratching and in extreme cases maybe even lesions.
With excessive shampooing a dog's hair quickly loses its natural shine and can also become damaged, brittle and broken. If your dog's fur has ever felt rough to the touch, this could well be the reason.
The best way to prolong time between baths and keep your dog looking healthy and clean is to commit to a daily brushing schedule.
What Happens if You Don't Bathe a Dog Often Enough?
Although it's a cardinal sin to bathe your dog too frequently, not bathing them at all will also put the health of their skin and coat at risk.
Unlike humans who breathe in allergens, dogs absorb them through their skin.
If you decline to wash your dog – or don't wash them enough – all of the dirt, debris and bugs your dog may have picked up on their travels will hang around in their skin and hair until they're absorbed.
This can lead to irritation, scratching and eventually – in extreme cases – lesions.
Tips For How to Bathe Your Dog
You could just carelessly bundle your pooch into the bath, get them wet, lather, rinse and repeat. But of course, the best results come with a little planning.
Before bathing, brush your dog to remove any tangles and debris caught in their hair.
Prepare the room for bath time by assembling products ready to use, laying down towels or waterproof sheets and keeping treats on hand to reward good behavior.
Remove your dog's collar and lead. If they need to be restrained, use a muzzle or a specialist bathing tether.
The water should be lukewarm and there should a non-skid mat so your dog is comfortable in the water and won't slip over.
Introduce them to the water slowly by spraying their backs first and keeping the power on low, allowing them to get used to the sensation.
Protect your dog's face from the shampoo and water by applying a little petroleum jelly around their eyes and putting cotton balls in their ears.
Use a soft brush in the direction of hair growth to best lather in the shampoo and avoid any tangles. Use the brush again to gently clean the paw pads.
Rinse thoroughly by wetting the head and face first before working your way down the rest of their body. Keep rinsing until the water runs clear.
At this point, some owners choose to use a specialist dog conditioner to seal the hair cuticle and keep the coat shiny and full of moisture. Follow the steps as for shampooing, making sure not to get any chemicals in your dog's eyes.
Once all shampoo and conditioners have been washed out, lift your dog out of the bath and wrap them in an absorbent towel. Avoid rubbing them dry as this can tangle their hair; blot the coat instead. They will probably want to shake themselves dry too.
Make sure your dog stays in the warm until they are completely dry.
FAQs About Dog Shampoo And Conditioner
What Is The Best Shampoo And Conditioners For Dogs?
The best shampoo and conditioner for your dog depends on the type of coat and skin that they have. For example, short-haired dogs with a relatively oily coat will do best with a standard shampoo, while dogs with long hair that needs a lot of brushing benefit from a conditioner. Dogs with sensitive skin can benefit from a hypoallergenic formula, while dogs that spend a lot of time in the great outdoors need a heavy-duty formula.
But whichever shampoo you go for, try to choose something all natural that does not include any chemicals or additives that might hurt your dog. Earthbath does a wide range of shampoos and conditioners made from all-natural ingredients. They are gentle products ideal for most dogs, but you might want something stronger when dealing with a very dirty pooch.
Is It OK To Use Human Shampoo And Conditioner On Dogs?
If you need to use your own shampoo on your dog as a one-off emergency, it won't cause them any serious harm, but it is not advised to use human shampoo on dogs on a regular basis.
This is because the pH level of human hair and skin and dog skin and hair is different. Dogs are neutral while humans are acidic. Human shampoos are also acidic to match the condition of the hair, and this acidity can irritate dogs' skin if used repeatedly. This is why it is better to use a special dog shampoo, which has a neutral pH ideal for dogs.
Is Baby Shampoo OK For Dogs?
While it is preferable to use dog shampoo on dogs rather than any variety of human shampoo, baby shampoo is safe for dogs. Baby shampoo tends to have a more neutral pH level than standard human shampoos, and it is also formulated to be gentle on the skin and eyes, so it won't hurt your pup if suds accidentally flow into their eyes.
What Can I Use To Wash My Dog With If I Don't Have Shampoo?
While the best thing to use to wash your dog is special dog shampoo, if you have a dirt emergency and you don't have dog shampoo to hand, there are a number of alternatives you can use.
It is fine to use human shampoo on your dog as a one-off, though make sure it does not get into their eyes. Dish soap also makes a safe alternative for a one-off use, though refrain from using it frequently as it will dry out your dog's skin.
How Often Should I Wash My Dog?
How often you should wash your dog depends on both their breed and their lifestyle. Dogs with longer hair are more likely to trap dirt and debris in their coat, and outdoor dogs need bathing more often than indoor dogs. As a general rule of thumb, consider bathing your dog every four to six weeks.
How Much Dog Shampoo Should I Use?
It is only necessary to use a small amount of shampoo when bathing your dog, as the lathering effect allows it to expand and cover your dog completely. If you use excess shampoo, it can be difficult to thoroughly rinse. Exactly how much depends on the size of your dog and the thickness of their coat. Start with a small amount and add more as needed.
Final Thoughts
While the right shampoo and conditioner for your dog depends on them – their breed, type of coat, skin condition, and sensitivities – just remember that the right shampoo for them is not your shampoo! Dogs have very different needs, which is why they have their own products.
Whatever you choose should have a neutral pH to match the neutral pH of your dog's skin and coat. It should also not contain any nasty ingredients that might irritate your dog's skin. It can also be nice to choose something that contains natural skin-soothing products such as oatmeal and Aloe Vera.
While there are a lot of great choices on the market, if you aren't sure where to start, have a look at the range of products available from Earthbath. All of their products are all-natural and designed to be gentle enough for frequent use.
Tell us about your experience with dog shampoos and conditioners, what you love, and what you hate using the comments section below.
Product image credits: © Chewy.com
Save this to Pinterest:
Top Picks For Our Dogs
For a list of all the supplies we get for our new service dog puppies check out our New Puppy Checklist on the PuppyInTraining.com blog.