This post may contain affiliate links. We may earn money or products from the companies mentioned in this post.
Maybe you've seen them at shows, at the park, or just when scrolling through cute pictures of gorgeous pups online. White Labradors are a very attractive and distinctive looking dog.
But are White Labradors really Labradors?
Are they healthy and happy pooches or does their pale color result in health problems?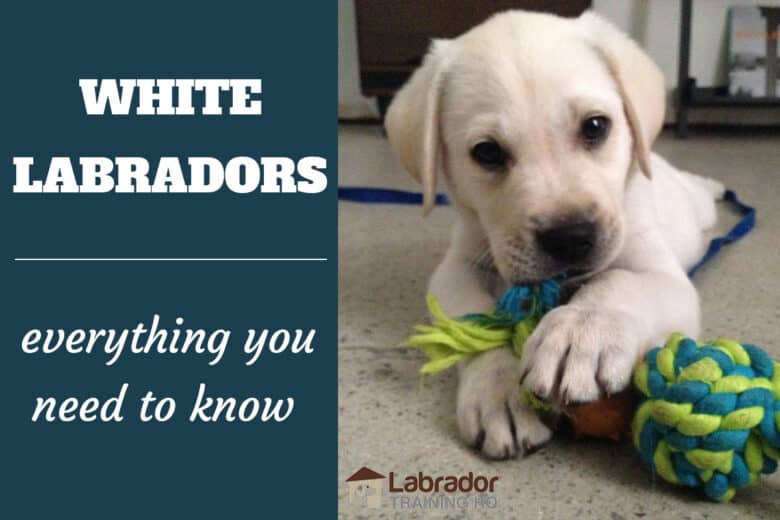 Should you really be considering adopting a White Lab?
Read on to learn everything you need to know about these wonderful dogs and why most of them make excellent family pets or show pooches.
OUR EXPERIENCE: We've raised one white Labrador named Archer in our many years raising service dog puppies. He did have some qualities that I thought were different from the many Labs I raised over the years, but I would not consider it outside the norm for a Labrador Retriever. I'll go into more detail on my experience with Archer throughout this post.
Different Types Of White Labradors
On the most basic level, white Labradors are Labradors that have a coat that is white, or almost white, in color. But their coat takes on this unusual pigment for a Labrador for a number of different reasons.
Yellow Labradors
Most White Labrador dogs are Yellow Labradors with an extremely pale coat. These dogs are the same as all other Labs; it is just that both of their parents had the right genes to give them a coat that approaches white.
They will have the same black or brown nose and eyes as other Labs, as well as the same intelligence and temperament. They will also face the same health risks, but no additional ones due to the color of their coat.
Yellow Labradors come in a range of colors, from fox red, to golden, to cream, and of course, white. White is just another natural variation within the spectrum.
White Labrador dogs are usually specifically created by breeders, who have been broadening the color range of Yellow Labradors for decades in order to widen their market.
White Labradors are more likely to be English Labradors than American Labradors because of the history of the breeding. This means they will also have the stockier, broader look of the English Lab.
Albino Labradors
Unlike Yellow Labradors with a white coat, which are healthy dogs that do not differ from their darker colored brothers and sisters, some White Labradors are the result of albinism. This is a genetic condition universal throughout the animal kingdom, but rare in dogs, affecting maybe one in every 20,000.
Albinism occurs due to the presence of a gene that switches off the animal's color pigmentation. The result is a pooch that has white hair and extremely pale skin.
They are usually easily distinguishable from Yellow Labs that are white as they will also lack pigment in their eyes and nose. Their eyes are often a distinctive red color, though they can also be blue.
Albino Labradors often develop health problems as a result of their lack of pigmentation. They are very susceptible to sun damage, which can easily result in tumors and skin cancer.
Their eyes are also very sensitive to the sun and can easily become damaged. They are also often born blind or suffer from eye deformities.
Leucistic White Labrador
Different from both white-colored Yellow Labradors and Albino Labradors are Leucistic White Labradors. Unlike albinos, leucistic means "low pigment," and rather than being unable to produce pigment, the relevant cells are blocked from migrating to where the pigment is needed.
This can affect all of the dog's skin, or just certain parts, similar to vitiligo in human beings. It can sometimes be difficult to distinguish these pups from albino dogs, but they will have normal eye color.
This condition is also relatively rare among Labradors, as it is a recessive trait.
It can come with similar health concerns as the areas of the skin that lack pigment can also be easily damaged by the sun. But they are not at the same risk as far as the eyes are concerned.
Silver Labrador
White Labradors should also not be confused with Silver Labradors, which occurs as a result of the dilution of the darker pigment of black or brown dogs.
Unlike White Labradors, which are not only accepted in shows but prized, there is quite a bit of controversy around Silver Labradors, with many claiming they are a "disaster" for the breed.
They can be registered with the Kennel Club as Chocolate Labradors, but they are excluded from shows.
But just like Yellow Labradors with a white coat, these Chocolate Labradors with a silver coat are natural within the color range of Labradors and they do not have different personality traits or health conditions as the result of the color of their coat.
Adopting A White Labrador
There are only three official colors of Labradors – Black, Chocolate, and Yellow – with Black being the most common, and Chocolate and Yellow about half as common as Black.
Considering this, and the fact that White Labradors are relatively rare among Yellow Labradors, they are not always easy to come across.
To find a White Labrador, you will need to speak with a breeder that has chosen color as one of the traits for which they are controlling.
However, it is not advisable to work with a breeder who is only or primarily controlling for color, as health and temperament are still more important features in a dog than color.
There is a greater population of White Labradors among English Labs than American Labs, so it may be worth speaking to an English Lab breeder.
Bear in mind that English Labs look different; they tend to be stockier and broader in the chest and face.
They also have different personalities. They tend to be more playful and silly, but have less energy. They have become very popular dogs on the show circuit, while their silly and friendly personality makes them great family pets.
It can be difficult to tell if a Lab will grow to be a true White Lab when they are a puppy, as lots of Yellow Labradors are born with a very pale coat, which gets darker as they age.
Parts of a White Labrador's coat can also become yellow with sun exposure, especially the tips of the ears.
A Labrador can cost anywhere between $300 and $3,000 depending on where you are and the details of the breeder.
A White Lab shouldn't cost more than any other Lab in the litter, but of course, this is down to the discretion of the breeder.
Of course, while seeking out a white Yellow Labrador might be something you want, seeking out an Albino Lab or even a Leucistic Lab is not advisable because of the related health conditions. However, that is not to say there are not Albino Labs out there that need someone to adopt them and give them a loving home.
American Or English Labrador?
As seeking out a White Labrador probably means choosing between an American and an English Labrador, it is worth considering the differences between the two.
Both dogs are friendly, good-natured, and companionable, and also intelligent and highly trainable. This is why they make excellent companion dogs and working dogs. But both were originally bred as retrievers.
American Labs are those that have been bred for working, while English Labradors have been bred for conformation, which means they have been bred to more exactly align with the definition of the species, which is why they are an excellent choice for show dogs.
They are called English Labradors because they are significantly more common in the UK. Meanwhile, you guessed it, the working-style Labrador is more common in the USA.
But, while this is how the breeds are characterized, this is far from prescriptive, and you will often encounter English Labs as working dogs and American Labs competing in shows.
So, these are not strict definitions but rather a useful guide to help you distinguish between the two extremes of the breed. They are all registered as Labrador Retrievers with the Kennel Club.
That said, there are some key differences to look out for.
American Labs are usually a bit taller, ranging from 21.5 to 24.5 inches, while English Labs start at 21.5 inches, but they rarely grow taller than 22.5 inches.
This height difference results because American Labs tend to have longer legs, while English Labs are stockier. But American Labs are also heavier than their English brothers and sisters, ranging from 70 to 100 pounds, while English Labs are usually between 60 and 85 pounds.
The appearance of the two dogs is also different. English Labs tend to look heavier and more substantial, with a barrel chest. They also have a wider head and a fuller face with a shorter muzzle. The neck is thicker, and so is their coat (so they also shed a bit more).
American Labs also tend to have more energy than English Labs, and as a result, it is often thought a firmer hand is needed to keep American Labs under control. For this reason, they are often considered better as working dogs, and when they move into the home, they need a very active family.
Because English Labs are considered calmer and quieter, they are more versatile as a family dog and also easier to train for shows. Nevertheless, they are still driven enough to become working dogs and make an excellent choice for tasks such as guide dogs as they are committed but won't wear out their owner.
OUR EXPERIENCE: Our white Lab, Archer was different in many ways compared to the other Labs we raised. I would consider him an American Lab based on looks although his breeder said he had both American and English in his ancestry. His energy level was closer to that of an American Lab, but his goofy temperament more closely resembled an English Lab. The only thing I thought wasn't very Lab-like of him was the fact that he was never a mouthy dog, a trait I associate with Labrador Retrievers.
FAQs About White Labradors
Are White Labradors Rare?
Yes, White Labradors are very rare. Albinism is extremely rare in dogs, affecting maybe one in every 20,000. White Labradors that are pale Yellow Labradors are also rare. White Labs are at the extreme color range available for these pooches, and it is required that both parents have and pass on the genes that allow for this extremely light color.
How Big Do White Labradors Get?
Exactly how big your Labrador will get depends on a lot of things, but color is not one of them. Look at the size of your Labrador's parents to make an informed decision about their future size.
As a general rule, if your White Labrador is an American Labrador, you can expect them to weigh between 70 and 100 pounds. English Labradors, while they look stockier, tend to be lighter, between 60 and 85 pounds, They also tend to be smaller than their American brothers and sisters.
How Long To White Labradors Live?
A healthy White Labrador will have the same life expectancy as the majority of Labrador Retrievers, so about 12 years. However, White Labradors that are Albino will have a significantly lower life expectancy, as they are much more likely to develop serious medical conditions, such as skin cancer and tumors.
Are White Labradors Purebred?
Yes, White Labradors are purebred dogs within the Yellow Labrador Retriever category, and they can be registered for shows and with the Kennel Association as Yellow Labradors.
Do White Labradors Shed?
Yes. All Labradors shed, and they tend to shed a lot. They have a double coat, which means they have a lot of hair to leave behind. It can be especially challenging in the shedding season, which is Spring and Fall. So, yes, you will be finding those beautiful white hairs all over your home.
OUR EXPERIENCE: Okay, our white Lab, Archer shed like crazy. He definitely shed more than any other dog, Lab or otherwise that we had in our home.
Do White Labradors Turn Yellow?
Some of the hair of a White Labrador, especially around the tips of the ears, can turn yellow with sun exposure. In addition, many Yellow Labradors may appear white when they are born, but their hair will darken over the first few months of their life. So, you cannot always tell if a Labrador will be white during the first few months of their lives.
Final Thoughts
When breeders refer to a White Labrador, they are referring to a Yellow Labrador that has been specifically bred to have very pale fur. This is more common among English Labs than American Labs, but they are a naturally occurring phenomenon that occurs from the breeding process.
These dogs share all the same wonderful traits as other Labradors. They are friendly and intelligent, and they make excellent family dogs, working dogs, and show dogs.
However, these White Labs should not be confused with Albino Labs or Leucistic Labs, which are dogs with rare genetic conditions, meaning they lack pigment in their skin. These dogs can suffer from serious health issues as a result of sun exposure. While there are dogs out there of this variety that need a loving place to call home, it is not the same as adopting a White Labrador. They do need special care and attention.
OUR EXPERIENCE: While Archer was a little different compared to our other Labrador Retriever puppies he very much had the same temperament and personality I see in a lot of Labs. After training him for 1 ½ years he started working as a service dog for a 4 year old girl with a traumatic brain injury. The first time Archer met his new companion was also the first time the little girl ever spoke. Amazing!
Do you have any experience with White Labradors?
Share your thoughts with the community in the comments section below.
Save To Pinterest
Top Picks For Our Dogs
For a list of all the supplies we get for our new service dog puppies check out our New Puppy Checklist on the PuppyInTraining.com blog.