This post may contain affiliate links. We may earn money or products from the companies mentioned in this post.
The major kennel clubs around the world recognize only three colors in the Labrador Retriever breed: Black, Yellow and Chocolate.
Yellow Labradors come in a surprisingly wide range of shades, from almost white, through cream and butterscotch right up to a relatively dark red, also called fox red.
But traditionally, Black Labradors have always been a uniform black and Chocolate Labradors range from a medium to dark brown.
However, recently there has become another color of Labrador passionately recognized by a select few breeders, yet passionately disputed and rejected by the majority of breeders in the world.
There is now…arguably…a Silver Labrador Retriever.
QUICK RECOMMENDATION: We've read many books and magazines about Labrador Retrievers. One of our favorites, Your Labrador Retriever Puppy is a great resource for all Lab owners.
How is Labrador Coat Color Determined?
Fortunately, out of the innumerable genes that make up a dog, there are only a few we must concern ourselves with to understand how a Labradors coat color is determined.
In summary, the coat color is controlled by 2 genes, made up of 2 pairs of the B and E alleles, or their recessive 'b' and 'e' counterparts, resulting in an expression of 2 gene pairs.
This is written in a 4 letter notation, an example being: BBEe
Every labrador has these gene pairs, and it's the particular combination present that determines either a Black, Chocolate or Yellow coated lab.
You can read in good detail the basics of labrador coat color, and inheritance in litters, in the following article at the Oak Hill Kennels website: The genetics of color in Labradors.
A Brief Summary of 9 'Traditional' Variants
According to traditionalists (as I'm maybe erroneously calling them) there are only 9 possible combinations of coat color gene pairings (actually 16, but 7 are repeated just in a different order) which result in the following coat colors:
eeBB, eeBb, eebb = A yellow lab (If an 'ee' pairing is present, the lab will always be yellow regardless of the 'B' or 'b' gene combination.)
EEBB, EeBB, EEBb, EeBb = A black lab (With at least one 'E' and 'B' present, the lab will always be black regardless of the other 2 allele in the genes.)
EEbb, Eebb = A chocolate lab (With at least one 'E' present, and a 'bb' pairing the lab will always be chocolate.)
You can see this in an easy to read diagram, along with the possible litters that would result from the 81 possible mating combinations, in this informative article from labbies.com: Coat Color Inheritance In The Labrador Retriever
So where does the dilute color come in? It isn't mentioned above?
It is a less discussed gene that's responsible for creating the Silver Labrador Retriever.
The 'd' Gene is Responsible For The 'Dilute Color'
The 'D' gene is always present in labs, usually in a pairing of two 'DD' allele.
But there exists a recessive 'd' allele that results in a dilute color if two of them are present, as a 'dd' gene.
The 'D' allele is dominant, and if present always results in a solid coat color (non-dilute) regardless of whether the 2nd allele in the pair is a 'd' or not.
So there are 3 different possibilities:
DD pairing = Solid color, no dilute gene present. (And no matter the subsequent breeding, a dilute will not be found in the litter.)
Dd pairing = Solid color, dilute factored, one dominant 'D' present and one recessive dilute 'd' allele present. (And if 2 non-dilute 'Dd' carrying labs mate, they could have some 'dd' pairings in their litter and hence produce dilute lab puppies.)
dd pairing = A dilute color lab, 2 dilute 'd' genes present. (And if mated with a DD lab, no dilutes will be in the litter. If mated with a Dd carrier, dilute labs could appear in the litter.)
It's argued that 'pure labradors' can only have a 'DD' pairing, never a 'dilute factored' 'Dd' that can pass on the dilute gene, and certainly never be an actual dilute color carrying the 'dd' pairing.
Where Did The Silver Labrador Retriever Come From?
Until perhaps the 1950s, the silver-colored lab was completely unseen or if it was then it was probably culled at birth.
However, as told by Jack Vanderwyk over at LabradorNet.com: "In the 1950s a gun dog magazine published an advertisement from Kellogg's kennels, in which they announced a litter of 'rare gray Labradors'."
These rare gray Labradors were what we know today as silvers.
So where did the silver Labrador come from? After researching the subject, I've been able to find only anecdotal accounts of the color being seen from the late 1920s onward. And here is the curious thing…
They Seem To Have Come Out Of Nowhere!
Since the early history of Labradors back in the 1800s; From times when other breeds were being crossed into the St Johns Dog to 'improve' the breed;
From the times before the Labrador was even recognized by the major kennel clubs and became an official breed…The silver (or gray) color was never mentioned in any kennels accounts.
You see, a great number of kennels kept very detailed records of their breeding programs and the color of puppies they found in litters.
Almost everybody strived for the blacks of the breed, but there is mention in these books of various colors such as yellows, chocolates, vitiligos, brindles, black and tans…but never is there mention of a silver, gray or dilute color dog. They seem to have appeared from nowhere!
A Worldwide Controversy
The UK kennel club formalized the breed in 1903 and the American Kennel club in 1917.
Prior to this, no breeders ever recorded a silver or gray Labrador found within their litters, even though they were happy to record many other 'off color' dogs that didn't adhere to the standard.
And yet 4 decades later in the 1950s, all of a sudden, silver Labradors were being advertised for sale in gun dog magazine.
For these facts, many people believe that the dilute d gene was introduced into the Labrador breed long after the standards were set.
And so many believe the Silver Labrador Retriever simply cannot be a pure bred Labrador!
Do They Contain Weimaraner Genes?
The major belief is that the dilute d gene was introduced into the breed by cross breeding with Weimaraners. This breed always carries the dilute d gene and have the distinctive silver, gray or dilute color.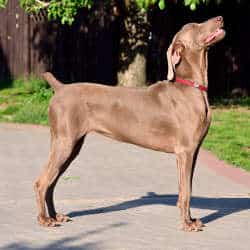 The possibility of outcrossing with Weimaraners quite rightly outrages Labrador breeding purists.
A Labrador has the look, temperament and disposition of a Labrador and not a Spaniel or a Mastiff simply because the breeding lines are kept pure.
The very idea of a breed standard is to set out a blueprint for the breed that all must adhere to.
The very essence of the Labrador breed is only maintained by the strict attention to the pedigree and blood lines of Labradors by dedicated and responsible breeders.
If people started to introduce genes just to change the color of a breed then this whole system would break down. There would be no pure breeds, just cross breeds or mongrels.
In my research, I've been unable to find any concrete evidence that the silvers contain Weimaraner genes. It will be interesting to keep an eye on this story as it unveils in the coming years.
Is The Silver Labrador Retriever Recognized As A Pure Breed?
Although many believe the Silver Labrador Retriever isn't a pure breed and pour scorn upon the breeders that produce them, you can actually register them as a pedigree in some countries.
The American Kennel Club allows registration of silver Labradors as chocolate. This is mainly because most silvers (not all as explained later) are a diluted chocolate color.
The UK Kennel Club allows registration of silver Labradors but requires they be registered as 'non-recognized'.
Do The Traditional Color Breeders Accept The Silver Labrador As A Purebred?
The majority of the breeders of the traditional colors believe the Silver Labrador Doesn't exist. There is a 'silver dog' that looks like a Lab, this cannot be argued, but it shouldn't be recognized as a Labrador.
The controversy surrounding the origins of the color, with the possibility of Weimaraner genes having been introduced angers them. And if true, it does go against the breed standard so they'd be right to be angry.
But breeders of the Silver Labrador argue that it is a pure bred Labrador.
In many cases, the ancestry can be traced back through a few generations of pedigree dogs and the silvers litter mates are registered as pedigree, so the silvers should be able to as well.
What Does The Silver Labrador Retriever Look Like?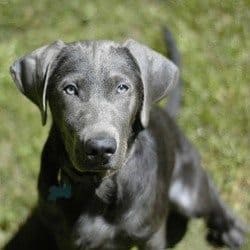 While researching, I've only read the Silver Lab historically described as a 'diluted chocolate color', an example of which is in the photograph at the top of this page.
However, it's natural to assume that the gene must have appeared in the black and yellow colored Labradors, but strangely I've not seen this mentioned until more recent times.
Certainly today there are many breeders that have actively introduced the dilute recessive d gene into the blacks and yellows, resulting in three distinct colors of Labrador carrying the dilute recessive d gene:
A diluted chocolate is known as a 'Silver Labrador Retriever'.
A diluted black is known as a 'Charcoal Labrador Retriever'. (an example in photo just above.)
A diluted yellow is known as a 'Champagne Labrador Retriever'.
However, these colors must be registered as either chocolate, in the case of the Silver Labrador, or 'non-recognized' in the case of the other two.
They are not a recognized color, but if they come from registered parents, you can also register the puppy.
Fears Of In-Breeding In The Silver Labrador Gene Pool
Due to Silver Labradors having been very rare in the early days of their history, the breeders had no choice but to breed their dogs with very close relatives to attempt producing silver litters.
The gene pool was so small, they simply had no choice.
Inbreeding though can cause a wealth of problems when it comes to the health of such dogs, as it can in any small gene pool.
However, a study by LabradorNet on the Silver Labrador retriever population revealed that since 2012, the population now has a relatively decent and varied gene pool.
There are 7 fairly distinct blood lines and hence health problems due to inbreeding aren't too much of a concern anymore.
That said though, fears still abound that the inbreeding of the past has damaged the health of these dogs.
Certainly caution should be exercised when sourcing a silver lab, by checking the ancestry and health of its parents before buying. But this should be done by all prospective owners before buying any puppy.
Accusations of Silver Labrador Retriever Breeders Only 'In It For The Money'
There's usually a premium to pay for what's often described as a rare and hard to find dog by breeders of silver Labradors.
It's certainly true in the UK that they're hard to come by with only a very small number of breeders. But in America, there's been somewhat of a boom in recent years.
Reaching nowhere near the numbers of the traditional colors, they are nonetheless far easier to find than they were perhaps 15 years ago.
Indeed, a Google search will show many fan pages and breeding kennels dedicated to the Silver Labrador.
The prices charged for a silver compared to the blacks, yellows and chocolates only adds to the anger of the traditional colors breeders, causing even more controversy and dislike toward the Silver Labrador breeders.
They believe the silver breeders have not only sullied the gene pool, introducing foreign genes into the once pure pedigree, but that they've done this purely to make a larger profit.
What Are Your Thoughts?
Do you think the Silver Labrador should be recognized as a color of its own? Are the higher prices justifiable? After all, they are in comparison to other colors fairly rare, especially in the UK.
Let us know your thoughts on the controversy surrounding the Silver Labrador Retriever in the comments section below.
Are you still yearning for more information about Labrador Retrievers? One of our favorite books is Your Labrador Retriever Puppy . It has tons of information about our favorite breed.
Save this to Pinterest
Top Picks For Our Dogs
For a list of all the supplies we get for our new service dog puppies check out our New Puppy Checklist on the PuppyInTraining.com blog.