This post may contain affiliate links. We may earn money or products from the companies mentioned in this post.
© Depositphotos.com / Manushot
If I gave you five seconds to guess, could you name which dog food brands that stand out among the rest because of their quality, variety, and consistency?
Come on, time's almost up!
As a responsible dog owner, you want the best for your four-legged friend, and that means you should learn more about the food they are eating!
If you're going to be giving your dog a particular food twice a day for years on end, you want to make sure it's of good quality and will offer appropriate nutrition. But, it can be overwhelming to check out multiple sources and determine if a food is right for your dog.
The good news is, we've done the legwork for you:
This Merrick dog food review will tell you everything you need to know about the company, ingredients list, recall history and more. Then, you simply have to decide whether it's the best option for your canine companion or not.
At a Glance: 3 Formulas Featuring Heavily in our Merrick Dog Food Review
Our Overview
If you're looking for a good quality dog food, you're barking up the right tree with Merrick.
This trusted brand has been going since 1988 and has developed a good name for itself as a premium pet food company. Although Merrick's food is certainly premium in quality, it's relatively affordable compared to some high-end brands.
​Human Grade Food
Merrick uses human-grade ingredients in its food, which we appreciate. If it's unsafe for human consumption, then why should we be feeding it to our pets?
Variety Available
There are plenty of grain-free options, but the company hasn't gone totally grain-free. There's nothing inherently wrong with feeding grains to dogs, and some thrive on grain-based foods, so we think this shows good common sense and that they're not totally jumping on the grain-free bandwagon.
The brand prides itself on providing good nutrition, so we think this is a healthy food for most dogs. Of course, there are a range of foods available and not all will be suitable for every dog.
Looking at customer reviews and other internet commentaries, Merrick seems to be a trusted brand that provides good quality foods.
We at LTHQ would recommend Merrick foods for most dogs.
​Who Makes Merrick Dog Food and Where is it Made?
Garth Merrick founded Merrick Pet Care, Inc. back in 1988, in Amarillo, Texas. Up until recently, it was still a family owned and run business.
However, in 2015, Merrick was bought out by Nestle-Purina.Despite this, Merrick has promised to keep production the same as before, and continue making their foods in Hereford, Texas.
At the time of writing, there seem to be some reports that the formulas have changed slightly since the takeover. Either way, some people who were looking for an alternative to buying from pet food giants are disappointed and have switched to a different brand.
Video Summary
This video from Merrick introduces you to the company's founder and tells you a little bit about the philosophy behind its dog foods.
Merrick Dog Food Ingredients
Quoted from the manufacturer's website: MerrickPetCare.com
Deboned Chicken, Chicken Meal, Turkey Meal, Sweet Potatoes, Potatoes, Peas, Natural Flavor, Chicken Fat (preserved with mixed tocopherols), Salmon Meal (source of Omega 3 fatty acids), Flaxseed Oil, Apples, Blueberries, Organic Alfalfa, Salmon Oil, Salt, Minerals (Zinc Amino Acid Complex, Zinc Sulfate, Iron Amino Acid Complex, Manganese Amino Acid Complex, Copper Amino Acid Complex, Potassium Iodide, Cobalt Amino Acid Complex, Sodium Selenite), Vitamins (Vitamin E Supplement, Vitamin A Supplement, Vitamin B12 Supplement, d-Calcium Pantothenate, Vitamin D3 Supplement, Niacin, Riboflavin Supplement, Biotin, Pyridoxine Hydrochloride, Folic Acid, Thiamine Mononitrate), Choline Chloride, Yucca Schidigera Extract, Dried Lactobacillus plantarum Fermentation Product, Dried Lactobacillus casei Fermentation Product, Dried Enterococcus faecium Fermentation Product, Dried Lactobacillus acidophilus Fermentation Product, Rosemary Extract.
Discussion of Most Important Ingredients – Good and Bad
Here we're going to take a closer look at the first ten ingredients in Merrick Grain Free Chicken and Sweet Potato recipe.
Deboned chicken. It might sound good that a fresh meat product is the first ingredient on the list, but because this is a dried food and fresh meat has a high water content, the finished product actually ends up with a lot less fresh chicken in it, percentage wise, after processing.
Chicken meal. According to The Dog Food Project, meat meals can be of either high or low quality, and it's really not possible to tell unless the brand wants to be completely transparent. The good thing about chicken meal (and other meat meals) is that it contains significantly more protein compared to fresh meat.
Turkey meal. This is much the same as chicken meal, above, but with turkey.
Sweet potatoes. These are a good source of carbohydrates that are both gluten-free and grain-free. They contain plenty of fiber, as well as beta-carotene.
Potatoes. Regular white potatoes sometimes get a bad rap, but as well as being a healthy source of carbohydrates, they contain all kinds of nutrients, including antioxidants, fiber, vitamins such as B6; B3 and C, potassium and iron.
Peas. These legumes contain about 25 percent protein, as well as decent amounts of carbohydrates and fiber, plus a range of vitamins and minerals.
Natural flavor. This is added to make the food taste more palatable to your dog. While there shouldn't be anything particularly harmful in it, this flavoring could be almost anything. It could come from meat, dairy or plant-based sources and can be particularly frustrating if your dog has a food allergy.
Salmon meal. Like the other meat meals above, this is a concentrated form of salmon and is rich in protein. Salmon contains plenty of good fats and essential oils.
Flaxseed oil. This is a healthy form of dietary fat and a good source of omega-3 fatty acids.
Apples. Fruits and vegetables are healthy for dogs, and apples contain a decent amount of vitamin C and some fiber.
It's also worth noting this dog food contains chelated vitamins and minerals which are more easily absorbed from the food. This will help your dog have a balanced diet and get all the nutrients they need.
It also contains various probiotics — including Dried Lactobacillus plantarum Fermentation Product and Dried Lactobacillus casei Fermentation Product — which aid digestion and promote a healthy digestive system.
​Merrick Dog Food Guaranteed Analysis
Quoted from the manufacturer's website: MerrickPetCare.com
Crude protein (min.) 38.00 %
Crude fat (min.) 17.00 %
Crude fiber (max.) 3.50 %
Moisture (max.) 11.00 %
Omega-6 fatty acid* (min.) 4.80 %
Omega-3 fatty acid* (min.) 0.40 %
Glucosamine Hydrochloride* (min.) 1200 mg/kg
Chondroitin Sulfate* (min.) 1200 mg/kg
* If an item has an *, this nutrient is not recognized as an essential nutrient by the AAFCO Dog Nutrient Profiles.
Merrick Dog Food Recall History
Unfortunately, Merrick has had a few recalls with its pet foods and treats.We've listed all known recalls below:
August 2011
The most recent occurrence was back in August 2011, when the FDA announced a recall of Merrick Doggie Wishbone pet treats, Lot #11031, Best by Jan. 30, 2013. The reason for this was due to potential contamination with salmonella.
January 2011
In January 2011, the FDA announced a recall of Merrick Jr. Texas Taffy pet treats with all lot numbers up to and including 10364 (no "best before" date given). The reason for this was due to potential contamination with salmonella.
July/August 2010
In July/August, the FDA recalled two Merrick products: Merrick Beef Filet Squares, 10 oz., Lot #10084TL7, Best by March 24, 2012 and Merrick Texas Hold'ems pet treats, 10 oz., Lot #10127, Best by May 6, 2012. Again, this was due to a potential for salmonella.The good news is Merrick hasn't had any recalls since 2011, so they must done something to rectify the problem, such as changing suppliers or procedures.The vast majority of manufacturers have the odd problem like this, so we don't think it's a valid reason not to trust the brand on the whole.
You might also be interested in:
Formulas Merrick Offers
If you're looking for choice, you'll find a lot of different formulas offered by Merrick:
check-circle-o Backcountry: This has a range of raw infused and freeze dried foods, most are for adult dogs but there's one puppy recipe.
check-circle-o Grain Free: This range of grain-free dog food includes one puppy food and one lower calorie food for dogs that need help maintaining a healthy weight, alongside others for adult dogs.
check-circle-o Limited Ingredient Diet: The foods from this range contain minimal ingredients and are designed for dogs with food allergies and intolerances or simply with sensitive stomachs
check-circle-o Classic: This is the original range of Merrick dry dog food choices that aren't grain-free or for special diets. It includes a puppy formula and a formula for small breeds.
Flavors Merrick Offers
Here we have a list of all the dried food flavors available from Merrick:
Merrick Classic Small Breed Recipe
Merrick Classic Beef, Peas with Ancient Grains
Merrick Classic Lamb, Peas with Ancient Grains
Merrick Classic Chicken, Peas with Ancient Grains
Merrick Classic Puppy Recipe
Merrick Classic Real Chicken, Brown Rice and Green Pea
Merrick Grain Free Puppy Recipe
Merrick Grain Free Real: Rabbit and Chickpeas; Venison and Chickpeas; Lamb and Sweet Potato; Duck and Sweet Potato; Turkey and Sweet Potato; Buffalo and Sweet Potato; Salmon and Sweet Potato; Chicken and Sweet Potato; Texas Beef and Sweet Potato
Merrick Grain-Free Healthy Weight Recipe
Merrick Limited Ingredient Diet Grain-Free: Duck and Sweet Potato; Turkey and Sweet Potato; Lamb and Sweet Potato; Salmon and Sweet Potato
Merrick Backcountry: Big Game Recipe; Game Bird Recipe; Pacific Catch Recipe; Great Plains Red Recipe; Puppy Recipe
Sizes Available
Merrick Grain Free and Classic varieties come in bags of 4lbs, 12lbs and 25lbs, whereas the Limited Ingredient Diet and Backcountry varieties come in bags of 4lbs, 12lbs and 22lbs. Some flavors of Merrick Classic also come in 15lb and 30lb bags.
What Dogs Is Merrick For or Suited to?
Merrick has a wide range of foods available, to suit a variety of dogs. Some formulas are going to be suited to particular dogs, however.
arrow-circle-right Healthy adult dogs: The majority of Merrick foods will be suitable for a healthy adult dog, excluding those made for puppies or for weight loss.
arrow-circle-right Dogs with allergies: The Grain-Free and Limited Ingredient Diet formulas may be especially suited to dogs with allergies or with sensitive stomachs.
arrow-circle-right Athletic or working dogs: The high protein content of the foods in the Backcountry range would be good for athletic or working dogs.
arrow-circle-right Puppies: Look out for the Classic Puppy Recipe, the Backcountry Puppy Recipe and the Grain Free Puppy Recipe.
arrow-circle-right Overweight dogs: The Merrick Grain-Free Healthy Weight Recipe is designed for dogs who need to shift a few pounds of those who have a tendency toward weight gain.
arrow-circle-right Small breeds: The Merrick Classic Small Breed Recipe was made with the smaller breed in mind.
arrow-circle-right Picky eaters: The Limited Ingredient Diet range may appeal to picky eaters as fewer ingredients means fewer to object to.
What Dogs Might do Better with A Different Brand?
Not every dog food brand is right for every dog. These are some dogs that Merrick might not suit.
Senior dogs: There's no specific senior dog food from Merrick. Not all seniors need a senior formula, but if they're getting stiff or they're putting on too much weight, they may benefit from a food designed specially for older canines.
Pregnant or lactating dogs: Pregnant and lactating dogs have different dietary requirements, so it may be worthwhile consulting your vet to see what food would best suit their needs.
Large breed puppies: Large breed puppies grow more slowly than their smaller counterparts. Therefore a food specifically designed for plus-size pups might be beneficial.
Merrick Dog Food Reviews
Here are just three of our favorite foods from Merrick's extensive range.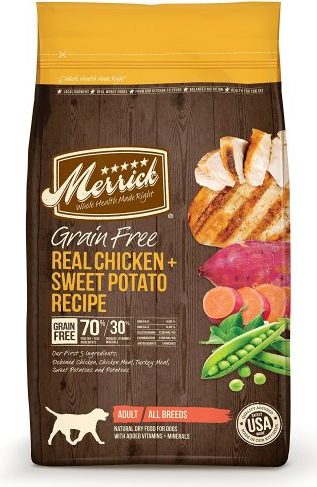 This grain-free formula contains 70 percent meat ingredients and 30 percent plant-based ingredients and vitamins.
The main bulk of the carbohydrates come from sweet potatoes, which are both healthy and flavorful, whereas the meat is a mixture of chicken meal and fresh chicken.
It contains plenty of the healthy fats a dog needs to stay in tip-top condition and is rich in omega fatty acids like Omega 6 and Omega 3 as well as Glucosamine and Chondroitin.
Pros:
thumbs-up
The small kibbles are good for smaller breeds, as well as large.
Its grain-free formula may be good for dogs with sensitive stomachs or who have allergies.
Made in the USA from quality ingredients.
Contains chelated vitamins and minerals to help give your dog a balanced diet.
Cons:
thumbs-down
While it's advertised as made in the USA, it's not necessarily made from American ingredients.
Some customer reviews indicate dogs have been sick or had loose stools after switching to this food, but this is a minority.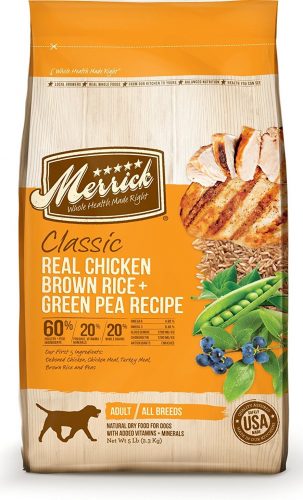 ​Merrick Classic Real Chicken, Brown Rice and Green Pea Recipe is composed of 60 percent meat products, 20 percent fruits and vegetables and 20 percent whole grains.
We like the addition of brown rice as the main source of carbohydrate. Rice is a good high fiber ingredient and is less likely to cause any kinds of reaction in sensitive dogs, compared to wheat and other gluten-containing ingredients.
Pros:
thumbs-up
Contains quality human grade ingredients.
The chelated vitamins and minerals are more easily absorbed than non-chelated varieties.
The first ingredient is fresh meat.
Contains a decent amount of protein from plant and animal sources.
Cons:
thumbs-down
Some customers have complained of rising prices and shrinking package sizes.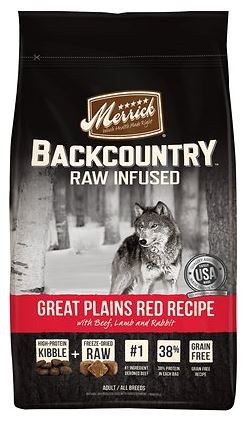 This food is marketed as a "raw infused" formula, which basically means it's a mixture of dry kibbles and freeze dried raw chunks.
This is beneficial for someone who likes the idea of feeding raw, but doesn't necessarily want to go the "whole hog," literally or figuratively
.At 38 percent protein, this might not be the ideal food for all dogs. Unless your dog is very active, it may be overkill.
Pros:
thumbs-up
This is a good compromise between feeding raw and feeding kibble.
Dogs like the freeze-dried meaty chunks.
More affordable than fully raw foods.
The grain-free formula will suit dogs with sensitive stomachs.
Cons:
thumbs-down
The protein content may be a bit high for some dogs.
What Others are Saying
Ultimately, it's not just our opinion that matters. Here's what customers and other experts in the field have been saying.
Dog Food Advisor:
​Dog Food Advisor generally considers Merrick to be a good quality brand with healthy ingredients that will suit the majority of dogs. They've rated the Classic range 4.5 stars out of 5, the Grain Free range 5 stars, the Backcountry range 5 stars and the Limited Ingredient Diet range 4 stars.
Dog Food Guru:
​Dog Food Guru highly recommends Merrick's "simplistic, yet innovative selection of all-natural dog food recipes." They like that the foods contain quality ingredients and are free from artificial colors, flavors and preservatives. The total rating given to Merrick is 8.8/10. However, it's worth noting, the main place they lost points was on price, not quality.
Amazon:
​We think it's always worth checking out Amazon for its real customer reviews from previous buyers and current users. Using the grain free recipe as an example, you can read customer ratings and comments by clicking here.
Our Merrick Dog Food Rating
Now that you've read this article, we think you'll agree that Merrick foods are a good choice for the majority of dogs.
There is a wide range of options to suit all kinds of dietary requirements and needs, so we think it's only the slim minority of dogs that won't get on well with this brand.
That said, it doesn't cater specifically for seniors or large breeds (although most large breed adults will be fine on a regular adult food), which we think is an oversight. It's also not the cheapest of choices, so it will be out of budget for some folks.
We give it a total rating of 4.5 out of 5.
Dog food image credits: © Chewy.com
Please be aware this page contains affiliate links and LabradorTrainingHQ receives a small commission if you make any purchases through any such links. This has absolutely no effect on the eventual price that you pay and we are very grateful for your support.
Disclaimer
All content on this site is provided for informational and entertainment purposes only. It is not intended to be nor can it be considered actionable professional advice. It must not be used as an alternative to seeking professional advice from a veterinarian or other certified professional.
LabradorTrainingHQ.com assumes no responsibility or liability for the use or misuse of what's written on this site. Please consult a professional before taking any course of action with any medical, health or behavioral related issue.
Top Picks For Our Dogs
For a list of all the supplies we get for our new service dog puppies check out our New Puppy Checklist on the PuppyInTraining.com blog.