This post may contain affiliate links. We may earn money or products from the companies mentioned in this post.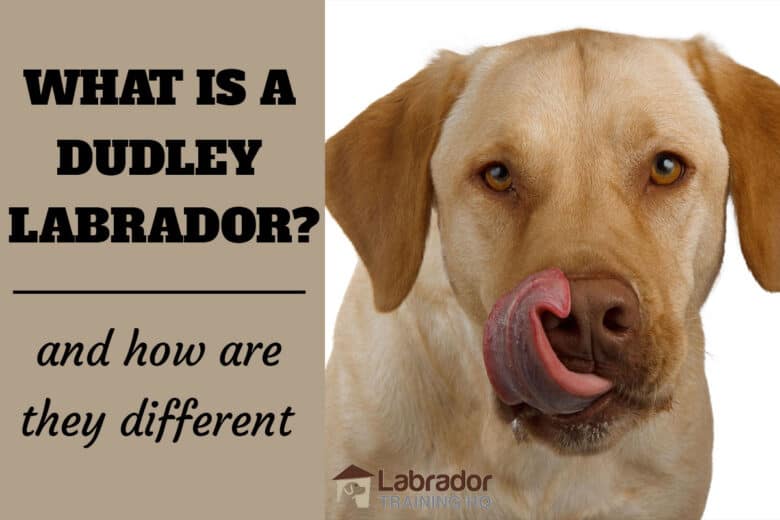 If you are a Labrador owner or thinking of introducing a Labrador into your family, you may have heard of a Dudley Labrador.
There is quite a lot of mystique around these special pups, which means they can sometimes struggle to find a home or your breeder might ask for a premium for the pup.
Read on to discover everything you need to know about these handsome dogs. They are just as good a choice for a family dog as any other type of Labrador. However, be aware that they won't qualify as a show dog.
What Is A Dudley Labrador?
A Dudley Labrador is a Yellow Labrador that is born without any pigment in their nose, eye rims, and feet, so they appear pink. They will have pale-colored eyes as well, usually blue or teal.
Where Do Dudley Labradors Come From?
There are three recognized colors of Labradors, black, chocolate, and yellow. Each of these dogs has two genetic loci that affect their pigmentation.
The first of these loci is called the B loci, and can be BB, Bb, or bb. Any Labrador that inherits a BB or Bb will be black. Dogs that inherit a bb can be chocolate or yellow.
Whether they are chocolate or yellow depends on the Ee loci, which can be EE, Ee, or ee. Of these dogs with the bb loci, those that inherit EE or Ee will be chocolate, and those that inherit ee will be yellow.
But, those few pups that inherit both bb and ee loci will not only be yellow, but they will also be a Dudley Labrador.
So, Dudley Labradors are a natural genetic occurrence, but they are relatively rare.
There are also other Labradors that have reduced pigmentation, such as Black Labradors with a chocolate nose.
Some people will call these dogs Dudley's as well, but this is not technically the case. This type of reduced pigmentation is just natural variation within the normal color range of Labradors.
Pink Nose Lab
All Labradors are born with pink noses. For the majority of Labs, their noses will turn black or brown during the first few weeks of their lives.
However, because Dudley Labradors have less melanin, their noses, the rims around their eyes, and their feet stay pink for their entire lives.
Dudley Labradors are not albinos, because this lack of pigmentation does not affect every part of their bodies.
But Dudley Labradors are not the only pink nose Labs. As Labradors age, the pigmentation in their nose reduces.
This pigmentation is produced by an enzyme called tyrosinase, which makes melanin. As this enzyme becomes less effective, their nose can turn pink as they enter their advanced years.
This is completely normal and is not anything to be concerned about. This is more likely to happen in colder temperatures, as the enzyme works better in hotter climates.
Read more about senior Labradors and how to care for them here: Caring For Your Senior Labrador.
But if a younger Lab, which is not a Dudley, develops a pink nose when they are younger, this can be a sign of a medical problem such as a bacterial infection, allergy, or skin condition. In this case, it is an indication that you should talk to your Vet.
The lack of pigment in the Dudley's nose does mean their nose is more susceptible to sunburn than other Labradors, so some additional precautions should be taken to protect their noses.
How Are Dudleys Different From Other Labradors?
Beyond their distinctive nose, Dudley Labradors are no different from any other Labradors.
They have the same temperament and intelligence.
They also have the same life expectancy and are predisposed to the same medical conditions as other Labradors, but they are not prone to any additional medical issues as a result of their distinctive noses.
There has been some recent research into whether the color of Labradors influences their trainability or other behavior; responding to the anecdotal evidence, Chocolate Labradors tend to be more hyperactive, aggressive, and difficult to train.
The study found there was no difference in the trainability or intelligence of Labradors based on their color.
There is some evidence to suggest that Yellow Labradors, like Dudleys, might be slightly more aggressive towards other dogs than Black and Chocolate Labradors, but the difference seems to be negligible.
There have been no specific studies carried out to see if Dudleys are different from other Yellow Labradors in terms of their intelligence and behavior.
The one area where Dudley Labradors are different from other Labradors is they are not eligible to be show dogs or breeding dogs. Their pink noses are marked as a fault in the ring, which excludes them from competition.
Read more about what differentiates show Labradors from other Labradors.
They are also not recognized within the Breed Standard by the Kennel Club. This means that the dog can also not be registered for breeding.
From the AKC website:
The nose should be black on black or yellow dogs, and brown on chocolates. Nose color fading to a lighter shade is not a fault. A thoroughly pink nose or one lacking in any pigment is a disqualification.

Official Standard for the Labrador Retriever
So, while Dudley Labradors make an excellent pet for the home, they are excluded from competition and breeding.
Where To Buy A Dudley Labrador?
Dudley Labradors can be bought from all the same places as other types of Labradors, but they are pretty difficult to get hold of.
Firstly, they are a relatively rare genetic mix, which means they don't often appear in the litter naturally.
Secondly, knowing the restrictions on Dudley Labradors when it comes to competition and breeding, many breeders will specifically control to exclude Dudley Labradors.
Some breeders will even conduct DNA tests to ensure dogs don't have the ee loci to make sure they don't get any Dudleys among their litters.
If you are desperate to have a Dudley Labrador, you could ask a breeder to attempt to breed one for you. But you should expect to pay a significant premium for this service.
A Labrador from a top breeder could cost you $3,000, and you might need to pay much more than that for a Dudley.
You are more likely to find a Dudley Labrador among the litter of a non-professional breeder whose Labrador has become pregnant.
If they are selling the pups, they might also want to charge a bit extra for the Dudley, as it is likely to be unique among the litter.
So, long story short, actively hunting down a Dudley Labrador can be a challenging process.
If your Labrador happens to produce a Dudley in their litter, or you come across a Dudley that needs adopting, they make excellent household pets.
FAQS About Dudley Labradors
Are Dudley Labradors Rare?
Yes, Dudley Labradors are relatively rare as you need a very specific genetic combination to produce a Dudley.
Also, many breeders control for this gene and exclude it when creating new pups, as Dudley Labradors are excluded from showing and are also excluded from the breed registry.
How Long Do Dudley Labradors Live?
Dudley Labradors have the same life expectancy as all purebred Labradors, so around twelve years. The genetic quirk that gives Dudley Labradors their pink nose does not have a detrimental impact on their health.
Are Dudley Labradors Albino?
Like albinos, the pink nose in Dudley Labradors is caused by a lack of melanin, but they are not albino, as this does not affect the other parts of their body, and their skin and hair still contain pigment.
Do Dudley Labradors Have Health Issues?
Dudley Labradors suffer from all the same health issues as all purebred Labradors, but they are not susceptible to additional health issues as a result of their pink nose.
Their nose may be more prone to sunburn than those of other Labradors. For this reason, extra precautions should be taken to avoid developing skin cancer in that area.
What Color Eyes Do Dudley Labradors Have?
Dudley Labradors will have light-colored eyes to match their noses, usually blue or teal. Their eyes will never be described as green, as this is not a color recognized for Labradors by the Kennel Club. The only purebred dog recognized as having green eyes is the American Pit Bull Terrier.
What Is The Rarest Labrador Color?
As Dudley Labradors are considered among Yellow Labradors, Chocolate Labradors are actually the rarest color Labradors, though they do occur almost as frequently as Yellow Labradors. Black Labradors are roughly twice as common as the other two colored Labradors.
What Color Labrador Is The Easiest To Train?
Anecdotal evidence suggests that Chocolate Labradors are more hyperactive, aggressive, and harder to train than other types of Labradors. But recent research suggests this is not the case and that it is not possible to determine the trainability or character of a Labrador based on color.
There is some evidence to suggest that Yellow Labradors might be more aggressive towards other dogs than Brown or Black Labradors, but the variation is too low to be considered highly significant.
My Experience
As a service dog puppy trainer I've worked with dozens of Labrador Retrievers including a handful of Dudley Labs. In fact, one of our puppies that we trained for nearly 2 years was a Dudley.
After 2 years of training Dublin became a service dog and worked for another 6 years. He's been retired for the past 2 years and is still very active at 10 years old.
In my experience there has not been any noticeable difference in the behavior of a Dudley Labrador vs other Lab colors.
Final Thoughts
Dudley Labradors are gorgeous Labs that lack pigmentation in their nose, the rims around the eyes, and paws. As a result, they have a pink nose, rather than the black or brown nose that characterizes most Labradors.
This is an entirely natural, though slightly more rare genetic occurrence among Labradors. But, for some reason, these special Labradors have been excluded from the competition circuit, and they are also not recognized by the Kennel Club for breeding.
But, despite this, these pups, if you come across one, make an excellent family dog. They are just as loving, intelligent, and playful as other Labradors.
If you have any experience with Dudley Labradors, please share it with the community using our comments section.
Save To Pinterest
Top Picks For Our Dogs
For a list of all the supplies we get for our new service dog puppies check out our New Puppy Checklist on the PuppyInTraining.com blog.