This post may contain affiliate links. We may earn money or products from the companies mentioned in this post.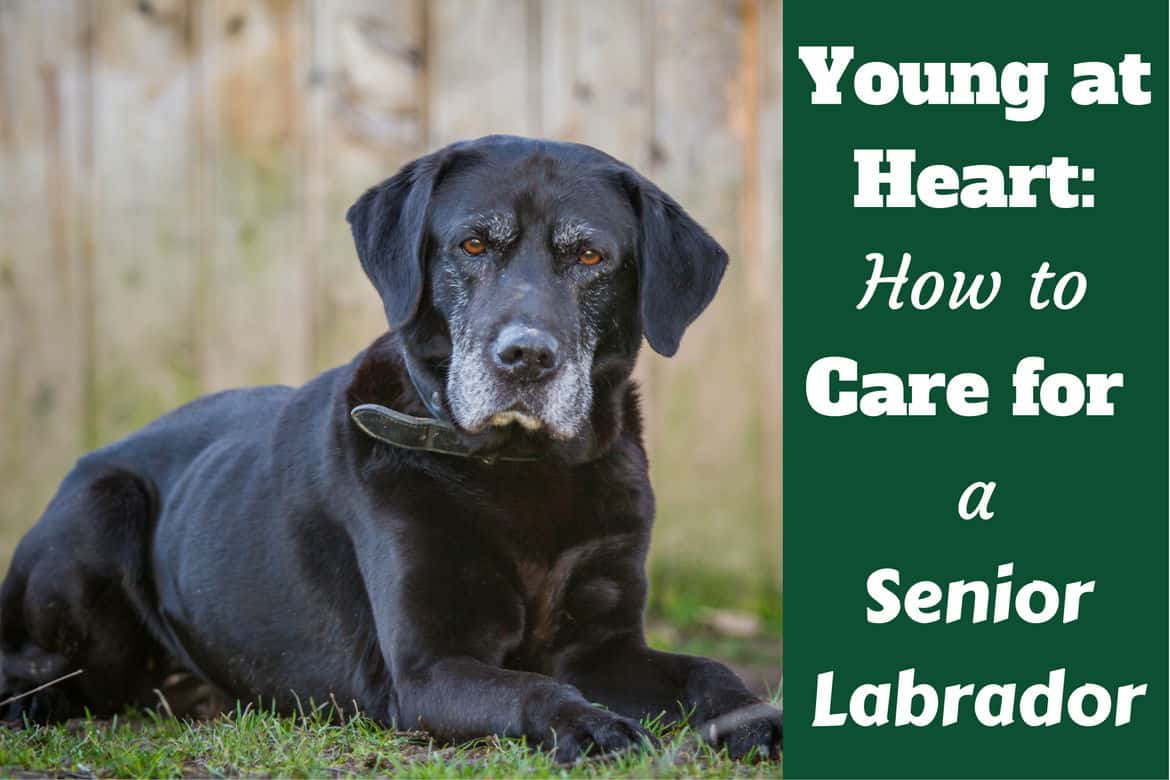 If you've welcomed a bouncy Labrador puppy into your life, adopted a middle-aged shelter dog, or made room in your home and heart for a dog of any age, you've probably already thought about senior dog care, at least for a moment or two.
If there's a downside to living with and loving Labradors, or any dog for that matter, it's that their lives are so short compared to our own.
Sharing your life with a dog means loving them and caring for them through every stage of growth and development, from the moment they bounce into your heart, until old age and their eventual death.
The good news is that dogs, like people, have a longer life expectancy now than ever before.
Modern research and technology, advanced veterinary care, and more nutritious food options have enabled our dogs to stay healthy and active well into old age.
While these advancements are welcome and encouraging, the biggest factor in the quality of your dog's geriatric health is still you.
How you care for your senior dog will have a huge impact on their golden years. This article will cover everything you need to know about caring for your senior Labrador.
How Long Will My Labrador Live?
Not so very long ago, as recently as the 1970s, the life expectancy for most dogs was between 6 and 8 years.
Today, the average life expectancy for most dogs has risen to between 10 and 18 years. Smaller breeds tend to live longer, and large breeds, like Labradors, have a shorter life span.
Based on genetics alone, the lifespan of your average Labrador is between 10 and 14 years, but there are various factors that will have an effect on your Labradors' health as they age.
Have you heard the myth that one year of a dog's life equals seven human years? It's actually a bit more complicated than that.
If you're curious, we'll be adding an article on this topic very soon, so check back in a couple of weeks!
But do you want to know how old the oldest Labrador ever was? Check out this article: How Long do Labs Live? Average Labrador Lifespan? The Oldest?
How will I know when my Labrador is Getting Old?
Probably the first sign of old age in Labradors is an overall slowing down.
As your dog ages, they will find it harder to get up after napping, will walk slower, and take longer to climb the stairs. And they will spend lots of time sleeping, often between 12 and 18 hours each day.
While exercise is still important for aging Labradors, you may find that your dog just can't manage those long jogs, walks, or runs.
Your dog will probably enjoy shorter, more frequent walks, and will have to urinate more often due to less bladder control.
Less exercise and a slower metabolism may also cause your senior Labrador to start gaining weight.
These are all typical signs of aging, and are generally not reasons for concern. You should, however, keep in mind that as your Labrador ages, illnesses and other age-related health issues are more common.
Some of these illnesses can be treated, while others are just a byproduct of old age and can only be accepted with love and understanding.
What Kind of Health Problems Affect Older Labradors?
Signs that Your Senior Labrador May Be Sick
As we discussed earlier, senior dogs do start to slow down. They will sleep more and exercise less. So how will you know the difference between a medical problem and regular old age?
Regular vet visits (every 6 months) will help set your mind at ease. You should also schedule an appointment with your veterinarian if you notice any of the following symptoms:
Keeping your Labrador Healthy and Happy for as Long as Possible
Your senior Labrador, who has given you love, loyalty, and devotion for so many years, will now need special care from you as they age.
The better prepared you are for the senior years of your dog's life, the easier it will be for both of you.
Here are some tips for keeping your dog healthy and happy during the senior years:
Grooming Your Older Labrador
Your Labrador's fur and skin are the first line of defense against parasites, disease, and infection, but as your dog ages, their skin and coat may appear dull, and the fur coarse and brittle.
This is entirely normal, but it does affect the way your dog's coat protects the rest of the body. Because of this, a regular grooming routine is especially important during old age.
Because older dogs have less energy to get out and explore, they will crave a bit more attention and physical contact.
Grooming is a great way to connect with your dog, and it is also a good time to check your dog for tumors, growths or changes in skin condition.
Just 15 minutes a day will help keep your dog's coat healthy, and it will help strengthen the bond between you and your aging Labrador. Here are some basic tips for grooming your senior Labrador.
Preparing for Limited Mobility
As your dog starts to slow down, walking, running, climbing stairs, and getting into the car can become a problem.
Here are a few tips and resources to make things easier for you and your dog as you deal with limited mobility.
Preparing Your Home for Your Older Labrador
As your dog ages, they will spend more and more time at home. You can help keep them comfortable by making a few adjustments to their home environment.
Letting Go
One of the hardest parts about living and loving a dog is knowing when it's time to say goodbye. We all want our dogs to live long, happy, and healthy lives, but a dog's lifespan is still so much shorter than our own.
Your Labrador may die a peaceful, natural death when the time is right, or you may have to intervene. This article will help will help you decide when euthanasia is the right decision.
The bond we share with our faithful dogs runs deep, and the sorrow we feel when they leave us behind can be heartbreaking.
But, what we are left with is the joy that they have brought us, the memories that we have made together, and the knowledge that we were able to walk side by side through life, if only for a short time.
Your dog will always be a part of you, and that is reason enough to be thankful.
Top Picks For Our Dogs
For a list of all the supplies we get for our new service dog puppies check out our New Puppy Checklist on the PuppyInTraining.com blog.