This post may contain affiliate links. We may earn money or products from the companies mentioned in this post.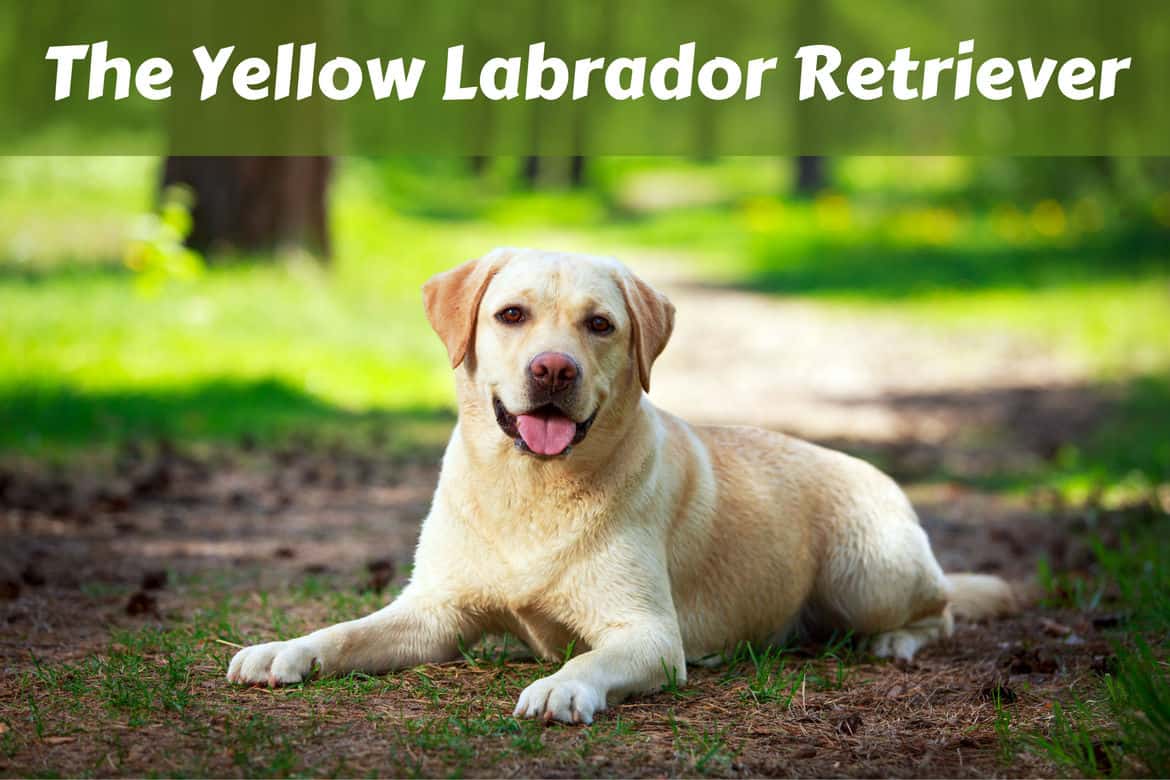 The term Yellow Labrador Retriever covers a wide range of colors.
From almost white, through pale cream and butterscotch, right up to what's known as the fox red Labrador, all of these shades are still Yellow Labrador Retrievers.
Yes, the differences in color between some of these Labs can be surprising, they can look very different and almost as if they should be labelled differently.
But they are all collectively known as and must be registered as yellow Labrador retrievers.
QUICK RECOMMENDATION: We've read many books and magazines about Labrador Retrievers. One of our favorites, Your Labrador Retriever Puppy is a great resource for all Lab owners.
The Yellow Labrador Retriever in Early History
Because the color black was most favored in Labradors during the early history of the breed, the Yellow Labrador Retriever was generally unwanted and simply culled at birth.
It wasn't until 1899 that the first yellow Labrador was registered, the famous 'Ben of Hyde' from the kennels of Major C.J. Radclyffe.
In fact, yellow Labradors were initially known as 'Golden Labradors' until the UK Kennel Club changed the name to yellow. They did this saying their decision was based on the fact 'gold is not an actual color.'
It's also reported that in the 1920s the appearance of yellow Labradors differed greatly from the agreed standard of the time.
So much so that a separate standard was initially drawn up at this time.
This didn't last too long though as it was eventually decided they should simply adhere to the same standard of the blacks.
VIDEO: The Kleenex Puppy! A Yellow Lab Puppy Becomes A Star On TV!
In 1972 a British brand of toilet paper started a campaign of television adverts starring a cute Yellow Labrador puppy, joyfully playing and rolling around in streams of flowing toilet paper…and the Kleenex Puppy was born!
Kleenex ran their advertising campaign in over 30 countries and for more than 130 adverts, right up until 2010.
They then very sadly replaced the cute 'real life' Labrador puppy with a computer generated version….much to the public's and especially my dismay :-(
For a little bit of fun,you can see some outtakes of the Kleenex advert puppy playing in the following video:
The Yellow Labrador Retriever Today
The Kleenex adverts showing possibly the cutest sight in the world of a playful Yellow Labrador puppy, many times a day, had a massive effect on the breed and color.
The Yellow Labrador Retriever stole a lot of hearts and became insanely popular. Simply everybody had to have one and so their numbers grew rapidly around the world.
This did have an effect though on the range of shades of Yellow Labrador seen.
The darker shades of yellows and reds saw a huge decline over the years in favor of what we see as the more traditional pale cream and light yellow colors.
So why are the paler shades of yellow seen as more traditional? Well, I'm certain this was influenced by these much seen famous adverts.
In the last 20 or so years though, some breeders have dedicated programs to the breeding of the darker shades of yellow and fox red Labradors and so you shouldn't have any problems in finding a yellow Labrador to own in the color of your choice.
Do You Own Or Are Thinking of Getting Yourself a Yellow Lab?
We'd love to hear your stories about your own little bundle of fun. Or perhaps you have some advice for a prospective Yellow Labrador owner?
Tell us about your dog or leave a comment in the section below. We will try to answer every comment made :-)
Are you still yearning for more information about Labrador Retrievers? One of our favorite books is Your Labrador Retriever Puppy . It has tons of information about our favorite breed.
Save to Pinterest:
Top Picks For Our Dogs
For a list of all the supplies we get for our new service dog puppies check out our New Puppy Checklist on the PuppyInTraining.com blog.