This post may contain affiliate links. We may earn money or products from the companies mentioned in this post.
Of all the dog breeds in the world, the Shih Tzu is one of the most well-known, and loved, lap dogs on the planet. The aptly named Shih Tzu, or "little lion dog," is a small dog breed that has a fun and fierce personality and most certainly looks the part.
Typically, whether your pet is an adult dog or a puppy, they have medium energy levels so while they enjoy snuggling on your lap, they also like (and need) daily walks and exercise.
Unfortunately, as with many small dog breeds, Shih Tzus ha​​​​ve some common health conditions that need to be taken into consideration, including:
Dental problems
Allergies
Joint and bone problems
Hypothyroidism
The combination of their small size, their energy levels, and the propensity to put on weight makes it tricky to feed them, which is why it's our job as responsible pet owners to ensure our fur-legged friends are getting the best possible nutrition from their pet food.
Our dry food for Shih Tzu recommendations also includes limited ingredients that can help with any allergies your pup might suffer from.
At a Glance: Our Choices for the Dog Food for Shih Tzus
DOG FOOD

DETAILS

OUR RATING

The key ingredients are Brewers rice,brown rice, chicken by-product mealand chicken fat.
Consists of special kibbles that helpwith reduction of dental plaque
Made with intense flavors and aromas toincrease your dog's appetite
Suitable for Shih Tzus above theage of 10 months
Enriched with omega 3 & 6 fatty acids fora healthy coat

The number one ingredient is real deboned chicken
Offers a grain-free nutrition with zerogluten to ease your dog's digestion
Perfect for older Shih Tzus because ofthe lower calorie and fat content
Fortified with L-carnitine to boost your dog's metabolism
Small-sized, crunchy kibble bites thataid in cleaning of teeth

The core ingredients include deboned turkey, turkey meal, chicken meal, potatoes, peas and dried ground potatoes
Offers a complete and well-balancednutrition that is void of grains
Protein rich with the first ingredientsbeing premium turkey and chicken
Enriched with salmon oil, which is richin omega fatty acids
Fortified with glucosamine and chondroitin for healthy bones and joints

The first ingredient is real chicken; othersinclude chicken meal, whole brown rice,brewers rice, rice bran, chicken fat
Has a perfect combination of premium lean proteins, antioxidant-rich fruits,whole grains and healthy oils
Void of artificial colors, flavors andpreservatives
Can be fed alone or in conjunction with wet foods

The core ingredients are salmon, salmonmeal, peas, potatoes and canola oil
Offers a limited ingredient diet forsmall dog breed like the Shih Tzu
Contains probiotics and prebiotics for ahighly-digestible formula
Omega fatty acids from canola oiland flaxseed Void of meat by-products, wheat, corn and soy
Our Guide to The Best Dog Food Choices for Shih Tzus
Royal Canin is one brand of dog food that takes into account that different breeds have differing lifestyles, nutritional needs, and health issues, which is why their products are specific to the breed.
The breed formula means it's suited to your dog and his various requirements. Royal Canin kibble helps reduce tartar and plaque and they're made in such a way that it's easier for your Shih Tzu to grab them with their small mouths.
Also, there are nutrients that protect the breed's long coat. If your pooch is a fussy eater, don't' stress, Royal Canin has an intense aroma and flavor, which will have them gobbling up their food in no time at all.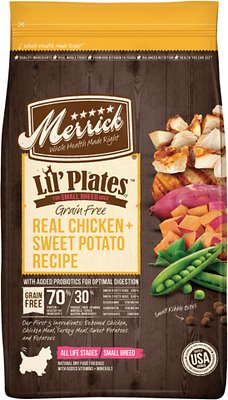 You and your Shih Tzu will love Merrick Lil' Plates Grain-Free for puppies and small breeds. It's available in various flavors, including Texas beef, chicken, lamb, and salmon and all are mixed with sweet potato. Already, this is a great base that's easy on even the most sensitive tummies.
It's a premium dog food that's well priced and it focuses on the very best nutrition for your pup. The recipes are 70/30, meaning 70% fish and meat and 30% vitamins, fruit, and vegetables.
Merrick also has valuable ingredients like omega fatty acids, glucosamine as well as chondroitin for bone and joint health and antioxidants. The good news is there is no corn, wheat, by-products, soy, or fillers of any kind. Nor does it contain coloring, flavoring, or chemical preservatives, either.
Wellness CORE is available in 4, 12, or 26-pound bags and is specially made for small breeds, like your Shih Tzu. It's free of grain and animal by-products and is formulated to provide balanced nutrition for your dog's well-being, both now and down the line.
One of the main benefits of Wellness CORE is to promote intestinal wellness with a focus on prebiotics, probiotics, and fiber content. The high protein content contributes toward leaner muscle mass and helps burn off extra calories and fat while the correct carbohydrates will keep his energy levels where they need to be.
The essential minerals and vitamins, fatty acids, and antioxidants will assist with overall nutrition, immunity, and maintain a healthy coat.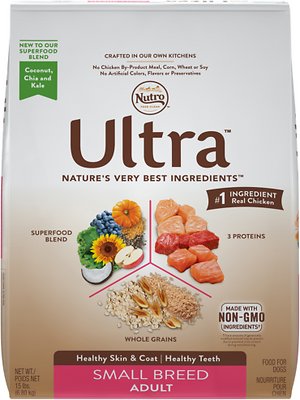 NUTRO ULTRA is made with small breeds in mind, which means it's a very good choice for a Shih Tzu. There are no artificial additives and the meat is from natural sources. The kibble contains fatty acids and antioxidants, which contribute to your dog's overall health and they're easy to chew so even the pickiest of eaters will enjoy them.
There are so many benefits that come with NUTRO ULTRA, including a strong and shiny coat, healthy immune system, excellent vision and a healthy heart. Your pup will also be in peak condition with lean muscles.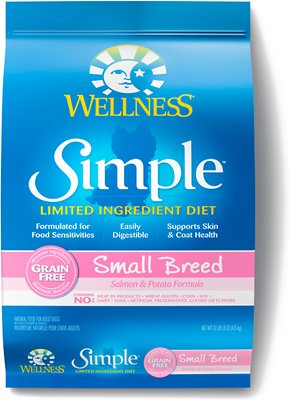 Shih Tzus are known to battle with allergies which is why we've included Wellness Simple Limited Ingredient Diet Grain-Free dog food on our list. The 29% protein included in this pet food is from salmon and it's also grain-free.
The carbohydrates in the Wellness range come from potatoes, not grain, and it's high in omega-3 that help calm inflamed, irritated or itchy skin. It also keeps your pup's coat shiny and healthy. The glucosamine and chondroitin will help with any joint problems.
If your Shih Tzu is particularly active its important to note the fat content is a little low. At just 14%, it's better for dogs needing to lose a pound or two or if your dog suffers from hypothyroidism. There's no vegetables or fruit either, but there are loads of supplements that will provide the vitamins and minerals needed, as well as additional fat.
Conclusion
Feeding your Shih Tzu the best dry food you can afford is essential. While the right food will be beneficial to his overall health and prevent serious health issues as he gets older, so too will the wrong dog food have terrible consequences. There are a number of issues with low-grade or inferior foods that just aren't worth the risks. But it's not only about the best dog food for your pet. You need to follow the feeding instructions and if you have any queries, it's important you speak to your veterinarian sooner rather than later.
Top Picks For Our Dogs
For a list of all the supplies we get for our new service dog puppies check out our New Puppy Checklist on the PuppyInTraining.com blog.