This post may contain affiliate links. We may earn money or products from the companies mentioned in this post.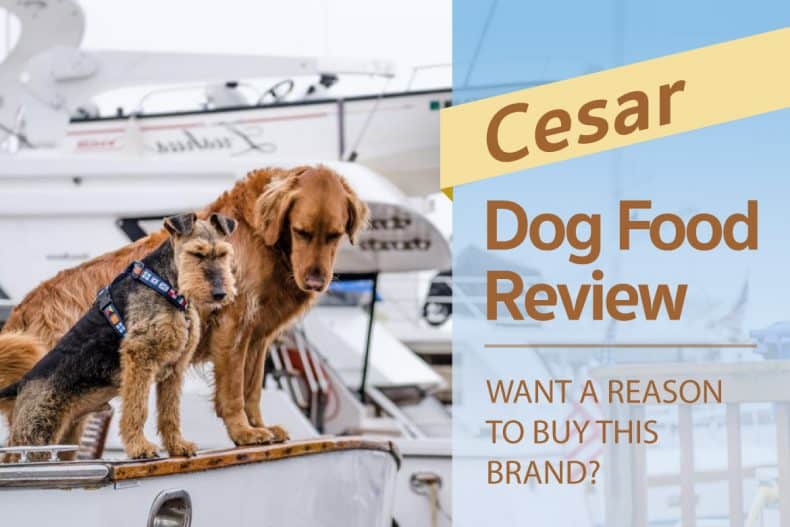 We take a look at the reviews, ingredients, and top 5 products of the line to determine the answer to the question: Is Cesar Dog Food good for my dog?
Introduction
Small puppies are just the cutest little pups that light up our lives every day. And those small fur babies deserve the best food for their tiny bellies.
However, as you can't feed them filet mignon or a T-bone steak every day, Cesar Dog Food is perfect for your pup with gourmet recipes and high-quality ingredients. You might be asking yourself, "Is Cesar Dog Food good for my dog?"
And we have the best information to help you decide whether Cesar is the best choice for your beloved furry friend.
Let's take a look at Cesar Dry and Wet Dog Food reviews and ingredients to help you make a clear (and cuddly) decision.
Our Rating
After reviewing Cesar Dog Food ingredients and reviews, we have given this brand 4.5 out of 5 stars.
At a Glance: Our Choices for the Cesar Dog ​Food
Review
According to customer reviews and experts' ingredient analysis, we give Cesar Dog Food a 4.5 out of 5-star rating. Customers seem to really love this dog food and the pups that chomp on these delectable meals every day seem to enjoy it, too.
However, there are some questionable ingredients that have some dire consequences. While this dog food has been around for many years, the ingredients are a bit concerning whether the dogs and human customers love the food or not.
Pros
Great for Senior Dogs
Many customers were raving about the senior formula. Even dogs that have very little teeth found this food easy to chew and digest. Cesar Dog Food reviews show that customers love the flavor and texture of the senior dog food.
Improving Digestion
With many of the reviews, customers reported their dogs having better digestion than before they started eating Cesar Dog Food. Pups that eat Cesar Dog Food have healthier tummies and an easier time digesting the food.
Cons
Questionable Ingredients
When you take a closer look at the ingredients list, you will find that there are two ingredients that raise a bit of concern. Menadione sodium bisulfite complex and sodium tripolyphosphate are two ingredients that are used that are neurotoxins and are linked to toxicity and mutations. While the FDA does deem the two ingredients to be generally safe, the side effects that can come from these ingredients are not ones you necessarily want to subject your beloved pup to on a daily basis.
Product Line
Ingredients Analysis
So the top ingredients found in Cesar Dog Food are not quite what you would expect from this highly recognized dog food. While the top ingredient is chicken by-product meal and other meat by-products, one might be concerned with the meat that is used and the fact that by meat by-products like chicken by-product meal are typically a part of the animal that is undesirable.
The second ingredient in canned food that is listed is water—not unusual for canned food, but not exactly desirable at high percentages. In one particular formula animal liver was listed as an ingredient, but this is concerning because it doesn't state which animal the liver came from.
The Cesar Dog Food ingredients don't seem to be the best option for your pup, but every dog is different. If you have any concerns, reach out to your veterinarian and determine if this is the right dog food for your pup! Only you and your vet can determine that for you.
Check out this video from chewy.com that digs deeper into it.
Recall History
There are no recent Cesar Dog Food recalls listed on the FDA website.
Conclusion/Wrap Up
While Cesar Dog Food is a trusted name in the dog food industry, there are some concerning factors to take note of before purchasing this dog food. Some of the Cesar Dog Food ingredients are less-than-ideal that does not mean that the food is not good enough for your dog. You may currently still be wondering "Is Cesar Dog Food good for my dog?" And that is an answer only you and your vet can determine for your pup.
This Cesar Dog Food review has learned that customers (human and pups alike) love this dog food, but the ingredients are something to take a closer look at to be totally sure that it's the best for your furry friend.
Check our other dog food posts here:
Top Picks For Our Dogs
For a list of all the supplies we get for our new service dog puppies check out our New Puppy Checklist on the PuppyInTraining.com blog.