This post may contain affiliate links. We may earn money or products from the companies mentioned in this post.
Best Orthopedic Dog Bed – My favorite dog bed is my sister's head!
Every dog needs a good dog bed! We all know the importance of a good night's sleep for us – we feel better and it is better for our long term health – and we all know that horrible feeling when we have slept in the wrong bed.
Dogs have the exact same issues. Also, just like humans, some dogs need a bit more support for their joints and bones and would benefit from the best orthopedic dog bed.
But what exactly is an orthopedic dog bed, why do dogs need them, and how do you know if your dog needs one?
Moreover, if you decide your four-legged friend would benefit from one, how do you know which of the many on the market is right for them?
Don't worry, we have you covered. We will answer all these questions in our buying guide, and we have also come up with a list of the ​nine best dog beds that you can invest in for your pooch.
We think that one of the best orthopedic dog beds on the market right now is the Big Barker, which uses the latest orthopedic design to provide support to large dogs, who tend to need it most.
If you are looking for something more appropriate for smaller dogs, that is great for large dogs too, then PetFusion offers a great, versatile alternative.
9 Best Orthopedic Dog Beds
There are a lot of different orthopedic dog beds out there, all promising to do miracles for your canine friends. But based on our research, we think that these are the eight best orthopedic dog beds on the market at the moment.
1. Big Barker Headrest Edition Pillow Top Orthopedic Dog Bed
When it comes to the big dogs like our Labs that need orthopedic support the most, it is hard to beat the Big Barker.
This memory foam bed is made with seven inches of premium foam that will retain 90 percent of its original shape over time, so that you don't end up with a flat, unusable bed after your dog has been using it for a while. It is then covered with a super-soft, 100 percent microfiber cover that leaves the bed warm and cozy, and it is also easy to clean. The bed also has a padded bolster on one end, otherwise known as a pillow, which gives your dog a place to rest their head while maintaining their spin alignment.
This bed has been specifically designed for larger dogs with arthritis and other joint issues, and comes in large, extra large, and a giant 60 inches long, but it will just overwhelm smaller pooches.
It also comes in seven colors, so you can hopefully find something to match the decor.
The main drawback with this bed is the price tag. It is significantly more expensive than the other beds on this list, but you are paying for quality design and materials.
The price does come with a 10 year warranty, so if your bed does start to lose its shape, the company will replace it.
Based on all the beds that we looked at, we think that one of the best orthopedic dog beds on the market right now is the Big Barker Dog Bed, which uses the latest orthopedic design to provide support to large dogs, who tend to need it most.​
Pros
Seven inches of memory foam
Washable microfiber cover
Variety of colors available
10 year warranty
Cons
Expensive
Not suitable for smaller dogs
When it comes to orthopedic beds for larger dogs, the Big Barker in unbeatable, and worth the investment for your canine friend.
2. PetFusion Ultimate Lounge With Solid Memory Foam Dog Bed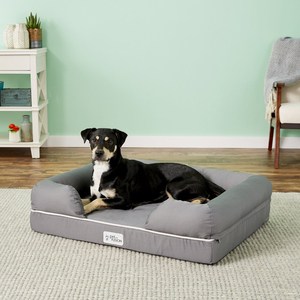 For a more versatile orthopedic bed that can work for dogs of any size, consider the PetFusion Ultimate Lounge.
The PetFusion has been designed to work for any sized dog and it comes in five sizes, the smallest 25 inches in length and the jumbo 50 inches in length. However, there are only two colors to choose from when it comes to finding something that matches your home decor. Replacement covers are available as needed, and they are machine washable to help you maintain them.
The PetFusion starts with a memory foam base of medium firmness, starting at two inches for the small size and growing up to six inches for the jumbo.
It then has a water-resistant and anti-tear covering made from durable cotton and polyester that your dog will love and will never irritate their skin.
Around the edge of the main mattress is a bolster, filled with recycled polyfill, that acts as a cushion and gives your dogs lots of options for resting their head when getting comfortable.
The bed also has a non-skid bottom, so no need to worry about the bed flying around the room as your dog jumps in and out.
While not as expensive as the Big Barker, this bed will also set you back, but you are paying for quality.
Pros
Four inches of memory foam
Removable and machine washable cover
Variety of sizes for small dogs to large
Non-slip bottom
Cons
Expensive
Limited range of colors
The PetFusion is a versatile orthopedic dog bed that should offer comfort and support to dogs of any size and shape.
3. Brindle Plush Memory Foam Orthopedic Pet Bed
If you are looking for an orthopedic bed for dogs with allergies or that have a tendency to overheat, then Brindle has a great solution.
This bed features two layers of memory foam, one layer of comfort memory foam and a second of high-density support foam. Both are two inches to give your dog's joints the support they need. The bed is also hypoallergenic, which makes it resistant to mites and will help any dog with allergies.
It also uses open-cell technology that promotes air flow, providing a comfortable sleeping temperature and preventing your dog from overheating. The velour cover is removable, machine washable, and water resistant, which should all help keep the bed and your house from smelling. However, if your dog is a chewer, they may make short work of this cover.
The bed comes in three sizes, the smallest 22 inches long and the largest 46 inches long, so there is something for all but the largest breeds.
The simple design comes in three colors, so you should be able to find something that both you and your pooch like. The non-slip base means that you should never see the bed flying around your home as your dog jumps in and out.
Pros
Four inches of memory foam
Hypoallergenic
Temperature regulating
Machine washable cover
Non-slip bottom
Cons
Not suitable for giant breeds
Cover may not stand up to significant chewing
This orthopedic bed has the added benefit of being hypoallergenic and regulating temperatures, making it a great option for more sensitive dogs.
4. FurHaven Comfy Couch Orthopedic Sofa Dog Bed
Looking for something a little different, try the FurHaven Comfy Couch Orthopedic Bed.
Rather than using memory foam, this model uses medical-grade orthopedic egg-crate foam, which also works to relieve pressure, while also allowing for optimum airflow to ensure your dog doesn't overheat. The bed also has boltered side walls on three sides, giving your dogs a lot of options when it comes to getting comfortable. The base is water resistant, made from a poly-canvas that is easy to spot clean as needed. The cover is also removable and machine washable, so it is easy to keep looking and smelling fresh.
This bed is designed for medium to large dogs, with the large size 36 inches in length and able to carry dogs of up to 50 pounds, and the jumbo 44 inches in length and able to hold dogs of up to 95 pounds. While that is a good weight, the length may feel small for some dogs that are that heavy.
Pros
Medical-grade orthopedic egg-crate foam
Water resistant
Machine washable cover
Bolstered sides
Cons
Not ideal for smaller dogs
Jumbo is on the small side for larger dogs
If you are looking beyond memory foam for your dog's comfort, consider this option from PetHaven that uses medical-grade, egg-crate foam.
5. Kopeks Orthopedic Memory Foam With Pillow Dog Bed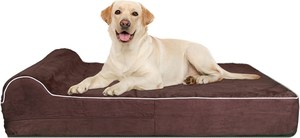 If you are looking for a minimalist design bed for your dog that does the job of protecting their joints, then look at Kopeks.
This bed is made with 100 percent orthopedic-grade, hypoallergenic memory foam, the same that is used in human mattresses, to ensure maximum comfort for your dog's joints and bones. Coupled with a built in headrest, and your dog has lots of options for getting comfortable. The bed also has an anti-slip rubber bottom, so it won't go sliding around as your dog jumps in and out, or wiggles around.
The bed has a waterproof liner and a soft micro-suede cover, both of which are removable and machine washable. With all these quality features, this bed is more expensive than some middle of the road beds that you can get, but offers definitive quality.
The bed comes in three versatile sizes, with the small 25 inches long with 3.5 inches of memory foam and the large 50 inches long with seven inches of memory foam. However, the bed only comes in two colors.
Pros
100 percent medical-grade orthopedic memory foam
Hypoallergenic
Non-slip bottom
Machine washable
Range of sizes
Cons
This bed from Kopeks might not look like much, but under the minimalist design is quality function and material for a healthy and happy pooch.
6. Serta Orthopedic Quilted Dog Couch Bed
For medium-sized dogs that like to stay cool in summer and warm in winter, consider the Serta orthopedic dog couch.
The Serta is another model that uses four inches of orthopedic egg-crate foam to provide maximum comfort to joints and muscles.
This is coupled with a soft, quilted surface, underpinned with a micro cool gel layer to ensure that they are warm in winter and cool in summer. The bed also features an extra-high bolster on three sides that lets your dog get cozy and comfortable.
This bed does not seem to be completely waterproof and the cover a bit more fragile than some other options, which means that it might not be the best choice if your dog is a serious chewer.
This bed only comes in one size and three colors, so it is really for medium-sized dogs weighing no more than 75 pounds. Serta do offer similar beds in large and extra-large, but the design is slightly different and they are quite a bit more expensive.
Pros
Four inches of egg-crate orthopedic foam
Micro cool gel layer to regulate temperature
Extra-high bolster
Cons
One size only
Not as durable as some other beds
If you need to think about regulating your dog's heat as well as supporting their joints, the Serta offers a stylish solution.
7. FurHaven Ultra Plush Luxe Lounger Orthopedic Dog Bed
If your dog doesn't like to sleep closed in, then let them get comfortable on this FurHaven lounger.
This stylish bed from FurHaven couples quality memory foam with a unique, ergonomic, contoured design intended to provide therapeutic back and neck support. This makes it as comfortable as any other dog bed, but without the need for bolsters. The height of the bed has also been designed for maximum accessibility, especially for smaller, older, or disabled dogs.
The plush, faux-fur cover is comfortable, and also removable and machine washable. The cover is pretty durable, and the company will replace it if it starts to come apart under reasonable use. However, there is nothing to indicate that the bed itself is particularly waterproof.
The bed comes in four sizes, with the small just 21 inches and the jumbo measuring 45 inches and taking up to 75 pounds. This means this bed offers a great option for smaller dogs, and is suitable for all but the largest breeds. It also comes in seven different colors, so there is something to work in every home.
Pros
Four to six inches of memory foam (depending on the size)
Ergonomic comfort design
Height for easy access
Machine washable cover
Variety of colors
Cons
Not suitable for the largest dog breeds
May not be entirely waterproof
The ergonomic design of this lounger from FurHaven means that it is the ideal dog bed for those looking to avoid bolsters.
8. Petmaker Orthopedic Memory Foam Dog Bed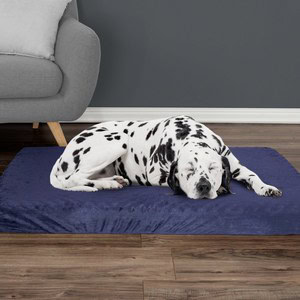 If you are looking for something affordable that will still protect your dog's comfort and health, then look no further than the Petmaker.
The bed offers the best of both worlds by combining memory foam with egg-crate foam to create a base that offers maximum comfort and support. This goes on top of a non-slip bottom, so it won't slide around your home, and a plush removable cover that is machine washable, though is quite a bit flimsier than some other options. The design also does not feature bolsters or head rests, which some dogs like, but others are fine without.
The bed is best for medium to large dogs, with three sizes ranging from 26 inches to 46 inches in length. Every model features four inches of memory foam, with no gradation for weight. It is a much more basic bed than most of the others on this list, but that is what allows it to be more affordable.
Pros
Combines memory foam and egg-crate foam
Non-slip base
Washable cover
Cons
No additional head support
Less durable than other beds
If you are looking for an affordable orthopedic bed solution that does the job with no fuss, then the Petmaker is an option worth exploring.
9. BarksBar Snuggly Sleeper Orthopedic Dog Bed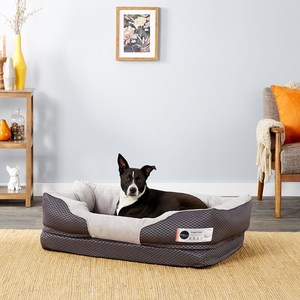 If your medium to large dog likes to snuggle, but still needs orthopedic support, then consider getting them the BarksBar.
The BarksBar combines a human-grade orthopedic foam base with cotton padded walls to make a comfortable sleeping space that will appeal to dogs that like to nest. The plush cover will also feel good against their skin, and they will enjoy nuzzling it as they wriggle into their perfect position. But no need to worry about the bed moving around as the wriggle as it comes with a non-slip base. The cover is also removable and washable.
This bed is suitable for medium dogs and very large dogs, taking up to 100 pounds, but there aren't any options for smaller dogs looking to snuggle. The bed also only comes in one color, so you have limited options when matching your home decor.
Pros
Human-grade memory foam
Cosy environment for snugglers
Non-slip base
Machine washable cover
Cons
Limited color options
Not suitable for smaller dogs
If your dog likes to nest, but also needs some orthopedic support, the BarksBar combines the two for maximum comfort.
What Is An Orthopedic Dog Bed
While there is no legal definition of what constitutes an orthopedic dog bed (or an orthopedic human bed for that matter), in general, it is a bed designed specifically to provide additional support to the ​spine, joints, back, and the body overall.
This usually involves using a type of foam that is specially designed to be gentle on your dogs sensitive areas, reducing the impact of pressure against the ground, while still providing appropriate support.
How this is achieved varies significantly, but the most common method is memory foam.
Memory foam is made from viscoelastic materials that are able to conform to the different curves of the body, so it is able to adjust to the specific pressure points of your pooch.
Egg-crate foam is another common orthopedic alternative.
When Do Dogs Need An Orthopedic Bed
There are a variety of reasons why a dog might need an orthopedic bed. The most common reason is that they are starting to get older and suffer from muscle and joint degeneration or hip and joint issues.
It is larger dogs that usually develop these conditions, and sleeping in the wrong position can exacerbate the problem and cause them serious amounts of pain.
Most dog breeds are also prone to developing arthritis as they age and, therefore, need similar support for their joints.
But younger dogs may also need an orthopedic bed under some conditions. For example, if your dog is recovering from surgery and will be spending a significant time off their feet, an orthopedic bed can make a significant difference to their comfort.
Similarly, athletic dogs or working dogs that play hard can benefit from an orthopedic bed to enhance their recuperation.
Moreover, using an orthopedic dog bed while your dog is still young can help delay the onset of joint issues in later life and reduce their severity.
Aside from a diagnosis from your vet, it can be difficult to know whether your dog needs an orthopedic bed, as they can't tell you that they are in pain, but there are a few telltale signs to look out for:
Does your dog ever look like they are having trouble getting in and out of bed?
Are they a bit stiff and slow in the morning after spending the night in bed?
Do they change position a lot in bed, suggesting that they are having trouble getting comfortable?
Do they just not like sleeping in their bed generally?
If your dog is demonstrating any of these signs, it might be time for an orthopedic bed and a trip to the vet to see what else can be done for their comfort and happiness.
Regardless of why your dog needs an orthopedic bed, they provide lots of potential benefits:
Spine health by keeping the spine in better alignment while sleeping.
Reduced pain and inflammation in bones and other parts of the body as they do not pass hours against hard surfaces.
Reduced stress on your dog's body allows their immune system to work better for faster healing.
Improved blood circulation as pressure on the body can impede blood flow.
Prevents the formation of bed sores, which are a discoloration on the skin. These aren't only unsightly, but are a sign of the damage being done to your dog's body.
If you are looking for non-orthopedic beds, you will find the best dog beds for Labradors here.
Features Of A Good Orthopedic Dog Bed
When choosing an orthopedic dog bed, there are a number of features to consider.
Orthopedic Support
First and foremost, the point of an orthopedic dog bed is that it provides orthopedic support!
The main feature that will provide this support is memory foam, which is more expensive than other foams, so be suspicious of beds that seem too affordable.
The amount of memory foam that you need varies depending on your dog, and heavier dogs will need a thicker foam layer than others.
Other Comfort Factors
Orthopedic beds will often be designed with other comfort elements. Some will come with a pillow area that allows your dog to rest their head and keep their spine straight.
Some will have bolsters around the outside, which can also act as a pillow, a place to lean, and create a cocoon-like space for dogs that like to nest.
Yet others will deliberately provide a flat open space for dogs that don't like to feel enclosed when they sleep.
What is right for your dog will depend on them. Trial and error can be an expensive way to discover this, so observe how your dog sleeps, for example, how they rest their head to see what might work for them.
Size
Size is important for all dog beds, and it will be no surprise that the size of bed you need depends on the size of your dog.
Dogs need enough sleeping space to lie down comfortably, you don't want their feet hanging off the edges. At the same time, you don't want something that is too big.
Not only does this take up unnecessary room in your home, but it won't appeal to your dog in the same way as a cozy space.
It is a good idea to measure the space that your dog usually sleeps in to get an idea of what size bed they need. You can also measure your dog from snout to tail, as you will need a bed at least this size.
Water Resistant
Water resistance is not just about whether your dog has an accident. If your dog is spending quite a bit of time in their bed, it will have to deal with drool and any mud and grime that your dog brings in with them.
Plus dogs sweat, leaving behind their distinctive scent. If possible, you don't want to let these things soak into the bed, which will then start to smell, and will soon smell out your whole house.
Easy Of Cleaning
With smell and cleanliness in mind, it is a good idea to get something that is easy to wash, with a removable cover that you can pop into the washing machine on a regular basis.
Some beds will also come with additional 'cleanliness' features such as odor trappers.
Durability
Most dogs will chew their beds a little, but some dogs are worse for this than others.
Whatever bed you buy, it will need to be sufficiently durable to put up with whatever use your dog makes of it. Most are chew resistant, but if your dog is a serious chewer, you will need to consider something a bit more heavy duty.
Non-Slip Bottom
Many dog beds will come with a non-slip bottom to ensure that the bed stays in place when used on tile or hardwood floors.
Elevated
It can be worth considering an elevated orthopedic bed for your dog. It gets them up off away from the floor and any dirt and bugs that may be living there.
For larger dogs, it can also be easier for them to get in and out of bed, but this very much depends on your dog and their specific issues.
Tips For Making The Most Of Your Dog Bed
Respect Your Dog's Bed
Dogs like to have their own space, which is for them alone and won't be used by other members of the household, like you or the cat.
For dogs, their bed can be one of their safe places, so you don't want to do anything to undermine that, so sending your dog to their bed should never be used as a form of punishment.
If you have more than one dog in the house, it can depend whether you need one or two beds.
Puppies than have grown up together will often like to sleep together, and puppies can also form attachments to older dogs that can last a lifetime.
However, other dogs will prefer to sleep on their own, and they should have their own space to do that.
Location
In order to ensure that your dog gets the best use of their new bed, it is important to put it in the right place.
Dogs can be quite particular about the location of their bed. If you put it in the wrong place, their refusal to sleep in the bed may have nothing to do with the bed itself.
The best way to choose a location for your dog's bed is to see where they like to flop down and relax.
It should also be in a place that is not in the middle of a high traffic area, for their comfort and to ensure that they don't get under foot. However, your dog will prefer to sleep within earshot of the family and won't want to be secluded somewhere.
Training
If you find that you need to train your dog to actually sleep in their bed, the first step is to introduce them to the bed, calling them to the bed using a command such as 'go to bed.'
Once they are in the bed, you need to put them into the stay position. Keep them there for a few minutes, extending the period of time that you get them to stay each time.
Here's a useful post on how to teach your dog to "Go To Your Bed"
Crate training can be another useful tool in teaching your dog where to sleep.
The Verdict
A good orthopedic dog bed can be essential for dogs suffering from joint and muscle pain. It can significantly reduce any pain they may be experiencing and help them stay a bit more active and happy for longer.
Other dogs can also benefit from an orthopedic bed, providing preventative support to help delay the impacts of old age, which especially affect larger dogs.
There are a lot of orthopedic dog beds on the market, and it can be hard to know what to go for.
The first step is to look for something that uses memory foam or egg-crate foam to give your dog's body the kind of support they need.
It is then a matter of finding something that is the right size for your dog, both in terms of getting in and out and settling down for a good night's sleep.
You will also want something where they can get comfortable. Some will like a pillow, others a cozy enclosed space, and others like to sleep in the open. It is best to observe your dog's sleeping patterns to decide what is best for them.
Based on all the beds that we looked at, we think that one of the best orthopedic dog beds on the market right now is the Big Barker, which uses the latest orthopedic design to provide support to large dogs, who tend to need it most.
If you are looking for something more appropriate for smaller dogs, that is great for large dogs too, then PetFusion offers a great, versatile alternative.
​One final note: while we found a good orthopedic dog bed helped with our older dogs as they started to suffer with arthritis and joint pain we also found that glucosamine supplements worked wonders with Stetson and Linus.
How about you guys?
Do you have a favorite orthopedic dog bed?
​Do you do anything to help make your dog more comfortable when he sleeps?
Tell us your experiences in the comment section below.
Save to Pinterest
Best Orthopedic Dog Beds…sometimes the best dog bed is your sister :)
Top Picks For Our Dogs
For a list of all the supplies we get for our new service dog puppies check out our New Puppy Checklist on the PuppyInTraining.com blog.