This post may contain affiliate links. We may earn money or products from the companies mentioned in this post.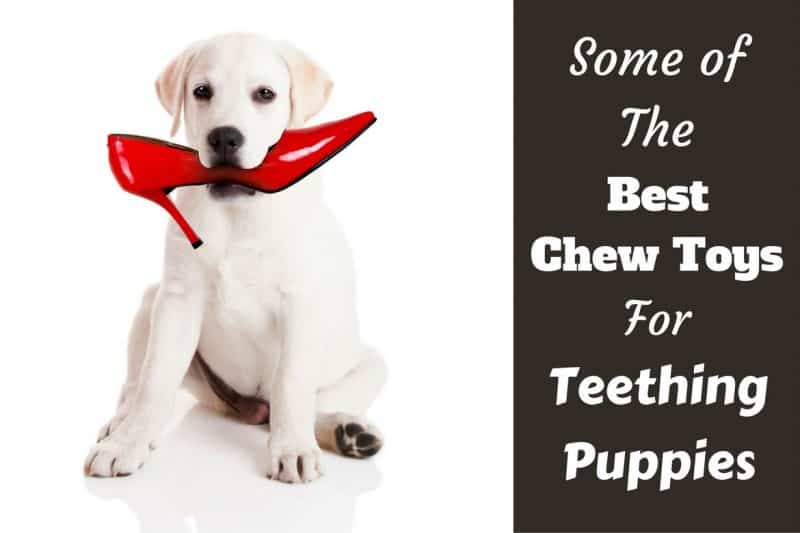 At a Glance: Our Choices for Best Chew Toys for Teething Puppies
OUR #1 RECOMMENDATION: We love the KONG Puppy Dog Toy. Our Labs love to chew and the durable KONG toys last a long time with all our new pups.
Introduction
Puppies have an overwhelming urge to chew from the moment they leave the womb. It's how they first explore and learn about the world around them. It's completely natural.
But wow! Does their chewing ever go into serious overdrive when teething begins! It's like an obsession and all they seem to live for.
But again, it's completely natural. They have sore, inflamed gums with teeth breaking through and the only relief they can find is to chew something… anything… to soothe the pain.
During this teething stage, many owners suffer the heartbreak of seeing their once lovely puppy start to destroy their home, gnawing their way through shoes, remote controls, furniture legs and more.
And anything a puppy can get away with that leads to a rewarding situation can easily turn into a life long habit as they seek that reward out time and time again.
One of your jobs then is to manage the situation. To supervise and intervene when they start to chew the wrong things – your things – and redirect them onto appropriate toys.
So you're going to need a good selection of chew toys for teething puppies.
Best Puppy Teething Toys: 8 of Our Favorites
The links above will take you to product information and reviews on Chewy.com
The following brands and models of dog toy are our top picks and recommended for young, teething puppies.
They are safe, high quality, have fantastic feedback and reviews from previous buyers and we're sure will keep your puppy entertained while soothing their poor gums.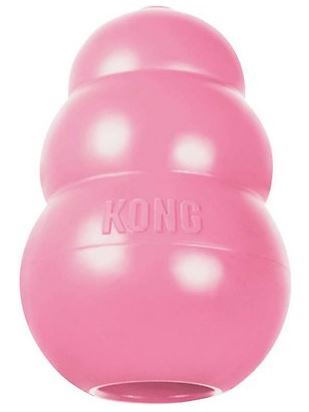 Kong is a market leader who produce a wide variety of toys best known for their durability and entertainment value for puppies and dogs.
These particular toys are made from a long-lasting rubber that can withstand years of abuse and although they aren't completely indestructible, it's very uncommon and incredibly difficult for a puppy to be able to tear anything off to become a threat for choking.
You just have to make sure you get the right size for your particular breed of dog (large for labs and other large breeds.)
Pros:
Made from incredibly tough, durable rubber so is safe and will last for even the most aggressive chewers.
Tough and safe enough to be left in your puppy's crate without supervision.
Hollow and can be stuffed and even then frozen to keep a puppy entertained for hours as they work to get at the treats inside, with the coldness of the toy soothing for teething gums.
Due to it's uneven shape it has an unpredictable bounce, making it more fun for your pup than a ball during games of fetch.
Made in America (a sign of quality some like to see!)
Cons:
If it isn't stuffed with food and is overused, some dogs tend to grow bored with this toy as they cannot rip it up, it makes no noise, it just isn't 'prey-like'. But of course, you will follow our advice and rotate your pup's toys and boredom will not be a factor. Right?
The shape gives your pup more chance to grip the toy and really go to town chewing, whereas many other toys can be hard for a young pup to tie down. This fact alone is a bonus.
But as with many Kong toys, the standout feature of this chew toy is you can stuff tasty treats in each end of the bone to keep your puppy happy for a good length of time.
Pros:
Made from Kong's famously hard-wearing rubber so is safe for the toughest of chewers, even to be left in a crate with a puppy when you're unable to supervise.
It's an interactive toy that can be stuffed, frozen, and keep a puppy happy for ages working at getting the food out of both ends.
If stuffed then frozen – and we recommend you sometimes you do – it can relieve the pain of inflamed gums while teething.
Available in blue and pink.
Made in America.
Cons:
Again, it's so tough and cannot be destroyed, nor does it squeak or make any noise, so if overused some puppies may become bored with it. So – rotate the toys!
Edible doesn't necessarily mean soft and weak and this chicken flavor teething ring proves that being tough and long lasting.
This ring is also available in pumpkin flavor but it's the chicken one that pups most go mad for.
Pros:
Easy for a puppy to hold in place for a good chewing session.
Light eight and fun shape that's easy and a pleasure for a puppy to carry around.
Low fat and gluten free – it won't ruin your puppy' diet.
Fortified with Omega 3 fatty acids.
Cons:
Can be chewed down to small pieces, so supervised chewing is recommended and they shouldn't be left alone with your pup in a crate if you're busy.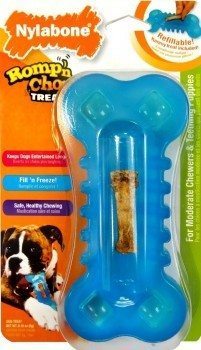 Another bone shaped toy, though this time from Nylabone, another big player in the pet toy market.
Pros:
Made from a soft material designed to be kind on puppies teeth, yet tough enough to be durable and long-lasting, suitable to be left alone with a puppy in their crate.
Textured with numerous different surface shapes that keep a chewing pooch happy as well as clean their teeth.
Can be stiffed and frozen for an interactive chewing session while soothing gums.
Made in America.
Cons:
Not so great for the most aggressive of chewers who some people have reported make short work of this toy. However, for a teething puppy it's ideal.
This is the second toy from Nylabone featured in our roundup. A fun, textured, chain link style toy that has many features to keep a puppy engaged, entertained and happy chewing for hours.
Pros:
3 different shaped 'rings', each with varying textured surfaces helps to keep a puppy interested in the toy for far longer.
Made from material soft enough for a chewing puppy, yet strong enough to withstand aggressive and sustained chewing.
Makes a noise with the 'links' banging against eachother when being chewed, which adds to the excitement for your puppy.
During chewing, bristles raise on the toy that help to keep teeth clean and healthy.
Strong enough to be left with a puppy unsupervised unless it's very worn (will not become a choking hazard.)
Made in America.
Cons:
Hard to find any – But perhaps the fact it cannot be stuffed with treats is a negative compared to the toys above?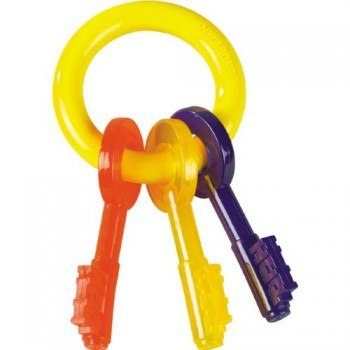 Another classic and extremely popular puppy toy from brand leader Nylabone, the puppy key-ring has many good features going for it:
Pros:
Soft enough for enjoyable chewing, strong enough to withstand it.
Lots of moving parts that make a sound when shaken – and toys that make ANY sound are always more preferable and fun for a puppy.
Irregular shapes and textures provide choices of different surfaces and feelings while chewing.
After some chewing, raised bristles are released that clean teeth to help dental health.
Small enough to throw and multiple holding points make it an interactive toy, useful for gentle games of tug or fetch.
Made in America.
Cons:
Not a toy that can be stuffed with treats (though variety is good!)
Also cannot be torn up, a thing dogs love to do that's near impossible.
To overcome these two cons, just make sure to rotate the toys, variety is key!
A fantastically enjoyable shape and flavored with either real bacon or peanut butter, It's easy to see why this chew toy is one of the most popular and best selling puppy chew toys in the USA.
Pros:
Made from a tough Nylon material so will outlast most other chew toys.
A unique and interesting, patented wishbone design that really appeals to puppies as a break from the norm.
Easy for a puppy to hold down with their paws for some really concentrated occupational chewing sessions.
Flavored with either one of two things dogs like the best: Bacon or peanut butter. Puppies go mad for these!
Strong enough to be left alone with a puppy unsupervised – they will not be able to tear chunks off it.
Made in America.
Cons:
Made of nylon, it is a little harder than most other chew toys on this page.
NOTE: This toy is bacon or peanut butter flavored, but it is not an edible toy. So when it starts ot wear out, it's time to replace it before it becomes a hazard.
As previously discussed, variety is the spice of life and no puppy toy collection is complete without some sort of flying disc or frisbee.
This toy is a great one for throwing, fantastic for tug, a great item to chew on and the perfect toy to rotate in and out of use to keep your puppy interested in the right things.
This toy is also vet recommended an approved, made from luggage material, plastic and an outer soft fleece. It's a tough little toy that's as close to indestructibly as you can find, yet soft enough to be a pleasure to chew on.
Pros:
Extremely tough and long lasting.
A great toy for teaching retrieving. Flying discs are a great toy to start games of fetch with.
It floats so can be used on water.
Available in a wide variety of shapes colors to suit every taste
Cons:
Mixed views in the customer feedback regarding the durability of the toy, with some saying their dogs made short work of it. BUT, these are 'dogs' not puppies. I recommend this toy for puppies with whom it will last for ages, but for an aggressive chewing adult there are better options you can find by clicking here.
Conclusion
Teething is a tough and testing time for both you and your puppy, but it doesn't have to be so for your prized possessions too.
With a small investment in some of the best teething toys for puppies featured above, you can keep their teeth on appropriate items and away from your household items.
The best advice is to purchase a few, make them different colors, shapes and styles, some stuff-able, some throw-able, some edible, and to rotate the toys in and out of use every couple of days to keep your puppy's interest high.
Choosing a good selection of the right toys can keep your sanity and your home intact!
Puppies Chew Obsessively While Teething – Cater to This Need
Depending on size and breed, puppies lose their milk teeth between 3.5 and 8 months old. During this 4 to 5 month period the urge to chew is as all consuming as it is entirely natural. They simply have to. Much like a human baby finds relief with chew toys while teething, so must a puppy.
Knowing this, if you provide a suitable outlet for their needs in the shape of fun puppy teething toys, you can keep their chewing away from your soft furnishings and family heirlooms.
Your goal with a growing puppy is to provide irresistibly fun teething toys, so they find the relief they need and don't have to – or want to – chew your belongings.
If your puppy is faced with the choice of either specialized teething toys that are more fun, relieving and ultimately fulfilling to chew on in comparison to your household items, they will always – OK, mostly – aim for their toys. Their needs are met more precisely and there will be no destruction and cost for you to deal with. A win-win.
What To Look For in the Best Toys for Teething Puppies
While teething, the urge to chew comes from the fact that the very act of chewing relieves the pressure of all these new teeth breaking out through and hurting their gums.
Also remember, that if your puppy doesn't even like the toy, they will look for something else to enjoy instead.
Furthermore, we want a toy with some durability or we will forever be spending on new ones and, of course, we must always have safety at the forefront of our minds.
Therefore, when choosing your puppy's teething toy, keep the following points in mind:
Must Be Soft Enough to Provide Relief, Tough Enough to Last
For a teething toy to work, it must have some give. It must be soft enough to feel like prey, to keep their interest in it high, and so they continue to use the toy.
However, the toy must be firm and durable enough to last more than a couple of hours, otherwise catering to your puppy's needs will soon become very expensive. BUT, it must not be too hard so that it hurts your puppy's sensitive gums.
We need to find a good middle ground between softness and durability.
Must Be Shatter-Proof and Must Not Break Into Pieces
It is a sad fact that many dogs and puppies die every year from choking on or by ingesting small objects – and fragments or small pieces that have broken off from cheap or unsuitable toys are high on this list.
So a suitable toy must be shatter proof and made from material that your puppy is unable to tear small pieces away from. Otherwise costly surgery – or worse – could be the result.
Try Different Shapes and Textures
Different dogs have different likes and dislikes. A toy one puppy goes mad for might be completely shunned by another. So you're encouraged to try a few different shapes and textures to see what works.
It's also good to provide variety and change because if stuck with the same toys, puppies soon get bored. Familiarity leads to boredom.
With a few toys at your disposal you can rotate them in and out of use. If your puppy hasn't seen a toy for a few days, it will be like a brand new toy all over again when you bring it out for their pleasure.
Toys Must be Appropriately Sized
An appropriate toy for a Chihuahua puppy could be swallowed by or choke a Great Dane puppy, a toy for a St Bernard puppy would be so large that it's unusable by a young pug.
Make sure the toys you buy are appropriately sized for the breed.
If it Tastes Good, All The Better!
What's better than simply chewing? Why, chewing on something that tastes simply great of course!
Many teething toys are edible these days (though still long-lasting), and many more can be stuffed with goodies that will keep your puppy entertained for hours as they try to work out the treats out.
Invest in tasty chews, not to use all the time, but to mix in for use now and then. These will become highly valued toys that your puppy will truly look forward to.
What to Avoid in Toys For a Teething Puppy
Not all toys are created equal! Some will last just 5 minutes, some your puppy will simply turn their nose up at, and others can be downright dangerous!
Here's a few tips on what to avoid when shopping for the perfect toys:
Cheap stuffed toys with squeakers: I must stress first that not all squeaky toys are dangerous, but cheap ones certainly can be. They can be very easy for your puppy to tear apart and if your pooch eats the squeaker it can be very dangerous indeed!
Make sure all toys are BPA free: BPA is a harmful chemical found in some cheaper toys, and studies have shown it to be toxic in even small quantities. Avoid at all costs.
Avoid toys that can be torn into pieces or that have many parts: Though it's rare to find toys with moving parts, or that can be easily broken into pieces, avoid these at all costs as they're a very real choking hazard.
Charity shop soft toys or toys for children: When comparing the price of a puppy toy to that of a toy bear for a child, or that can be found at a charity store, it's tempting to try to save a few dollars. Don't do it! Puppy toys are made to very different standards, they are made to be SAFELY chewed. This carries a little extra cost.
Avoid toys too small for the breed: We've already touched on this, but it's worth saying again. Small breeds need far smaller toys than puppies from large breeds. It's logical, but please do bear this in mind. You don't want to put your Labrador or large breed puppy in danger by giving toys they can swallow. Rule of thumb: Make sure the toy is larger than they can fit whole in their mouth.
Supervise chewing with edible toys: Not exactly 'what to avoid', more a recommendation for use. If you give your puppy edible toys, you should supervise their chewing. No need to watch them like a hawk, but at least be in the same room so you can hear if they get into trouble. Some puppies may try to swallow too large a piece and get it stuck. You want to be there to help.
Avoid anything that looks like household items: If you buy your puppy a cute rubber slipper to chew on, guess what will happen when they cannot find it? That's right, you've trained them to chew on your shoes. So avoid any toy that looks like a shoe, slipper, cushion, TV remote or anything you don't want them chewing for the rest of their lives.
How To Keep Your Puppy's Interest in Their Toys High
If your puppy gets bored of their toys, they will look for something more exciting to chew on. And if it isn't a toy, it will be something they shouldn't be chewing and something you'll likely regret.
Keeping your puppy's teeth on their toys start with picking great toys in the first place, but there's also a few things you can do to keep their interest focused on their toys:
Rotate toys in and out of use regularly: By only allowing your puppy to use a toy for a couple of days and then hiding it for a week, it feels like a brand new toy when you bring it back out.
Try popping toys in the freezer: A nice, cold toy to chew on is just the thing to help relieve the pain of inflamed gums when a puppy is teething. A teething puppy will choose this over your belongings in a heartbeat.
Interactive dog toys keep a pup entertained: There are many toys that can be stuffed with treats, are edible themselves or give a puppy a job to do in order to get a treat. These can be truly addictive for a puppy, working hard and feeling rejoiced after being paid of with their reward!
Product image credits: © Chewy.comPlease be aware this page contains affiliate links and LabradorTrainingHQ receives a small commission if you make any purchases through any such links. This has absolutely no effect on the eventual price that you pay and we are very grateful for your support.
Save This to Pinterest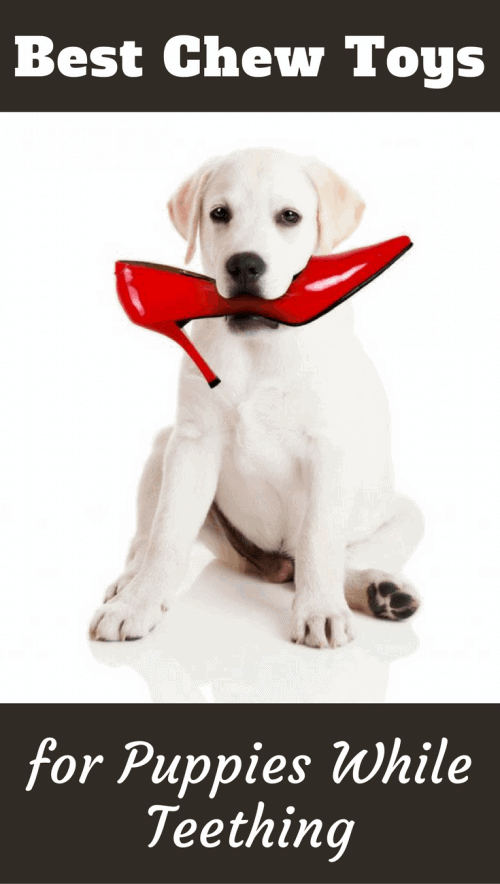 Top Picks For Our Dogs
For a list of all the supplies we get for our new service dog puppies check out our New Puppy Checklist on the PuppyInTraining.com blog.