This post may contain affiliate links. We may earn money or products from the companies mentioned in this post.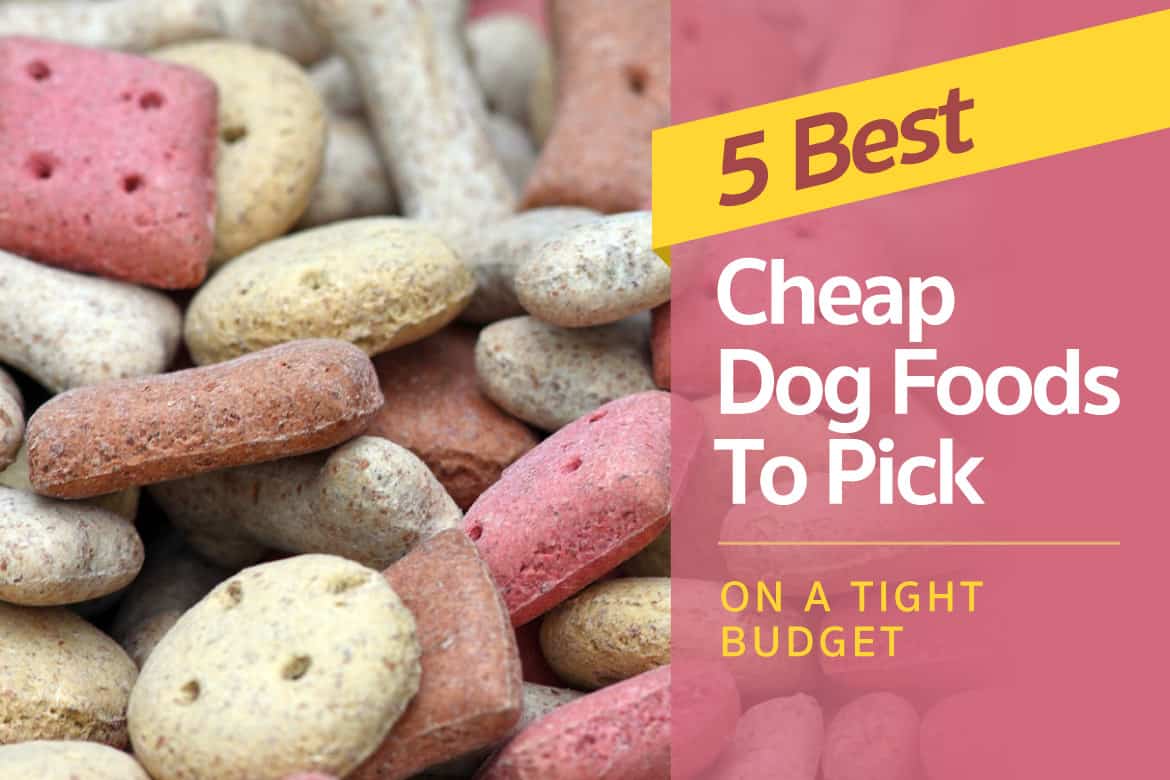 Looking for the best cheap dog food? Take a look at the top 5 most affordable dog foods on the market today.
OUR #1 RECOMMENDATION: Our favorite food if you're on a budget is Hill's Science Diet Adult Advanced Fitness Formula
Finding cheap dog food for your best furry friend can be one of the hardest decisions you'll have to make. However, we are not talking about poor quality. We mean affordable, high-quality dog food that your dog will love.
After all, the furry darling is a part of your family and you can't imagine feeding them something that is terrible for them just because the price is "right". But you also know that price can be a big factor in the dog food you choose for your pup, and that's okay.
At a Glance: Our Choices for the Best Cheap Dog Foods
SHOP FOR DOG FOOD ON CHEWY.COM →
But cheap dog food can often include cheap ingredients, such as meat by-products, chicken meal, and corn gluten meal. We strive to help you make the best-informed decisions regarding your dog and all things related—including finding an affordable dog food that won't break the bank but will provide your pet with everything they need.
Here is our top 5 list of the best dry food for the price point you're looking for right now. We know that finding the best inexpensive dog food is very important for all families and we want to be able to provide the best quality cheap dog food choices for you.
It is, in fact, still possible to find grain-free dog food with natural and high-quality ingredients. You truly can find the best budget dog food for your pup.
Product Reviews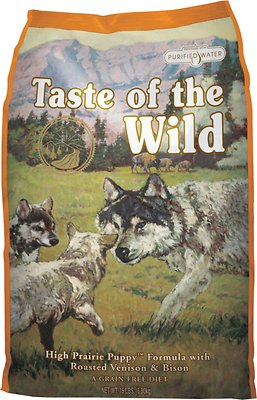 Taste of the Wild Hi Prairie Formula is one of the best inexpensive dog foods on the market right now. This kibble is grain-free, which is wildly important to pet owners due to the fact that grain can cause major issues for some furry friends.
Sweet potatoes, peas, and real meat are the top ingredients in this formula. With these top ingredients, puppies are sure to enjoy the delicious taste while also benefitting from the energy boosters they receive.
Taste of the Wild Hi Prairie Formula is packed with vegetables and fruits that promote a healthy lifestyle for your dog.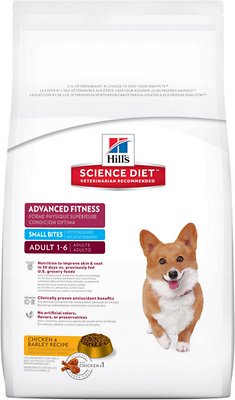 Omega-6 fatty acids, vitamin E, and more nutrients are packed into this Hill's Science Diet Adult Advanced Fitness Formula. This formula is exclusive to the Hill's Science product line and promotes healthy skin and shiny coats. Dogs look for healthy immune systems as well and this formula helps to develop a healthy immune system that wards off sickness.
This inexpensive kibble also has no artificial colors, flavors, or preservatives, which means all of the flavors and nutrition is natural. The small-sized bites are ideal for smaller dogs to chew and digest. With a price point in the lower range and a rating of 4.8 stars out of 5 stars, this is one of the best budget-friendly dog foods you can find.

Hill's Ideal Balance Grain-Free Chicken and Potato dog food prides itself in having chicken as its main ingredient. Chicken provides dogs with lean protein which helps them build and keep slim and trim shapes with lean muscles. Because the food is grain-free, brown rice with natural fiber is used for healthy digestion. There is no corn, wheat, soy or artificial colors, flavors, or preservatives.
Customers rated this product at 4.5 stars out of 5 stars showing high satisfaction for a lower-priced dog food. This formula also has Omega-3 & Omega-6 fatty acids to help dogs with their skin and coats (because this can be an issue for many breeds).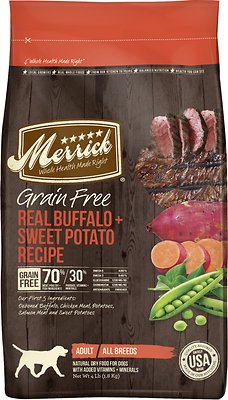 If you're looking for the best inexpensive dog food with real meat as the top ingredient, look no further. Merrick Grain-Free Real Buffalo and Sweet Potato Dog Food's first ingredient is real deboned buffalo. This is not a common meat used in dog food, which makes this particular brand and formula special.
The grain-free nutrition that is found in this formula is also really important to pet owners because of the sensitivities that can flare up when dogs are given grains in their food. Skin and coats are also cared for with this dog food. Absolutely no corn, wheat, soy, or gluten is found in this Merrick dog food formula. With a 4.5 out of 5-star rating, Merrick is a great choice for a lower-priced dog food.
Check out these sweet doggie friends loving their Merrick Dog Food!

With 4.7 out of 5 stars from Chewy.com customers, Natural Balance L.I.D. has many great features that make this a great and affordable choice. Grain-free is highly sought after in the dog food world and having limited carbohydrates also means optimal health for your pup. Omega-3 fatty acid from flaxseed gives your dog the best and healthiest coat to make it shine and shimmer.
If your pup has a sensitive stomach, this single animal protein dog food is the one for you. Finding dog food that has all of these qualities and is affordable can be very difficult, but Natural Balance has done a great job at joining the two qualities.
Conclusion
How many times have you searched for dog food that wasn't going to break the bank but was also still good, quality food for your best furry friend? If you're looking for the best dog food for the money, look no further. Finding quality dog food that has an inexpensive price tag can be difficult, but here at labradortraininghq, it is our mission to help you find the best and most affordable options for your best furry friend. After all, pets aren't just pets—they're family.
These 5 dog food brands/formulas are sure to give your pup the taste and quality they want and deserve while also allowing your wallet to remain intact. The best inexpensive dog food on the market today will make your dog's tail wag!
SHOP FOR DOG FOOD ON CHEWY.COM →
View our dog food guide here.
Top Picks For Our Dogs
For a list of all the supplies we get for our new service dog puppies check out our New Puppy Checklist on the PuppyInTraining.com blog.