This post may contain affiliate links. We may earn money or products from the companies mentioned in this post.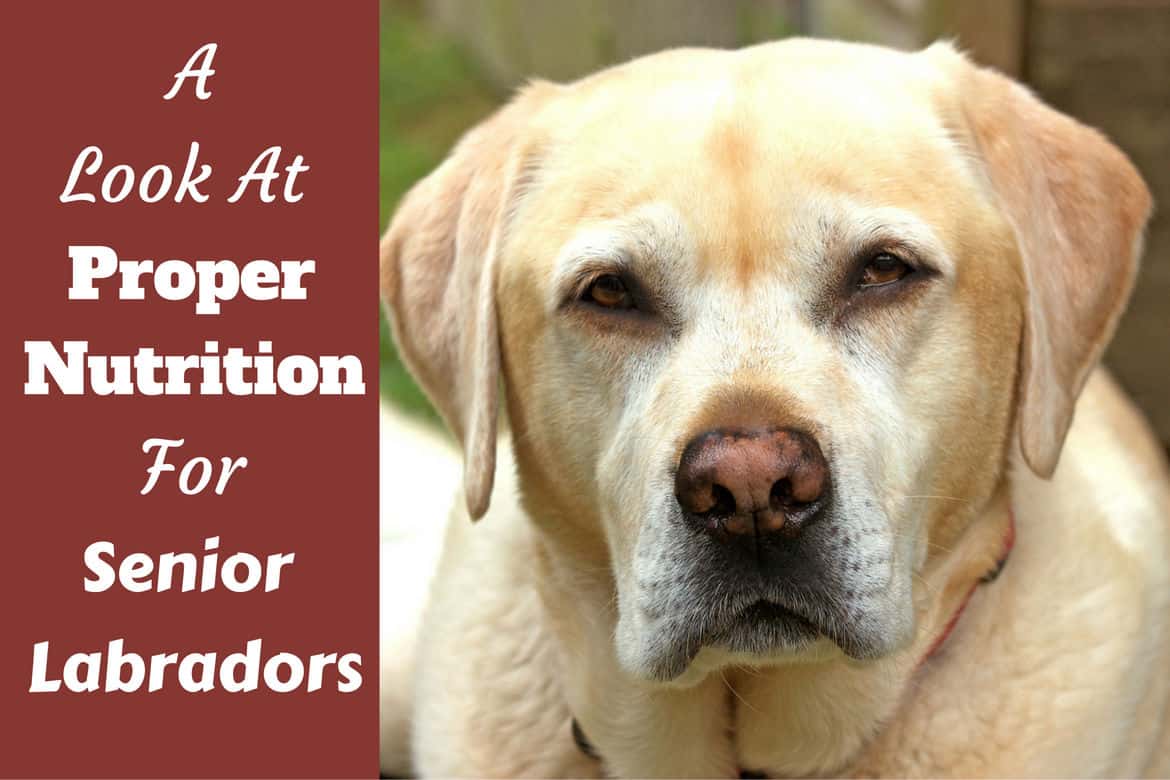 Dogs go through a life cycle not unlike that of humans: playful children, mischievous teens, settled adults, and, in many cases, cantankerous seniors.
The physical appearance of your dog will change significantly as it grows from a puppy into a mature Labrador.
And though further changes will occur even after they're full-grown, these changes will be subtle compared to the explosive growth of youth.
Nonetheless, the changes taking place in your dog's body are significant enough to require a change in diet to suit their age.
The nutritional requirements of a senior Lab are not the same as for a puppy, or even a younger adult.
This article will help you understand the changes going on in your Labrador, and to choose the best food for your old friend.
How Old Is Old?
Large breed dogs – such as Labradors – have on average shorter lifespans than smaller dogs.
Therefore, they will "age" more quickly than their diminutive counterparts; a dog that lives for 12 years will become a senior at an earlier age than one that can expect to live for 20 years.
There are varying opinions on what constitutes a senior dog. Some say that a dog can be said to be a senior halfway through its life, while others argue that the 2/3rds mark is closer to the truth.
Either are reasonable guidelines, but the point at which a dog can be considered to have senior requirements will vary from dog to dog.
When Should I Switch To Senior Food?
A healthy, active Lab may not need senior nutrition until fairly late in life. It may well be that your particular pooch is in great health and can readily continue eating standard adult food well into its old age.
On the other hand, onset of senior traits might come earlier in a dog that has been more sedentary, or has some health issues.
The bottom line is, you'll have to observe your own Labrador's behavior and physiology (and consult with your veterinarian), before making the decision to begin senior feeding.
As a general guideline, 7.5 to 10 years of age is the accepted age a Labrador becomes senior.
Health Issues Facing Senior Dogs
While good care throughout a dog's life will go a long way towards ensuring a healthy senior-hood, there are certain aspects of aging that are inevitable.
Life In the Slow Lane
A senior dog has a slower metabolic rate than a pup or young adult. Simply put, this means that the dog's body expends less energy when it's resting.
Couple this with (likely) decreased physical activity, and you've got a recipe for obesity.
Obesity is a very serious problem, and can lead to many serious conditions including heart disease and osteoarthritis. An overweight dog will also have increased strain on its joints, and digestive and respiratory organs.
Joint Pain & Other Problems
However, even a trim dog may develop arthritis, or some manner of joint pain, especially large breed dogs like Labs. Hips and knees are the usual suspects.
Other issues an older dog may face include (but aren't limited to):
Deterioration of skin and coat
Loss of muscle mass
Intestinal problems
Dental problems
Decreased ability to fight off infection
What's In A Senior Diet?
There are a variety of senior dog foods available to the consumer, each designed to counter specific ailments and conditions.
Such specialized foods can be a powerful addition to the proper care routine of an elderly Labrador.
Having said that, certain characteristics are common among most senior formulations.
Fewer Calories
Generally speaking, senior food is lower in calories and higher in fiber than food for younger dogs.
Again, it's important to know if these are appropriate characteristics for your Lab. An already underweight dog doesn't need fewer calories, nor does a dog with healthy bowels require extra fiber.
Protein
High-quality protein can also be found in better senior foods, which is great for maintaining muscle without promoting fat. And by "high-quality" I mean meat; your dog is a meat-eater, so don't mess with nature!
Look for chicken, poultry, fish or beef to be the primary source of protein. (Personally, I have found salmon to be ideal, especially for keeping a healthy coat as my Lab moves through his middle-age years.)
There have been studies in the past that suggest too much protein in senior dogs can lead to kidney disease.
These studies have been proven to be flawed and the results misleading. If your senior dog has a pre-existing kidney problem, talk to your vet about protein levels, by all means, but protein will not cause the problem.
Joint Health
Additives for joint health may also be found in senior dog foods.
Glucosamine and chondroitin are commonly used to combat arthritis and joint problems, and are frequently added to senior foods.
They can also be taken as supplements if necessary. (Always on the advice of a vet; never give a dog supplements or medications without professional consultation.)
Omega-6
You're probably at least familiar with omega-6 fatty acids with regards to your own diet. Turns out, they are good for your dog, too.
Gamma-linolenic acid (GLA) is one such omega-6 fatty acid, and it helps to maintain your Lab's skin and coat. A natural product of the liver, GLA production may slow as your dog ages.
Check with your vet to determine if extra GLA will help your dog.
Intestinal Bacteria
Intestinal bacteria, which sound bad, but are in fact part of a healthy digestive tract, can diminish in an older dog. This may result in gastrointestinal disease.
Check the label for FOS (fructooligosaccharides), which will promote good bacteria growth.
Antioxidants
Antioxidants are very important to your senior Labrador's health. Their purpose is to help eliminate free radical particles that can damage body tissues and increase signs of aging.
Antioxidants will also assist your dog's immune system, which we've already said may not work as well as it once did.
Look for vitamins A, C, E, Zinc, Beta-carotene and lycopene in senior food. Foods with rich, dark colors are often a source of antioxidants; apples, berries, carrots and broccoli are good examples.
Why Won't My Lab Eat?
There are many reasons why your older Lab may show a lack of interest in food, some are fairly benign, others more serious, but naturally this is always a concern for a food-loving breed like Labradors!
A visit with the vet will expose any serious issues that might be keeping your dog from eating, such as intestinal disorders, or cancer.
Dental Issues
Simple causes may be at the root of eating difficulty. For example, if your dog has always eaten large, dry kibble, its senior teeth (or lack thereof) may no longer be up to the task of chewing it.
Try soaking the kibble in warm water or broth to soften it a bit, or try a formulation with smaller and/or softer pieces. Adding some wet food might also help.
Taste & Smell
Older dogs may also have a decreased ability to smell, which makes food less tasty – as you may recall from plugging your nose to take medicine as a child!
Mix in some tasty new items with stronger flavor to entice your dog; broth is a good suggestion, or cottage cheese. You can also purchase flavor enhancers at some pet food stores.
To Each Their Own…Food!
It is tempting to always do what's easiest in life, and this extends to dog ownership.
It can be difficult to feed two different dogs two different kinds of food – they always seem more interested in what's in the other bowl – But it's important that each of your dogs eats the right diet for them.
If that means feeding them separately, or monitoring feedings, so be it. While there are foods that strive to offer balanced nutrition for all, ultimately you'll be short-changing everyone eating it.
Live Long And Slobber
We know our wonderful pets won't be with us forever, but we can do everything we're able to do to keep them around as long as possible.
Older dogs require closer monitoring by you and your vet to keep them healthy. And they need a diet tailored to their specific requirements.
Be an attentive owner, give them what they need, and your Lab will enjoy a happy 'second childhood.'
Disclaimer
All content on this site is provided for informational and entertainment purposes only. It is not intended to be nor can it be considered actionable professional advice. It must not be used as an alternative for seeking professional advice from a veterinarian or other certified professional.
LabradorTrainingHQ.com assumes no responsibility or liability for the use or misuse of what's written on this site. Please consult a professional before taking any course of action with any medical, health or behavioral related issue.
Save to Pinterest:
Top Picks For Our Dogs
For a list of all the supplies we get for our new service dog puppies check out our New Puppy Checklist on the PuppyInTraining.com blog.