This post may contain affiliate links. We may earn money or products from the companies mentioned in this post.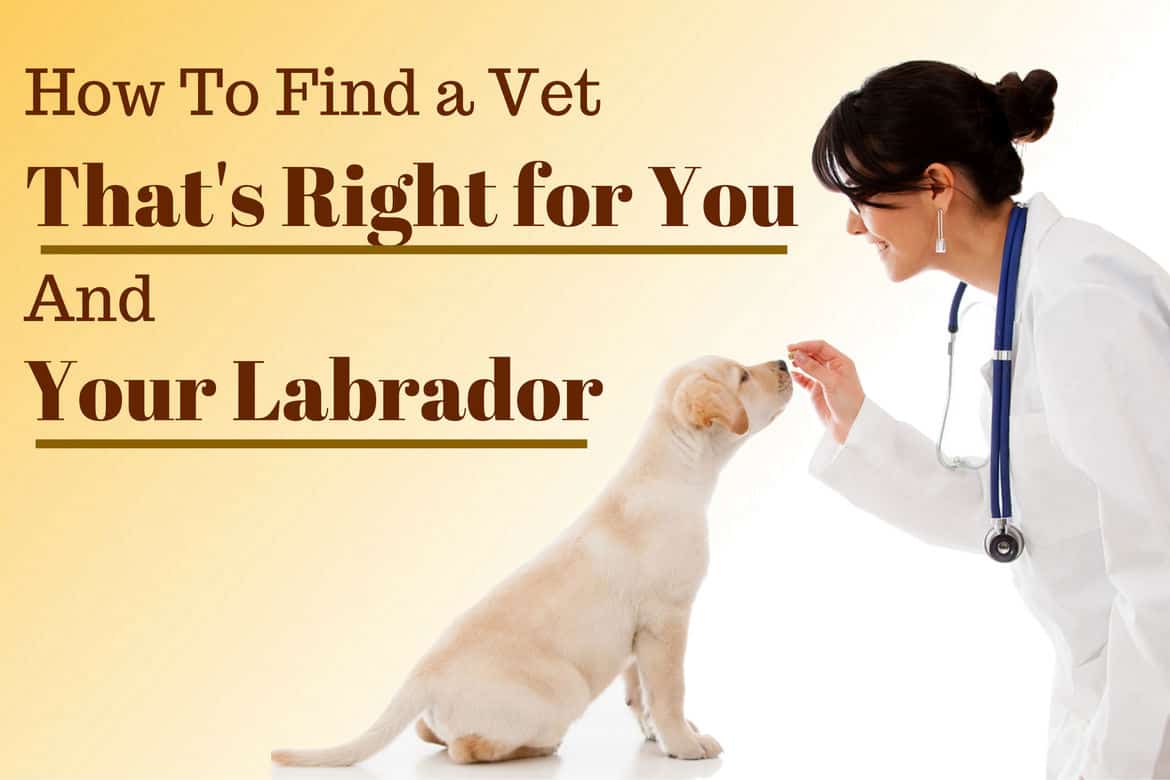 Finding the right vet for your Labrador Retriever might take a bit of time and effort on your part—calling clinics for pre-appointments, interviewing the doctor and staff, making a pros and cons list—but it's worth doing the work to find the right fit for both you and your dog.
And remember, the absolute worst time to choose a vet is when you actually need one. You want to be prepared in advance.
We've put together a helpful guide on how to evaluate and decide on a vet, whether you're:
Unhappy with your current veterinary care and need to switch to another clinic
Planning to get your first puppy or dog and want a professional opinion before you finalize things
Moving to a new home and are looking for someone that's closer to you
What To Do If You're Switching To A New Vet
If you've had a bad experience at your veterinary clinic, your instincts might be to immediately and completely cut off all communication with them (and maybe leave them a scathing online review too!).
However, before you make the switch to a new vet, make sure to ask for a copy of your dog's health records.
This way, your new vet can review your pet's medical history and you can avoid paying to have exams or tests redone—and spare your dog the stress of having to do a repeat.
How To Find Recommendations For A Vet
Referrals can often be the best place to start in your search. Ask family or friends for recommendations—but remember that their pet philosophy may not gel with yours.
Your ultimate goal is to find a vet whose approach to pet care mirrors yours…for example, how often you plan on vaccinating or what kind of diet you intend to feed your dog.
Try broadening your search to online directories such as Yelp or Yellow Pages to find vets in your area.
Other very good sources for referrals are your local animal shelter and your breeder (if applicable).
You can also find accredited veterinarians nearby by searching the American Animal Hospital Association (AAHA)'s website.
If you would like a vet that has specialized in canines, you can search for a "diplomate" that has been certified by the American Board of Veterinary Practitioners.
Before you get too far into your search, decide on a radius—i.e. how far you're willing to commute for your vet.
Depending on your circumstances, you may need a clinic that's in walking distance. Alternatively, you may be able (and wiling) to drive for hours.
No matter how near or far your clinic ends up being, you should always know where the closest emergency animal hospital is.
Having this information on hand could literally save your dog's life if you're not able to make it out to your regular vet because of time or traffic constraints or if you need immediate help outside of regular business hours.
What To Look For In A Veterinarian
Write down the names of vets who are in your preferred area. Once you have a good idea of your local options, you can start narrowing down the list by process of elimination.
You may find you have different deal breakers than the ones listed below, but this should give you a good start on knowing which questions to ask potential vets before you even make your initial appointment.
Call the clinic, mention you're looking for a new vet and ask if you can speak to the doctor or the assistant.
Mention you have a few questions and gauge their reaction. If they're rude and refuse to help, you already have more than enough information to cross them off your list for good.
If you do reach someone, ask about:
Expertise Caring For Labrador Retrievers
You may prefer a vet with breed-specific experience, someone who is aware of common health problems associated with Labs and can therefore give you the right advice.
It may not always be possible to find a vet that knows Labradors, but it's worth asking the question upfront if only to see what kind of response you get.
Does the doctor or assistant seem confident in their skills or apologetic about their lack of breed knowledge?
What Sort Of Fees And Services They Charge
Some vets may offer a free initial consultation while others may charge for it.
You may also have to work within a specific budget so it's always a good idea to know what sort of payments you'll be making to your vet—before you have to actually make them.
Are 24-Hour Emergency Services Available?
Some clinics operate on shifts and stay open 24 hours a day—but in this case, you may not always have the same veterinarian.
If having the same doctor is essential for you, try looking for a clinic that's associated with an emergency animal hospital instead or at least ask them for recommendations in case of an emergency.
Availability Of Specialized Equipment
Ask if the clinic can do things like blood work or transfusions on site.
It's also worth asking if they have a variety of diagnostic equipment available there, such as x-ray or ultrasound machines, or if they have to refer you to a specialist in those cases.
Your Options For Payments And Discounts
Some veterinarians offer discounts for multi-pet households. You may also be able to opt for a payment plan instead of having to pay all at once through check, cash or credit card.
How Many Vets On Staff
If you're comfortable with a particular vet, you shouldn't have to switch to another one at the same clinic if you don't want to.
Ask what the clinic's policy is in regards to scheduling appointments—do they give you the choice of doctor to see or assign you based on availability?
Things To Watch Out For During Your First Visit
You should try to schedule a pre-appointment visit to the clinics that are still on your list after your phone interviews.
You can go by yourself or bring along your Labrador. The benefit to having your dog there is you can judge how the vet interacts with them and not just with you.
However, you know your dog best so if they generally get nervous about the vet or new things, it's a better idea to do reconnaissance on your own instead of piling unnecessary stress on your pet.
Here's what you should look for:
Evaluate the commute. How easy is it to get to the clinic? Any traffic concerns?
Give the parking a rating out of ten. Is it convenient? Are there enough spots? Do you have to pay? Can you validate?
Once you're inside the clinic, watch how the staff interacts with you and also with other patients. Are they rushing you or ignoring you? Trust your instincts if you don't like what you see.
Also take the time to discuss the vet's philosophies in-depth. If your dog has any special needs, mention them. Ask about education, opinions on spaying/neutering, vaccines and anything else that's a hot button issue for you.
By gathering as much information as you can upfront, you can be sure you're making the right decision when it comes to choosing a vet.
What To Do If You're Going On Vacation With Your Pet
You can use the tactics described in this article to also find a vet while you're on vacation.
It's a good idea to have the number of a clinic local to where you're on holiday just in case of an emergency such as your dog eating something they shouldn't, having an allergic reaction or even picking up ticks.
It makes for a more relaxing time-off for everyone involved!
Do you have any insight on finding the perfect vet for your dog? Share in the comments below!
Related Posts:
Disclaimer
All content on this site is provided for informational and entertainment purposes only. It is not intended to be nor can it be considered actionable professional advice. It must not be used as an alternative for seeking professional advice from a veterinarian or other certified professional.
LabradorTrainingHQ.com assumes no responsibility or liability for the use or misuse of what's written on this site. Please consult a professional before taking any course of action with any medical, health or behavioral related issue.
Top Picks For Our Dogs
For a list of all the supplies we get for our new service dog puppies check out our New Puppy Checklist on the PuppyInTraining.com blog.