This post may contain affiliate links. We may earn money or products from the companies mentioned in this post.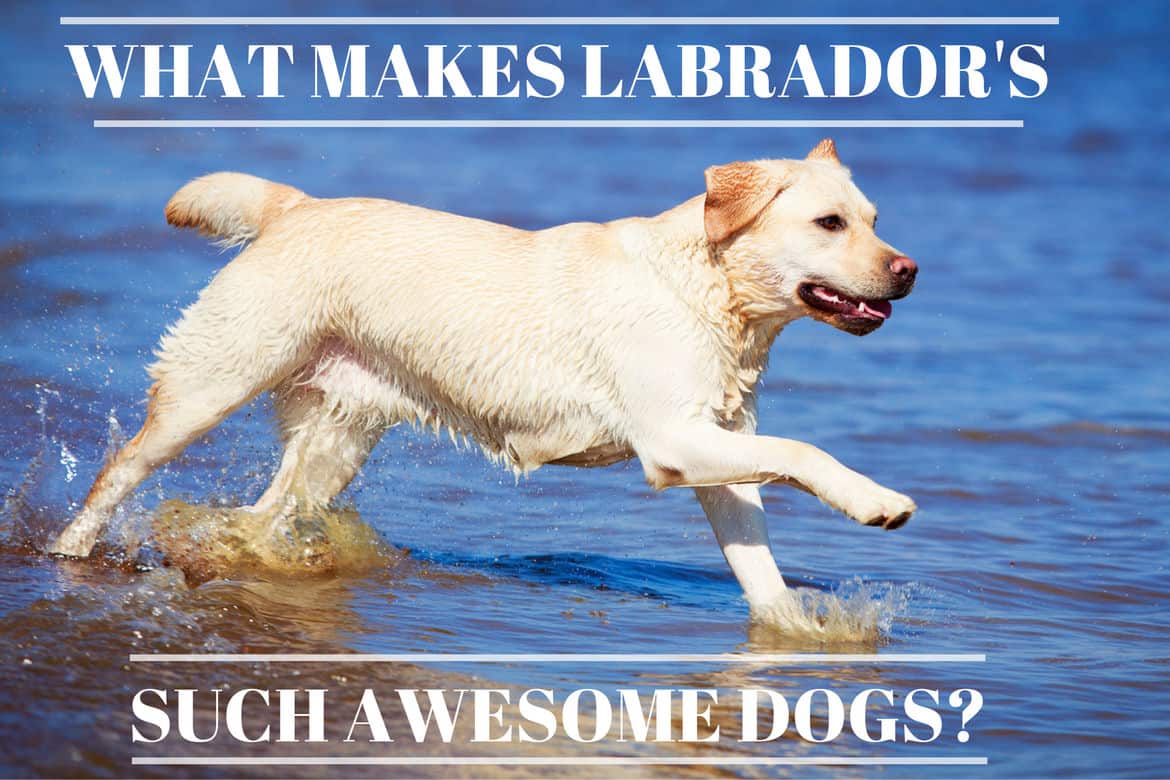 Even before the American Kennel Club (AKC) officially recognized the breed in 1917, the Labrador retriever had been earning praise and admiration for its hardworking, loving nature.
From its humble origins as a fishing dog in Newfoundland (no, not Labrador!) in the 1700s to rising in popularity as a hunting breed in England in the 1800s to today's lovable companion, the Labrador retriever is one awesome dog.
Recently, the AKC ranked the Labrador retriever as the most popular dog breed in the United States in 2018—for the 28th year in a row. As AKC Vice President Gina DiNardo says, "The Lab truly is America's dog".
We're calling it now: Labrador retrievers will be the AKC's number one most popular dog breed though 2020, and to show you why they deserve the top spot, here are 14 reasons why Labradors are such awesome dogs:
QUICK RECOMMENDATION: We've read many books and magazines about Labrador Retrievers. One of our favorites, Your Labrador Retriever Puppy is a great resource for all Lab owners.
1. Always Ready For Sport
In a nod to their origins as a hunting/fishing breed, Labrador retrievers are classified as part of the AKC sporting group, which means they're willing to retrieve anything—from downed ducks to that Frisbee you accidentally flung in the bushes.
2. The Original Fisherman's Friend
As they were originally bred to help retrieve fish and pull fishing lines to shore, Labrador retrievers instinctively love water, so if you love to swim, there's no better buddy than a Lab to take with you to the beach.
3. Selfless And Kind
Have you heard the story of Norman, a blind Labrador retriever, who rescued a drowning teenage girl by following her screams and towing her back to safety?
Though it's an exceptional story, Norman is by no means an exception to the rule as most Labs love to help out. Video of the whole story here.
4. Easy To Train
Intelligent but looking for a leader, Labs have been bred to follow human cues, and if they receive the proper training and attention, they make very well-behaved pets that can perform many more commands than "sit", "stay" and "roll over."
5. Has A Nose For Security
Customs and Border Protection Agencies often use Labrador retrievers to detect contraband, especially plant and animal products that, if imported into the country, could cause damage to the native ecosystem and the economy.
If you're wondering, the beagle—also in the AKC Sporting Group—is the other popular dog breed used by government agencies.
6. Good With Kids
Labs are a very gentle, patient breed, and with the right socialization and training, get along famously with children.
They share a similar zest for life, excitement and love of playing outdoors. As with any pet, however, it's never a good idea to leave your Labrador retriever and your kids together alone and unsupervised.
7. Good With Other Pets
Especially if introduced as puppies, labs are known to generally get along well with other dogs.
As with any changes to your family/pack, it's important to watch for signs of aggression early on.
If introducing an adult dog, consider choosing a neutral space such as a park for the first meeting to sidestep any territorial instincts.
8. How About Those Moves?
Though you might think of border collies as the quintessential agility dog, Labs are usually recognized as an agile breed.
Henry, a lab from Oklahoma, made history by being the first ever retriever to win the AKC's National Agility title in 2013.
9. In Sickness And In Health
Generally, Labrador retrievers are a healthy breed.
Typical issues can include hip and knee dysplasia, and eye problems, which are all unfortunately common in most dog breeds as they age. You can expect to share 10-12 wonderful years with your Lab.
10. Soft Mouth
As their name indicates, Labs were bred to retrieve downed prey such as ducks, grouse, rabbits etc. But a dog's usual instinct is to bite down on flesh.
Not so for the Labrador retriever, a breed with incredible control of jaw muscles that can be taught not to bite down.
11. Easy Grooming
Labrador retrievers have a short double coat to help keep them warm and waterproof.
They do shed—some more than others—so it's important to give your Lab a good brushing once a month or as often as necessary. Labs also like to roll around in dust and dirt, so keep a hose handy!
12. More Than Happy To Help
Labrador retrievers have a long history of being service dogs, whether by detecting contraband or acting as sight dogs or helping people with day-to-day tasks.
Labs have been shown to have the most success as guide dogs worldwide. Guide Dogs of America reports that 70% of their guide dogs are Labs.
13. The "Goldilocks" Dog
At 22-24 inches in height and 60-75 pounds in weight for males, and 21-23 inches and 55-70 pounds for females, Labrador retrievers are the perfect size for an active family: Not too big and not too small.
Given the right amount of exercise, Labs do okay in an apartment but are best suited for a home with a medium-sized yard.
14. Your Best Workout Partner
Love exercise? So does your Labrador retriever. Labs are known to be high-energy dogs that can keep going…and going…and going.
In fact, it's important to watch your dog for overheating or exhaustion as Labs are not the best at knowing when to quit.
But if you're looking for a daily partner who loves to run and play as much as you do, you can't pick a better dog than the Labrador retriever.
So there you have it:
14 reasons why Labrador Retrievers are such awesome dogs.
What makes Labs awesome for you?
Let us know in the comments!
Labs aren't for everyone. We also put together a list of reasons why you should not get a Labrador Retriever.
Are you still yearning for more information about Labrador Retrievers? One of our favorite books is Your Labrador Retriever Puppy . It has tons of information about our favorite breed.
Save to Pinterest:
Top Picks For Our Dogs
For a list of all the supplies we get for our new service dog puppies check out our New Puppy Checklist on the PuppyInTraining.com blog.