This post may contain affiliate links. We may earn money or products from the companies mentioned in this post.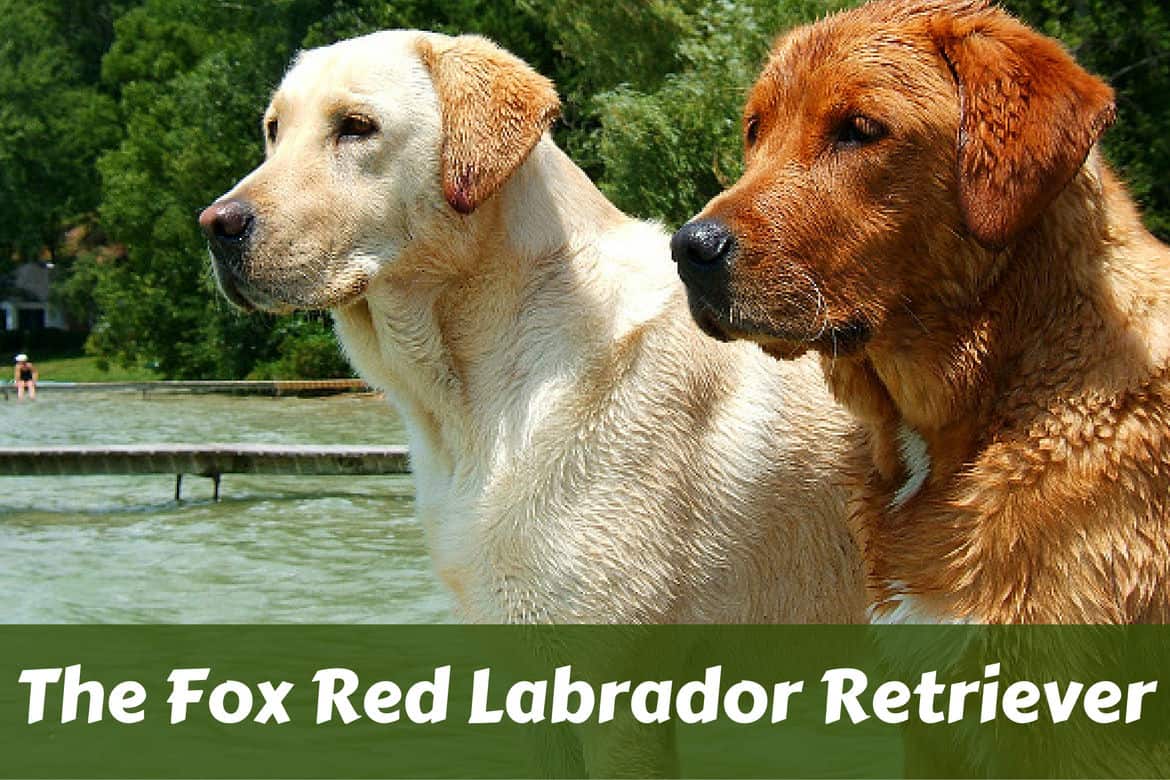 The Fox Red Labrador isn't a separately recognized color by the major kennel clubs around the world. It's just one of the somewhat wide variation in shades of Yellow Labrador available.
The American Kennel Club Labrador breed standard states: 'Yellow–Yellows may range in color from fox-red to light cream, with variations in shading on the ears, back, and underparts of the dog.'
So the term Fox Red Labrador is actually a bit of a misnomer. It's a Yellow. But seeing a more common yellow and a red side by side in the picture above, I think you'll agree it is a fitting description!
History of the Fox Red Labrador
Like most colors of Labrador in the earliest history of the breed, I'm sad to say the majority of fox red Labradors were culled at birth.
The Lab was a working dog used during hunting pursuits and the hunting fraternity heavily favored the Black Labrador over all other colors. And so red labs were relatively uncommon.
But in a reversal of the trend today, in the early days of the breed the more common shades of yellow that existed were dark yellow to fox red.
The lighter shades of yellow and cream that we think of as normal today, were actually quite rare. In fact, the first ever registered yellow was a dark golden color.
Ben of Hyde, registered in 1899 and seen in the photograph to the left, shows he's a relatively dark color and until the 1940s, this was certainly the norm.
However, through the mid to late 1900s, lighter shades of yellow and cream became more fashionable and breeders sought to selectively breed for these colors.
After some research I have two theories about why this may have been the case…
QUICK RECOMMENDATION: We've read many books and magazines about Labrador Retrievers. One of our favorites, Your Labrador Retriever Puppy is a great resource for all Lab owners.
Why Did The Fox Red Labrador And Darker Yellow Colors Fall Out Of Fashion?
This is mostly my opinion and not concrete fact, but the two theories I have on why the lighter colors of Yellow Labradors became more common are:
Firstly, during the early years of the breed the darker yellows and reds were more common. So when a pale cream or very light yellow was born, it seemed more exotic, rarer and hence more desirable. So breeders started to selectively breed for these colors and hence less and less reds were born.
Secondly, since the middle 1970s, a famous brand of British toilet paper, Andrex has used a pale Yellow Labrador in their television adverts. Their adverts went on to be shown in over 130 countries for over 35 years. So most people's view of a Labrador Retriever is that of a pale yellow lab.
Personally, I think these two events played a massive part in the shift of people's opinion of how a Yellow Labrador should look.
Most colors centered on a cream to light golden color. The dark yellows and reds fell out of fashion. But in the last 10 or 15 years, the range of available shades in the Yellow Labrador have once again widened.
The Fox Red Labrador And Rising Popularity
Lighter colored Labradors were rare in the early history of the breed. They stood out among the crowd and so they were more desired.
This caused breeders to try to match the demand and selectively breed for lighter colors.
This behavior eventually caused the decline of reds by actively 'breeding the color out'. Due to a lack of popularity of the dark red coat colors, it all but disappeared.
But this new-found rarity in turn made the darker red Labs more desirable. It's they who now stand out against the lighter colored crowd in modern times.
So now there are many breeders who are selectively breeding to try to obtain litters of reds to meet the demand of people who want the rarer color. Things have turned full circle.
Controversy Around The Red And Darker Yellow Shades
Being uncommon in comparison to the black, paler yellow and chocolate shades does make some people question the red Labradors pedigree. They question whether in fact they are a pure bred Labrador or not?
However, unlike the so-called Silver Labrador Retriever that is surrounded by accusations of outcrossing Labradors with Weimaraners to introduce the diluted coat color to the breed, no such controversy surrounds the darker colors of Yellow and Red Labradors.
They are a genuine, pure bred Labrador, with a history going back to the earliest days of the breed.
How Come They Cost So Much?
Another controversy is the fact that Fox Red Labrador breeders charge a far higher price than breeders do for the more traditional colors of the breed. They advertise their dogs as being a rare breed and charge a premium.
There is some truth in this, but this controversy also follows many other breeds and colors of dogs. This fact is true for 'White Labradors' (just very pale Yellows) and years back it was true of Chocolate Labradors too.
Personally, I agree with the fact it's a simple case of supply and demand.
If there aren't enough to go around, people will pay more and a breeder would be silly not to take advantage, just as they would in any other industry.
Are Breeders of Reds Irresponsible?
There is some anger among the traditional color breeders for the 'unethical breeding practices' accused of some red lab breeders.
It's said that some breeders will blindly breed for color with complete disregard for the health of the animals or for conformance to the standard.
There is some evidence to support this in a very few small cases, but there are some highly responsible breeders too and I think the good do outnumber the bad.
So please don't be scared off the shade for health reasons, just be sure to research the breeder and blood line of the kennel first…as indeed everybody should no matter the color of Lab you wish to buy.
Is The Fox Red Lab Temperament Different?
Many people have asked if different colored Labs have different temperaments. Is the Fox Red Lab temperament different from the other Lab colors?
In our experience, no a Fox Red lab has the same loving, friendly temperament as black, yellow, and chocolate Labs.
Further Reading:
For those of you that have a real interest in the Fox Red Labrador and would like some further and much deeper reading, I would suggest you take a read of the following three articles over at penara.com.
Penara are a USA based breeder (Iowa) of Fox Red Labradors. From what I have read on their site, they are highly ethical and very responsible. They are certainly very knowledgeable!
For a good history of the shade, including pivotal moments and important dogs through history: History of the shade
For general information on Fox Red Labradors, including genealogy, temperament, pricing etc, please read: About a fox red Labrador
For a good discussion of their struggles and successes in the show ring and field, and also for some stunning photos, please see: Fox Red Labradors Today
What Are Your Thoughts?
Do you own a Fox Red Labrador and have a story to tell? What do you think of the controversy surrounding the higher prices these dogs command?
Or the accusations thrown at some breeders concerning the health of the dogs in their breeding programs?
We would love to hear your thoughts in the comments below!
Are you still yearning for more information about Labrador Retrievers? One of our favorite books is Your Labrador Retriever Puppy . It has tons of information about our favorite breed.
Top Picks For Our Dogs
For a list of all the supplies we get for our new service dog puppies check out our New Puppy Checklist on the PuppyInTraining.com blog.