This post may contain affiliate links. We may earn money or products from the companies mentioned in this post.
Have you seen a dog that looks more like a big, white bear than a dog? You may be thinking of a Great Pyrenees Lab mix.
Also known as a Pyrador or Labrenees, this handsome dog is a mix between a Great Pyrenees and a Labrador retriever.
These intelligent and friendly pups have all the amazing qualities of a Labrador retriever, but unlike Labs, they have a Great Pyrenees' protective instincts, which makes them good guard dogs for your home.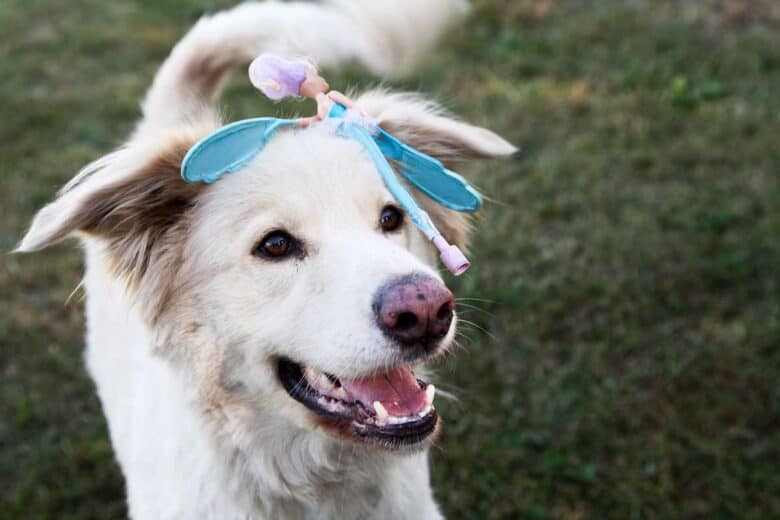 If you would love to have a little white bear (well, little by bear standards) at your side as a companion, read on to learn everything you need to know about these special crossbreed dogs.
Great Pyrenees Lab Mix Main Characteristics
Labrador retriever and Great Pyrenees mix
25 to 28 inches tall
75 to 120 pounds
Thick double coat with a woolly texture
High shedding
10 to 12 year lifespan
Intelligent
Energetic
History Of The Breed
Labrador retrievers are one of the most popular household pets in the United States. The dogs are originally from Canada but were exported to the United Kingdom where they were bred as game retrieving dogs with a particular talent for wet environments.
These dogs are known for their intelligence, eagerness to learn and work, and intelligent demeanor. This is why they are often utilized in roles such as disability support.
Great Pyrenees dogs, also known as Pyrenees Mountain Dogs, were bred in France as livestock guard dogs. They are large dogs that are able to protect flocks of chickens and ducks from animals like wolves and bears.
These dogs have been bred to be independent and protective so they can diligently protect their flocks without much supervision.
The Great Pyrenees Lab mix started to emerge in the early 1990s after Labradoodles became popular. Breeders started to wonder what other mixed breeds based on Labs could be popular. These dogs were immediately popular, as they looked like little white bears and had loyal, friendly personalities.
Appearance
First and foremost, you should expect your Pyrador to be a big dog. Labs usually measure between 21.5 and 22.5 inches and weigh around 55 to 80 pounds. Great Pyrenees are even bigger, measuring between 26 and 32 inches tall and potentially weighing up to 165 pounds.
Their mixed-breed children are large dogs with a strong and muscular body structure. Both breeds have a similar facial structure with a long nose and floppy ears, so you can expect some variation on that.
Most Great Pyrenees Lab mixes inherit the shaggy white coat of their Great Pyrenees parent. This is a dense, high-shedding double coat. Labs also have a high-shedding double coat, so whatever they inherit, expect them to shed a lot! Daily brushing is the best way to keep this under control.
Most Pyrador dogs are white because this is a dominant gene, and breeders often control for this desirable trait.
Temperament
Labrador retrievers are among the friendliest dogs. They tend to want to make friends with everyone, including small animals and small children. They are more likely to lick a stranger than bark at them or raise the alert.
Great Pyrenees, on the other hand, are warier of strangers, as is necessary for them to fulfill their role as protectors. They tend to be very loving and gentle with their family, the people they see as in their care, including children and other dogs. However, they can be aloof and even aggressive with strangers at first.
Proper socialization from a young age is necessary to keep aggressive tendencies in check and ensure they have the friendly temperament of a Lab, while still being able to raise the alarm when needed.
Both dog breeds thrive when they are part of a family, and this is something that is true of their offspring as well. While this means they become part of the family quickly, it also means they can become depressed or anxious if they are left alone for extended periods of time.
You can't leave these dogs at home by themselves for ten hours a day while everyone is at school or work. They do best in households where there is always someone around or if they can accompany their people on their daily adventures.
Intelligence & Trainability
Both Labrador retrievers and Great Pyrenees are considered to be among the most intelligent dogs, but their intelligence manifests in different ways.
Labs tend to be very keen to please their humans. They love learning new things and having work to do, especially if they are rewarded for their efforts. This makes them among the most trainable dogs and is the reason why they are often chosen to complete complicated tasks such as disability support tasks.
Great Pyrenees dogs were bred to be intelligent enough to know what to do on their own to protect their flock. This makes them very independent and less inclined to perform for reward.
While their mixed-breed offspring certainly can be trained, it is best done at a young age, before six months, so they learn the essentials before their independent streak really kicks in.
Never use punishment with a Pyrador. Labs are sensitive and it can cause unexpected behavior, and you might completely lose control of a rebellious Great Pyrenees. Always opt for reward-based training and offer lots of praise.
Energy & Exercise
Great Pyrenees Lab mixes are both large and energetic, so it should come as no surprise that they need lots of exercise. They should be taken out for at least one formal exercise session each day for about an hour.
As well as physical stimulation, these dogs need plenty of mental stimulation. This is why it can be useful to teach your dog tricks, even if they aren't things they need to know. The learning process is stimulating and helps keep their brains healthy and their attitudes calm.
Consider teaching your dog hand signals as a new and useful skill for them to master.
The size of these dogs means they don't adapt well to apartment living. They may start to feel frustrated if they can't even run three steps without hitting something.
Ideally, these dogs need a larger space with an outdoor area where they can burn off their energy as needed throughout the day. Both parent breeds are working dogs, so they can't just sit around all day waiting for you to exercise them.
Health Concerns
Great Pyrenees Labrador retriever mixes are generally healthy dogs and have a life expectancy of roughly 10 to 12 years, which is good for such a large dog.
But like many large dogs, they can suffer from elbow and hip dysplasia. This is a malformation of the joint usually caused by different parts of their body growing at different speeds, causing their joints to not fit together correctly. This can cause them great pain and mobility issues as they get older.
The best protection against this condition is proper nutrition and exercise starting when they are young. Big dogs need a high-quality diet that is full of animal-based proteins. They also need plenty of exercise, but not too much when they are a pup. Over-exercising energetic puppies is often a problem. 
As a rule of thumb, they should have about 5 minutes of formal exercise each day for every month of age. So, according to this general rule, a six-month-old pup needs about 30 minutes of exercise a day.
Another potential health issue to keep in mind is bloat, as larger dogs are more prone to overeating. They also tend to have sensitive stomachs. Avoid irritants and overfeeding to keep their digestive system healthy.
Labradors are also prone to overeating because they love food and don't really get that "full" feeling. This can easily lead to obesity if you don't control their diet carefully. Never leave food out for them to graze.
Instead, have set meal times with the right amount of calories, and never feed them food off your own plate! Keep track of their caloric intake and prevent them from begging others for food.
Pyradors can also often develop both sight and hearing problems as they get older. It is not uncommon for them to lose at least some of their sight or hearing, but they are usually adaptable enough to manage with just a little bit of extra help from you.
Other concerns include the potential to develop osteosarcoma, a common bone cancer in dogs, and degenerative myelopathy, a progressive spinal cord issue. While these problems aren't particularly common in Pyrenees Lab mixes, they still occur more often than in many other breeds.
Should I Get A Great Pyrenees Lab Mix?
Having read our full description of these wonderful dogs, are you considering taking one home? Or are you still not sure if they are the right dog for you? Ask yourself the following questions to make a more informed, responsible decision.
How Big Is Your Home?
Pyradors are big dogs, and by definition, big dogs need a lot of space. Because Pyradors are also high energy, they really need a relatively large home with an outdoor space that they can use throughout the day.
Do You Have An Active Lifestyle?
These dogs need lots of exercise. An hour a day is the minimum amount they need to thrive. On top of this, they should be joining you on hiking trips, swimming excursions, and other adventures. Do you have the kind of active lifestyle that this dog will enjoy as well?
Is There Usually Someone Around The House?
These dogs love being around people and can develop separation anxiety if they are left alone for extended periods. Not only is this bad for their health, but it often manifests as destructive behavior.
Is there generally someone about your house, or is everyone out for hours at a time at work and school? Do you have the kind of job where you could take your dog with you most days?
Do You Have Experience With Dogs?
While these dogs are very intelligent, they can also be quite stubborn. This means they need to be trained extremely well from the outset, and they need a firm hand to guide them.
They will respond best to an authoritative figure with the confidence to control such a large canine. While first-time owners can certainly take on the challenge, you'll need a high level of confidence with dogs.
How Do You Feel About Dog Hair?
If you or someone close to you has a dog hair allergy, then this is not the dog for you! Pyradors shed a lot, and there is not much you can do about it. Even if you don't have an allergy, you will need to commit to daily brushing and clean your house regularly to keep on top of the dog hair.
You can read our complete guide to keeping your home free from pet hair here.
Do You Have Small Children?
These dogs are inclined to "adopt" small children and small animals within their family as their own and can be very protective of them. So, you can certainly have a Pyrador around small children, though they do better with older children.
Their size and energy levels mean they can easily overwhelm small children and be a burden for new parents. They do better with slightly older children who can play with them more independently.
Still, small children should never be unsupervised with dogs, even if they are very familiar. Accidents can always happen, especially with large dogs like this one.
Do You Want A Guard Dog?
One thing that you get with a Great Pyrenees Lab mix that you don't get with a purebred Lab is a guard dog. The protective instinct of their Great Pyrenees parent means these pups are up to the task.
Can You Afford It?
Owning a dog can be quite expensive. You'll need to budget for food, medical treatment, bedding, toys, and more. Can you make this financial commitment? This is an important question, especially when speaking about large dogs since they eat a lot.
A dog that weighs more than 100 pounds needs about five cups of food per day. These dogs have sensitive stomachs, so you need to give them good quality food. This can get expensive. Are you willing to make that commitment for the next 10 to 12 years?
Great Pyrenees Lab Mix FAQs
How big will a Great Pyrenees Lab mix get?
Considering Great Pyrenees are big dogs that can weigh up to 165 pounds, their offspring are also pretty big. When mixed with a standard size Labrador retriever, you can probably expect your pup to grow to between 23 and 28 inches and anywhere from 70 to 120 pounds.
Are Pyradors good dogs?
Yes, Pyradors are great dogs that mix the friendliness and intelligence of a Lab with the protectiveness and loyalty of a Great Pyrenees.
They need to be properly socialized and trained, and they need lots of love, attention, and exercise. If you can meet their needs, you'll be sure to get a trustworthy and playful family dog who can also work as a guard dog.
Are Great Pyrenees aggressive dogs?
Great Pyrenees are not naturally aggressive dogs, but they have been bred to protect livestock from the likes of wolves and bears.
So, while they certainly aren't the type to get aggressive for no reason, they know how to protect themselves and their loved ones if threatened. Proper socialization as a pup, before six months of age and throughout their life is essential to ensure your dog continues to be friendly and trainable.
Are Great Pyrenees smart dogs?
Yes, Great Pyrenees are considered to be highly intelligent dogs, but that does not make them highly trainable like a Labrador or a poodle. This is because they have a very independent mindset and prefer to think for themselves rather than be led. However, appropriate training from a young age can keep their rebellious streak in check.
The Verdict
If you love larger dogs and would love to snuggle up on the couch with a cuddly white bear, then a Great Pyrenees Lab mix might be just the dog for you. These big, fluffy companions are gorgeous and mix the friendliness of a Lab with the natural protective instincts of a Great Pyrenees.
They make great family pets and can also function as guard dogs.
Keep in mind, though, that these pups are quite a bit of work. They are big dogs that need lots of exercise, love, and attention, and they shouldn't really be left on their own for extended periods of time.
They also need to be properly trained and socialized when they are young, and they need to learn new skills throughout their lives to keep their brains healthy.
Overall, the Pyrador is:
Protective yet independent
Intelligent and friendly
Large with a dense, high-shedding coat that needs frequent grooming
While it is certainly a commitment to become the parent of a Pyrador, the unconditional love and friendship you will receive in return makes it well worth the investment.
Have you ever worked with a Great Pyrenees Lab mix dog? Share your experiences with the community in the comments section below.
Save To Pinterest
Top Picks For Our Dogs
For a list of all the supplies we get for our new service dog puppies check out our New Puppy Checklist on the PuppyInTraining.com blog.