This post may contain affiliate links. We may earn money or products from the companies mentioned in this post.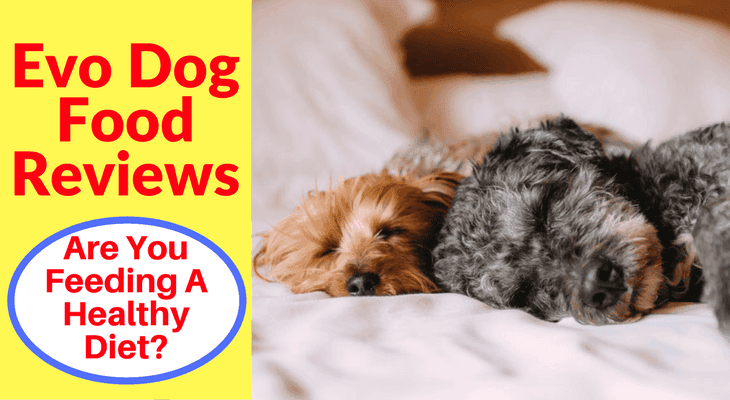 This product has been discontinued.
Introduction
Described as the pet food that'll make your dog howl, Evo is a high protein, low-carb, grain-free dog food. It's rich in omega-3 and omega-6, and other omega fatty acids, as well as chelated minerals and vitamins. Evo is one of the most protein-rich dog foods available with a protein content of 42%. It's also one of the most nutrient-dense products.
Although it's more expensive when compared to some other brands, pets eat less of it and require smaller portions. This could be due to the food being so high in nutrients and protein. The natural flavor also makes it taste good, even without all the nasty ingredients like artificial flavors, corn or wheat, dogs gobble it up according to their owners.
Rating
This is a tough one, for the simple reason that Evo dog food ticks all the boxes as far as healthy and tasty dog food goes. However, there seems to be a human cost when it comes to this range because of Mars, the company that owns Evo, and various issues including slave labor and poor working conditions. For this reason, our rating is 4.5 stars out of 5.
At a Glance: Our Choices for the Evo Dog Food Reviews
DOG FOOD

DETAILS

OUR RATING

Turkey & Chicken Formula Small Bites

The main ingredients are turkey, chicken, chicken meal, salmon meal and menhaden meal
These fresh meats offer crucial nutrients including amino acids, minerals and other building blocks for your dog's muscles
Has zero grains
Enriched with omega 3 & 6 fatty acids for a healthy skin and coat
It's inspired by nature, providing an ancestral-like diet to your mutt

​Turkey & Chicken Formula Large Bites​​​​​

Contains tasty turkey and chicken to meet your dog's cravings
Includes about 82% animal-based proteins
Also rich in omega 3 & 6 fatty acids
It's a grain and gluten-free formula

Consists of 78% animal-based proteins from beef, pork, bison, venison and lamb
Other ingredients are tapioca starch, peas and sunflower oil
Void of grains and glutens, making it highly digestible
The fruits and veggies provide essential vitamins and minerals

Made up of five distinct red meats including beef, pork, bison, lamb and venison
Also has omega 3 & 6 fatty acids for a healthy skin and coat
Enriched with fruits and vegetables for a well-balanced diet
Low carbohydrate intake

Herring & Salmon Formula Adult

The core ingredients include herring, salmon meal, menhaden meal, tapioca starch and peas
Perfect for puppies to boost their growth and development
Has high concentrations of omega 3 & 6 fatty acids
Supplemented with EPA and DHA

​95 Chicken & Turkey Recipe in Gravy

It's a type of canned wet dog food
Constitutes about 95% animal protein sourced from chicken and turkey
Also has antioxidants, vitamins and minerals that boost your dog's skin health
Highly-palatable

A high concentration of animal proteins such as beef
The fresh meats is an excellent source of amino acids
Void of grains, and this minimizes carbohydrate intake
Offers a well-balanced diet for adult dogs
​Review
So, is Evo dog food good? Yes, it is. The products are advertised as an ancestral diet that meets the modern nutritional needs of your dog. It's aimed at dog owners who are keen on raw pet food but prefer a cooked food that is similar to, or matches the many benefits of frozen, raw home-prepared food. According to the company behind Evo, it was the "original and industry first grain-free, low carbohydrate ancestral diet."
Their product line is a little limited but they do have canned and dry foods, as well as treats. Their ranges include red meat, herring and salmon, chicken, and turkey and weight management formulas. It seems that people who buy Evo for their dogs are happy with the nutritional value and the pups seem to enjoy the taste.
Pros
No Grain, Gluten or Protein
Because Evo products are similar to a dog's ancestral diet, there are no grains, potatoes or gluten in the product. There are also no artificial colors, flavors or preservatives and no chemical additives. Put simply, your dog will enjoy this grain-free dog food.
High-Quality Protein Content
The protein levels are high—in fact, one of the highest as far as dog foods go. The main sources of high-quality protein are fish, red meat, and poultry and there are no animal by-products.
Low-Carb, High Protein Formula
The high-protein, low-carb formula supports lean muscles and maintains a healthy weight. While the meat, oils, and fats leave the dogs' coats healthy and shiny. Also, because of the concentrated protein, dogs need smaller servings.
Cons
Cost
Evo is one of the more expensive dog food brands on the market.
Ethical issues
There are concerns with regards to how and where Mars gets their fish, which, in turn, raises concerns about the working conditions of employees. There have been reports about the dangerous working conditions at Mars Petcare's manufacturing plant in Missouri. However, the facility was closed (due to unrelated issues) before any follow-ups could be done.
Product line
Evo isn't the largest brand, offering only seven products: five Evo dry dog food options and two canned. But while their offering is small, the products are packed with ingredients of above-average quality. They continue to maintain a high standard, ensuring their food is dense and rich in nutrients.
Evo's Dry Products
There are five different recipes for Evo's dry dog food, although technically there are three. Their Turkey and Chicken formula and red meat formulas are available in small and large breed recipes. The formulas contain protein-rich meats and grain-free carbohydrates for complete nutrition and a balanced diet.
At a Glance: Our Choices for the Evo Dog Food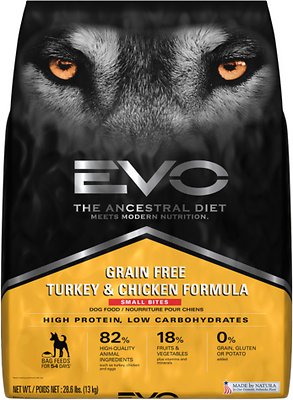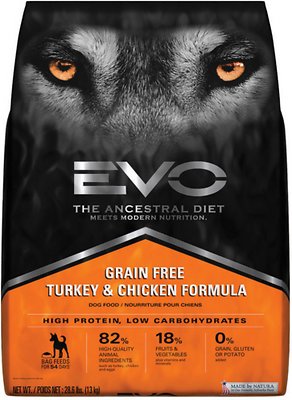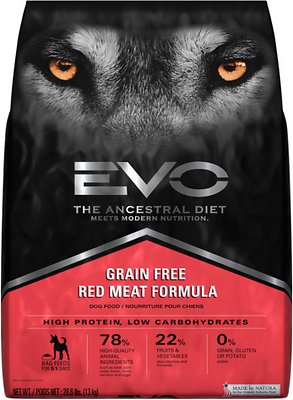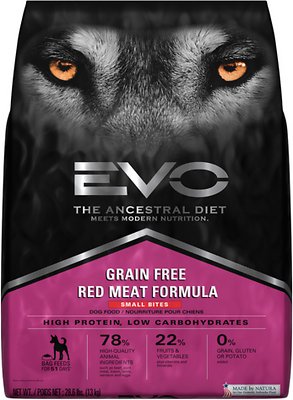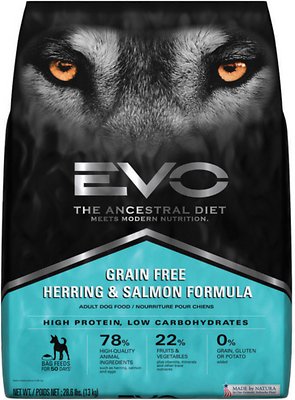 Evo's Wet Food Products
There are only two products in their wet food range. They're both made with 95% animal protein including beef or chicken. The nutrition of the wet food is complete and balanced and, because of the high protein content, it has plenty of natural flavor.
Their wet or canned food range includes: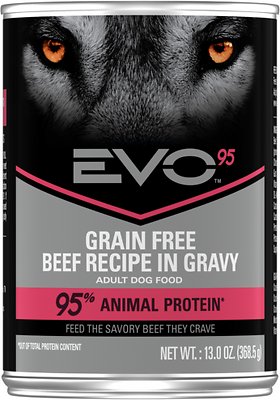 Ingredient Analysis
The philosophy behind the pet food range is that a dog's diet should be high in protein and low in carbohydrates that incorporates complete and balanced nutrition. The first three to five ingredients are usually meat or meat-based and the source of carbohydrates is potatoes. The food is grain-free.
Overall, the quality of the ingredients is good, with no meat by-products.
The overall quality of the ingredients appears to be very good. There are also no artificial colors, flavors, sweeteners, or preservatives and the meat used is either whole meat or meal. Chelated minerals are used which are known to provide better nutrition for dogs.
For more information on the ingredients used watch this video:
Recall history
There has been Evo dog food recalls in the past with the most recent being in June 2013. They recalled their dry dog food, bars, treats, and biscuits because of possible Salmonella contamination. Prior to that in March and April of the same year, there was an enormous recall of Natura brands, which included Evo. This was also due to possible salmonella contamination.
Recall information can change, which is why it's best to look at the FDA pet food recall list for more up to date information to ensure your pet's food hasn't been included in any recalls.
Conclusion
This is a bit of a tough review because while the quality of the dog food is high, and owners and pets are happy, there's more that goes into buying a product and supporting a brand and a company.
There are issues with slave labor with regards to the fish used in the products and Mars Petcare, the company that makes Evo dog food, apparently doesn't treat its work well. These are issues that shouldn't sit well with anyone and unless something's done, there's no reason for big companies to change their questionable business practices.
Top Picks For Our Dogs
For a list of all the supplies we get for our new service dog puppies check out our New Puppy Checklist on the PuppyInTraining.com blog.