This post may contain affiliate links. We may earn money or products from the companies mentioned in this post.
If you have always wanted a friendly and intelligent Labrador retriever but are worried about having enough space for such a big dog, then the Dachsador may be the perfect pooch for you.
As a mix between the ever-popular Lab and Dachshund breeds, the result is a dog with the intelligence and friendly demeanor of a Lab but the smaller size and lower shedding coat of a Dachshund.
Dachsadors, like their Lab parents, are still high-energy dogs that need lots of exercise and lots of love and attention. However, due to their smaller size, they will thrive much better in a smaller home and can cope with a bit more time on their own as well.
Dachsadors are actually relatively rare, so you may need to seek out a specialist breeder to find a pup. Still, it is always worth checking at local shelters first, as you may find a Lab Dachshund mix pup in desperate need of a home.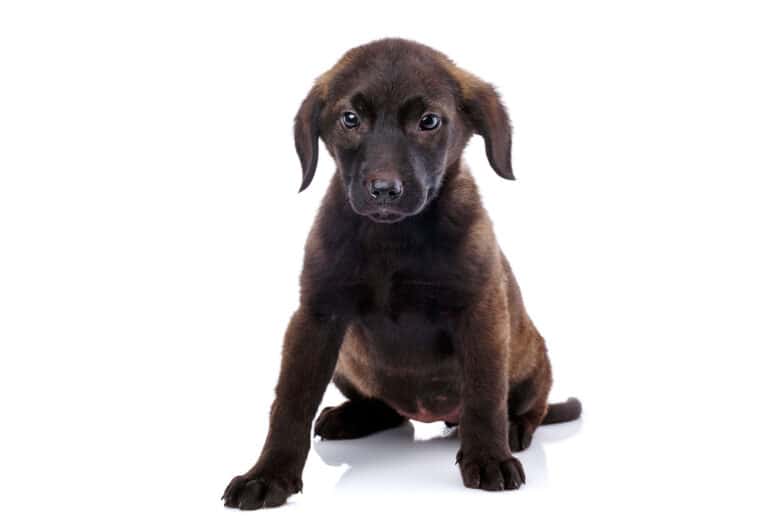 Read on to learn everything you need to know about this fascinating crossbreed and decide whether a Dachsador might be the perfect addition to your family.
Dachsador Main Characteristics
Height: 15 to 25 inches tall
Weight: 30 to 40 pounds
Lifespan: 12 to 14 years
Key Characteristics: Intelligent, highly trainable, high-energy, low-shedding
Dachsador: History Of The Breed
The Dachsador emerged in the last few decades by mixing Labrador retrievers with Dachshund dogs. The Lab will always be the mother of the crossbreed pup, as the female should always be the larger of the two dogs to ensure that she doesn't face any unnecessary size challenges when birthing her new babies.
Modern-day Labradors, which are the most popular dog breed in the United States, are descendants of Canadian fishing dogs that were imported to the UK and bred to work as gun-retriever dogs.
Labrador retrievers are highly intelligent, have a great work ethic, and are eager to please. This makes them highly trainable and ideal to function as working dogs. Their friendly temperament also means they get along with most people, so they make excellent disability assistance dogs as well.
The Dachshund, also known as the "wiener dog" or "sausage dog" because of their short legs and long bodies, is a German breed developed to scent, chase, and flush out badgers and similar animals. They are natural hunters and can't help but chase smaller animals.
They share much of the intelligence of Labradors and also have a great work ethic, but they are a bit more independent and can have a tendency to be a little stubborn. Nevertheless, they have become very popular companion dogs.
Dachshunds are generally considered a small breed, though they actually come in three sizes: standard, miniature, and kaninchen ("rabbit"). So, when mixing a Dachshund and a Lab, most breeders hope to get a smaller dog with all the great characteristics of a Labrador retriever and the fun personality of a Dachshund.
However, it is worth bearing in mind that crossbreed dogs do not always emerge "true to breed." While purebred dogs pass on their characteristics in predictable ways, crossbreed dogs are much less consistent. So, while it is possible to generalize about what to expect from a Dachsador, the results of cross-breeding can sometimes be unpredictable.
Dachsador Appearance
The Dachsador's overall appearance is an interesting mixture of its Labrador and Dachshund parents.
Labradors are generally considered to be a medium-to-large breed. They range from 21.5 to 24.5 inches tall and weigh around 55 to 80 pounds, with the females tending to be on the smaller side.
Dachshunds, on the other hand, are much smaller. A standard size Dachshund will only weigh between 15 and 30 pounds. There are also even smaller miniatures that weigh around 12 pounds, and kaninchens, which usually weigh between 8 and 11 pounds.
Assuming you mix a Labrador retriever with a standard-sized Dachshund, you should expect a relatively small dog weighing only about 30 to 40 pounds. Breeding with a miniature Dachshund would give you an even smaller dog, though this is relatively rare.
Whether a Dachsador will inherit the athletic build of a Labrador or the elongated body of a Dachshund is very difficult to predict.
The appearance of the dog's facial features and other physical characteristics can also be hard to predict. You will need to wait for your dog to age a bit to see whether they will have the broad face of a Labrador retriever or the longer face of a Dachshund. Either way, you can expect them to have long, floppy ears, which means regular cleaning is needed to avoid ear infections.
The style of the Dachsador's coat can also vary significantly, especially since Dachshunds can have short hair, wiry hair, or long hair. However, they tend to shed far less than a Labrador retriever, which tends to have a high shedding coat. Most Dachshunds have a low-shedding coat, and this seems to be a dominant characteristic that they pass on to their Dachsador offspring.
Although this is not always the case, Dachsadors tend to take the color of their Labrador parent. As a result, shades of chocolate brown, black, and yellow are the most common colors. Still, though, unexpected patterning is always a possibility when mixing breeds.
Dachsador Temperament
Intelligence And Trainability
Both Labrador retrievers and Dachshund dogs are highly intelligent, so you can expect their offspring to be the brainy type, too. They are also both loyal breeds that quickly form close bonds with their families and like to be in the thick of everything. Your Dachsador pup is likely to nose their way into the center of most family activities.
Labradors tend to be eager to please and motivated by reward, which makes them highly trainable. Dachshunds, on the other hand, tend to be more independent and stubborn. In particular, they can be quite difficult to toilet train, as they have a habit of marking their territory. They are also prone to certain problematic behaviors such as digging and chasing.
Of course, both Dachshunds and Dachsadors are still trainable, and you can teach them the behavior that you expect. Just be prepared for the training process to take a bit more time and effort than if you were dealing with a purebred Lab.
Need help house training your pup? Read our house training guide here.
Friendliness And Aggression
Labradors are incredibly friendly dogs. They rarely bark and they tend to make friends with strangers rather than alert you to their presence.
Dachshunds, on the other hand, are a bit more territorial, and they can be quite vocal. From a young age, they will bark loudly when people or animals pass by the house. So, you should probably prepare for a barker when you adopt a Dachsador.
Dachshunds also have an urge to chase, and they can be a bit aggressive on occasion. Combine this with the natural protective instincts of a Labrador, and you might find that your dog has a tendency to nip if they feel like their space or family is being threatened, especially younger members of the family.
Both Labradors and Dachshunds love kids and can generally be trusted to play nicely with them. However, you should never leave young children unsupervised with any dog.
These dogs love cuddles, and they will definitely hop up on the couch with you for some ear rubbing if you decide to let them.
Energy Levels And Exercise
Dachsadors also tend to be high energy, as both of their parent breeds are very active dogs. They generally need about 45 minutes to an hour of exercise each day, preferably split into two sessions.
Labradors aren't the type of dogs that can be left alone for long periods of time, as they can become bored or feel anxious and depressed when left alone. Meanwhile, although Dachshunds also enjoy your company, they are more independent and do a bit better when left alone.
You can expect a Dachsador pup to do better than a Lab when left alone, but they still prefer to have people around most of the time.
You can learn more about dog separation anxiety here.
Dachsador Health Risks
You can expect a Dachsador to have a life expectancy of around 12 to 14 years. This is a little bit shorter than some other Labrador mixes, but they are generally quite healthy dogs. However, there are a few common health concerns to look out for.
Joint problems, in particular hip dysplasia, are very common among Labradors, and this is something that their Dachsador children may inherit. Hip dysplasia is a deformity in the hip joint that can deteriorate over time and cause mobility issues and pain. A healthy diet and plenty of exercise can help control the problem, but they may need a special bed that takes the pressure off their joints when they get a bit older.
Dachshunds can be prone to back problems because of their long bodies, and this is something else that might show up in their crossbred offspring. How likely this is depends on the shape of the dog and their proportionality. These back issues can cause them significant pain, difficulty walking, and even paralysis in the long term.
Dachsadors are also prone to developing a variety of different eye conditions that can affect their vision in later life.
Both parent breeds also love to eat and will overeat if they are given the chance. Watch their calorie intake and weight to ensure their long-term health.
Is A Dachsador The Right Dog For You?
With all of this information in mind, you might still be asking whether a Dachsador is the right dog for you. Consider the following questions when making your decision.
Do You Want An Energetic Dog?
Dachsadors, despite being relatively small in size, have a lot of energy. They need lots of exercise to burn off said energy and lots of attention to keep them happy and occupied. Do you have the energy and lifestyle needed to keep up with a dog like this?
How Big Is Your Home?
Unlike Labrador retrievers, Dachsadors can do well in smaller homes because they don't need as much space. These dogs will still want plenty of room to play, but a large apartment or a place with a modest-sized backyard will probably be enough for them.
Do You Work Long Hours?
Dachsadors tend to do better than Labrador retrievers when left alone for long periods of time. However, if you abandon them at home for 12 hours a day, you might still return to find destruction. If you need to go out for several hours at a time, that should be fine, but your pup won't be happy if they spend most of the working week alone.
Do You Have Experience Training Dogs?
Dachshunds and Dachsadors can be notoriously stubborn, which makes them difficult to train. This means they can be a challenging dog if you don't have much experience with training dogs. First-time owners might want to pick a more agreeable breed.
Do You Want A Guard Dog?
Dachshunds and Dachsadors tend to be barkers and will want to raise the alarm every time someone gets too close to your house. This can be great if you are looking for security but challenging if you live in a busy apartment complex that could leave them barking all day long.
Dachsador FAQs
How big will a Lab Dachshund mix get?
Exactly how big your Dachsador puppy will get depends primarily on the size of their parents.
While you can expect the average Dachsador to be no more than 20 inches tall and around 40 pounds, you can also sometimes encounter larger examples of the breed that are up to 25 inches tall and weigh up to 80 pounds. Look at the parents to get a good idea of the potential size of your pup.
What is a Dachshund and Labrador mix dog called?
When you mix a Dachshund and a Labrador retriever, you get a Dachsador. They are also sometimes called Doxadors, Doxidors, or Weinerdors, since Dachshunds are also known as "weiner dogs" or "sausage dogs."
Are Lab mixes good dogs?
Labrador retrievers are all-around fantastic dogs. They are friendly, loyal, intelligent, and highly trainable. The problem with most Labradors is that they are very large and need a lot of space to thrive. Additionally, they are heavy shedders.
Most Lab mixes are designed to deal with these particular issues. For example, Lab mixes with poodles, commonly known as Labradoodles, are particularly popular, as they tend to be smaller dogs with low-shedding coats.
What is a Golden Dachshund?
A Golden Dachshund is a mix between a Dachshund dog and a golden retriever. They tend to be very similar to Labrador and Dachshund mixes in their size, appearance, and temperament. They are also sometimes known as Goldie Weiners.
Do Dachsadors shed?
When breeding a Dachshund and a Labrador retriever, most people hope the resulting offspring will inherit the low-shedding coat of the Dachshund. While this happens often and seems to be a dominant gene, there are no guarantees. You may end up with a dog that sheds just as much as a standard Labrador retriever.
How much is a Dachsador puppy?
The Dachsador is not a very common breed, so their pups can be relatively difficult to find and fairly expensive. While you might be able to purchase a pup from a reputable breeder for as little as $500, you could also find yourself paying up to $2,500 depending on where you are in the country and the breeder you purchase the dog from.
Are crossbreed dogs good dogs?
Crossbreed dogs are deliberate mixes of two purebred dogs intended to produce the best characteristics of both. This can help control for difficult traits such as high shedding and inherited health conditions.
However, unlike with purebred dogs where the passing along of character traits is fairly predictable, you can never be certain how traits will combine in a crossbreed dog until each unique puppy comes along.
The Verdict
Dachsadors are a relatively rare crossbreed dog that are a mix of the Labrador retriever with the Dachshund breed. The result is usually a much smaller dog than a Lab but with the same fun loving and energetic personality. They are incredibly loyal and will quickly become a member of the family.
However, Dachsadors can be hard work. They often inherit the stubbornness of the Dachshund parent, which can make them difficult to train. Dachshunds also tend to be barkers, diggers, and chasers of small animals. These are all traits that their Dachsador children may inherit.
Overall, the Dachsador is:
Friendly and energetic, yet somewhat difficult to train
More independent than their Lab parents, but stubborn
Happy to live in a smaller space, but needs to exercise daily
Experienced dog owners looking for a fun-loving dog like a Lab that can thrive in a smaller space will get along well with a Dachsador. First-time owners without a lot of experience training dogs might find these pups a little bit too independent and rebellious.
If you do decide to adopt a Dachsador into your family, you will end up with a loveable and energetic dog that loves both cuddles on the couch and games in the park. It is certainly a rewarding relationship.
Do you have experience raising Dachsadors? Share your advice with the community in the comments section below.
Save To Pinterest
Top Picks For Our Dogs
For a list of all the supplies we get for our new service dog puppies check out our New Puppy Checklist on the PuppyInTraining.com blog.