This post may contain affiliate links. We may earn money or products from the companies mentioned in this post.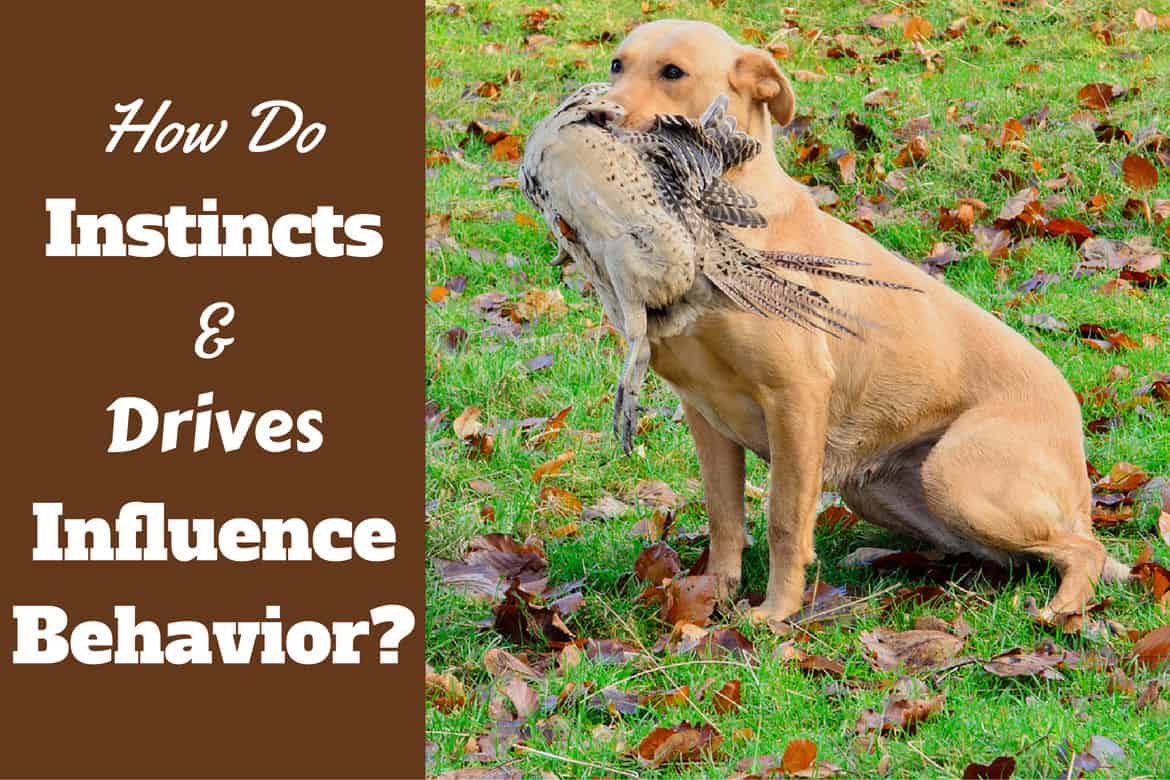 Although many talk about dog instincts and drives as if they're the same thing, there is a subtle difference.
Drives are strong, compelling, almost irresistible urges that spur a dog into performing a particular action. Such as the drive to eat (food drive) or the drive to reproduce (sex drive).
Instincts are natural abilities a dog's born with that allow it to perform a task without having had to learn how. Such as the instinct to suckle (satisfying the food drive) or the instinct on how to mate (satisfying the sex drive).
Drives are the motivation, while instincts are the ability to do something.
Learning the natural instincts and drives that your Labrador Retriever has is a very important step to take towards understanding your dog.
Why Learn Your Labradors Instincts and Drives?
By having at least a little knowledge of dog instincts and drives, you can begin to understand the reasons behind certain behaviors and use this to help you in your training methods.
Some behaviors are undesirable, maybe even dangerous for you or your lab. They must be redirected into acceptable, safe behaviors that still offer a release for your labs pent-up, driven energy.
But there are natural behaviors that although we find 'uncivilized' we should just let be and should never attempt to change.
For example, smelling the anal scent glands of other dogs or smelling feces is undesirable to us, but to your lab they're essential ways to interact with and understand the world in which he lives.
These instinctive behaviors are part of what a dog is and to deprive your lab of these behaviors would be to deprive him of being a dog!
This is why you as a Labrador owner should understand and recognize natural canine behaviors.
You need to learn how to redirect unwanted behaviors whilst allowing some behaviors that are completely natural and essential to your dogs well-being and should never be taken away.
The first step toward this is knowing what the natural dog instincts and drives actually are.
Not Everybody Agrees on the Number and Type of Dog Instincts and Drives
Researching for a few hours on the web, I've discovered differing opinions on what is and isn't a drive and the number of them that a dog possesses.
This is why, rather than linking to a single resource, I decided to write this article, summarizing the best of what I found.
Although not everybody agrees on the number of drives, it's pretty much agreed which behaviors particular drives result in and how important it is we understand this.
12 Dog Instincts and Drives Your Labrador Possesses.
What follows is my summary on the more important and most commonly seen drives we see in our dogs and how they motivate certain behaviors.
At the end of the list I've linked to a number of articles I found helpful so you can read in more detail if you'd like further information.
Pack Drive
Labradors have a high pack drive, making them naturally very social animals and happiest living within a pack environment.
Dogs with a strong pack drive will have a very strong desire to be with their family, constantly following their owners around, begging for attention, play time and seeking out affection.
This is why they are so loving and real 'people dogs'.
A high pack drive makes them relatively easy to train as they're eager to please to earn attention and praise.
But a downside of some dogs with a strong pack drive is separation anxiety, often resulting in the dog relentlessly barking and whining when left alone and sometimes leading to obsessive and destructive behaviors like chewing things they shouldn't.
So it's important to train a Labrador that time alone is OK from an early age before these problems develop.
Food Drive
One of the strongest dog instincts and drives. Like all living animals, a dog must eat to survive.
And though they've no need to hunt and scavenge (as you give all the food they need) most dogs still will as they've natural urges to do so.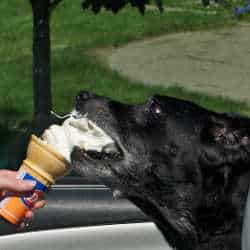 Dogs with low food drive can be picky eaters and aren't willing to perform a task merely to receive a treat. But not your lab…
Labrador Retrievers generally have a VERY high food drive and will vacuum up all the food you could ever offer.
This high food drive adds to their trainability because the urge to get a tasty treat is so strong. They'll try their best to do whatever you ask to get at the treat. And with careful planning in building their food drive, you can heighten this drive and improve their trainability.
But a downside to a high food drive is the potential for an overweight dog. I see many overweight Labradors around where I live. This is due to their high food drive…and owners giving in too easily to begging!
Retrieve Drive
Very high in Labrador retrievers as you would imagine from the name of the breed. The retrieve drive is the desire of a dog to bring back items to their pack or their owner.
Personally, from my research, I believe the retrieve drive is a mix of the Labradors prey, hunting, and pack drives and not a drive in itself.
The hunting and prey drives are what makes your Labrador want to retrieve an item, the pack drive is the urge to bring back the spoils to its owner (or pack).
But this is my opinion only and some mention it as a drive of its own. And hey, I couldn't leave this out in an article devoted to our beloved Labrador retriever!
If 'retrieve' is an individual drive, then a Labradors is very strong and you will almost certainly find that you will tire of games of fetch long, long before your Labrador ever will.
Play Drive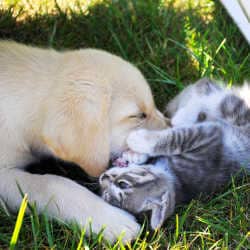 This is your dogs desire to have physical fun with it's owner or other animals.
Puppies are naturally born with a very high play drive, but most dogs grow out of it as they become more mature. However, well socialized and happy Labradors tend to keep their play drive well into adulthood.
Whereas most breeds tend to reach adulthood at 18 months or so, it's often said that a Labrador is pretty much still a puppy until it's 3 years old. This statement comes from the labs high play drive that often remains for longer than other breeds.
The high play drive in Labradors is a good thing. For one, as well as food, it enables you to use play as a reward in training. Secondly, well, just because it's pure fun for you to play with your beautiful lab! :-)
It's possible to increase (or keep) the play drive in your lab right into adulthood by regularly engaging in play sessions. And I for one will certainly try to do exactly that.
Prey Drive
Prey drive Is responsible for behaviors related to chasing, catching and killing prey.
Chasing fast-moving objects such as passing motorcycles or squirrels in the park, games of tug, shaking items vigorously in their mouth as if to 'kill it' are all behaviors stemming from this drive.
Generally speaking, Labradors have a strong prey drive. But they can readily be trained to keep it in check by actively redirecting unwanted prey drive behaviors with hunting style games.
We can channel the drive into games of fetch, chase and tug with a rope, whilst actively discouraging dangerous chasing and catching of bikes or small animals for safety. Or you could take your Labrador gundog training?
Defense Drive
This is the most important drive for any wild animals survival and stems from the fear a dog feels when facing a potentially threatening situation.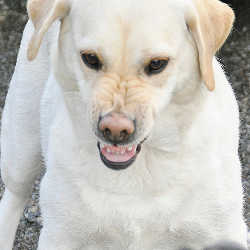 It's commonly described as the 'fight or flight' response, which are the two actions a dog will take when faced with a threat:
Fight Drive is strong in dogs considered confident and aggressive in stressful situations. A dog with a strong fight drive will stand his ground, guard their 'pack' and territory, seem ready to fight and will not back down when challenged.
Flight Drive is strong in dogs considered shy / nervous. A dog with high flight drive doesn't look confident in new situations. They may run to hide behind their owner or dash out of sight when scared or challenged.
Dogs experiencing 'defense drive' are stressed and fearful of whatever's happening right now.
All but the most aggressive and dominant dogs will ultimately flee or show avoidance behaviors if possible, but a dog in this state that's cornered has a higher chance of biting. So learn to recognize the signs and avoid such situations.
Territorial Drive
A dog with a high territorial drive will try to protect their family and property by scaring away any threats or trespassers with aggressive barks and growling.
It's a drive most welcome in guard dogs but can become a nuisance if your dog barks at the doorbell, the mail man or a person walking by the foot of the garden.
It's often a good idea to discourage and 'train out' this behavior when seen because it won't take long for your neighbors to tire of a loudly barking Labrador.
Guard Drive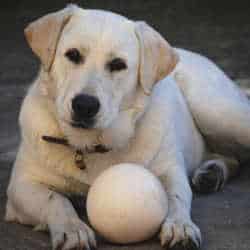 This is the drive from which the problem of 'resource guarding' stems.
Dogs high in guard drive will be protective of their possessions such as toys and fa favorite food. If you approach when they have a high value resource, they will show their teeth and growl. If you don't back away, they may become aggressive and even bite you!
It's natural to want to guard resources in the wild because you never know the next time you'll be able to find food. There are often times of scarcity.
But this behavior is unnecessary as we give our labs all they ever need and resource guarding is dangerous when living in a human world if they do go on to bite.
So it's very worthwhile you training your Labrador that resource guarding is unnecessary. There is always more to come.
This is a common trait in Labradors, but is easily trained out of them with the right approach.
Herding Drive
As the name suggests, dogs with this drive love to herd and have a strong natural urge to keep their pack together, knowing where they are, under their ever observant gaze.
Highly desirable in dogs bred for herding purposes such as keeping flocks of sheep together, but dogs high in this drive are known for nipping the heels of people the dog sees leaving the pack in attempt to keep everyone together.
Labradors aren't naturally high in this drive.
Hunting Drive
This is an urge in some dogs to search for and find an object by any combination of it's smell, sight or sound.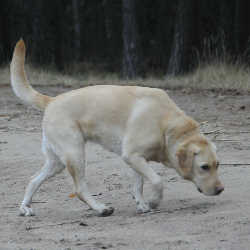 Labrador retrievers have a high hunting drive and were bred for this purpose. They have a powerful sense of smell that enables them to scent and track an object until they find it. And this is a job they truly love.
If your lab isn't destined to enjoy the thrills of field / hunting work, then you can satisfy the hunting drive by hiding an object, such as a toy or some of their favorite food, then letting them tirelessly search for it by the use of their powerful sense of smell.
Protection Drive
This is a dogs drive to want to protect and defend the members of its pack.
The stories you hear of a dog defending its owner against a would-be attacker whilst out walking is a result of a dog with a high protection drive.
This is one of the weaker dog instincts and drives found in a Labrador, they're just too loving and friendly to all. They're far more likely to want to lick any attacker to death!
Sex Drive
The main purpose of life is to reproduce and pass on your genes to the next generation. All animals have this drive and your Labrador will be no exception.
If your lab is being sexually driven you may find it humping or mounting you, other dogs or stuffed toys, especially during play when it's feeling excited or aroused.
We can only either satisfy these urges by allowing our lab to mate, or we can dampen it's desires by spaying / neutering which has the effect of making hormonal changes.
But you will never be able to completely remove the sex drive of a dog that is 'complete.'
Is That All of Them?
Well…no. This list is by no means a comprehensive list of all dog instincts and drives. There are others mentioned in the articles I stumbled across such as:
Rank drive
Subordinate drive
Activity drive
Avoidance drive
…And more besides!
However, I've covered the most important ones and hey, this article's gotten way too long as it is (sorry)!
For those interested in some further reading, following is a few of the articles I read when researching this article:
What You Should Take Away
Dog instincts and drives are the result of 10s of thousands of years of evolution.
They're genetically inherited urges and skills that work to make sure the number one purpose of any animal in life is achieved: To live, survive and pass on their genes to the next generation.
Drives can be strengthened and developed in your lab and used to bring out wanted behaviors, but unwanted ones are very hard if not impossible to completely get rid of.
The key to developing a well-adjusted Labrador is finding a balance between his natural behaviors and the pet you would like him to be.
Accomplish this by finding alternative means for your lab to release the pent-up energy associated with his powerful drives.
It's important to understand your labs right to behave like a dog. To make sure his natural needs and urges are properly satisfied, but without problem behaviors becoming common.
Activities such as hiking, hunting, retrieving, the odd game of tug, playing chase and sniffing out hidden objects will channel your dogs drives into truly fulfilling activities that will satisfy your Labradors psychological needs as a dog.
Anything To Add?
Do you have any questions, comments or anything to add to what's been described above? We'd love to hear from you in the comments section below.
Disclaimer
All content on this site is provided for informational and entertainment purposes only. It is not intended to be nor can it be considered actionable professional advice. It must not be used as an alternative for seeking professional advice from a veterinarian or other certified professional.
LabradorTrainingHQ.com assumes no responsibility or liability for the use or misuse of what's written on this site. Please consult a professional before taking any course of action with any medical, health or behavioral related issue.
Save to Pinterest:
Top Picks For Our Dogs
For a list of all the supplies we get for our new service dog puppies check out our New Puppy Checklist on the PuppyInTraining.com blog.