This post may contain affiliate links. We may earn money or products from the companies mentioned in this post.
Anyone who has been a dog parent knows that canine companionship can be a great source of emotional support. This fact is also recognized by the mental health community, which is why mental health professionals often choose to prescribe an Emotional Support Animal (ESA).
An ESA can be almost any animal, but dogs are the most common. If you have an ESA prescription, then you can take your animal with you to locations that are usually restricted, such as on airplanes, so you can benefit from their support.
The rights of ESA animals are more restricted than those of disability support animals, such as guide dogs, but the rules are designed to let you benefit from the emotional support of your animal whenever you need it.
But how exactly do you adopt an emotional support dog? The process is less about the animals and more about you! You first need to acquire a prescription from a mental health professional known as an ESA letter.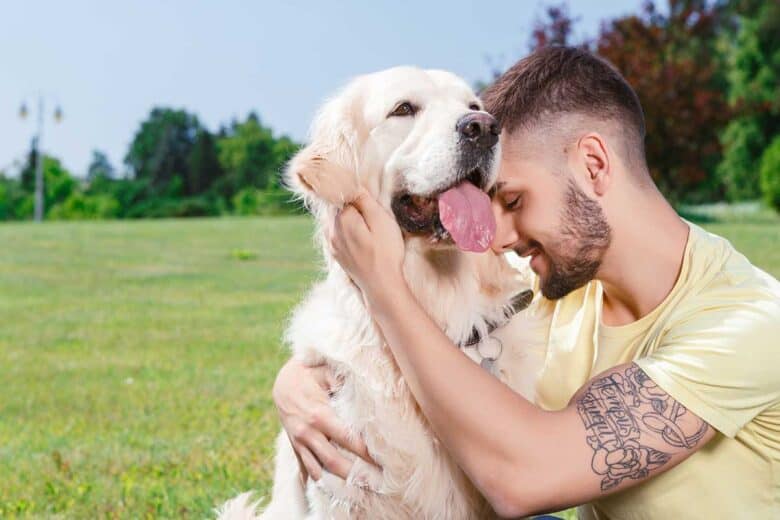 Once you have this, you can adopt almost any animal as an ESA. In fact, if you already have a pet who provides you with emotional support, they can become your ESA.
Let's take a closer look at how you can get an emotional support animal.
What Are Emotional Support Animals?
Before diving in, let's clarify what exactly we mean by emotional support animals. Specifically, ESAs are animals that are tasked with providing emotional support to patients who might need it. Almost any animal can be an ESA, including dogs, cats, birds, and even lizards.
ESAs do not require specific training, as merely their companionship can do a great deal of good. However, some ESAs are trained in specific stress-reducing techniques for certain patients, such as deep pressure therapy. You can learn more about this type of training here.
Notably, ESAs are different from disability support dogs such as guide dogs or diabetes assistance dogs. Disability support dogs need more specialized training, whether it be how to guide someone with impaired vision or how to detect dangerous insulin levels and alert their owners. Disability support dogs also have more rights than ESAs.
Disability support dogs are generally able to accompany their owners everywhere, while ESAs only get the right of access to specific locations.
How To Adopt An Emotional Support Animal
Establish Your Eligibility
The most difficult part of adopting an emotional support dog is not finding a suitable pup to adopt but rather proving you are eligible to have an ESA.
To be legally eligible for an ESA, you must suffer from a relevant mental health disorder as stated by the American Disabilities Act. The list of disorders for which ESAs are considered beneficial is varied and includes conditions such as depression, anxiety, chronic stress, PTSD, and attention deficit disorder.
If you suffer from an eligible mental health condition, you should speak to your licensed mental health practitioner about "prescribing" you an ESA in the form of an ESA letter.
Your mental health practitioner could be your general practitioner if they are the one primarily looking after your mental health, but you could also get an ESA letter from a therapist, psychologist, or psychiatrist.
They can provide you with an official letter that grants you the right to have an ESA which will also grant your chosen animal the rights of an ESA.
The letter must state that you are suffering from a mental or emotional condition for which you need the support of an ESA. The letter does not need to state what specific condition you are suffering from, as this letter may need to be provided as proof of your animal's status, and that information is confidential.
The letter should also describe the animal that you have chosen to act as an ESA. This means that the letter is specific to both you and the animal.
You cannot pass the letter to someone else to transport your ESA for you, and you can not simply change your ESA without additional documentation for the new support animal. If you do need to change which animal is functioning as your ESA for some reason, you will need to acquire a new letter from your mental health care provider.
The letter must be presented on the official letterhead of the mental health professional and be signed and dated. In addition, it should contain the full contact details of the prescribing medical professional in case the letter needs to be verified. The letter is valid for a period of one year and must be renewed on an annual basis.
Once you have your official documentation and prescription from your healthcare provider, anyone who needs to verify the status of your animal can ask to see your letter. In certain circumstances, they can also contact the prescribing medical offices to verify the letter.
However, they are not allowed to question you about your mental health or any specific services that your dog may provide for you.
Of course, if you cannot acquire an ESA letter from a mental health practitioner, there is nothing stopping you from adopting a dog to provide you with emotional support. However, without the ESA letter, their position will be informal, and they won't have the same rights as legal ESAs.
Understanding What Rights ESAs Have
The main difference between an ESA and an animal that provides you with companionship is that you are authorized to take an ESA to many places where animal access is usually restricted.
Most notably, your dog will be able to live with you even in accommodations where animals are typically restricted. According to the Fair Housing Act, landlords must accommodate tenants with ESAs whenever reasonable.
Similarly, you will be allowed to fly with your ESA in the cabin with you for no additional charge. According to the Air Carrier Access Act, airlines will generally allow properly documented ESAs on domestic flights (depending on the size of the animal) as long as they receive at least 24 hours' notice.
Keep in mind that laws on international flights will vary depending on your destination.
It is important to note that, unlike disability support dogs such as guide dogs, ESAs do not have access to all public areas. Restaurants, shops, and other establishments can still refuse your dog entry, though they will likely be less inclined to do so if you can prove your pet is acting as an ESA.
Like with most public areas, there are no specific laws that require your employer to let you take your ESA to work with you. Still, an official ESA letter can go a long way when convincing your employer to accommodate your dog.
Ideal Characteristics Your ESA Should Have
Once you have established with your mental health professional your need for an ESA, the next challenge is to find an appropriate animal for the task.
Many people choose to use existing pets as ESAs, as the bond required to deliver emotional support already exists. However, not everyone already has a devoted canine companion, and not all dogs are well-suited for the role.
Since your mental health practitioner will need to describe your ESAs in their ESA letter, they will need to approve of your choice of animal.
When it comes to dogs, the principal characteristics that make for a good emotional support animal are the following.
1. Trainable
It is recommended to train your emotional support dog to learn specific techniques to support you during emotional issues, but they also need to be very well behaved in general.
When you are having an emotionally challenging day at home, you need a dog that will respond to your commands quickly, rather than one that will misbehave and possibly cause you further difficulty. They may also need to learn how to behave in tough situations, such as if they need to accompany you on a flight.
2. Affectionate
To provide you with emotional support, there needs to be a strong bond between you and your dog. This is why dogs often make better ESAs than cats. Dogs that naturally bond with their humans and are good at reading their human's emotional state make the best ESAs.
3. Intelligent
While you will probably provide your ESA with appropriate training, they should also be prepared for the unexpected. You will want your dog to be intelligent enough to figure out for themselves what might be needed from them in certain situations.
4. Social
Your ESA might need to accompany you on an airplane where they will be in close proximity to strangers. Alternatively, you might simply want them by your side on a day out, and they could encounter any number of strangers and strange animals.
Dogs that are naturally social with others rather than aggressive or protective are more suited to being in these kinds of situations.
5. Calm
If you often find yourself becoming emotional and overwrought due to your mental health conditions, you need an animal that will help you calm down. Some dogs will get excited in tense situations, which will make it much more difficult for them to assist you.
Dogs that are naturally docile are better suited to this rather than excitable animals who have a lot of excess nervous energy.
6. Confident
While you probably don't want your ESA to be an alpha male, timid dogs aren't well suited to the task, either. Your ESA needs to be confident enough to take the lead and engage with you during dark and difficult times rather than shy away.
What Dogs Make Good ESAs?
If you do not already have an animal that you would like to function as your ESA, you will need to find one to buy or adopt.
It is probably best for you to choose a purebred dog because they have predictable physical and personality characteristics.
For example, if you adopt a Labrador, you know that you are getting an intelligent, trainable, and friendly dog that is probably suitable for the role. On the other hand, if you adopt a mixed-breed dog, you won't be able to predict if they will develop issues with aggression or start displaying territorial behavior.
You can find a list of the dog breeds that make the best emotional support animals here.
There are a limited number of mixed-breed dogs, such as Goldendoodles and Labradoodles, that are also worth considering as ESAs. Both of their parent breeds would make appropriate ESAs, which means their offspring are more likely to do well as ESAs as well.
These particular mixed-breeds have also been around for a while, so breeders are better able to control for desirable characteristics.
Whether you adopt a puppy or an adult dog is up to you. If you really just want an ESA for personal companionship, then getting a puppy can be a fulfilling experience, as you can bond with them during that important growing phase of their lives.
However, you will probably need to wait six months to a year until your dog is sufficiently well-trained to do things like accompany you on a flight or pass the day with you in the office. Once they are trained, though, they will make an excellent ESA.
Alternatively, if you are in an emotional crisis and need a dog that can support you as soon as possible, you might be better off adopting an adult dog.
Intelligent adult dogs that come from a stable background will be able to learn what is required of them quickly, so there's a good chance they will be able to administer therapy or accompany you in difficult situations after only a few weeks.
When adopting an adult dog, speak to adoption agencies about finding a pup that comes from a stable background. Dogs that have been traumatized by previous living situations often require a lot more time to train and require a lot more emotional support from you before they are able to provide you with the emotional support you need.
The Verdict On ESAs
Adopting an emotional support animal is a process that you'll need to go through with your mental health practitioner. They can assess whether you have a mental health disorder that could benefit from the support and companionship and provide you with an ESA letter that will give you the legal right to have an ESA.
Once you have established this for yourself, it is all about finding a suitable animal to act as your ESA. This might be your existing pet, and many mental health practitioners will recommend this, as you will have already bonded with the animal.
If you don't have a pet that would be a suitable ESA, however, you may need to find a new animal that is up to the job.
In general, an ideal ESA candidate should be:
Obedient and intelligent
Confident yet calm enough to handle difficult situations
Social and affectionate
If you are looking for a dog to be your ESA, consider adopting a purebred dog, as they have more predictable character traits. Talk to reputable breeders and adoption agencies to find a dog that is suitable for you.
Do you have an ESA? What characteristics and breeds do you recommend? Share your thoughts with the community in the comments section below.
Save To Pinterest
Top Picks For Our Dogs
For a list of all the supplies we get for our new service dog puppies check out our New Puppy Checklist on the PuppyInTraining.com blog.