This post may contain affiliate links. We may earn money or products from the companies mentioned in this post.
All dogs need time to settle into a new home. A new space with new people is always going to be disorienting for any pet, but rescue dogs often need a bit of extra time to become fully accustomed to their new surroundings.
But how long does it take?
Well, exactly how long it takes them to adjust depends on the dog's personality, upbringing, and more. This is especially true for rescue dogs.
If your rescue dog came from a happy, well-adjusted home where they could no longer stay for some reason, they might adjust quickly, as they have likely already been properly socialized and trained.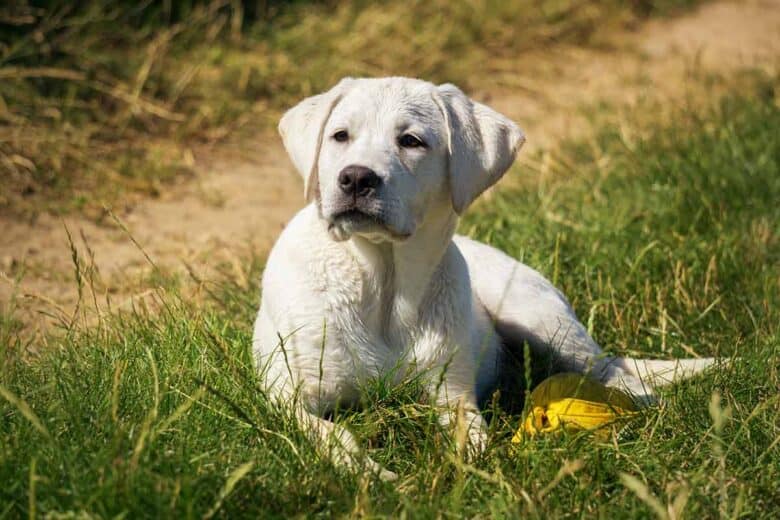 However, if they came from a difficult or even neglectful or abusive background where they weren't cared for properly, they might need a little longer to get used to their new home.
Read on as we look in more detail at how long you should expect it to take for your rescue dog to settle into their new home. We'll look at the adjustment timeline to help you monitor whether your dog is adjusting well or if something might be wrong.
After that, we'll also share some top tips for making your rescue dog's adjustment period as smooth, fast, and easy as possible.
How Long Does A Rescue Dog Need To Adjust?
Unless your dog has a particularly problematic background experience, which the rescue or shelter should have told you about, you can use what is known as the 3-3-3 rule to assess whether your dog is making appropriate progress with settling in.
The 3-3-3 rule refers to three days, three weeks, and three months and what you can expect from a rescue dog at each of these milestones. Let's look at each milestone in more detail.
Three Days
Basically, during the first three days in their new home, you can expect your rescue dog to be struggling with their new surroundings.
They are probably feeling uncertain and maybe even scared about their new circumstances. This can manifest in a variety of ways, such as not eating or drinking, hiding in "safe places," wary behavior, and even aggressive behavior as they test the boundaries of their new space.
Three Weeks
However, once your rescue pup has been with you for three weeks, you can expect to see noticeable improvements in their adjustment.
You will notice they have figured out their environment and feel more free to move around the space and explore. They are also less likely to be "on guard" with the other people and animals living in the space and will be more open to petting and playing.
They won't have it all figured out at this point, so you can still expect some behavioral issues, such as destructive behavior when they are left at home alone and nipping when they are touched in a way that they don't like.
Three Months
After three months at home with you, your rescue dog should be completely settled into what they now should consider their home.
They will probably feel quite comfortable at home and have ownership of areas of the house. They will no longer just tolerate petting and playing but will actively seek it out and be regularly bonding with members of their family.
At this point, your rescue dog will probably feel safe when they are at home or with members of their family, and they will eventually have settled into a routine.
They will know when it is time to be fed, when it is time to go for a walk, when they will be going out with you, and when they will be left at home for a few hours, such as when you are at work or school.
How To Help Your Rescue Dog Adjust To Their New Home
If your rescue dog doesn't have any serious problems and they are getting all the love and attention they need, your rescue dog should settle in along the 3-3-3 guidelines or possibly even a little faster.
Keep in mind there are a few things you can do to keep your dog on track and accelerate their overall progress in their new home. Consider the following tips for helping your rescue dog settle in more quickly.
1. Show Them Outside Before Inside
When you bring your rescue dog home, you might want to take them to the safety of the inside of your house right away. However, unless they are a small puppy, it is worthwhile to take half an hour or so to introduce them to the outside of your house first.
Let them circle the house and sniff around. This will help your dog realize the area is safe. Also, take time to show them where they will be able to use the bathroom. This can accelerate their house training, as their area to do their business will already be familiar rather than new.
This small ritual can also help them burn off a bit of energy so they don't burst into your home and run around before they know the space.
2. Give Them Access To The House Gradually
It is not a good idea to let your new shelter dog roam the house freely as soon as you bring them home. They are already likely overwhelmed by the overall newness of the situation, so you should limit the area they need to get used to at first.
For the first day, keep them in a closed-off area of the house. Ideally, this should be the area where you plan to keep their bowl or bed in the long term, but that is not always feasible. You should let them sleep in this area on the first night. They will start to feel like this is their space, and they will slowly learn that it is safe and comfortable for them.
If the rescue you adopted the dog from has given you a blanket with their smell or the smell of their parents or litter mates, make sure to put it in their new bed. The reassuring, familiar scent will help them feel even more comfortable as they adjust to their new home.
After the first night, you can start to introduce other areas of the house to them. Still, keep their initial space available so they can retreat there if they are feeling overwhelmed.
3. Spend Time Together
The only way to bond with your dog is to actively spend time with them and get to know them. The first few days are crucial in this process. They will probably bond with whoever they spend the most time with. So, if you can take a few days off work to be around more often, that is a great idea.
Cuddles and affection are great, but let them come to you to get things started. The rescue or shelter may have notified you if the dog has any sensitive areas where they don't like to be touched.
For example, some dogs don't like to have their bellies rubbed. Speak in a soothing, calming voice, and feel free to give them the occasional treat without overdoing it.
You can also test what they already know and see how they respond to the most common commands such as sit, stay, and lie down.
Again, reward them if they respond correctly so they know this is the behavior that you want in response to these commands. If they don't know what to do, make a note of this, as it is something that you will need to teach them later.
Take them for walks, play, and just try to have fun together to start developing a positive bond. Be sure not to scold or punish them at this stage, as it can undermine the bond that you are forming.
4. Introduce Existing Animals
If you have existing animals at home, such as dogs or cats, you are going to want to take the time to introduce them properly. This starts with not forcing it but rather letting the two find each other organically.
Start by putting your existing animal in a safe place, and then introduce your new dog. Don't put the dog down right in front of the animal or indicate one to the other. Let them discover one another, which they will do soon enough. They are likely to smell each other, approach one another gradually, and naturally decide what they want to do next.
If there are problems at this stage, keep the animals in separate parts of the house to allow them to decompress. Keep them like this for 24 to 48 hours. They will be able to smell one another even though they are separated, which will help them grow more accustomed to each other.
When you introduce them again, it might be worth doing this outside. Things may go better if your rescue dog doesn't feel like they are trapped in an enclosed, unfamiliar space, and your existing animal won't feel like their space is being invaded.
While there can be a few hiccups, animals tend to find a way to coexist pretty quickly. Don't be discouraged if it takes some time.
5. Create A Routine
Dogs, like children, thrive on routine. Your dog will settle in more quickly once they start to fall into a regular routine. This means they should be fed at the same time each day, and taken out for walks and play at the same time each day as far as is feasible.
If you put your dog in a certain room or area when it is time to sleep, this should also be done consistently at the same time each day.
Having a routine helps your dog know what to expect, which can help make them feel safe and secure.
6. Manage Their Diet
When dogs are feeling nervous or uncertain, they can lose their appetite, so don't worry too much if they don't seem that interested in their food at first. Of course, they need to eat, but if they do strange things like only eat when no one is around to watch, don't worry too much about it.
Dogs can get an upset stomach when their diet changes even at the best of times. When this is combined with the stress of moving to a new home, things can get messy.
The rescue or shelter should have given you a bag of the food that your dog has been eating, and let them continue eating this for at least the first few days.
After that, you can gradually mix in whatever new food you intend to feed your dog. Start with a 4:1 ratio of old food to new food, and gradually increase the amount of new food in the mix for a period of about two weeks until they have moved over to the new food.
Remember, you are what you eat, and if you want your dog to thrive, you should feed them good quality food. Look out for foods with a high protein content. The food you choose meat that you recognize listed as the first ingredient. Don't shy away from foods that are high in fats, as dogs need a lot of healthy fats.
Also avoid artificial preservatives, colors, and flavors. Most high-quality dog foods now use natural preservatives, and while added colors and flavors might make the food seem more appealing to you, they are unnecessary for your dog and just introduce questionable additives into their system.
You can read our guide to choosing the best food for your dog here.
7. Start Training Earlier
Show your dog the right behavior early on so they can be sure of themselves in their new surroundings. Determine what kind of training they need, and then start using positive reinforcement training.
This is when you reward them for doing the required action rather than punishing them when they don't comply. It is best to avoid punishment in training as it can cause unpredictable behaviors in dogs, especially if they already have a difficult or abusive past.
House training is likely to be one of the biggest challenges, but you can read our ultimate guide to house training here.
If your dog doesn't seem to be responding well to training within the first three weeks, it can be a good idea to consult a professional. It should take somewhere between 3 and 8 weeks to change a dog's behavior completely.
The Verdict
It is normal for it to take some time for rescue dogs to adjust to their new homes. You should expect it to be challenging for the first week or so. However, you'll start to see major progress after three weeks, and they will probably be fully settled in after three months.
Keep these things in mind while your dog adjusts:
Rescue dogs often come from difficult backgrounds, which means it can take them longer to adjust than other dogs and puppies
Avoid harsh punishments and use reward-based training to strengthen your bond with them
Introduce new foods slowly and gradually, as certain foods can upset their stomach early on
There are a variety of other things you can do to help your dog settle in faster, but ultimately it depends on their personality and preferences. At the end of the day, as long as you treat them with love and show them they are safe, everything should work out.
Do you have experience helping a shelter dog adjust to a new home?
Share your tips with the community in the comments section below.
Save To Pinterest
Top Picks For Our Dogs
For a list of all the supplies we get for our new service dog puppies check out our New Puppy Checklist on the PuppyInTraining.com blog.