This post may contain affiliate links. We may earn money or products from the companies mentioned in this post.
Just like you, I feel so pleased watching my little friend bark, drink, or chew away at the treats she loves. That's why I agree that the thought of sealing off her mouth sounds a little scary, even though it's temporary.
But as I later found out, that may not be a bad thing after all. I'm sure none of us would hesitate to do something to protect or maintain the well-being and safety of our dog plus her immediate surroundings.
Well, that's pretty much what dog muzzles do. They are devices that can help you temporarily manage excessive barking, biting, or chewing in dogs.
Consider aggressive behavioral tendencies, a grooming session, or emergencies that could make your dog agitated. Without a muzzle, your dog could possibly end up biting you or those around her.
Besides, in the United States, some municipal governments actually have laws that regulate/prohibit ownership of some breeds which they label as vicious. In such environments, a dog muzzle is a necessity.
That said, I'm sure you would be interested to learn more about dog muzzles for barking or chewing. In this article, I'll show you how to pick the right one for your dog and what best options are available right now.
Overview of The Best Dog Muzzles For Barking
Product Name

Material

Type

Rating

(Out of 5)

PetSafe Gentle Leader Headcollar

Collars

and

Harnesses

Collars

and

Harnesses

Baskerville Ultra Dog Muzzle

Rubber

Basket

Four Paws Walk-About Quick-Fit Dog Muzzle

Nylon

Muzzle

Sleeve

PROGUARD Pet Products Short Nose Dog Muzzle

Mesh

&

Nylon

Muzzle

Sleeve

OmniPet Italian Basket Dog Muzzle

Plastic

&

Leather Basket

​
How To Choose The Right Dog Muzzle
Since dogs have to eat, drink, and pant, it follows that you shouldn't severely restrict their mouths from doing any movements. Even if those behaviors are excessive, it wouldn't be right to treat a dog muzzle as a long-term solution since the device's role is to simply manage the conditions.
That's why, as a pet parent looking to use this gadget, you should know how to get your dog accustomed to it and also learn when to use it.
Below is a video by DomesticatedManners created to help you teach your pup to love wearing a muzzle.
As for how long your dog should wear it, there's no specific answer to that as this will vary based on things like temperature, type of activity, how active she is, and health conditions, among other factors. You can learn more about that from expert guides.
That aside, when you finally go shopping, here are the two most important things you should keep in mind:
1. Type
Canine anti-bark muzzles are available in two major forms:
Basket muzzle

Soft muzzle sleeve/wrap
Just as the name suggests, basket muzzles are woven and have plenty of space and ventilation to allow your dog to pant and move her mouth. Some are specially designed to allow your pet to eat and drink but not to bark or bite.
They are available in plastic, rubber, and metallic forms.
Soft muzzle sleeve/wrap is the type that restricts movement, thus preventing your dog from panting, eating or drinking. It's recommended that you never leave your dog alone with this type of muzzle.
They are available in nylon, mesh, and leather forms.
2. Size
In order to identify a muzzle that will fit your dog well, you will have to take some measurements into consideration. Get the length of her snout and neck plus the circumference of the area right below her eyes.
Give an allowance of about half an inch for each of the measurements. If not sure how to do it, learn from the video below by eHowPets:
Reviews of the Best Dog Muzzle For Barking
With all that I've mentioned in mind, combined with help from dog lovers and a several vets, I was able to narrow it down to five anti-bark muzzles that I believe would be a great option for your dog. Check them out:
Four Paws Walk-About Quick-Fit Dog Muzzle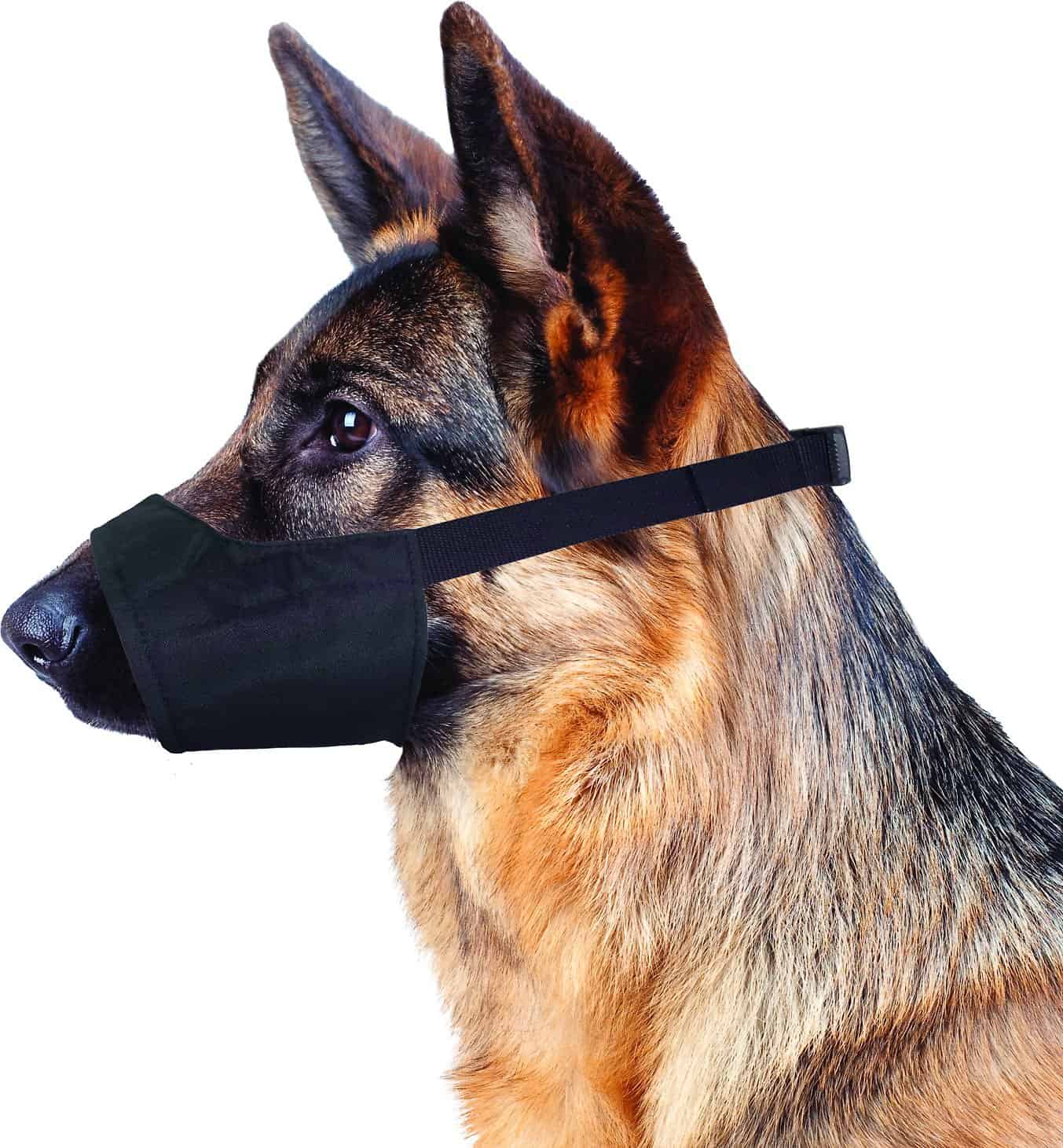 Generally speaking, muzzles do no sit very well with most dogs because they probably see it as a foreign object that is out to strip away their freedom. So when a muzzle is put on a dog's snout, which is a vital area for any pooch, it is not surprising that your furry pal is likely to protest.
Four Paws Walk-About Quick-Fit Dog Muzzle has a practical design that will restrict barking, chewing, or biting yet allow your pooch the freedom to drink and pant away.
Some dog muzzles can look cruel, but the Four Paws Walk-About Quick-Fit has been designed for effectiveness, ease of use, and relative comfort for your pooch. It has minimal straps and therefore is very easy to get on your dog.
Dogs, being the smart creatures they are, often figure out how to remove a muzzle and bury it somewhere where you are not likely find it again. This muzzle, however, in its simplicity, is hard to remove even by the craftiest of dogs.
You can buy it from any leading online outlets such as chewy.com.
Key Features
Made out of durable nylon which is tough

Adjustable and has minimal straps

Tough to remove–professional handlers love it
Pros

Cons

Seven colors to choose from to suit your preference

The nylon is easily washable

Effective in stopping barking, chewing, and biting

Has a pleasing look

Comes in many sizes (so be sure to get the right measurements for the most comfortable fit)
Baskerville Ultra Dog Muzzle, Black
Because of the cage-like design, the Baskerville Ultra Dog Muzzle almost looks menacing. It gives the impression that you are being unkind to your canine pal as if he is Hannibal Lecter.
But you have to remember that you still need a dog muzzle to temporarily stop barking and control other activities such as biting and chewing. Your muzzle should also be the kind that doesn't impair other vital functions such as drinking and panting.
Well, this dog muzzle is extremely effective, despite its menacing look. If you happen to be traveling on public transportation with your buddy, this muzzle will work well.
Also, the cage-like appearance allows your pooch to wear this muzzle comfortably for longer periods such as when exercising or going for long walks.
Quite importantly, the Baskerville Ultra is roomy enough to allow your pooch to lick on a wound if she needs too. This muzzle can be bought from any leading online outlets such as chewy.com.
Key Features
It is soft and lightweight

Hard rubber cage ensures durability

Adjustable head and neck straps as well as neoprene padded lining for more comfort
Pros

Cons

Provides effective protection for biting and snappy dogs

Can be worn for longer due to the webbed design

Effective in controlling barking, biting, and chewing

Works with most snouts, including short-nosed breeds

Some doggy parents simply don't like the design as it appears mean
Proguard Pet Products Short-Nose Dog Muzzle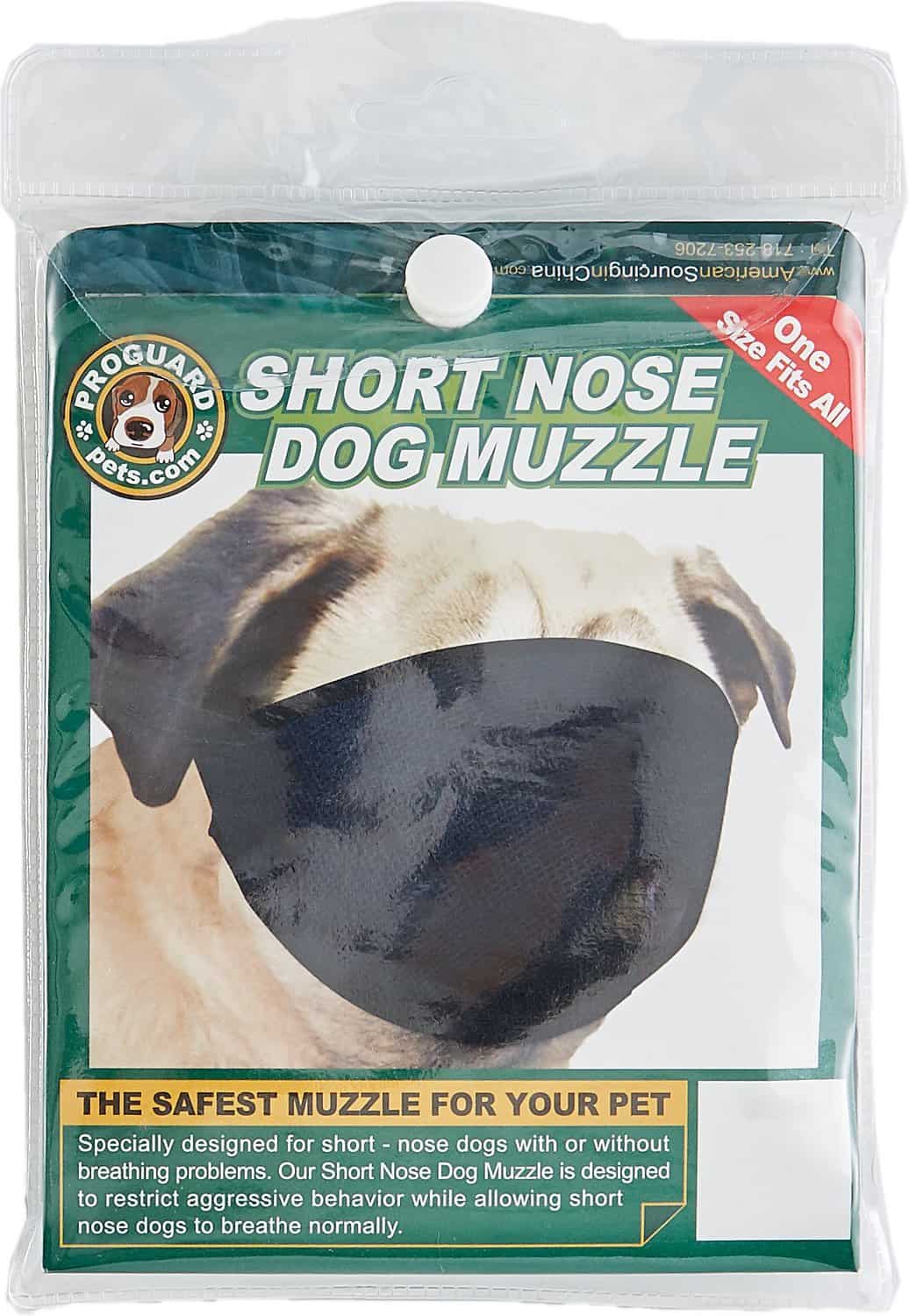 Dogs are differently shaped depending on breed. Some breeds are flat-faced or have short snouts, like boxers and pugs. This one-size-fits-all muzzle is easy to use and holds fast, thanks to the quick release tabs.
Not only is it a favorite with flat-faced doggy parents but also pet groomers. The Proguard Short-Nose muzzle does a great job of protecting the vet or groomer when working on a pooch. It can also be worn any time when you need to restrict barking.
This muzzle is constructed using mesh material that allows your dog to breathe comfortably. It also comes with a 12-inch nylon strap that fits behind the ears. However, unlike most muzzles that cover the mouth and nose area, this muzzle will cover the eyes as well.
It contains a "blinder" that can also be used to further restrict vision. It is important to point out that you should always stay close to your canine pal when she is wearing this muzzle.
The Proguard muzzle for flat-faced dogs can be bought from any leading online outlets such as chewy.com.
Key Features
12-inch nylon strap that fits behind the ears

Mesh design

Blinder for restricting vision
Pros

Cons

Easy to use

Made from nylon which is very washable

Mesh design allows your pooch to breath freely

Works well when at the vet or during a grooming session

Not the most comfortable or practical when taking your dog for a walk as it restricts vision
OmniPet Italian Basket Dog Muzzle
Most of us tend to be skeptical about plastic dog muzzles because they have a tendency to break as a result of exposure to changes in extreme weather. Well, not the OmniPet Italian Basket because it's constructed from flexible polyethylene that is hard and durable.
This material can withstand changes in extreme temperatures without breaking. Its adjustable leather strap allows you to find the right fit for your pooch so that the muzzle fits comfortably.
I know some of you are not overly enthusiastic about this design, but truthfully speaking, it is quite practical and very effective.
For example, the muzzle has a few design surprises that allow your dog even more comfort in spite of her size. With 10 sizes to choose from, you can be sure that you will find the right fit for your pooch.
What's more, every size increases by one half to one inch, thus allowing some extra room for your pooch to pant more comfortably.
Should you feel that your mutt needs further access to drink water or feed, the front grills of the muzzle can be opened.
Although the cage may look restrictive, it has been designed with adequate space and features to enhance comfort while controlling biting, chewing, and barking for a short duration.
If you want to buy this product, you can get from leading online outlets, such as chewy.com.
Key Features
Front grills can be opened for more access

Tough durable material that does not break easily

Adjustable leather strap for a better fit
Pros

Cons

Front grills allow easy access to eating/drinking

Constructed from long-lasting durable material

Easy to wash

With 10 sizes to choose from, you must get the correct measurements for your dog to avoid the muzzle being too tight or too loose
PetSafe Gentle Leader Head Collar with Training DVD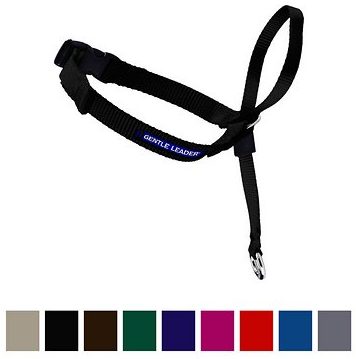 If you find it hard to muzzle your dog under any circumstances, then perhaps the next thing you might want to consider is the PetSafe Gentle Leader Head Collar.
Many have found it helpful in their quest to have better control of their pup when going for walks. The design aspect alone drastically reduces lunging, jumping, and excessive barking.
Most doggy parents aren't too thrilled at the thought of using a standard collar and harness. This is because your pooch tends to pull and tug in the opposite direction. But looking at the way an ordinary harness is designed, the pulling effect often ends up applying unwanted pressure to your dog's throat, which is simply not comfortable.
The mechanics behind the PetSafe Gentle Leader are totally different and here's how.
It will help calm your aggressive or anxious dog during a walk because the design allows communication in a way that your pooch understands. By gently placing pressure on calming points, this headcollar effectively eliminates the natural tendency of your dog to pull, and it does so without too much effort.
Besides, this device is designed to remove pressure from the throat and instead places gentle pressure at the back of the neck. Basically, it works like a halter.
Putting on the nose loop on your dog allows you easy control. The dog can instinctively understand a command from a gentle tug without discomfort. Where you direct his nose, his body will follow.
You can find this product from reliable online pet stores such as chewy.com
Key Features
Fully adjustable neck strap and nose loop

Design removes pressure from your dog's throat

Easy-to-use and features a tutorial DVD
Pros

Cons

The nose loop still allows your dog to pant, drink, bark, and bite

Does not choke your furry pal–instead, a gentle tug places slight pressure to the back of the neck

Easy to direct your dog through the nose loop

Very comfortable and your pooch can wear it for extended periods of time (up to 18 hours continuously)

Does not function as a muzzle but provides better control compared to standard collars and harnesses
Conclusion
I still see lots of pet parents on dog forums asking "Do muzzles stop dogs from barking?" If you wonder the same thing, the idea of getting a dog muzzle for your little fellow now makes sense more than ever.
It's even great to note that today, we have pretty great muzzles designed to manage your dog's unusual barking, biting, or chewing without being tough on their freedom.
As you prepare to purchase one, make sure you've enlightened yourself with as much relevant information as possible about how they work, when to use them, and for how long. Already, you have a solid basis to build on from the information I shared earlier.
Don't forget to only purchase from reliable and leading online pet stores, like chewy.com, as they tend to stock all the varieties available from different brands and also give you all the key information you may require about a particular product.
Top Picks For Our Dogs
For a list of all the supplies we get for our new service dog puppies check out our New Puppy Checklist on the PuppyInTraining.com blog.