This post may contain affiliate links. We may earn money or products from the companies mentioned in this post.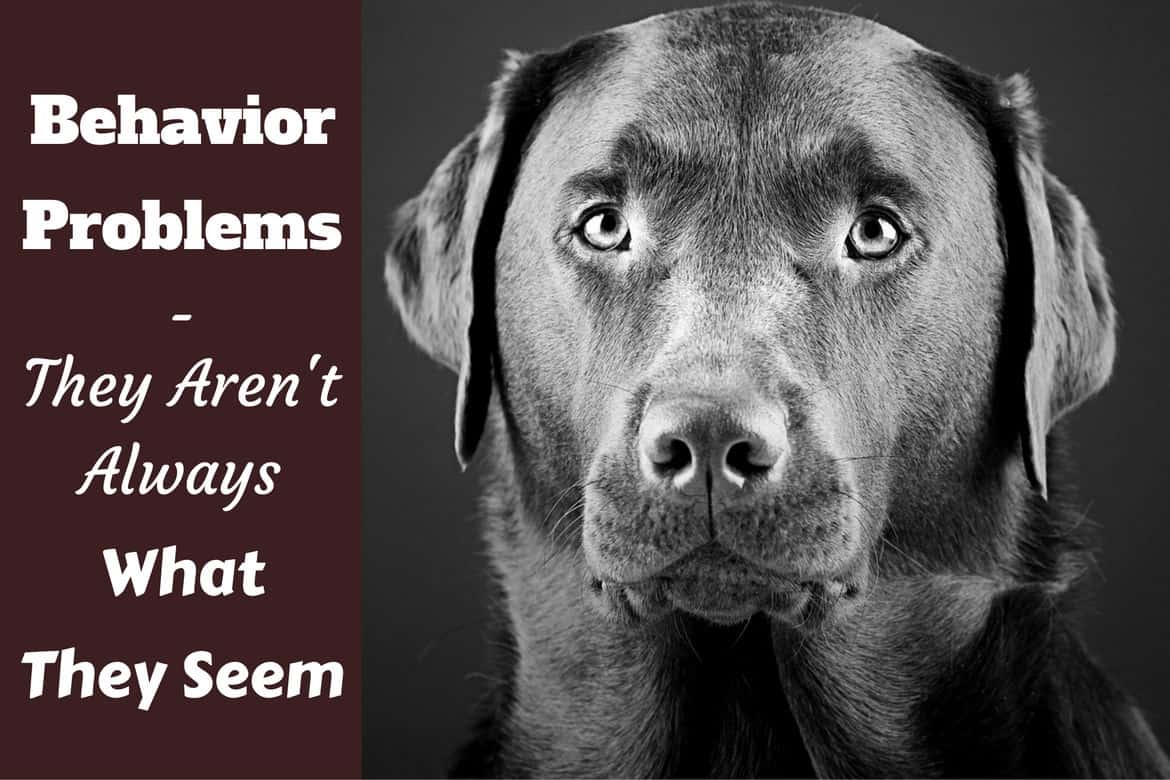 Almost every owner experiences their Lab having behavior problems at one stage or another in their lives.
And it's a sad fact that many dogs finding themselves in animal shelters are placed there owners claiming behavior problems as one of the main reasons for giving up their dog.
But what are behavior problems? There are actually two kinds.
Firstly there are genuinely abnormal behaviors that are true behavior problems.
Secondly and quite sadly, often what people call behavior problems are just natural behaviors for a dog.
The problem isn't with the dogs behavior but with the owners unrealistic expectations instead. And, quite often, simply a lack of structure and training
Many Labrador Behavior Problems Are In Fact Just Normal Behaviors
Something every owner should keep in mind is that many unwanted behaviors from their point of view are perfectly natural and normal behaviors for a Lab.
Barking when people approach, eating poop, digging in soil, growling when feeling threatened, chasing small animals, peeing to mark their territory, these are all perfectly normal behaviors but most of us simply do not want to see them from our dogs. So we call them behavior problems.
But the real problem is that owners just don't know or fail to remember what it actually means to be a dog and what the natural instincts, drives and behaviors are for a Labrador, the breed of dog they've chosen.
It's simply wrong to get a Labrador, an athletic sporting breed and then be shocked when they become hyperactive and restless if they aren't exercised enough.
It's simply wrong to get a Labrador, a retrieving breed and then be shocked when you find they're very mouthy and love to carry objects in their mouths and tend to chew.
It's simply wrong to get a Labrador, where loyalty, sociability and companionship are sought after traits bred into the breed, and then be shocked when they develop behavior problems if socially isolated and kept alone.
Part of being a responsible and caring owner is having knowledge of your dogs breed and tendencies, providing activities and outlets to satisfy their natural urges and drives.
Instead of calling many behaviors a problem, it's a duty to know they're natural and provide alternative and more acceptable behaviors, train your dog to know how you want them to behave but still find ways to satisfy their needs.
Some Behavior Problems Are Abnormal Behavior And Are True Problems
When a dog starts behaving in ways outside of normal canine behavior, this is the true definition of a behavior problem.
Behaviors such as self-harming, being very destructive, aggressive to everybody around them, going to toilet anywhere around the home, compulsive and obsessive behaviors, these are true behavior problems that signal true problems that need to be addressed.
Some dogs may also become very quiet and withdrawn, suppress their natural behaviors, become inactive and sleep all day or hide away from people all the time. Basically showing common signs of depression.
These too are true behavior problems, not normal for a dog and equally as important and worrying as any of the other behavior problems listed above.
Some people may be happy with a quiet dog that sleeps all the time and mostly keeps out of the way.
But for Labradors that are a very active and social breed, this is not normal behavior.
It signifies problems in the dog's life. Being withdrawn and inactive is a behavior problem but many people may not recognize it as such.
Why Do Behavior Problems Develop In The First Place?
Like humans, all dogs are individuals with different genetics, personalities and life experiences that all go toward shaping how a dog is and behaves.
This means we cannot over generalize and give a one-size-fits-all reason for why a dog behaves the way it does. But there are some well known common causes of behavior problems developing in dogs.
Usually the problem is a symptom of something being wrong or missing in the dog's life and the behavior is the way they try to cope.
Some possible causes of Labrador behavior problems are as follows:
Poor health, pain or illness
Fear or being scared of something or someone in their environment
Inadequate socialization when they were a puppy
Feeling socially isolated
Lack of exercise
Lack of mental stimulation
Genetic, hereditary issues
Sudden changes in diet
Sudden changes in daily routine
Being inconsistent with the rules you place on them
Lack of comfort (quiet time, a nice place to rest)
Inconsistent or lack of sleep
But perhaps the biggest reason is simply a misunderstanding or lack of understanding of what natural dog behaviors are and not providing outlets for their natural urges and desires.
The Role Of Dogs Has Changed In Life But Their Genetics And Needs Have Not!
One of the biggest causes of Labrador behavior problems is that as humans lives have changed, the role that dogs play within them have changed too.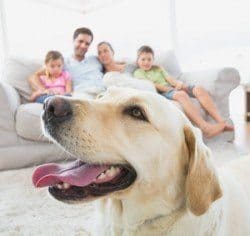 It used to be that Labs had jobs, a specific purpose in life. But today they're mostly just kept as pets.
Where Labradors had specialized jobs they were bred for and genetically, physically and mentally suited to, they now just sit at home with a family looking forward to the occasional walk and perhaps a bit of mental stimulation through play and training.
Most Labs are bored, with unfulfilled lives and this is one of the major causes of bad behavior!
Labradors are a sporting breed, made for life outside traveling great distances, running, jumping and swimming through tough terrain, working with and retrieving for their owners.
Their lives will have been filled with regular, mentally stimulating training and long hard days of doing meaningful work.
In today's world living largely as pets, many Labradors are mentally and physically under-stimulated with their strong drives and urges left unsatisfied.
And bored dogs often develop behavioral problems and find outlets for their unused energy and unoccupied minds in the only ways that dogs can. Things that we usually term 'behavior problems.'
What Kind Of Behavior Problems Do Labradors Develop?
There are dozens and dozens of behavior problems seen in dogs, here's a short list of the most commonly reported in Labs:
Defecating and urinating in the home
Resource guarding (aggression over food or toys)
Fearfulness
Aggression (towards people, other animals)
Hyperactivity
Self-harm
Sadness, depression and being withdrawn
Counter-surfing
…to name just the most common few!
QUICK RECOMMENDATION: My puppies have drawn blood with their teeth many times. The Milunova Pupr Pals™ Dog Toy is a plush squirrel puppet toy that helps to protect your hands from those sharp puppy teeth during play.
As previously stated, many of these are perfectly normal behaviors but unwanted when living with a human family.
For these, understanding, training and providing satisfaction through alternative behaviors is what's needed.
But some are real psychological or pathological problems that need to be properly researched and skillfully addressed, most likely by a vet or professional behaviorist.
But regardless of what the behavior really is, natural or a true problem, if a dogs human family doesn't like the behavior then it needs to be corrected to find balance and happiness in the dog and owners life together.
What Should You Do If Your Labrador Has Behavior Problems?
Of course for the happiness of both you and your Lab you'll want to deal with the issue.
But because of the many different causes of behavior problems, the fact every dog and their histories are unique and each dog will be living in a unique environment there's no single answer or piece of advice can be given to fix all behaviors for all dogs.
If the behavior problem is just one of normal canine behavior such as digging, barking, chasing small animals or pulling on the leash, natural behaviors but that are unacceptable or unwanted by an owner, then training alternative and acceptable behaviors in their place is the answer.
This still takes knowledge of the particular cause and motivation of the behavior, knowledge and skill to choose and train an alternative behavior and patience and dedication to see the solution through.
But these types of problems are solvable by the average owner and solutions for these problems will soon be appearing on this site.
However for true behavior problems, meaning 'abnormal behaviors' such as excessive fear, anxiety, aggression or obsessive compulsive behaviors, very specific advice taking into account the very specific circumstances of your individual dog will need to be given.
The sort of advice that can only really be given and be correct if offered by a qualified and knowledgeable professional.
The first step is to see a vet to either identify or rule out any physical or pathological problems, and then be referred to a certified and reputable behavioral specialist.
Some problems, particularly aggression or anxiety related, can rarely be tackled by a novice alone as there's a very real danger that with the wrong approach, things could be made worse.
Many cases require a unique approach for which the only advice that can really be given is to seek professional help.
Conclusion
This article was merely an introduction to Labrador behavior problems, offering a definition of what they are, listing some common causes and quite importantly showing that often, behavior problems are in fact just natural behaviors that need managing, not really 'behavior problems' at all.
We have to remember that Labradors were bred for a particular job and come with hard-wired instinctive and driven behaviors that we developed in them through many generations of selective breeding.
Labs have needs and desires that have to be satisfied. They have traits and behaviors so deeply genetically ingrained that you simply cannot eliminate them.
Although in most cases you can train alternative more acceptable behaviors.
There are of course also more severe and worrying behavior problems, stemming from either pathological or deep-seated psychological issues.
But these days behaviorists and the scientific community have such great understanding of dogs that it's rare when a behavior problem cannot be solved.
With understanding, patience, dedication, a caring attitude and a carefully planned scientific approach, almost all problems can be overcome or at least successfully managed.
Top Picks For Our Dogs
For a list of all the supplies we get for our new service dog puppies check out our New Puppy Checklist on the PuppyInTraining.com blog.