This post may contain affiliate links. We may earn money or products from the companies mentioned in this post.
We all love our pets and we generally turn to the big named brands to ensure we get the right pet foods.
However, it really is no secret that Pedigree has been one of the most popular brands on the market for decades.
When the brand got its first big recognition, their marketing efforts were geared toward breeders and show dogs. This led them to a very lucrative partnership with The Westminster Kennel Club Dog Show.
However, over the years, the brand has shifted its marketing focus to more closely on shelter dogs, subsequently ending their partnership with the esteemed dog show.
This article will take a deeper look into what this commercial dog food is actually made of and explore what customers really think of one of the most well-known dog food brands out there today.
Our Rating
After comparing multiple sites along with customer reviews of Pedigree Dog Food ingredients and satisfaction, Pedigree receives 3 out of 5 stars. If you want to see our top-rated dog food read the guide here.
Reviews
The Pedigree Dog Food reviews were quite shocking given the fact that the brand has been a household name for quite a while.
There was obviously a need to determine the answer to the question is Pedigree a good dog food because there have been studies and analyses completed regarding the ingredients found in the well-known dog food.
Unfortunately, while reviews from chewy.com and amazon.com show mostly 4 out of 5-star ratings, trusted websites such as Dog Food Advisor and Dog Food Insider state otherwise giving very low ratings of 1 and 2 stars.
Pros
Dogs Prefer
Most of the comments regarding the canned food on chewy.com and amazon.com stated that dogs preferred Pedigree's canned food over other brands' canned food.
Customers stated that while they have tried other brands, they have found that their dogs specifically choose Pedigree more frequently.
There is also no denying that Pedigree dog food contains a source of essential vitamins and minerals, such as d-calcium pantothenate, monocalcium phosphate, potassium iodide, potassium chloride, and folic acid.
Price
Customers reported enjoying the price point of Pedigree because it was affordable with an ingredient list they could agree with respectfully.
Cons
Main Ingredient – Corn
One of the chief complaints from Dog Food Advisor and Dog Food Insider was that the main ingredient used was corn.
While corn is inexpensive and used mostly as a filler, dogs have a hard time digesting it.
It has also been proven that corn is known to cause many allergies and skin issues for dogs; therefore, it is hard to understand why corn would be the number one listed ingredient in this dog food.
Too Much Grain
There is a reason why dog foods advertise as being "grain-free" – dogs do not digest grain well which causes more waste and gas than necessary for any pup.
Among the top ingredients listed were corn gluten meal, soybean meal, and ground whole wheat. With that much grain in one recipe, dogs are bound to produce much more gas and waste than ever necessary.
Colors and Dyes
According to Dog Food Insider, a breakdown of the ingredients list for a complete Pedigree Dog Food review showed that artificial colors and dyes were used frequently in all of their recipes.
And while this is mostly to attract human customers (dogs can't see colors in that way), the artificial colors and dyes could actually be harmful to your pup.
Upset Tummies
Many of the Pedigree Dog Food reviews found on chewy.com and amazon.com stated that the fur friends who tried Pedigree dog food ended up getting sick from the food.
The customers even stated that their dogs refused to eat Pedigree Dog Food after just one taste. These were among the most common complaints found on the purchase sites.
Watch this video from a veterinary surgeon for more pros and cons:
Product Line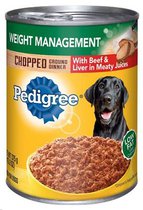 Ingredient Analysis
Again, the ingredients listed for Pedigree Dog Food show that corn is their first ingredient.
While this is not necessarily a terrible ingredient to have, it should not be listed as the number ingredient for dog food as it does not provide most nutritional value at all and can cause allergies and other skin issues to arise.
Poultry by-product meal is listed second, which is waste from the slaughterhouse, according to Dog Food Advisor.
While chicken by-product meal is a composition of unwanted parts of animal bodies that weren't used for meat (organs, feet, beaks, meat bone meal, etc…), a positive can be found in the fact that they do provide 300% more protein than fresh poultry.
Corn gluten meal is listed as the third ingredient in Pedigree Dog Food, which has most of the starchy carbohydrates washed out before it ever is put into the food!
One of the leading concerns regarding the ingredients list is the use of BHA to preserve animal fat that is used in the food. Of course, BHA is suspected to actually cause cancer; therefore, it is alarming that it is used.
According to Dog Food Advisor and Dog Food Insider, the ingredient list is enough to make a pet owner question giving their pup Pedigree Dog Food.
The Pedigree Dog Food ingredients list alone makes this a below-average product.
Recall History
As with many dog food brands, Pedigree has had a few products on the recall list a time or two.
Recalls have occurred as recently as 2014, which was simply voluntary recall due to the possible presence of foreign material.
One other recall in recent times was in 2012 with a voluntary recall for a limited number of three varieties of Pedigree weight management canned products due to potential choking risk.
Conclusion
It is safe to say that this dog food, while popular, is not the top dog food that you should be serving to your pup.
We value our animals as parts of our family, and they deserve to eat quality food that will help promote healthy bodies, minds, and spirits! Pedigree may be well known, but Pedigree Dog Food reviews prove otherwise in terms of quality and ingredient breakdown.
If the price is a concern, Pedigree meets the low price check off on your list. However, it is not worth putting your dog's health in jeopardy for lower-priced dog food.
While many people have been happy with Pedigree throughout the years, it is still not a high-quality food that should be recommended.
If you're looking for more information regarding reviews on the well-known dog food, check out this video.
And remember, do your research and consult a veterinarian before purchasing this dog food for your best fur friend.
Top Picks For Our Dogs
For a list of all the supplies we get for our new service dog puppies check out our New Puppy Checklist on the PuppyInTraining.com blog.