This post may contain affiliate links. We may earn money or products from the companies mentioned in this post.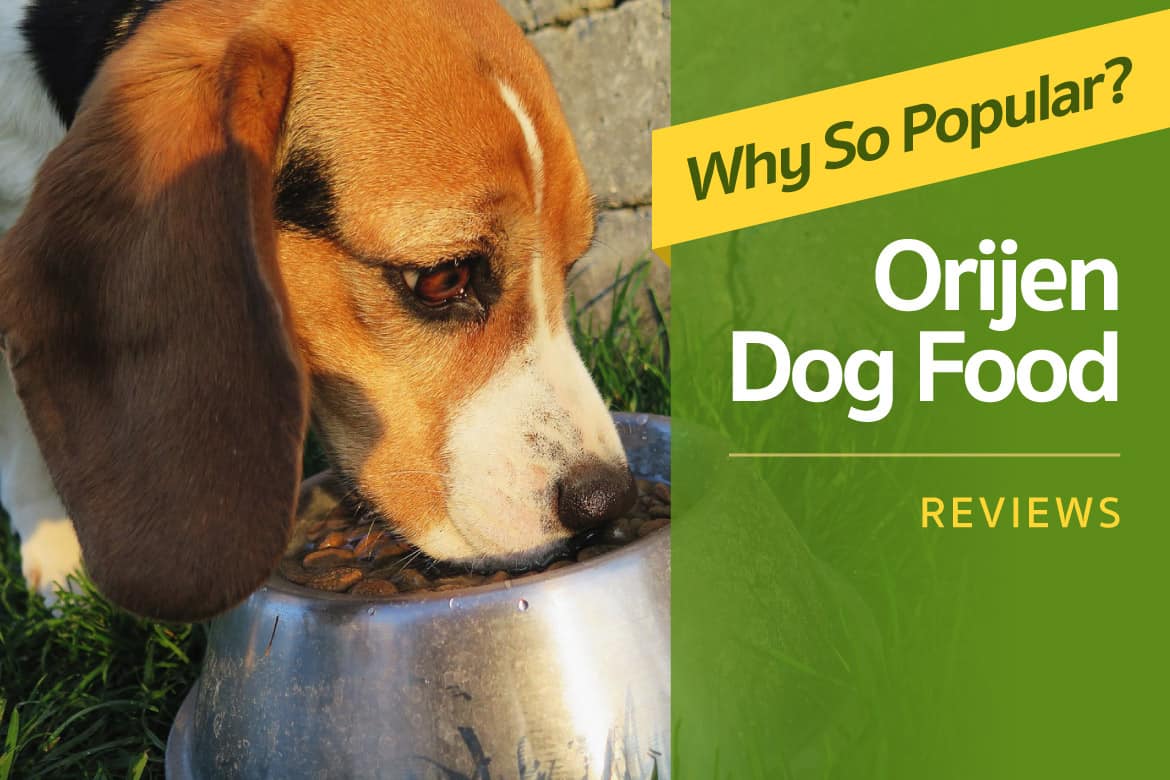 What are the critics woofing about in their Orijen Dog Food reviews?
Introduction
Let's talk about Orijen Dog Food, shall we? This US-based dog food brand sources its ingredients from Kentucky and other parts of the US to ensure quality and freshness. Farmers, ranchers, and fishermen are all connected to Orijen in order to help provide the best possible ingredients and formula for your pup. Let's take a deeper look into what Orijen Dog Food customers are saying about the pet food, the pros and cons of the brand, and recall information so you can make an informed decision that is BEST for your furry best friend.
Our Rating
We gave Orijen Dog Food 5 stars out of 5 stars.
At a Glance: Our Choices for the Orijen Dog Food
DOG FOOD

DETAILS

OUR RATING

Contains 85% poultry
Ingredients are so fresh that it is actually rated for human consumption

80% protein and 20% fruits and vegetables
Grain free
Fresh ingredients such as goat, venison, mutton, bison, and rabbit are used in this unique formula

Grain free formula
Single source of protein is used in the ingredients
All-natural ingredients
No highly-processed carbohydrates and starches

Formulas are tailored todog's biological needs
2/3 of meat used in the formula is FRESH and RAW
Meats are prepared in such a way that keeps the nourishing protein that fresh meat can't provide alone

Grain free formula
Single source of protein
All-natural ingredients
Great for senior dogs and their aging joints and muscles
Alternatives to Orijen
This brand available only in a few locations online and offline. If you're having difficulting getting access to this dog food, you can also try these brands:
Orijen Dog Food Review
While the price is not necessarily a selling point, the quality of ingredients and integrity of the formula truly do make the price worth it. Orijen Adult/Senior Dog Food and Orijen Puppy Large have fresh ingredients like meat such as chicken that are never frozen and they are sourced from US farmers, ranchers, and fishermen—something not all dog food companies can say.
Customers report that their dogs who previously had digestive issues that required thousands of dollars of testing now can feed their dog Orijen pet food with no problems. This is top-notch pet food and the customer reviews and ingredients list prove that. Reviews on Orijen Dog Food prove that this is a fan favorite for sure.
Pros
Freshly-Sourced Ingredients
Orijen prides itself on finding quality ingredients that come straight from the US (mostly Kentucky where the company is based). Fresh ingredients that are never frozen mean that your dog is getting the best quality of food that he can get. This also means that Orijen is supporting local small businesses (farmers, fishermen, and ranchers).
Digestive Health Improvement
When pet owners face digestive issues with their pup, frustration can take over and thousands of dollars can be spent. However, customers who gave reviews of Orijen Dog Food stated that their dogs once faced digestive issues now have them no longer and are 100% healthy. This is a huge testament to the quality of the food produced by Orijen.
While some dog foods boast that they are grain-free and this is a great achievement (Orijen pet food has grain-free products, too), those companies cannot always say they include organic ingredients. Orijen uses organic ingredients such as kale and pumpkin in their products and this is something to be noted.
Cons
Hefty price tags are always a con for any product, even if the quality of the food is outstanding (as seen here). Orijen's price tag is definitely higher than a lot of the competitors out there, but the competitors don't have the quality of ingredients that Orijen does, either. So, there is definitely a trade-off.
Change in Formula
While all dog food brands go through changes here and there, sometimes those changes aren't received well. With a formula change occurring in Hill's Science Diet dog food, some dogs who reportedly loved the food previously were no longer fans. Some customers even reported that their pup ate Science Diet for 2 years with no problems until the formula change.
Accessibility and Distribution
This dog food used to be easily found in pet stores all around, until recently. Some of the reviews have stated that distribution to local pet stores has somehow been disturbed, causing major issues for pet owners. Finding this dog food has apparently become difficult for some pet owners who prefer to buy in person rather than online.
Ingredients Analysis
As we stated before, the ingredients used in Orijen Dog Food are second-to-none. There is no comparison when one looks at Orijen's ingredient list compared to competitors' ingredient lists. The farm fresh, never-frozen ingredients are used to ensure that your dog has the best quality of food going into their sensitive bellies and nourishing their bodies to create optimal health. Honestly, it would be hard to find another dog food with this great of an ingredients list.
Recall History
There are no recent recalls listed for Orijen Dog Food listed on the FDA website.
Conclusion/Wrap Up
It is quite safe to say that Orijen Dog Food is one of the best dog foods out on the market today. Reviews of Orijen Dog Food prove that customers (humans and dogs) are more than happy with Orijen and will continue to back this dog food company! Check out this review of Orijen dog food to hear more for yourself.
Top Picks For Our Dogs
For a list of all the supplies we get for our new service dog puppies check out our New Puppy Checklist on the PuppyInTraining.com blog.