This post may contain affiliate links. We may earn money or products from the companies mentioned in this post.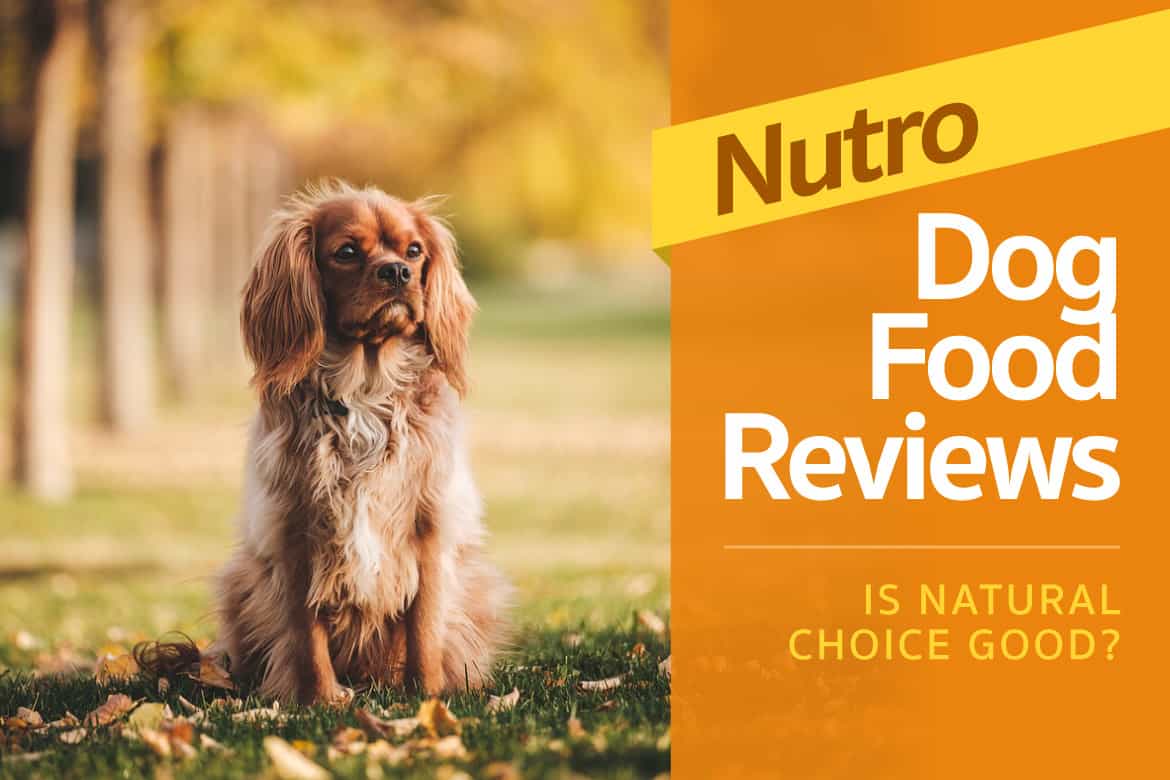 Find out what people are saying about Nutro Dog Food with a close look at reviews and ingredients to help you make the best decision for your furry friend!
Contents & Quick Navigation
Introduction
You've been searching for the perfect pet food for your furry friend for quite some time.
And now you're considering whether Nutro is a good dog food for your sweet pup. With reviews and ingredient lists, we have come to a conclusion to answer your question:
Is Nutro Dog Food good for your fur baby?
Now you will be able to make an informed decision and get your dog the best possible food for them!
Nutro prides itself on being holistic and providing only the best, natural ingredients in its recipes as dog food and cat food!
You'll get to see for yourself just what is so special about this dog food brand that has been around for 90+ years in the dog food industry and is ideal for large breeds and small breeds alike!
Our Rating
After reviewing multiple sites and reviews from customers regarding the quality of Nutro Dog Food, we give Nutro a 4.8 out of 5 stars.
Review
Nutro Dog Food received a 4.8 out of 5 stars based analysis of multiple review sites and customer reviews on chewy.com and amazon.com.
Many of the top review sites such as Dog Food Advisor noted that the brand received a "top-tier 4-star" rating for quality, satisfaction, and ingredients.
It is safe to say that this 90+-year-old dog food company is making quality dog food that is keeping customers coming back for more and dogs begging for another bowl full!
If you're looking for further reviews from chewy.com, check out their video:
Pros
Customer Satisfaction
Some customers noted they've been feeding their pups Nutro for 10+ years, which speaks volumes of the quality of the food!
They also stated that they have switched from previous dog food brands and have been very pleased with their dog's liking of the flavor and composition of the kibble bites.
More Energy
Customers who have bought Nutro have reported their dogs being much more energetic than when they were eating previous brand dog food.
Dogs who were previously acting noticeably lower in energy than they had in the past were reported to have an increase in energy, especially overweight and older dogs!
Weight Management Formula is Tasty
Some owners worry whether or not the weight management formula will be less tasty than the regular adult formula.
However, customers reported their dogs loved the taste of the weight management formula and did not seem to be bothered by the fact that the recipes were changed to help reduce obesity.
Holistic Ingredients
Nutro prides itself in being a holistic dog food brand including only the most natural ingredients and avoiding fillers and artificial flavors and preservatives.
This is a huge selling point for many customers, especially for owners who have pups with allergies and sensitivities.
The other benefit is that each mouthful contains an essential source of vitamins and minerals essential to your dog's needs, such as copper proteinate, manganese proteinate, zinc proteinate, manganous oxide and folic acid.
Holistic recipes also help dogs with digestive issues break down their food to easily digest it!
Cons
Beet Pulp Inclusion
Dog Food Advisor, a trusted online review website, stated that the inclusion of beet pulp is a controversial ingredient to include in dog food recipes.
Some people believe that beet pulp is actually used not for nutritional value but rather as an inexpensive filler.
The other side of the coin is that some claim beet pulp actually has nutritional value that adds substance to the dog food recipes.
Formula Change
Nutro Dog Food reviews on chewy.com mentioned quite a few times that recent changes to formulas were off-putting to dogs who had enjoyed the dog food previously.
With the change in formula happening for various reasons, dogs will either reject or accept the change, and that is just a fact that cannot be changed.
No Probiotics
Dog Food Advisor also mentioned the absence of probiotics in the ingredients list. Probiotics are healthy bacteria that are included in recipes to help dogs (and humans) with healthy digestion and digestive tract.
Nutro Natural Choice Dog Food reviews state that the exclusion of probiotics on the ingredient list is a negative, especially considering the brand claims to be a holistic dog food!
Top 5 Most Popular Nutro Products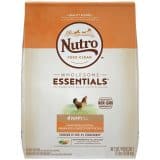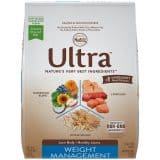 Ingredient Analysis
The ingredient list is quite average in terms of what's included and excluded.
Dog Food Advisor completed a Nutro Dog Food review that breaks down the ingredients that are listed.
The ingredients are listed as follows: Raw chicken, chicken meal, brown rice, ground rice, rice bran, chicken fat, lamb meal, salmon meal, and flaxseed.
Dog Food Advisor did note that while rice is pretty easy for dogs to digest, it really does not bring much nutritional value to the dog overall. So, for 3 of the first 5 ingredients to be rice related, it would be fair to say that the top ingredient isn't actually raw chicken (which gets broken down during cooking anyway), it's actually rice.
Also, a bit of a shock is the lack of "natural" ingredients, except for flaxseed. With flaxseed being listed lower to the bottom of the ingredient list, it is safe to say that it probably does not have much nutritional value to the food since ingredients are listed from top to bottom in order of how much is actually used in the recipe.
Recall History
At one point or another, dog food brands have found themselves in the recall list for one reason or another.
The only record of any recall for Nutro comes from 2009 with the recall of Nutro Dog Food when small pieces of melted plastic were found in the production line.
According to an announcement given by Nutro Products, Inc. in 2009, only 3 SKUs actually made their way to the store and were pulled immediately! There have been no other reports of recalls for Nutro Products, Inc.
Conclusion
As you can see, Nutro Dog Food reviews show that Nutro Natural Choice Dog Food and other products in the Nutro brand, are all good quality dog food recipes to give your beloved pup.
The ingredients are average compared to other dog food recipes, but the brand is trusted and has been around for quite some time.
Therefore, it is safe to say that the 4.8-star rating includes the trustworthiness, reliability, and history of the dog food as well as the ingredients used to feed your pup daily!
If you're looking for a trusted brand with a history of success in the dog food market, give Nutro a try!
Every stage of life has a recipe out there for them, and Nutro prides itself on being able to provide a recipe for every dog, no matter the age!
Head on over to chewy.com to purchase your dog's first (or 20th) bag of delicious dog food that will surely leave your pup wanting more!
Top Picks For Our Dogs
For a list of all the supplies we get for our new service dog puppies check out our New Puppy Checklist on the PuppyInTraining.com blog.