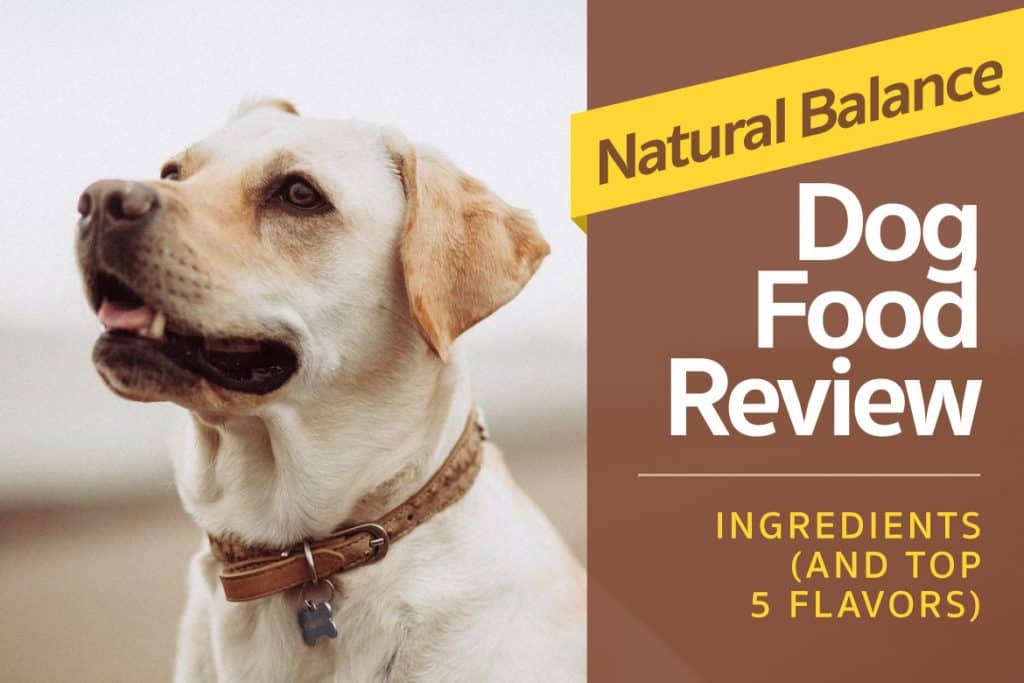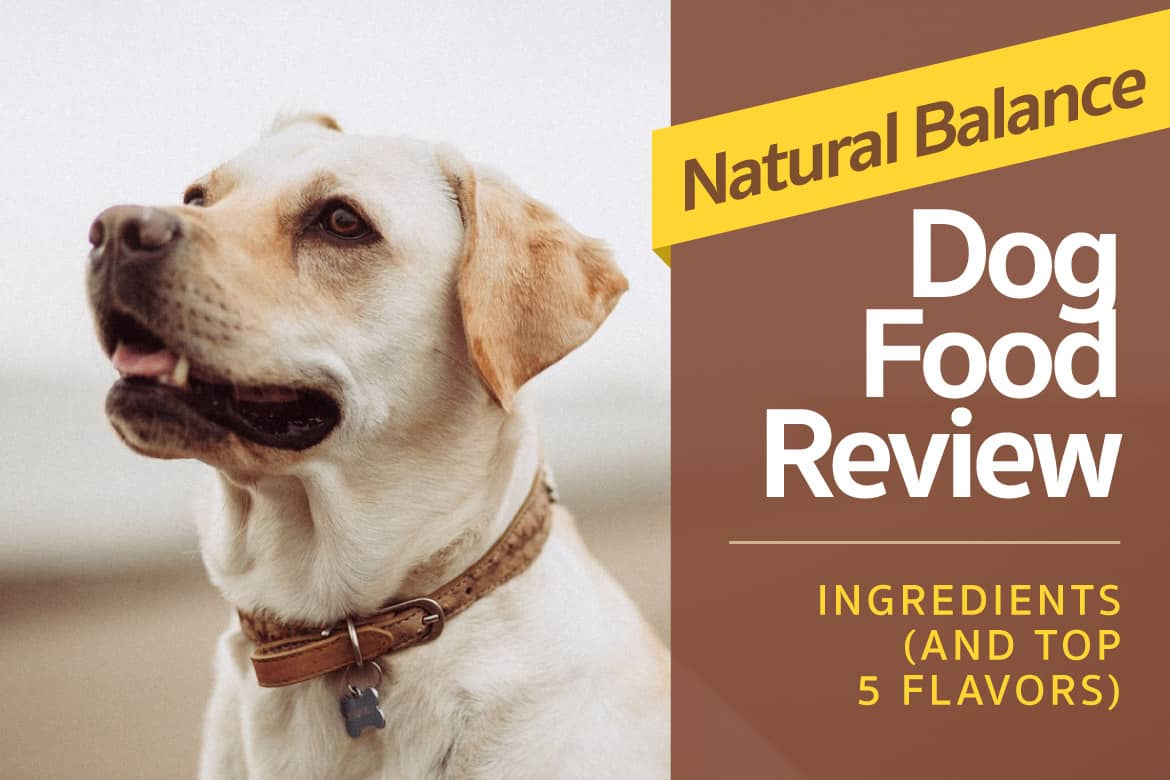 Today, I'm going to dig deeper into Natural Balance dog food reviews to assess 5 different formulas that are sure to keep your furry friend happy and healthy, no matter what their needs are.
While Natural Balance Dog Food has only been around a few years (since 1989 to be exact), this popular dog food brand has made a name for itself in the dog food industry. With the promise to provide food formulated from sound nutritional truths and scientific principles (according to their website), Natural Balance has held true to its belief that the food they produce is The Food for a Lifetime ®. It has always insisted on using ingredients such as sweet potatoes, pea proteins, and carrots to ensure your pets get the right combination of vitamins and minerals, like copper sulfate, vitamin A supplements, vitamin B, manganese sulfate, thiamine mononitrate, and folic acid. Let's take a look at reviews of Natural Balance Dog Food to help determine whether this dog food brand is the best for your pup.
At a Glance: Our Choices for the Natural Balance Dog Food
DOG FOOD

DETAILS

OUR RATING

Natural Balance Vegetarian Formula


Read Our Review



All natural vegan formula for
adult dogs with meat or
protein sensitivity.


DHA and EPA added to enable
active and healthy brain functioning.


Promotes good digestion through
natural oat fiber.


Enables a strong immune system
through antioxidants found naturally
in cranberries, blueberries and spinach.





4.8 out of 5

Natural Balance Synergy Formula


Read Our Review



Designed for general dietary stipulations
in dogs, and promotes healthy
skin, coat and immune system
in puppies, adults and older dogs.


Complex fibers added for stool
quality and digestive system
support.


Supports healthy muscles with
chicken, lamb and salmon proteins.


Contains zero artificial flavors,
colors or preservatives.





4.8 out of 5

 Natural Balance L.I.D. Limited Ingredient Diets Potato & Duck Formula Grain-Free Dry Dog Food


Read Our Review



Designed and formulated for
dogs with common allergies.


Made with zero grains and
minimal carbohydrates.


Made with duck and potato,
which are uncommon as dog
allergies and highly digestible.


Maintains healthy coat and skin
with omega-3 and omega-6
fatty acids.





4.7 out of 5

 Natural Balance Original Ultra Reduced Calorie Formula


Read Our Review



Formulated for heavily overweight dogs.


Proteins derived from chicken, lamb
and salmon


17% less calories than Natural Balance
Ultra Premium Kibble.


Oatmeal provides complex carbohydrates,
fiber, thiamin and vitamin E.





4.7 out of 5

 Natural Balance Fat Dogs Chicken & Salmon Formula Low-Calorie Dry Dog Food


Read Our Review



Formulated to counteract obesity and
return overweight dogs to a
healthy weight range.


Balanced omega acids and proteins
keep your dog full between meals.


Promotes healthy skin and coat.


Low calorie, high fiber, delicious recipe
for digestive support and weight control.





4.5 out of 5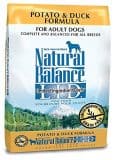 Allergies and digestive issues can plague many dogs, just as they do humans. In order to combat these issues, Natural Balance has created a line of dry dog food that contains limited ingredients to ensure that your dog receives only the necessary ingredients to live a healthy life. This adult dog food formula is grain-free and contains limited carbohydrates. Potatoes are included and are digestible for dogs making them excellent sources of energy. Reviews for Natural Balance L.I.D. Dog Food show slightly varying conclusions about this line with complaints mostly referencing dogs who are picky eaters and do not like the new formula that has been released. Other comments are positive, which state "recommended by vet" and "great product".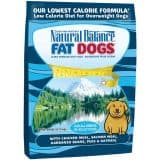 The reviews of Natural Balance Fat Dogs Dog Food show very positive results and happy customers. Customers stated that their very picky eaters found this food to be delicious, even with the reduced calorie formula which could possibly deter some dogs. Other customers are pleased with this line of Natural Balance dog food because of their dogs' dietary needs and health concerns. Protein blends are found in Natural Balance Fat Dogs Dog food which helps your dog maintain a healthy weight and helps preserve lean muscle. This formula also helps your dog stay fuller longer, which helps reduce overeating. Natural Balance Fat Dogs Dog Food rating shows a 4.5 out of 5 stars on Chewy.com. Clearly, this is a great choice for your overweight furry friend who might need to slim up to have a healthier, happier life.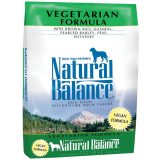 Does your pup have protein sensitivities, or do they simply not enjoy the taste of meat in their food? No worries here – Natural Balance has created a vegetarian formula that helps your dog enjoy his food again. While this vegetarian formula does not have meat ingredients, it does have DHA and EPA which both help promote healthy brain function. You will also be ensuring that your pup receives proper digestion help by ingesting oat fiber. Dried cranberries, blueberries, and spinach contain antioxidant nutrients that are amazing for your dog's overall health promotion. Natural Balance Vegetarian Dog Food reviews show that customers (humans and dogs included) are very pleased with this formula stating that furs are healthier and shinier and sensitive tummies are less disturbed. Ratings boast a 4.8 out of 5 stars, one of the highest ratings on Chewy.com for Natural Balance Dog Food.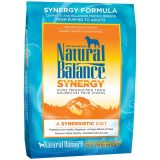 Natural Balance Synergy Dog Food reviews could not be more positive! With a 4.8 out of 5 stars rating, this formula is a fan favorite. Customers reported that all of their puppies (varying ages and breed) love this food and show an increase in energy all around. With this synergy formula, probiotics are included to help promote healthy digestion and strong immune systems. A complex fiber source helps to reduce stool volume which means you don't have to clean up the backyard as often. Win! Of course, as all Natural Balance Dog Food formulas go, a mix of omega fatty acids help to promote healthy skin and coats for your beloved pup.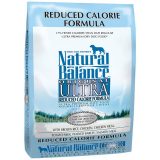 It happens to the best of us, even our pups—a few extra rolls where they shouldn't be. But just as having a little extra cushion in places it shouldn't be is not good for humans; it's also not good for your furry friend. Natural Balance has formulated a dog food that helps overweight dogs to reduce their calorie intake and help trim up some of the unwanted/unneeded fat. One of the biggest pluses for this particular line of dog food is the fact that it contains 17% fewer calories per cup than Natural Balance Ultra Premium Dog Food. Ingredients include chicken, salmon meal, and lamb meal, carrots, oatmeal, fresh potatoes, and essential fatty acids to help give your puppy a healthy and shiny coat. The Natural Balance Dog Food rating is 4.7 out of 5 stars according to Chewy.com. Reviews also show customers are highly satisfied with the results they saw with their dog after eating this reduced calorie formula.
---
Natural Balance Dog Food boasts an overall positive report for these top 5 lines of dog food. With this brand of dog food, you really cannot go wrong with whichever line you choose. A wide range of nutritional needs are met by this brand of dog food, from overweight to vegetarian. All dogs can find a kibble variant that works for their bodies and health needs. Customers report being very pleased with this dog food brand, and puppies love the taste. This is a great choice for dog food and should be considered for all dogs as a top choice for everyday nutrition.
Review Summary
Reviewer
Review Date
Item Name
Rating