This post may contain affiliate links. We may earn money or products from the companies mentioned in this post.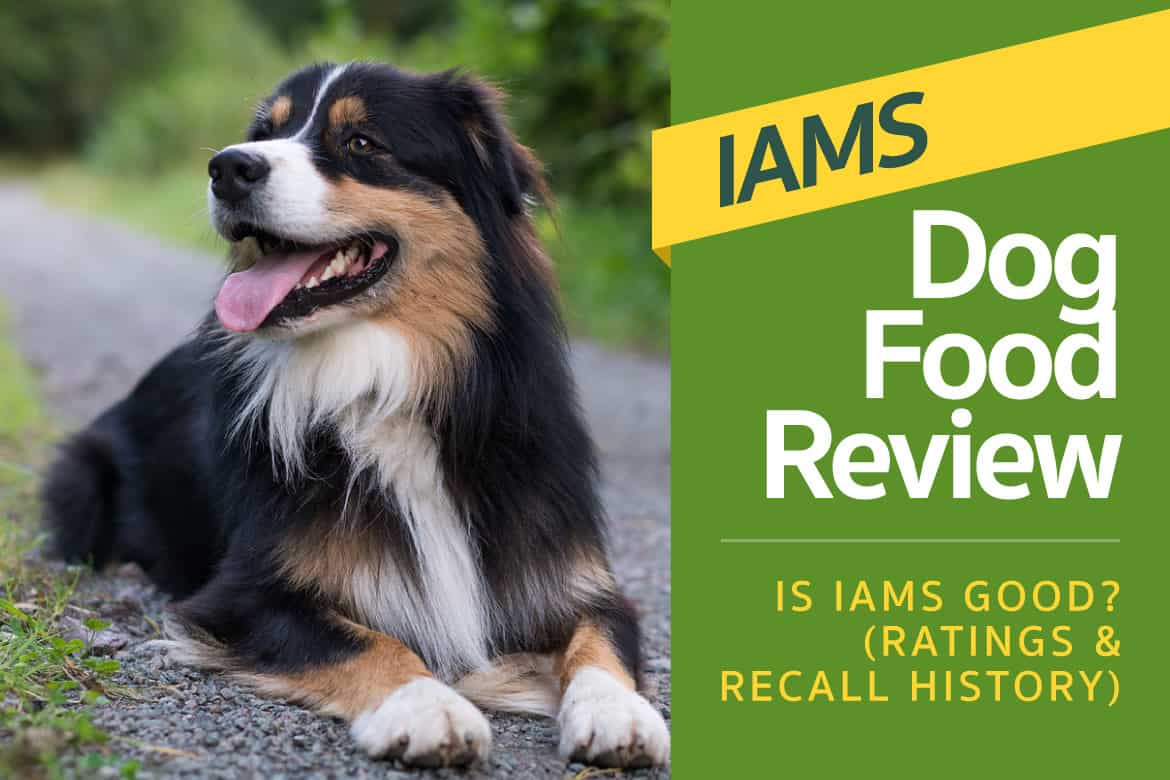 Today our experts provide everything you need to determine whether IAMS is right for your furry friend.
You might be wondering: Is IAMS dog food good? Have there been any recalls?
Don't buy anything until you read this IAMS dog food review!
Like many pet foods and pet food companies, IAMS dog food brand has been producing high-quality dog food products as well as cat food for years providing the American people with delicious choices for Fido!
With a start in 1940, this company has produced quality animal food to ensure your dog or cat has the best nutrition possible! In the 1950s, IAMS was the first animal food to use animal-based protein as the primary protein source!
If you're wondering which line of IAMS is best for your dog, you have many different options to choose from to ensure that you find out is aims a good dog food for your pup!
You are in luck when you purchase this dog food—a 100% money-back guarantee is given to all customers! So, you can rest easy that your money is being spent with confidence!
Contents & Quick Navigation
Our Rating
After looking at the top choices of all of IAMS varieties, we have given IAMS a 4.8 out of 5 stars!
Review
After a complete look at many different reviews on IAMS dog food, it is clear that customers (humans and canines alike) like and trust this dog food company!
We gave this brand a 4.8 out of 5 stars after looking at reviews, customer ratings, and recall history! Reviews on IAMS dog food show a small recall history, positive customer ratings, and happy reviews on sites such as chewy.com and amazon.com.
Other reviews came from Dog Food Advisor, a trusted review site that takes a look at dog food brands and dissects them for all of the wanted information customers are looking for!
Pros
Customer Satisfaction
Customers reported that their dogs who have been eating IAMS dog food liked the smaller pieces that the MiniChunks Dry Dog Food line offered for their smaller pups.
Even the pickiest eaters seem to enjoy this brand of dog food, which was a huge selling point for many of the customers!
Positive Impacts
Reviews of IAMS dog food showed that dogs who ate IAMS were scratching less leading customers to believe that the vitamins and fatty acids included in the food were helping with skin and coat issues previously dealt with.
Other reviews stated that furry friends were showing healthier and shinier coats as a result of eating IAMS!
Price
This is one of the more moderately priced dog foods on the market today.
Cons
Change in Formula
Some customers reported that their furry friends had a difficult time with changes in formulas over time to their favorite tastes of IAMS.
While formulas change frequently for the sake of ingredients and better nutrition, some dogs did not agree with the formula changes and refused to eat the new formula.
No Testing
The company offers up the knowledge that they do not test their dog food for nutritional research on their website. Some customers find this to be off-putting and report this as a negative.
You can also catch a great video from chewy.com that explains more about IAMS Dog Food from a Chewy expert!
There's a ton of great information in a short 3-minute video from a trusted retail site that sells thousands of pet products/foods daily!
Product Line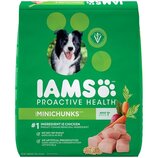 Ingredients Analysis
The ingredients in IAMS dog food prove to be about average as compared to other dog food recipes on the market.
They advertise their recipes as being grain-free (no corn meal or similar), having no fillers or artificial preservatives, and including prebiotics for digestive health such as chicken by-product meal for a good source of vitamins and protein.
The one element that is included that is not typically found in other dog foods is the smaller pieces for easier eating for smaller dogs.
Chicken by-product meal and chicken fat/meat as well as other ingredients like beet pulp and other animal fats are found to be beneficial for the health of large breeds and small breeds alike.
The ingredients in IAMS dog food including grain-free dog food include essential vitamins and minerals like potassium chloride, thiamine mononitrate, manganous oxide, and ground whole grain sorghum.
Recall History
To date, there have only been 4 specific types of IAMS dog food that have been recalled. They include adult and puppy formulas ranging from 2010 to 2013.
Often, these recalls are minor, but you should always check on the specific formula you are buying first before giving anything to your puppy!
Conclusion
As you can see, reviews on IAMS dog food show that it is a respectable dog food company that has been producing food for animals for over 50 years.
With this type of reputation, it is safe to say that the ingredients included and the formulas used are safe for your best furry friend!
Make sure to check out IAMS dog food here and grab a bag today! Your pup will surely thank you for giving them such tasty and healthy food!
This article is a part of our best dog food series. Check out the complete guide here.
Top Picks For Our Dogs
For a list of all the supplies we get for our new service dog puppies check out our New Puppy Checklist on the PuppyInTraining.com blog.