This post may contain affiliate links. We may earn money or products from the companies mentioned in this post.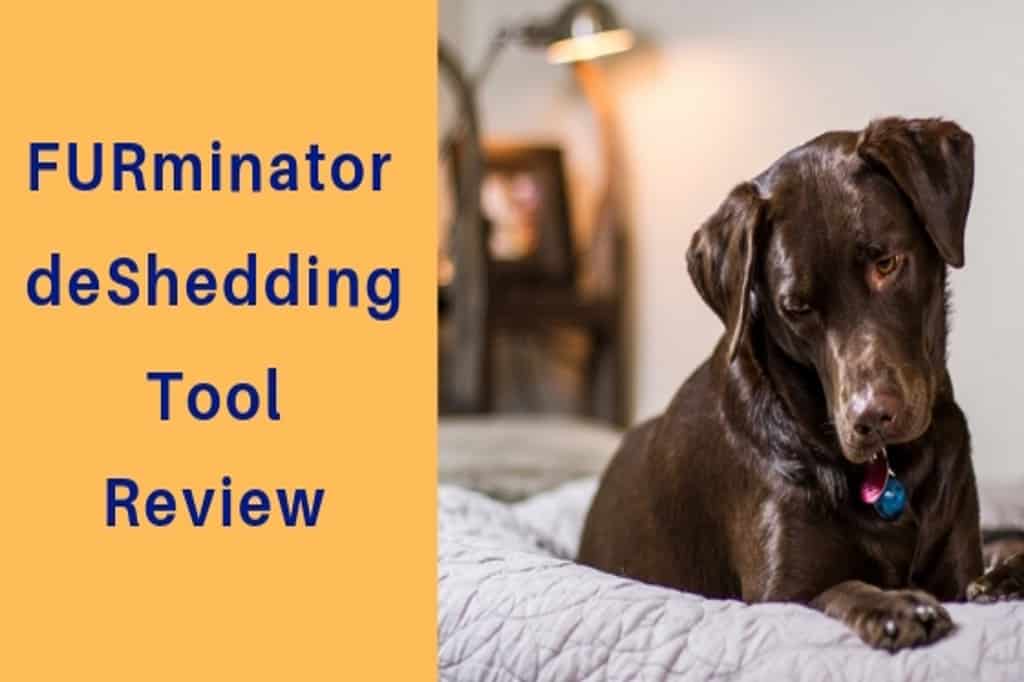 I absolutely love my long-haired yellow dog but his hair sheds like crazy and leaves my floors, clothes, and furniture a furry mess. I once traveled all the way to India and found his dog hair inside my suitcase.
In search of something that would keep my buddy's shedding at bay, I found the FURminator and gave it a go. The FURminator deShedding Tool is an amazing product that helps rid your pet, your home (and your suitcase!) of unwanted hair.
In this FURminator review, I'll tell you just how this tool works and why you need one for your short or long-haired dog.
FURminator Rating:
How Does the FURminator Work?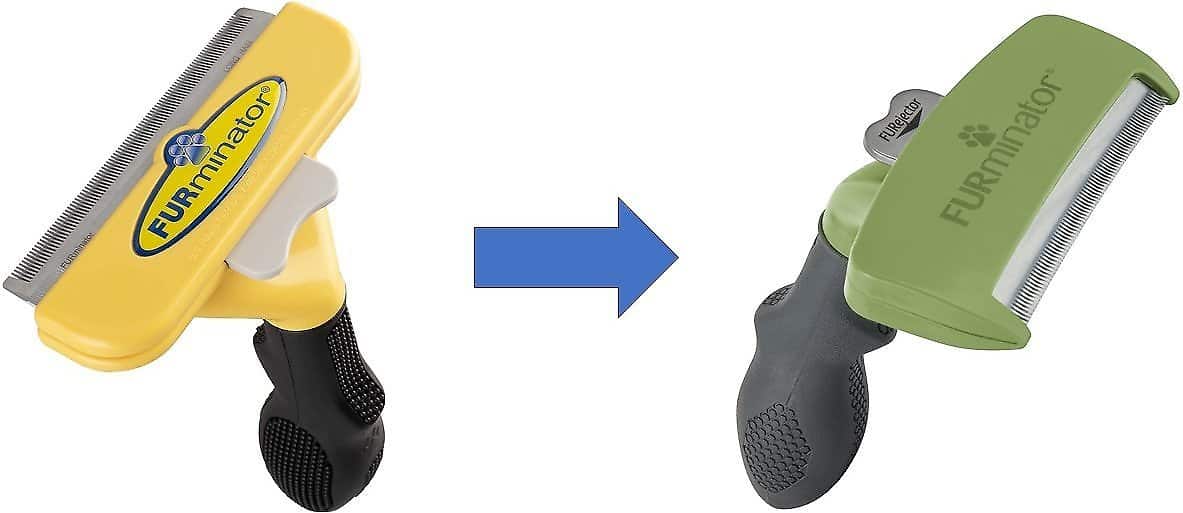 How does a FURminator work? It's like a magic hair magnet that your dog will love just as much as you do.
The FURminator was designed by a professional groomer and her husband who had searched high and low for a tool that would shed her client's undercoat effectively. Having never found one that worked, they set out to design one that would.
The FURminator deShedding Tool has super fine metal bristles that are designed to remove two kinds of hair on your furry friend: hair that is already loose and hair that makes up your dog's undercoat.
As you pull the deShedding tool along your dog's body the metal bristles fill up with fur in a hurry. They are deep enough to reach down to the undercoat, which is key to the shedding process.
Your dog also has loose hair that will end up on your floor, clothes, and furniture as soon as you go in for some petting or your dog shakes, which you and I both know is going to happen many times a day. Those metal bristles will grab those loose hairs and capture them before they start building fresh dog hair dust bunnies in the corners of your living room.
This FURminator for dogs review receives 5 stars because of how incredibly well this tool works to shed your dog's undercoat. Just check out any photos you can find online of the dog owners who have tried this thing for the first time and you will see that this tool means business.
Not all dogs have undercoats but those that do, like my long-haired yellow lab mix, are shed machines. Petting their backs, letting them lean on you, or even just having them lay close to the couch can invite a layer of fur to coat every surface.
There are lots of dog breeds with undercoats including labs, golden retrievers, huskies, chows, German shepherds, collies, and cow dogs, to name a few. The undercoat is typically shorter and softer and serves as climate control for your dog while the outer coat repels water, keeps dirt away from the skin, and protects your dog from damaging UV rays.
I love my dog's fluffy, soft, and long fur but there are some disadvantages that come with him having an undercoat. Not only do undercoats shed an insane amount of hair, they can get matted, which is painful for your pup.
Matting happens when the undercoat becomes tangled up with loose hair. These hairs ball up and to remove them is a very unpleasant experience for your dog that can lead to damaged skin and hair cuticles.
Fed up with the constant shedding, I once took my lab mix to get shaved but that turned out to be a big mistake. He still shed just as much, only the hair was shorter, and apparently, I was leaving him susceptible to sunburn!
If you aren't sure if your dog has an undercoat, just wait until the season changes. Dogs will shed their winter coat in the spring and their summer coat in the fall, which are ideal times to increase your use of the FURminator.
My tool is for long-haired large dogs but of course, you will be able to find the right size for your dog. FURminator offers tools in all sizes from toy to giant for short and long-haired dogs.
They define short hair as less than 2 inches long and long hair as more than 2 inches long. If your dog has hair that is inconsistent, go with the length that is more prominent to choose the size tool you will use.
How to Use the FURminator
I find it best to use the FURminator a couple of times a week for about 15 minutes each time. Although it is great to wash your dog first so you knock some hair loose before using the tool, you have to wait until the hair is completely dry so it's not always practical.
Unless the weather is really not cooperative, I use my FURminator outside. This thing pulls out an incredible amount of hair and I think it's less messy to let it fly outside.
If you want to know how to use your FURminator to get the best results, it's as simple as going head to toe. The tool won't hurt your dog's ears or head so long as you take your time and move through those areas very gently.
After the head and ears are done progress to the top side of the neck and stroke the fur with the grain just like you would a regular brush. As you work your way towards the tail, you may have to pause and eject the hair out of the bristles with the handy FURjector button.
The tail can be a sensitive spot for dogs but it shouldn't be neglected. I usually run my fingers through the tail first to make sure there are not any mats or tangles and then I hold the tail straight with one hand and use the tool with my other hand.
You really shouldn't use the FURminator on your dog's soft belly and chest fur. There is no undercoat there and you may hurt his skin with the metal bristles on his underside.
During heavy shedding seasons, like spring and fall, you may have to de-shed more frequently and you may get impressive piles of hair each time. The good news is that after you've been using the tool regularly, your dog's undercoat will have less to shed and it will take less time to get the same awesome results.
Where to Buy FURminator Tools
The FURminator brand of shedding tools are available at a wide variety of retailers. Just look online wherever you buy your dog supplies and chances are, the FURminator will be available there.
Be wary of knock-offs that are sometimes discussed online. The FURminator retails for $20-$40 depending on the one you need so if you find something at a much lower price, you may have found a fake and should steer clear.
FURminator for Dogs Review
In reviewing the FURminator for dogs I couldn't help but give these tools five stars because the results are so amazing. I use it just like a normal brush but am simply blown away by all the loose hair and undercoat that comes out of this tool.
The first time I worked my dog over from head to toe, I was stunned to see the pile of hair that came off his body! It really makes you wonder how there is any hair left on the dog!
It's super easy to clean up afterward and makes life with my four-legged friend a lot less messy overall. Since I've started using the FURminator, I have a lot less dog hair on my floors, clothes, and furniture.
Using the tool is really easy and my dog loves to be brushed with the FURminator. It's a bonding activity for us to do, it feels great on his body, and his coat is healthier, softer, and free from painful mats as a result.
Pros
Easy to use
Solid construction
Simple to keep clean
Does an incredible job at removing hair
Lifetime warranty will replace it if it ever breaks
Cons
Higher price point than other shedding tools
Makes a bit of a mess when using indoors
The Verdict
The FURminator deShedding tool is most definitely all it's cracked up to be. I have never used a brush, rake, or any other grooming tool that even comes close to being as effective at removing loose and undercoat hair from my dog as this tool.
The FURminator deShedding tool comes with a lifetime warranty so I felt confident with the higher than average price tag. The quality of the construction and effectiveness of the tool make it worth every penny and more.
Even though it can be a little messy, my dog and I both enjoy spending 15 minutes or so together a couple times a week with the FURminator. He loves the way it feels and getting some sweet attention from his favorite human, and I love that there is less dog hair around my house as a result.
Top Picks For Our Dogs
For a list of all the supplies we get for our new service dog puppies check out our New Puppy Checklist on the PuppyInTraining.com blog.