This post may contain affiliate links. We may earn money or products from the companies mentioned in this post.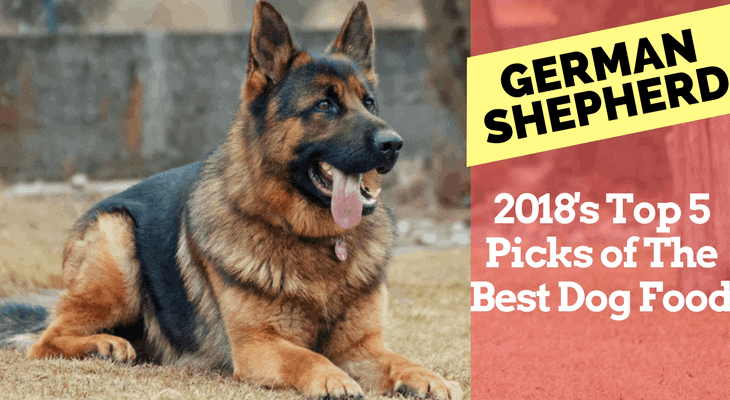 Are you looking to invest in the right dog food for your German Shepherd?
We have rounded up the five best dog foods for German Shepherds on the market.
Introduction
Based on a report by the American Kennel Club (AKC), the German Shepherd is one of the top three dog breeds in the United States and for a good reason. Known as GSD for short, this breed looks incredibly beautiful, thanks to their thick, black-and-tan coats. Also, it is one of the smartest and most hardworking dog breeds. If you have had the privilege of owning a German Shepherd, you may have noticed that he does not like to laze around your home. Instead, he prefers physical exercise, mentally-stimulating activities and a bit of human interaction.
Aside from being intelligent, German Shepherds are a huge dog. On average, they stand between 22 and 26 inches tall and can weigh anything between 50 and 90 pounds. As a result, they require plenty of calories to keep up with their athletic stature. Keep reading to learn more regarding the nutritional requirements of this breed.
Special Dietary Concerns
One problem associated with large breeds of dogs like the German Shepherd is a high risk of musculoskeletal problems. In many instances, the dogs that develop this issue are ones that grew too quickly into adulthood.
Thankfully, you can prevent your German Shepherd from acquiring this disease. First, ensure that you feed him a large-breed puppy food formula. This is recommended up to the point he gets to about 80% of its adult size. You can then substitute that product with a large-breed adult formula. The latter contains proteins for supporting your dog's lean muscle mass. Second, you should supplement his diet with glucosamine and chondroitin. These ingredients are competent in providing extra bone and joint support.
At a Glance: Our Choices of Best Dog Food for a German Shepherd
DOG FOOD

DETAILS

OUR RATING
Holistic Select Large & Giant Breed Puppy Health Dog Food

Ideal choice for German Shepherd puppies
The core ingredients include lamb meal, ground brown rice, ground white rice, and chicken meal
An all-natural dog food

Precise Holistic Complete Large Breed Adult Formula

The primary ingredients are chicken meal, oatmeal,ground brown rice, chicken,and chicken fat
Best organic dog foodfor German Shepherds
The food's calcium andphosphorous levels havebeen adjusted for dogsthat have already attainedfull size

Purina Beyond Grain-Free Adult Canned Dog Food

Main ingredients include real beef, chicken, and salmon meat products
Top choice of wet dog food for yourGerman Shepherd
All-natural ingredients and infused with additionalvitamins and minerals
Grain- and gluten-free

Royal Canin Giant Junior Dry Dog Food

Key ingredients are chicken by-product meal,brewers rice, chicken fat,brown rice, and driedplain beet pulp
Best choice for dry dog food
Supplemented with glucosamineand chondroitin
Kibble size and shape ensures easy digestion

Blue Buffalo Wilderness High Protein

Contains delicious and protein-rich bison, halibut, quail, rabbit,and venison
Best choice for GermanShepherds with foodallergies
Supplemented with antioxidant-rich kibblecalled LifeSource Bits
Reviews of the Top 5 Dog Foods for German Shepherds
These are our top choices for the best dog food for German Shepherds: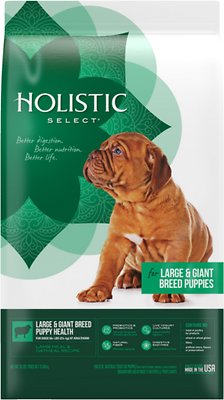 The Holistic Select pet food company has been around for more than a decade. One of the tenets that Holistic Select thrives on is in creating dog food that is 100% natural, high-quality, and that support the digestive health systems for dogs.
Our rating
We gave the Holistic Select Puppy Dog Food a rating of 4.8 out of 5 stars.
Pros
Unique Health Support
Why we choose this as the best food for the German Shepherd puppy is because of its exceptional health support. Many puppies find it challenging to digest foods during the first couple of days. The Holistic Puppy Health Dog Food is built with this in mind. It has a blend of probiotics and enzymes that make it easy for your puppy to digest.
Healthy Fat Sources
While Holistic's advertising stresses on the merits of the digestive systems, it's also worth noting that this dog food is a source for healthy fats. These are obtained from the whole grains and lean meat of lamb instead of chicken fat. Chicken fat is not unhealthy per se, but lamb is way more nutritious.
Cons
Considering how big or quickly your German Shepherd puppy grows, a single bag of food may run out rather fast. If you have a small budget, this could pose a challenge given the high price of the Holistic Select Puppy Health Food.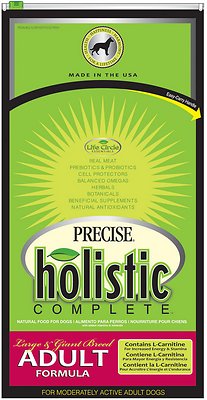 A majority of people are beginning to embrace a holistic lifestyle and this includes the food they eat. Precise believes that dogs should not be left behind in this movement.
Our rating
We rated this dog food product 4.4 out of 5 stars.
Pros
It's Organic
Ideally, organic foods are the best GSD dog food. It's because such products as the Precise Holistic Complete Adult Formula contain zero chemicals and zero meat by-products. This blend of features guarantees a smooth digestion for your pet.
Aids Bone Growth
Aside from the natural ingredients, Precise Holistic Adult Formula consists of glucosamine and chondroitin. These compounds are crucial to the growth of your dog's bones. They also keep your pet's joints lubricated.
Boosts the Immune System
Each bag of Precise has a wealth of fruit and vegetables such as peas and blueberries. This way, your German Shepherd has all the critical vitamins and minerals to stave off diseases.
Cons
Sadly, the Precise Holistic Complete is not sold in some local stores. As such, you should manage your inventory well and place new orders before your current bag runs out.
If you are worried about your German Shepherd's well-being, then you should be investing in Purina's line of wet foods. While it is a relatively new recipe in the market, it has already received raving reviews from pet owners.
Our rating
Our rating for Purina dog food is 4.6 out of 5 stars.
Pros
Features a Grain-Free Recipe
Plenty of dog breeds—the German Shepherd included—are sensitive to grain. Fortunately, Purina canned dog food is totally grain-free. Instead, it is loaded with high-quality protein, which your pet needs to maintain his healthy muscles.
Crafted by In-House Nutritionists
Purina offers a variety of recipe and flavors, all of which contain no preservatives or artificial additives. Purina has in-house nutritionists, who run each formula through a test panel of animals before launching the product.
Cons
Some clients have reported that their older dogs ended up having loose stool. To combat this, try mixing the Purina Beyond Grain-Free with a dry food.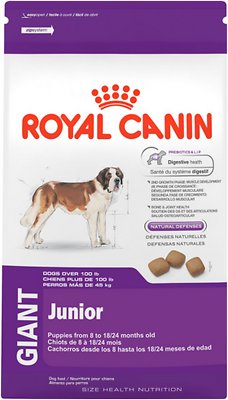 Royal Canin is a far cry from the conventional dog food companies, which only aim at making extra profits. Instead, this firm competes on formulas and excellent taste.
Our rating
Our rating for the Royal Canin Giant Junior is 4.4 out of 5 stars
Pros
Supports Proper Joint Health
It has a blend of glucosamine and chondroitin, ingredients known to support the growth of the spine. Hip dysplasia is a condition that affects lots of large breed dogs. The Royal Canin Giant Junior is designed to combat this.
Promotes Healthy Aging
Another perk of relying on this dog food is the fact that it has a complex combination of antioxidants and vitamins C and E. Along with taurine, these nutrients not only help your dog to age healthily but also boost its immune system.
A Healthy Heart
Thanks to the added L-carnitine, your dog will never suffer from heart problems. This compound is also excellent for his nervous system.
Cons
Compared to other dog foods in our review, the Royal Canin is pricey.
Check out a complete review of Royal Canin from Chewy.com on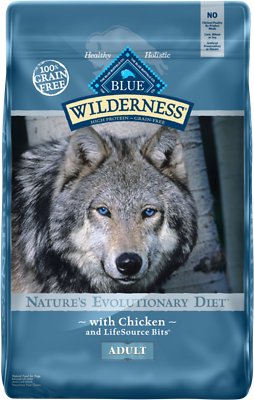 Wilderness Blue Buffalo is the best GSD dog food. It has the perfect ingredients for large dog breeds like the German Shepherd, particularly for those with food allergies.
Our rating
We gave the Wilderness Blue Buffalo dog food a rating of 4.5 out of 5 stars.
Pros
An Energy-Giving Food
The composition of this dog food encompasses 34% protein and 15% fat content. This combination can keep your German Shepherd lively and active all day long. Also, we like that it comes in an array of flavors.
Promotes Longevity
A unique feature of the Wilderness High Protein entails the LifeSource Bits. These are meaty bits, which contain antioxidants, vitamins, and minerals. Ideally, LifeSource Bits are cold pressed; hence, the integrity of the ingredients is preserved. The nutrients boost longevity and the joints.
Helps to combat food allergies
Every bag of the Wilderness Blue Buffalo has organically whole grains, veggies, and fruit. These products contain nutrients, useful in treating food allergies and digestive problems.
Cons
There have been cases where the German Shepherd dog did not like the LifeSource bits.
Conclusion
German Shepherds make cool pets—ask any owner. They're intelligent and loyal protectors, who can also double up as excellent cuddle-buddies. Subsequently, the least we humans can do is to hook them up with nutrient-rich and delicious dog foods.
Top Picks For Our Dogs
For a list of all the supplies we get for our new service dog puppies check out our New Puppy Checklist on the PuppyInTraining.com blog.