This post may contain affiliate links. We may earn money or products from the companies mentioned in this post.
Not only are Great Danes one of the gentlest breeds around, they're also affectionate and playful. Having said that, they're as energetic as they are large and teenage Danes can be prone to the "zoomies," a term used to describe their wild abandon and Joie de Vie. This involves galloping and bouncing, leaping and spinning, and jumping on or over things and while it's certainly not meant to be harmful, a child could get hurt in the process.
Unfortunately, larger dogs (and you don't get much larger than this giant breed, even as a Great Dane puppy) typically have limited lifespans and will live between seven and 10 years. Sadly, these majestic mutts are prone to a number of serious health problems like bloat, which means they have very specific needs in terms of nutrition and exercise.
At a Glance: Our Choices for the Best Dog Food for ​Great Danes
DOG FOOD

DETAILS

OUR RATING

​Instinct by Nature's Variety Raw Boost Large Breed Puppy

​Chicken, chicken mealand turkey meal arethe core ingredients
Premium-quality proteinkibbles and freeze-driedraw ingredients makethis dog food idealfor Great Dane puppies
Has natural DHA thatenhances brain andeye development
Has zero grains,wheat, soy andby-product meals

Blue Buffalo Life Protection Formula Large Breed Adult

​Some of the ingredientsare Whitefish, MenhadenFish Meal, Oatmeal,Barley and Brown Rice
The added chondroitinand glucosamine aregreat for boosting jointhealth and mobility
Enriched with calciumand phosphorous thatguarantee strong bonesand teeth foryour pooch
Chock full ofvitamins for ahealthy immune system

Castor & Pollux Organix Organic Healthy Weight

​Quality protein sourcesfrom herring meal,salmon meal andwhitefish meal
Features a healthycomposition of naturalfibers from fruitsand veggies
Contains no grainor gluten
Fortified with L-carnitinethat aids in convertingfat into energy
Well-balanced ratioof omega 3 & omega 6 fattyacids to provide alipid balance

​Quality protein sourcesfrom herring meal,salmon meal andwhitefish meal
Features a healthycomposition of naturalfibers from fruitsand veggies
Contains no grainor gluten
Fortified with L-carnitinethat aids in convertingfat into energy
Well-balanced ratioof omega 3 & omega 6 fattyacids to provide alipid balance

Taste of the Wild Sierra Mountain Grain-Free

​Some of the coreingredients are lamb,lamb meal, sweet potatoes,peas, egg productand canola oil
Free of grains andrich in antioxidantsfrom the fruitsand vegetables
The inclusion of chelatedminerals guarantee maximumabsorption of nutrients
Prebiotics obtained fromdried chicory root andthe probiotic provideyour dog withbeneficial bacteria thathelp in digestion
​One of the biggest decisions you'll make for your Great Dane, other than deciding what to call him, is what food to feed him. For his health's sake, it's essential to choose a high-quality premium dog food when he's still a puppy. Great Danes grow to more than 100 pounds and it can take them approximately two years to reach their full size. In that time, you want to make sure he's getting the protein to help fuel this growth, without too many extra calories.
​This begs the question, what to feed a Great Dane puppy? The best thing you can do is give your very own Marmaduke look-a-like a large- or giant-breed puppy food until he reaches 80% of his maximum size. Then make a change to adult food. But which one? Let's take a look at what is the best food for Great Danes? Let's take a look.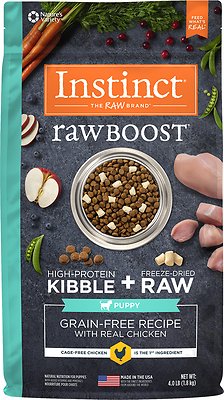 Wondering what diet to feed Great Dane puppies? Instinct By Nature's puppy grain-free food not only meets your puppy's nutritional needs, it exceeds them. It's packed with premium proteins, digestible carbohydrates and healthy fats. This recipe is also grain-free and chicken is the primary ingredient.
For additional health and wellness, it's supplemented with omega fatty acids and DHA that helps with eye and brain development while the calcium and phosphorus support your pup's steady (and rapid) growth, as well as the health of his teeth and bones. All in all, Instinct by Nature's Variety Raw Boost Large Breed Puppy food provides quality nutrition, with the right balance of supplements for a happy, healthy pup.
Blue Buffalo Life Protection Formula makes an appearance in a lot of food reviews. It's great for large breeds and one of the best dog food choices for Great Danes.
The antioxidant-rich ingredients are cold-pressed to preserve their natural goodness. The antioxidants support their immune system and help prevent diseases like cancer. Blue Buffalo is high in omega-3s, low in carbohydrates, and contains zero artificial ingredients. Glucosamine and chondroitin can also be found in the formula to provide support for joints.
However, if your large baby already suffers from joint problems, you'll want to give him additional supplements. There's added salt so it's not recommended for pups with heart conditions.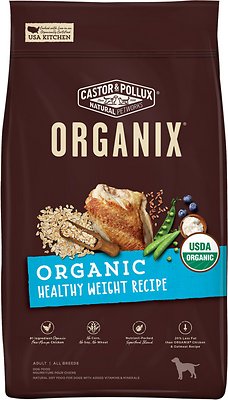 Castor & Pollux Organix is the leader in natural and organic pet food and contains only the highest quality ingredients.
The main ingredient is organic free-range chicken and it's enhanced with carbohydrates brown rice, barley and peas, which all help with digestion and dietary fiber.
Your dog gets complete and balanced nutrition that's all natural and he's going to love the natural flavor.
Earthborn Holistic dog food is gluten and grain-free with no additives and is enriched with blueberries and cranberries, nature's very own antioxidants.
Although it's higher in fat and protein than recommended, it's healthy fish-based protein sources. There are also real roasted fruit and vegetables included in the formula, along with healthy sources of carbohydrates.
Earthborn Holistic contains taurine, which helps with long-term heart health and it promotes the growth of healthy muscles. Omega-6 and 3 fatty acids contribute to a shiny coat and support the joints.
The unique selling point of Taste of the Wild products is that they're designed to simulate the food types your dog would eat if it were living in the wild. It's a good quality food that's affordable and is made up of real roasted vegetables and meats plus it's high in fiber.
The food has no additives like soy, wheat, and corn, simply because it's not what your pup would eat in the wild. Again, Taste of the Wild is a little high in fat and protein, at 15% and 25% respectively, but the sources for both are high quality, which is why it's recommended.
The food is rich in antioxidants which helps with the immunity system and the omega acids support joint health and give your dog a sleek, shiny coat. Because Great Danes suffer from gastrointestinal issues, Taste of the Wild is high in fiber and helps with sensitive tummies.
​Conclusion
Feeding your gentle giant is a fine balancing act. You need to ensure they are getting enough food, but you also don't want them having too much.
By starting off with a high-quality nutritional large-breed puppy food you're making sure those loving Great Dane puppies grow big and strong, but not too quickly. Then, when your teenagers are all grown up, you can switch to a large-breed adult food. This will maintain their health and weight throughout their adult years and avoid minor problems like a sensitive stomach and far more serious illnesses like bloat.
Our recommended premium pet food brands for giant breeds should put you on the right track. If you are still unsure about what to feed your pet, you should visit your local vet for more advice.
Top Picks For Our Dogs
For a list of all the supplies we get for our new service dog puppies check out our New Puppy Checklist on the PuppyInTraining.com blog.